NHL
Panthers Shock Bruins, Everybody Wins
9:15 AM EDT on May 1, 2023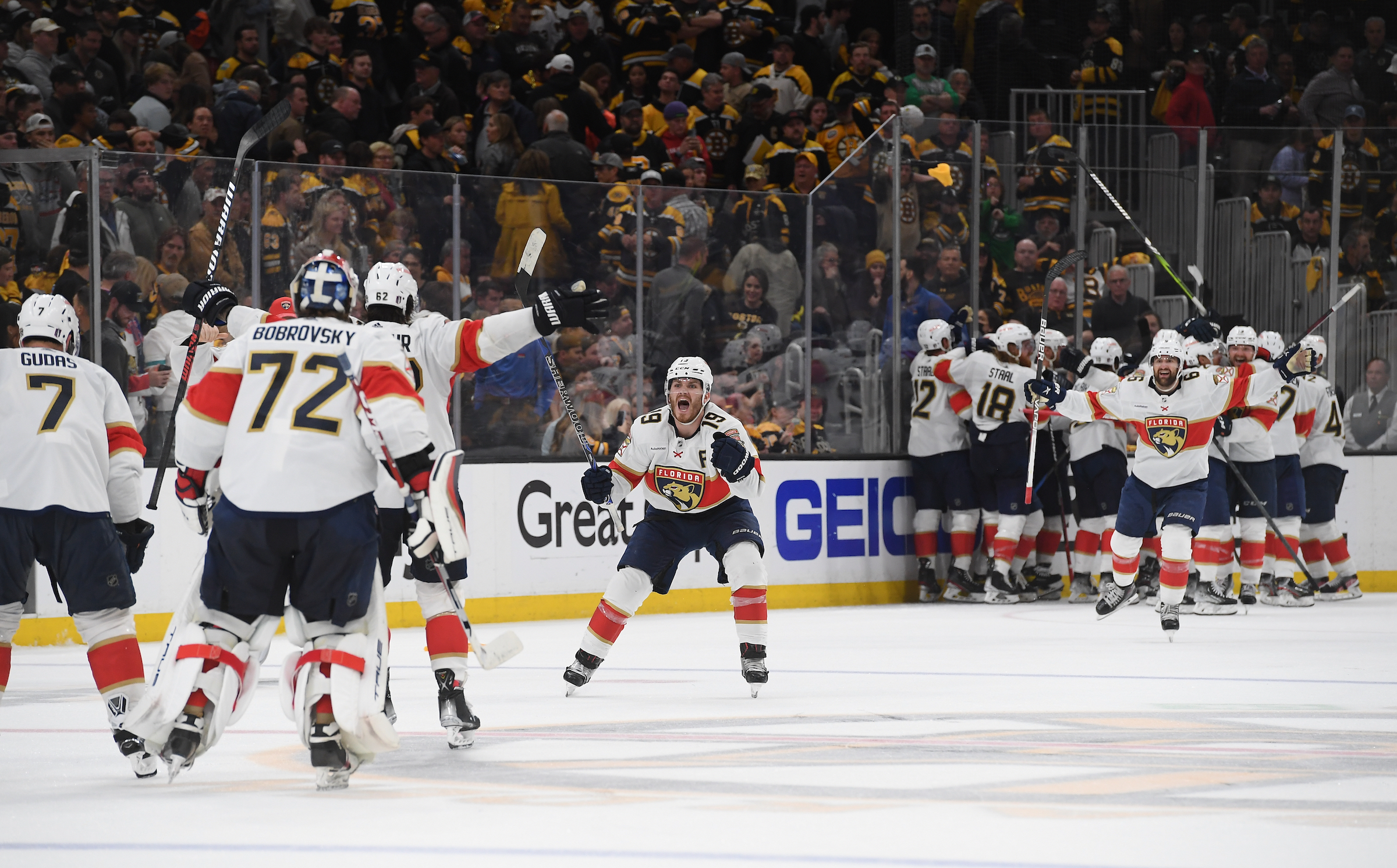 Just listen to it. Watch it the first time, of course, or if you're among the millions who were hoping for this outcome, the first 17 times. But then try just listening to the audio of Florida's Carter Verhaeghe scoring at 8:35 of overtime in Game 7 to send the Bruins home and the Panthers through.
The only thing you can hear distinctly is the hooting and hollering of Panthers players, and the clatter of them climbing over the bench to come celebrate. The crowd is the closest thing a crowd can get to hushed in an 18,000-seat building; the most you can make out from them is a low moan. (And don't blame it on Turner's mic set-up; that crowd was hot an hour earlier.) It is a stunned silence. And why wouldn't it be? These were the Panthers. And these were the Bruins! Fresh off one of the greatest regular seasons in the history of the sport! They'd lost just seven games at home all season long, and then they lost three in this series. They'd only lost three straight once this year, until they lost the last three. This wasn't supposed to happen.
But supposition is death in sports, and especially in the NHL playoffs, and especially-especially for those teams good enough to win the Presidents' Trophy, which does not carry a curse because curses aren't real, but which does carry the burden of expectation. The Panthers had no such burden. "It really is the biggest upset in NHL history," Matthew Tkachuk said, "to every single other person other than the guys in that room."
It's probably wise to stop thinking of the Panthers as a team that just snuck into the playoffs and start thinking of them as the team that went 19-10-2 down the stretch to do so. Paul Maurice was a surprise hire last summer, and he was brought in to add some offensive structure and rein in the end-to-end game that served Florida so well right up until playoff time, and it's possible his schemes needed some time to click. Verhaeghe's winner was decidedly unsexy, effective hockey: a board battle won, a puck dug out, a screen set, and a wrister for glory. That's how you survive and advance. There's no more shock and awe in the postseason, just dirty work to be done.
"They had a crazy regular season," Verhaeghe said. "But the playoffs are completely different. I mean, we had a crazy regular season last year, and it really didn't amount to anything."
The cruelty of Game 7 was that 60 minutes (give or take; in this case, give), or even just one shot, was going to decide whose entire year amounted to anything. Shockingly or perhaps not, it was the Panthers who rode momentum and took advantage of Jeremy Swayman getting his first minutes of the series. This was controversial either way you look at it. On the one hand, it's brutal to lose a Game 7 with the Vezina winner-in-waiting on the bench. On the other, it's rough to ask a goalie to come in as cold as Swayman did. Of all the things to second-guess Jim Montgomery for, and there aren't many, his goaltending decisions stand out.
But a 2-0 hole didn't intimidate the Bruins. They countered with a pair of power-play goals—the ice must've been extra-slippery in the second, given the way Bruins players were flopping over at the slightest contact—and then, four minutes into the third, David Pastrnak one-timed a juicy rebound for the lead. You had to think that was it: the better team asserting itself, finally, with dwindling minutes to steal one back. That was not it.
Defenseman Brandon Montour announced himself to the world this series with five goals and four multi-point games, but it wasn't out of character. Montour, one of the less heralded of the Panthers' big personnel moves over the last few years, cost just a third-rounder at the 2021 deadline and has thrived in his first non-terrible situation, after stints in woebegone Anaheim and Buffalo. In Florida he's got the green light to shoot for the first time in his career, and he's a natural. He had 72 points this season, obliterating his previous career high of 37, set ... last year. It's sort of baffling that anyone ever thought he should be a stay-at-home defensemen, especially since he wasn't very good at it, but he's figuring things out at both ends of the ice, in front of our eyes. He scored Florida's first last night, and with a minute left in regulation, scored again to save their season. His celebratory punch of the ice and slap of the glass said everything about what it meant.
So the Panthers move on to face the Maple Leafs in what should be a fun matchup of two teams already playing with house money but with the talent to go deeper. And the Bruins? Well. This does not feel like the Lightning in 2019, or the Panthers of the last couple years, or like any number of youngish skilled teams that can salve the pain of an upset with the comfort of knowing better days are ahead. Which is to say it feels like the end of something rather than the start. Patrice Bergeron, who it was revealed was playing through a herniated disc, could hang it up. David Krejci, too. This Boston team had "one last ride" vibes, and if the ride was more thrilling than anyone could have expected last summer, it was over too quickly.
"This is a tough one," Brad Marchand said. "We obviously expected much different results this year and this series. Unfortunately, that didn't happen. This one is going to hurt for a long time."
And now, as a service to America, please enjoy the biggest and worst homer announcer in sports being lost for words:
Stay in touch
Sign up for our free newsletter