NBA
The Nuggets Packed All The Reasons To Doubt Them Into One Awful Quarter
8:59 AM EDT on April 20, 2023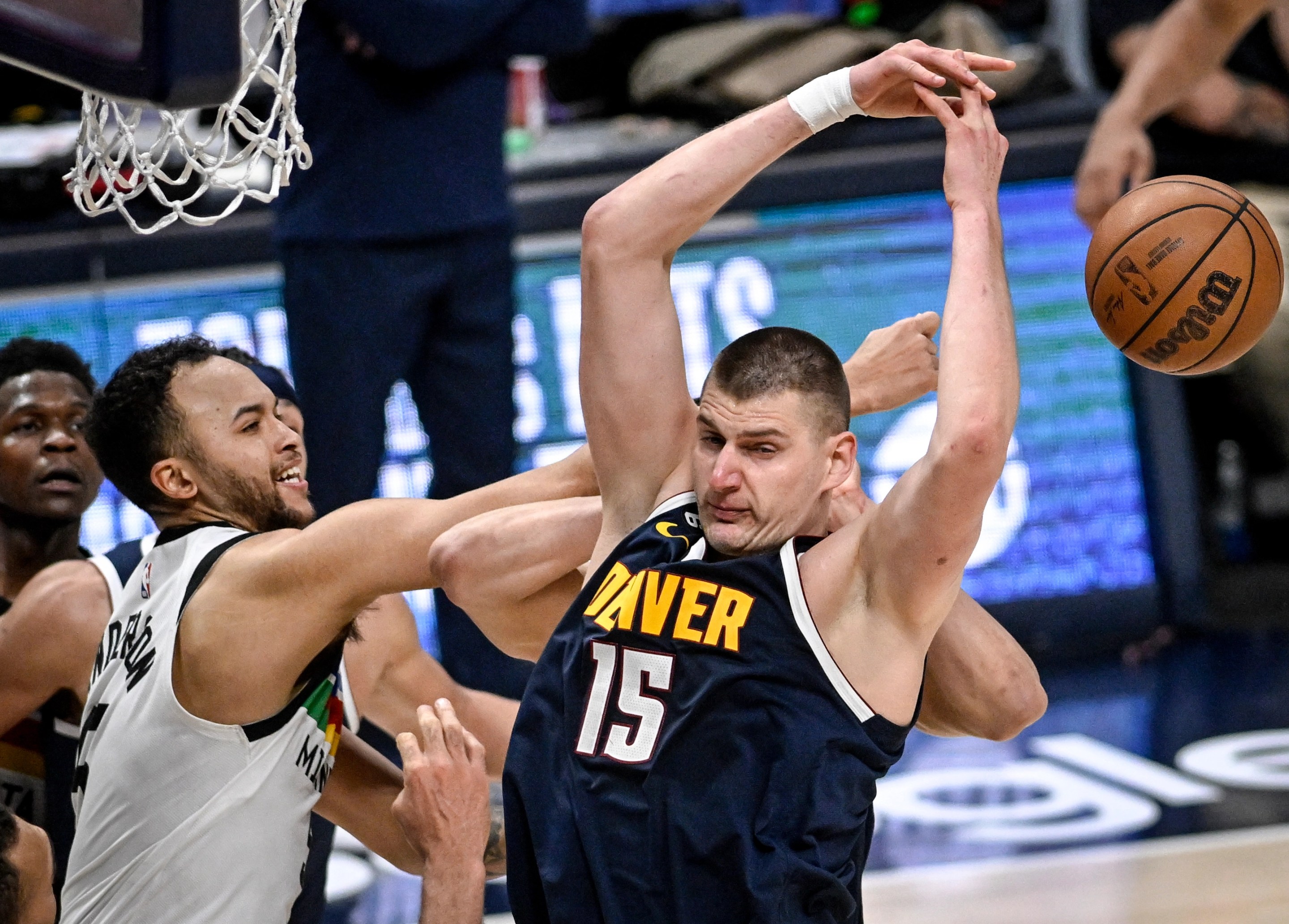 Jokic Derangement Syndrome is a real phenomenon, and we've even seen the emergence of non-Philadelphia variants. Chances are JDS has already afflicted you or an MVP voter you know. There are people who think that it requires esoteric numerology to explain Nikola Jokic's value, as if the fact that his team scores a lot more than the other team when he's on the floor is beyond layman's grasp. Then there are people who just don't like the way he hoops; the lifelong Nuggets fan I once met at the Nets game who revealed that he lost interest in his team during Jokic's ascendence is a terminal case, beyond saving. And then there's the camp that advances an argument, one I am slightly sympathetic to, that goes something like this: It's hard to win a championship with a big styrofoam packing-peanut plugged into the position most determinant of a team's defensive success. The Nuggets had the 15th-ranked defense in the regular season, but these skeptics believe a center like Jokic can be further exposed in the more malicious matchup-hunting seen in the postseason.
For people in that last camp, the third quarter of Nuggets-Wolves on Wednesday was a bonanza of confirmed suspicions. Minnesota shredded the Denver defense for 40 points, on 17-of-21 shooting, by opening up the floor and letting Anthony Edwards improvise. All but two of the Wolves' 21 shot attempts were at the rim or at the three-point line. Jokic, who played the entire quarter until its final seconds, was somehow implicated in most of these opposing buckets. On seven of those shots, Wolves danced right to the hoop, directly past Jokic's mostly mimed rim protection, and scored. On a one-on-one "fast" break, Kyle Anderson challenged Jokic to the NBA's chillest possible footrace and won. On two instances, the big man gave in and attempted to draw a rather limp charge, only for Edwards to scoot by him for a lay-in, or for Karl-Anthony Towns to gently sidestep him and dump it off for an open dunk. One handy measure of how slow Jokic is to recover after hedging in the pick and roll: Rudy Gobert had enough time to catch the ball on the short roll and make an incisive pass for a layup. That's like giving a child a month to solve a double-digit multiplication problem. I suspect Jokic's shortcomings on defense are often overstated, but here was the nightmare scenario for 12 minutes straight. Minnesota, trailing heavily since halfway through the first quarter, had a two-point lead at the end of the third. Nuggets coach Mike Malone wasn't having it.
This defensive catastrophe did not lie entirely at the big man's feet. A handful of Nuggets turnovers fed the Wolves easy transition offense. There were also lapses on the perimeter that made life significantly harder in the post. But that's where the Nuggets diverge from most other supposed contenders. Their star center is not a confidence-instilling stopgap, making up for his teammates' mistakes with his presence at the rim; instead, his weakness is the fixed point that Denver's rugged perimeter defenders must plan around. In a playoffs field populated by lugs like Brook Lopez, Gobert, Jarrett Allen, Evan Mobley, Joel Embiid, and Mitchell Robinson—who can all be trusted to wall off easy layups—Nikola Jokic has given his teammates a different and perhaps more draining job description. Still, Denver recovered the lead in the fourth quarter, buoyed by 40 points from an increasingly frisky Jamal Murray, and aided by Towns and Gobert foul trouble. The Nuggets won 122-113 to lead the series 2-0.
We'll end on an even more confusing wrinkle. For the other seven quarters of this series, the Nuggets have been not just a respectable defensive squad, but a spectacular one. Even including this quarter, they have the fourth-best defensive rating of all postseason teams, at 103.2. That's a testament to big strong fellas like Kentavious Caldwell-Pope, Bruce Brown, Aaron Gordon, and Christian Braun throwing their weight around. But that 12-minute lapse in Game 2 still makes you wonder what a more offensively capable team might inflict on this Nuggets defense, given the chance. Any honest observer knows these Wolves to be crud, Anthony Edwards's supreme-confidence 41-piece notwithstanding. A team with sharper offensive tools—like the Suns' trio of midrange operators, or the Kings' steady centrifugal churn—might yet make a pulpy mess of this team. It's too hard to tell! The West is so hard to parse this year. Every team looks bad in their own special way.
Stay in touch
Sign up for our free newsletter