NBA
Jamal Murray's Back!
2:17 PM EDT on April 17, 2023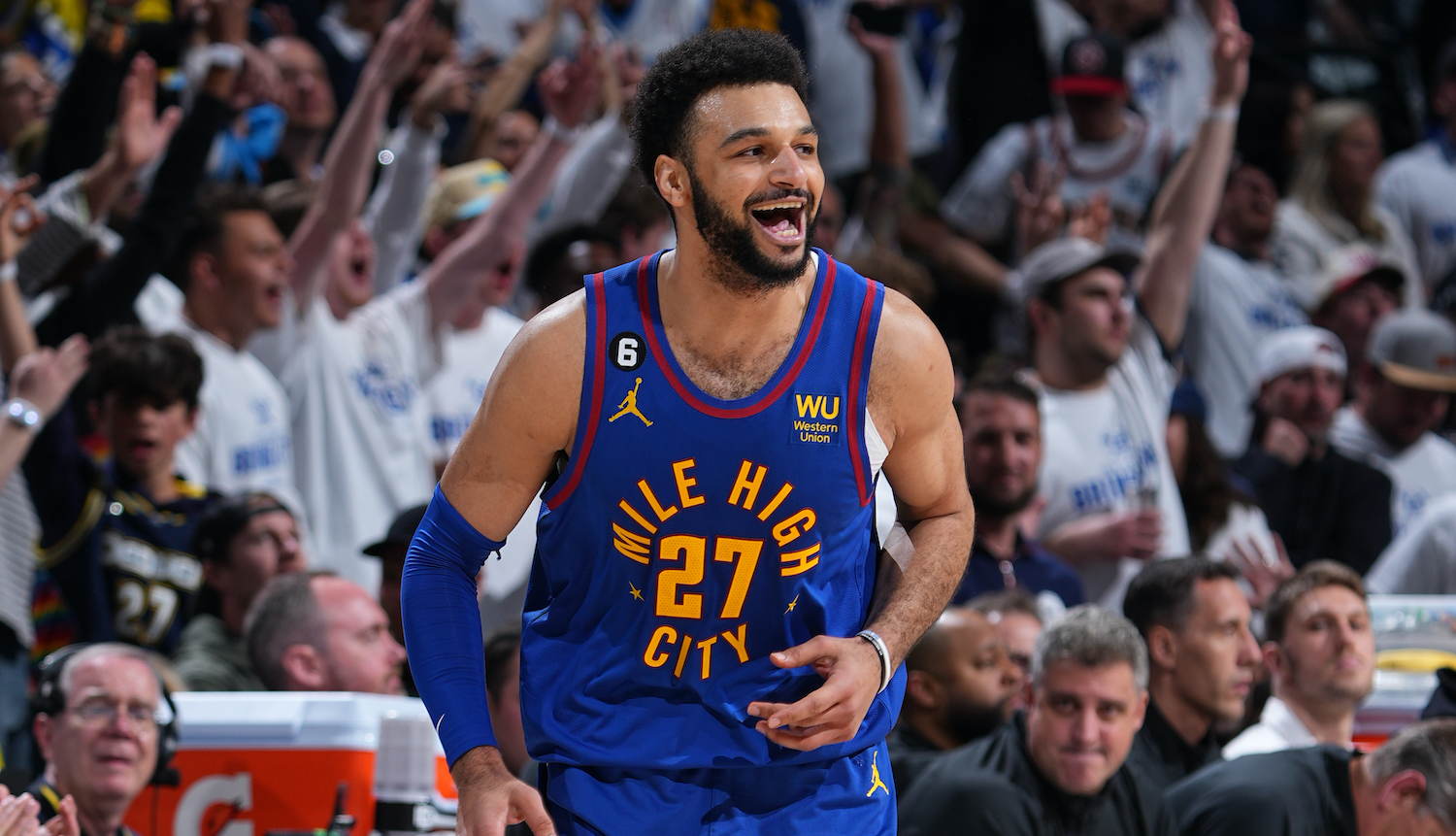 Before Sunday, Jamal Murray had not played a playoff game for the Denver Nuggets in so long that I confess I forgot what the full-bore Murray postseason experience was like. YouTube is telling me he scored 50 points against the Utah Jazz in Game 6 in the bubble? Basketball Reference says he scored 40 more in a Game 7 against the Clippers two weeks later? Allegedly Giri Nathan was writing about this for our website? Murray kicked ass in the bubble, but in the time since he tore his ACL, two full Murray-less playoffs have elapsed. Almost everyone involved in that Jazz-Nuggets series is on a different team, and his best buddy Nikola Jokic has two MVP awards. How ready would he look after 932 days between playoff games?
At first, the answer seemed like it would be "Not very." He looked jittery and his timing was off, as he missed his first five shots against Minnesota in Game 1 (though the fourth was more of a strip-steal than the block it was ruled as). The Nuggets clearly wanted to get him in rhythm as they ran a pick-and-roll with Jokic on the first play to spring Murray for a pull-up, which he left way short. He admitted after the game that he got too amped up on adrenaline and wasn't really flowing. "You want to play so good, it's much anticipated," Murray said. "Sometimes that can affect you too much. Gotta slow down, get my legs back and just play basketball." But Murray, with some help from coach Mike Malone, quickly settled in and put together a thorough performance.
The Nuggets clobbered Minnesota on Sunday, 109-80, and Murray led the way with 24 points. He also notched eight boards and eight assists, with just a single turnover. The Wolves looked exhausted from the effort of battling through the play-in, as they shot just 19-for-45 from two-point range. Defending Jokic is always a mentally demanding task, since he will invent new angles to pass the basketball in every single game he plays. When he and Murray have their two-man game clicking, the task becomes an order of magnitude more difficult, since Jokic now has someone who can set him up in great spots too.
Murray's defensive intensity was impressive, though it was his playmaking that stood out most. The Nuggets have so many good cutters for Murray to hit, and my favorite pass of the night was this alley-oop to DeAndre Jordan. Murray is big and athletic and he can shoot, but if I were to pin down one aspect of his game that makes him special, it's decisiveness. What made Murray's knee injury so worrying was its potential to rob him of that particular gift. He's the kind of player who has to enter a flow state in order to control a game, and he can't get there if he's hesitant or a little slow in his decision-making. He presses on little advantages and breaks you with sudden moves. A good game for Murray is less about how many points he scores than it is how often and how confidently he asserts himself.
I missed this kind of thing, and Murray clearly did too, as he gleefully took center stage during a Christian Braun-Kyle Anderson beef in the third quarter. The man is as competitive as any NBA player, and he couldn't let his rookie have all the fun when things got chippy. This is the Murray I remember, and the Murray the Nuggets need: someone who will try so hard to win every possession, every argument, and every loose ball until he wears opponents down and the Nuggets roll.
Stay in touch
Sign up for our free newsletter