NBA
The NBA Is Good When It's Goofy
12:34 PM EST on January 24, 2023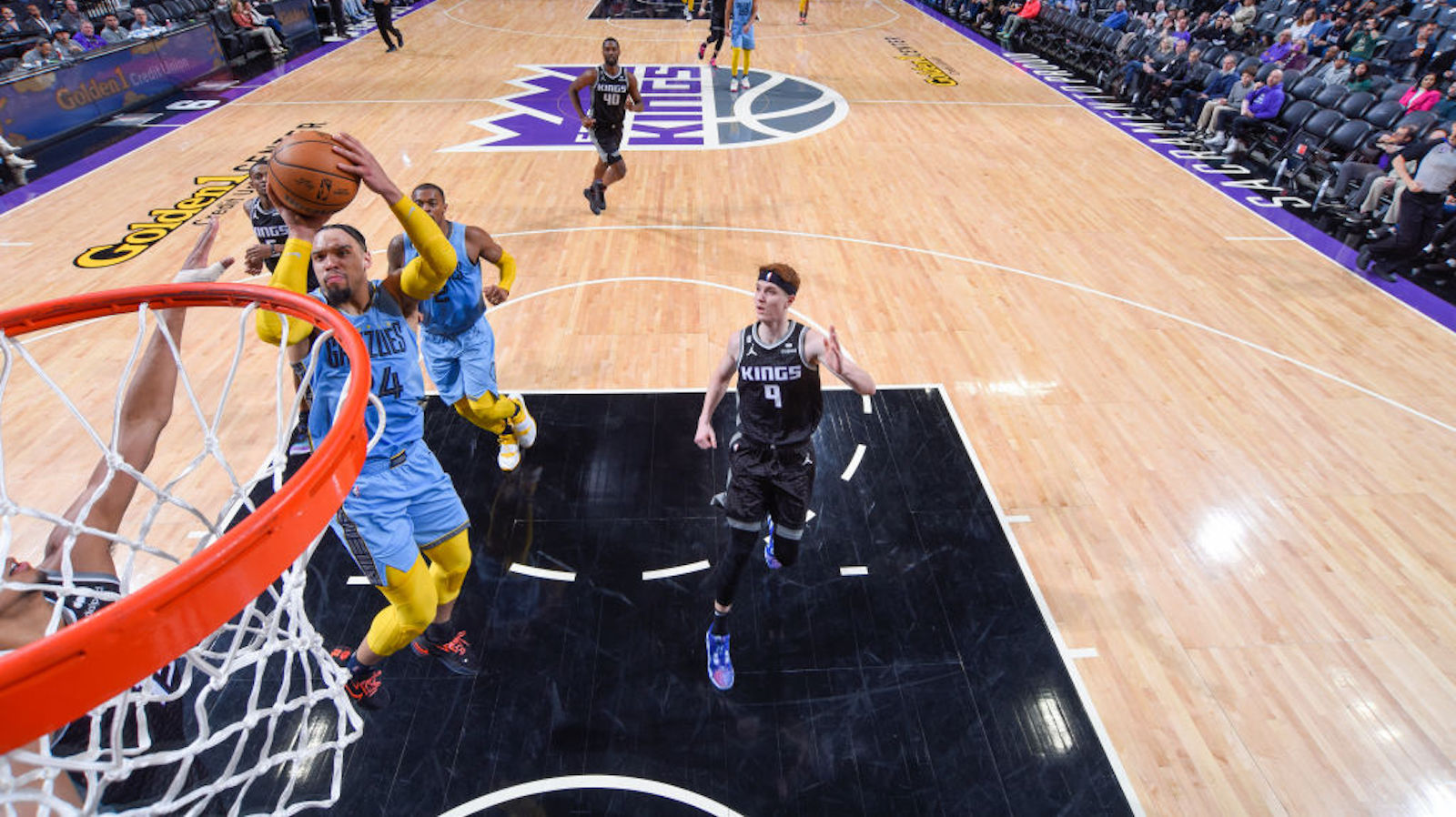 For all the people bleating that there are too many games in an NBA season, and that would be all of you, there are occasional reminders that the randomness that comes with playing 1,230 games over 174 nights can be savored as Someone Else's Problem, such as this moment from Memphis' Dillon Brooks:
This happened in a game that allegedly would be considered excessive by the standards of the We Must Preserve The Integrity Of The Game As Defined By Me Collective, a 133-100 win by Sacramento over Memphis in a game that promised to be a hell of a lot more competitive than it turned out to be. The Kings, who have been on their first real heater since 2005 and more specifically since Jan. 7, laid 133 on the Grizz to not only consolidate their grip on the otherwise viciously unremarkable Pacific Division but to return to the heady days of averaging 120 points per game, a feat that has not been achieved in a full 82-game season by anyone since 1985.
Now we don't want to rob Comrade Redford of his increasingly crowded place on the helm of the USS Beamtown—well, actually, of course we do because years of being on the wrong side of history has made him tetchy now that the Kings have course-corrected and have embraced a more universally accepted definition of fun—but the Kings are now one-tenth of the way to becoming the early '80s Denver Nuggets, the single greatest examples of the philosophy known as The Only Bad Shot Is The One That I'm Not Taking. Between 1981 and 1984, the Nuggets both averaged and allowed 120 a game, mostly because head coach Doug Moe believed that the path to winning was in making the other poor bastard chase you. They did this by cheerfully jacking up more than 97 shots per game over that stretch, which didn't seem all that unusual given that teams in the '60s routinely took 100 and more, but now seems like games played by drunks at a fitness gym.
But enough with the musty old history. Now that teams are becoming more comfortable in the 90-plus shot range, whether they're good shots or the things the Lakers take, teams like the Kings are going to thrive, and nights like last night are going to proliferate. By game:
Bucks 150, Pistons 130: Nothing particularly unusual here except that Milwaukee won the first quarter, 49-24, and the two teams just blithely ignored any defensive sets once they had mutually agreed with 40 minutes left in the game that when Giannis hits a 27-foot pull-up jumper to make it 40-12, there isn't much point in GAFFF (giving a flying flaming fuck) any longer.
Blazers 147, Spurs 127: There's not much a bad team can do when a mediocre team has shooting splits of 59/61/73, and their center and two starting guards combine for 88 in 86 combined minutes. You can't even rely on them having a hangover from losing by nine to the Lakers the night before despite outscoring them 45-12 in the second quarter, which the Blazers did in a nine-point loss without benefit of load management.
Rockets 119, Timberwolves 114: Jalen Green unclogged his nose on Houston's otherwise impressive Brick For Vic campaign by chunking up a career-high 42 in a game that was mostly unnoteworthy. But with only the Celtics and 76ers content to win every night and the Western Conference being a complete pigpile, the real fun is at the bottom of the table, where the Rockets, Pistons, Hornets and Spurs are frantically burrowing their way toward the Patriot League. And speaking of which ...
Jazz 120, Hornets 102: Charlotte maintained its pride of place in Dumpster Flats by going 2-of-16 from three-point range. I mean, it's fine to lose and all because we get that the games are increasingly played for the comfort of general managers and their eight seconds of fame on draft lottery night rather than for players or fans, but it's not unreasonable to expect a bit more GAFFF than this. Sixteen threes is what you take when you're telling the night janitor at the gym, "Just two more and then you can lock up, I promise."
Clippers 112, Mavericks 98: Another game in the '90s, so you know the chances of exemplary moments are pretty much nil, especially by two identical teams in the casual and unedifying debate for spots four through 12 in the mostly depressed and depressing Western Conference. Kawhi Leonard played. Woo-hoo.
Raptors 125, Knicks 116: Your run-of-the-mill please-make-it-stop Knicks game against a Raptors team that may as well be the Ottawa Senators. But the Raptors announced a non-sellout crowd for the first time all year, meaning that even management is losing the will to pretend any longer. Also, that the weather is too crap even for Canadians.
In all, a goofy enough night that didn't look like much but turned out to have more than you thought. Try getting that with a 66-game schedule. It's not fewer games the NBA needs, as it turns out. It's more Sacramento. And more beams. Definitely more beams.
Stay in touch
Sign up for our free newsletter