Soccer
The Moments That Made Aitana Bonmatí The Best In The World
10:40 AM EDT on November 3, 2023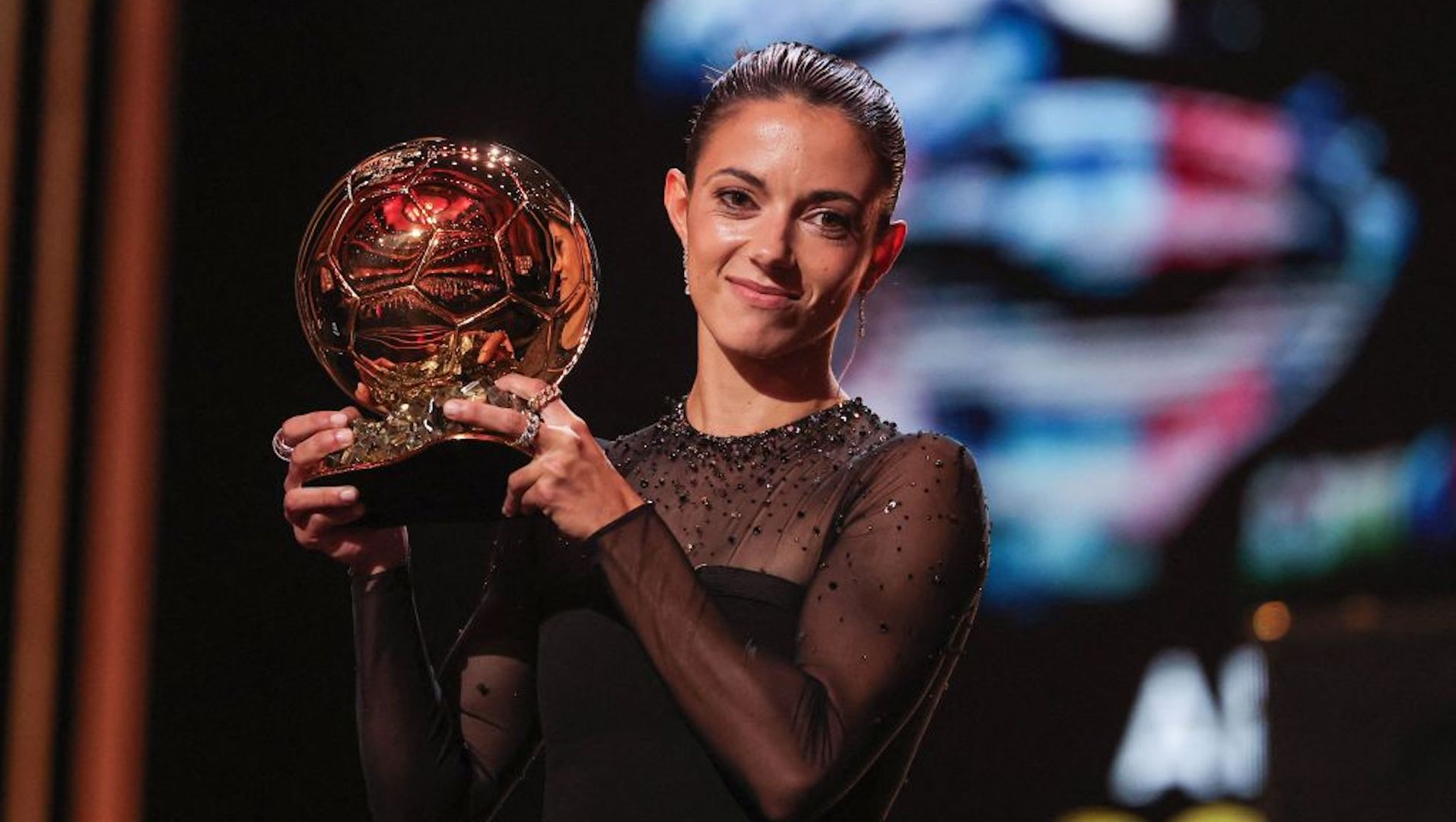 Monday night in Paris, France Football awarded the Ballon d'Or to the 2022–23 season's best men's and women's soccer players. 
On the men's side, Lionel Messi claimed his record eighth Ballon d'Or after leading Argentina to a World Cup win. On the women's side, the two-time reigning winner, Barcelona's Alexia Putellas, was out of the running after losing most of last season to an ACL tear. Thus, the Ballon d'Or Féminin found a new winner. But not a new home. 
Between a return to Champions League glory, continued domestic dominance, their contingent's exploits at the World Cup, and the fact that Barça Femení accounted for 20 percent of the 30-player shortlist, smart money was on the trophy staying in Catalunya. Once the votes were tallied, the Blaugrana made up five of the top 16 (that Mapi León is evidently not a top-15 player is a travesty to rant about another time), four of the top eight, three of the top five, and the top spot. On a related note: the evening began with Barça Femení winning the award for Best Women's Club.
Despite the achievements of Salma Paralluelo (third), Fridolina Rolfö (fourth), and Patri Guijarro (eighth), Novak Djokovic (naturally) was only ever handing the hardware to Aitana Bonmatí.
The past season had no business playing out as spectacularly as did for Barça Femení and Aitana. Again, Alexia spent most of it on the shelf. Jenni Hermoso and Lieke Martens left for, respectively, Mexico and Paris. Caroline Graham Hansen missed months. For good measure, Aitana herself, the prime candidate to pick up that slack, missed the preseason and first three league matches with calf and thigh injuries. As hilariously loaded as this team still is, they had every excuse to scuffle. That they never even glanced in that direction is a testament to Aitana.
She'd already shown she could do it on the big stage, having won MVP of the finals of both the 2020 Copa de la Reina and the 2021 Champions League. She'd done it internationally, having won both the U-17 (2015) and U-19 Euros (2017). Her top-five Ballon d'Or finish a year ago cemented her as the logical eventual successor to Alexia as Barça's Catalan talisman. In 2022-23, though, it all came together. These are the performances that tell the story of her dominant season atop women's soccer.
October 27, 2022 - vs. FC Rosengård, in Malmö, Sweden (Champions League Group Stage)
Aitana's first full 90 of the season came in Barça's first Champions League away date, in Malmö against Swedish champs FC Rosengård. The game started normally enough, with Barça dominating possession and chances. The biggest surprise was their inability to turn any of it into an opener. 
Finally, just before the half-hour mark, Aitana showed she was not only back, but already at her best, meeting a Fridolina Rolfö cross from the left at the near post and not only directing goalward, but doing so via no-look back heel:
Things took a turn minutes later when Caroline Graham Hansen dropped to the pitch in tears with what wound up being a torn hamstring. Immediately after she was subbed off, five minutes before halftime, Aitana did what she does, receiving a pass in the box from Geyse, coolly sliding it onto her left, and curling a shot through three defenders, past the keeper, into the bottom left.
Rosengård pulled a goal back in first-half stoppage time and kept the margin at 2-1 past the hour mark. Even then, it took an obscene center-circle strike from Mariona to extend the lead. What was evident despite this get-up-to-speed game getting a little dicey is that technically, tactically, and, I dunno, mentally, attitudinally, Aitana is constant. It didn't matter that she was coming off an injury, or that Rosengård refused to play the role of the pushover, or that the Barça players had been forced to deal with watching one of their best players leave the match with a bad injury. Aitana's performance was a reminder that when she's on the field she dominates, no matter the circumstances
November 24, 2022 - vs. Bayern Munich, at Camp Nou (Champions League Group Stage)
Aitana grew up less than an hour outside Barcelona. She joined FC Barcelona when she was 13. She wears No. 14 because Johan Cruyff did. Her autobiography, Totes Unides Fem Força ("United we are strong" in Catalan, from the Cant del Barça) has … 14 chapters. She's the first female ambassador to sponsor a Cruyff Court, one of the Cruyff Foundation's free-to-use small soccer fields. She uses her mother's Bonmatí as her primary surname, rather than her father's Conca, as traditional Spanish naming conventions would dictate. 
These connections matter in soccer. It means something when fans, for whom Barça is not just a sports team but an institution, get a chance to cheer on a player who was born into the institution just as they were. And it means something for a player like Aitana, for whom playing for the Blaugrana is something like destiny fulfilled, gets to perform in front of 91,000 of those fans.
So you can bet that playing at Camp Nou means more to her than most. In 2022, she scored in each of two Champions League matches in front of crowds of more than 91,000—a Messi-esque equalizer against Real Madrid in the quarters and the opener against Wolfsburg in the semis.
Barça's 2022-23 return to Camp Nou came on Thanksgiving night against Bayern Munich in the third round of Champions League group play. From the start, Aitana was in attack mode, forcing blocks, a diving save, and putting a shot just over the bar in the first half. But Bayern kept the game scoreless through 45 minutes.
Geyse opened the scoring just after halftime. Then, around the hour mark, with the match and top spot in the group still up for grabs (Bayern actually won the next meeting in Munich, 3-1), Aitana darted into the box, met a pullback from Rolfö, and stuffed the ball through a tiny near-post window to double the lead. 
The competitive stakes obviously matter. But, judging by the joy radiating off of Aitana right after that strike, I'd wager that scoring at the Cathedral for a third straight game was just as important. In typical fashion, it wasn't just the goal that left Aitana's mark on the game. Her perfect 24-of-24 mark on medium and long passes that night didn't make headlines, but it was emblematic of how expansive her dominance can be. 
June 3, 2023 - vs. Wolfsburg, in Eindhoven (Champions League Final)
Barça Femení isn't a team that finds itself staring down disaster very often, which means it has few notable comeback wins on its ledger. In fact, every time in recent history that they had found themselves on the ropes, things ended terribly: 5-1 over two legs to PSG in the 2017 Champions League semis. 3-1 to Lyon in the 2018 quarters. 4-1 to Lyon in the 2020 final. And 3-1 to Lyon again in 2022.
This final offered Barça a chance to not only reclaim the top spot in the women's club game, but also eradicate some painful memories. Early on in Eindhoven, however, it was a rerun of the same nightmare, as Wolfsburg scored immediately (third minute), then again in the 37th, and took a 2-0 lead into halftime. 
This time, though, the worm turned. Three minutes into the second half, Hansen found Patri in the box to halve the lead. Two minutes later, again from the right, Aitana placed an inch-perfect cross onto Patri's head for an equalizer, setting the stage for Rolfö's winner 20 minutes later.
Barça ended the season having played 42 league, Champions League, and Supercopa matches. They won 38, lost two, scored 161 goals, and conceded 20. Aitana was at the heart of it all, scoring 18 and assisting on another 22 in 35 club matches, including eight goals and five assists in 11 Champions League matches.
August 5, 2023 - vs. Switzerland, Auckland, New Zealand (World Cup Round of 16)
On the heels of the Champions League win, Aitana joined the Spanish Women's National Team for the World Cup in Australia and New Zealand. After a months-long dispute, most members of Las 15 (though notably not Patri, Mapi León, Cláudia Pina, and Sandra Paños), who'd previously opted out of international duty, citing poor management and mistreatment by the Spanish federation, were back on board.
La Roja hit the ground running in their opener against Costa Rica, peppering their opponents with 46 shots. They somehow settled for only three goals, all of which came within six minutes of each other. The second goal was a beauty, turned in by Woman of the Match Aitana.
After a 5-0 win over Zambia gave way to an incredible 4-0 hammering at the hands of Japan, Spain finished second in Group C, which set up a round-of-16 date with Switzerland. Any concerns in the wake of the Japan loss were quickly put to rest by one of the great individual performances of World Cup history.
Spain went ahead inside of five minutes when Aitana, after opening up a shooting angle with a  gorgeous, find-a-yard-inside-a-phone-booth maneuver, threaded a shot through five defenders and one of her own teammates. The shot was so quickly taken and so well shaped that it nailed Switzerland's keeper to the ground. The ball nestled perfectly into the corner of the net.
The Swiss leveled six minutes later through an outrageous, long-range Laia Codina own goal, but never really got into the game after that. In the 17th minute, Aitana (generously listed at 5-foot-4), won an aerial battle in the box and flicked a cross to fellow fellow Ballon d'Or short-lister Alba Redondo to finish. 
The score stayed 2-1 for about 20 minutes, at which point Aitana delivered the knockout blow. She gathered a ping-ponging ball in the box, flummoxed four defenders, all of whom were within four yards of her, put the keeper on her ass, casually slid the ball onto her left, and threaded the needle again.
Later, Aitana put the final touch on a 76-minute, 10/10 performance by poking a perfectly weighted through ball to Jenni Hermoso, who added a 51st goal to her national team tally.
Though she made no more direct goal contributions in the tournament, Aitana remained its most consistently excellent player. She switched gears in the quarters against the Dutch, contributing defensively with four tackles and four blocked passes. Then she dominated the final against the English as a passer (completing 88.9 percent of her passes), a dribbler (six successful take-ons out of seven tries), and on defense, with two tackles, two interceptions, two blocked passes, and a clearance.
When all was said and done, Barça had delivered Spain another World Cup trophy, and a new generation of Spanish superstars had become legends. 
For her trouble, Aitana was awarded the Golden Ball as the tournament's best player. This all set the stage for her claiming of the Ballon d'Or on Monday.
Now that Aitana stands alone at the top of her sport, it's worth remembering that her season never seemed destined to end on such a high note. A strong World Cup performance was always going to make her a favorite to win the Ballon d'Or, but she also played through the tournament burdened with the knowledge that every goal, assist, and win she engineered for her team would go towards burnishing the reputations of the men who controlled the RFEF, men who had already failed Aitana and her teammates countless times. She did ultimately have to share her World Cup success with those men, but thanks to Luis Rubiales showing his ass for all the world to see, she only shared it briefly.
Everything that's happened since the World Cup makes Aitana's Ballon d'Or win all the sweeter. Rubiales was chucked from the RFEF and hit with a three-year ban by FIFA, Jorge Vilda was banished from the sideline, and the women's national team continued to put public pressure on the federation until they got some assurances that long overdue structural changes would be made. When Aitana took the stage to claim her award on Monday, she stood, finally, unburdened. She now has the rest of her career in which to continue her rise, bringing Spanish women's soccer with her. 

Emile is a freelance writer, originally from the U.S., now living in Barcelona. He writes about Spanish soccer, namely FC Barcelona and Barça Femeni, on Substack, at La Barça Soc Supporter and appears regularly on The Barcelona Podcast. His work has previously featured at outlets including The Blizzard, Urban Pitch, The Squall, Barça Blaugranes, and Sports Collectors Daily.
Emile also writes about the NBA, at his new outpost League Pass in L'Eixample. His previous work can be found at Forum Blue and Gold and his own site, a living relic of the basketblog era, Hardwood Hype.
Read More:
Stay in touch
Sign up for our free newsletter