NHL
The Lightning Were A Long Time Coming
9:01 AM EDT on September 29, 2020
We know, now, how this story ends. An utterly dominant Lightning performance in Game 6, a 2-0 win over a Dallas team that was not just happy to be here. A Stanley Cup, raised and kissed and passed from man-to-man as it is every year, after a pyrotechnic-graced celebration in a shadowed, empty arena, where the loudest voice was an unjeered Gary Bettman's, which decidedly does not happen every year. The climax of the strangest season in NHL history, which lasted nearly a full calendar year, and a double-bubbled, soft-around-the-edges postseason that threatened to give the whole season an asterisk, but will not, because the best team won. This story ends with Victor Hedman adding to his surely sagging trophy shelf with a Conn Smythe, and Steven Stamkos, after playing less than three minutes of hockey in seven months, lifting the Cup. But where did it begin?
It depends on which story you're telling, I suppose. If it's the story of this pandemic-interrupted season and disjointed playoffs, which saw Tampa dispatch the Blue Jackets to earn some measure of revenge, the Bruins to topple hockey's top seed, the Islanders to fend off a young, flawed team that might have reminded the Lightning of themselves a few years ago, and a Stars team that put up a fight but just ran out of steam, then it begins back in March when the world changed. It's good, perhaps, that regular-season records were mentally thrown out. The Lightning could've been accused of sleepwalking through large parts of the season, after being world-beaters in the previous one before bowing out in the playoffs without winning a game. Sometimes it's hard for talented teams to turn it on and off like a light, and there's no guarantee the Lightning would have been able to do it for a normal postseason, instead of getting to make a standing start like every other team. The bubble, first in Toronto and ultimately in Edmonton, was good to the Lightning, perhaps because of unfinished business from the year before, perhaps because of unflappable veterans throughout the roster, perhaps because they were simply hockey's best team, and that won out. There were other talented teams who clearly had no interest in spending more time in the bubble than they needed to; it was absolutely not a given that the Lightning would care enough to do this for two months. "It takes a lot to be in a bubble for 80 days, or whatever long it was," Hedman said. "But it's all worth it now."
The most convenient version of this story starts a season earlier, with humiliation. The Lightning won 62 games in 2018–19, the most ever for an NHL team, and boasted an offense that was far and away the best in the field. They promptly got swept by Columbus, going from Presidents' Trophy to punchline in four shocking games. You never know when your window closes in the NHL, or if you'll get another chance. If that had been the end of it, the story of the Lightning would have been one of chokers, underachievers. Of failure. Instead, head coach Jon Cooper said all that "heartbreak" made this team a better one.
"To come back year after year and take our swings and take our licks and be talked about here as the kids who are going to be here every year—and now we're talked about as the team who can't get it done—and you know what? We got it done," Cooper said. "And it wasn't without failures along the way."
It's all forgotten now in the polish-and-champagne glow of a championship, but these Lightning had a reputation. Five playoff appearances in six years, yet nothing to show for it but a persistent sense that they should have been better than this, that there was something ineffable holding them back. This was the team that had lost three straight to blow a Cup final lead in 2015, and had blown 3-2 conference final leads in two of the next three seasons. This front office could easily have hit the panic button after last year's sweep, blown up the roster, replaced Cooper as coach, and everyone in hockey would have nodded and said, "Yep, I see why." So maybe, instead, this story is the story of GM Julien BriseBois deciding not to panic, using the offseason and the trade deadline to tinker and not to remake. BriseBois's moves all seemed minor, and each in turn was, but together the signings of Pat Maroon and Kevin Shattenkirk and win-now trades for Barclay Goodrow and Blake Coleman fit together in a larger vision of Tampa as a deeper, scrappier team.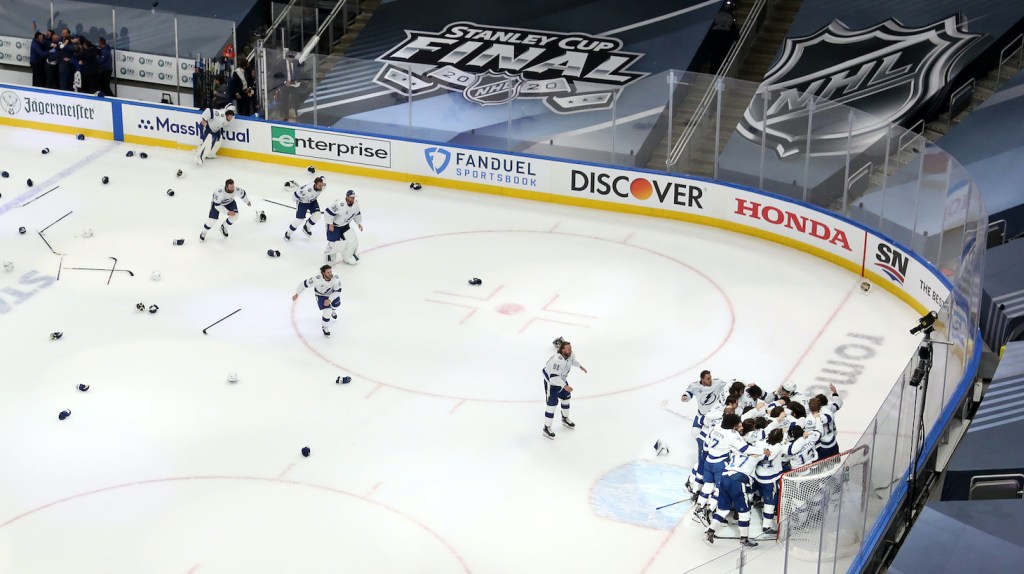 But those were fine-tunings to an already powerful machine. The story, then, is not one of redemption but one of culmination. The core of this team has been together for half a decade, and the core of the core for nearly a full one. Hedman and Stamkos are the longest tenured Lightning players, but Alex Killorn, now perhaps past his prime but still a rock on the second line, predates them both as a third-round draft pick in 2007. The building of this machine has a lot of shrewd draft picks like that: Stamkos and Hedman were a No. 1 and No. 2 overall, but Nikita Kucherov was a second-round pick, Brayden Point a third-rounder, Ondrej Palat a seventh. Goalie Andrei Vasilevskiy, who went in the middle of the first round in 2012, was derided by some as a reach. This team has been solidly constructed over time, and before BriseBois, Steve Yzerman, Brian Lawton, even Jay Feaster deserve measures of credit for this Cup.
No Cup is won in a single year, and they all look a little something like this: smart drafting, tactical signing, impactful trades, weighted in various permutations. But the Lightning—arguably the most talented team of the last decade, a decade in which three other clubs won multiple titles—have done something truly special and sustainable here. By drafting, developing, and keeping so many of their own stars, Tampa has avoided the need (and, crucially, the temptation) to blow things up. Because things have been working, damn it, by any reasonable definition, no matter how many playoff disappointments that included. If it's almost more surprising that this is the first Cup for this version of the Lightning, instead of their second or third, then that's the way of the world. The playoffs can be a fluke, and you can do everything right, and ice the best team, and sometimes it just doesn't go your way. But the glorious corollary to that is: sometimes it does. What a story.
And so the Lightning and the Stanley Cup lived happily ever after...? The fact is, while their cap crunch is real, unless they choose to do otherwise, Tampa can return pretty much the same core of players for at least another year. This redemption, this culmination, this coronation—it's not necessarily the end of this story.
Stay in touch
Sign up for our free newsletter