NHL
The Kraken Made The Avs Look Like Old News
12:14 PM EDT on May 1, 2023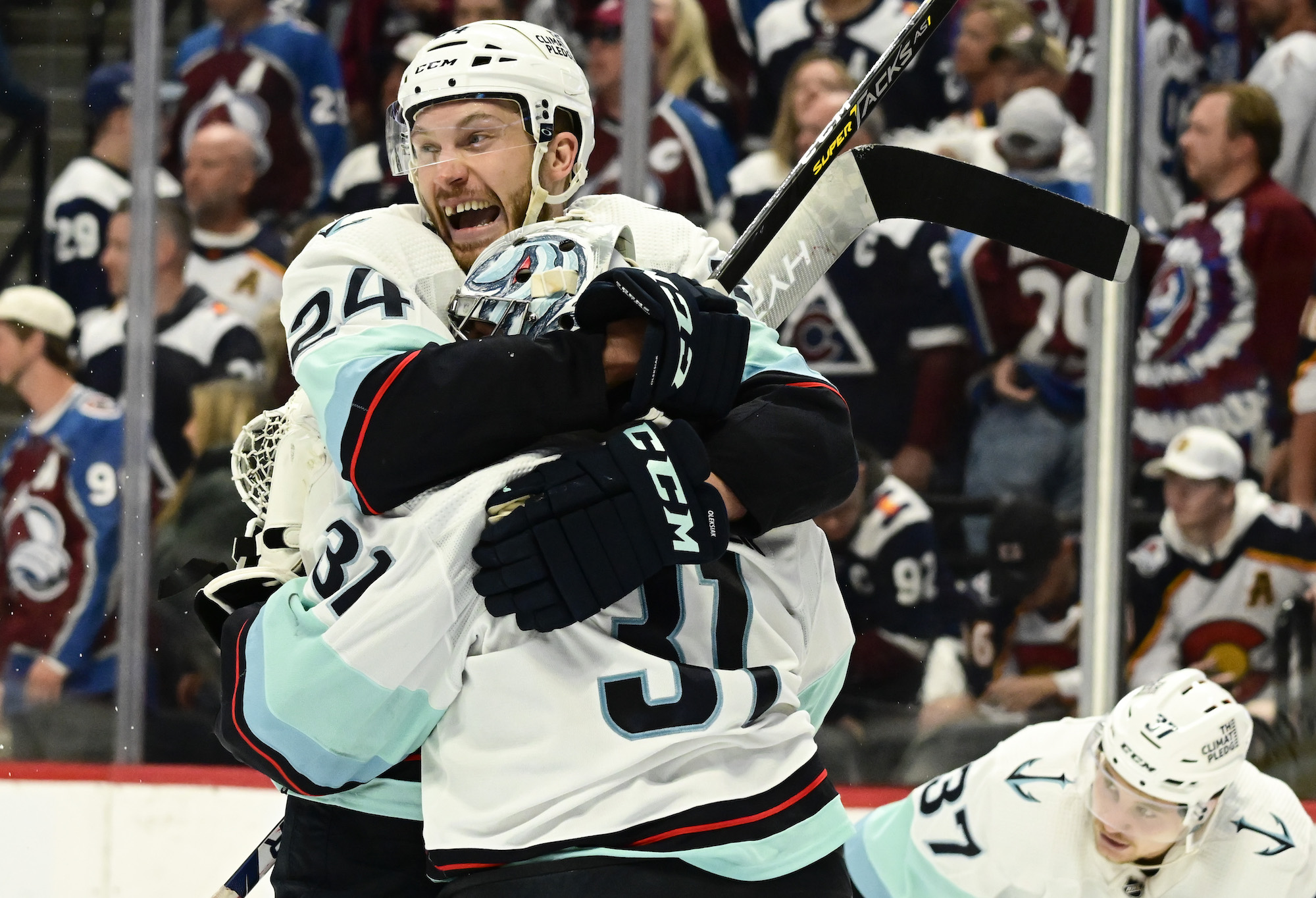 Nobody seemed quite as surprised by the Seattle Kraken eliminating the Colorado Avalanche from the Stanley Cup playoffs as the Kraken themselves. Sure, they scored two early second-period goals from the previously Columbusized third-line winger Oliver Bjorkstrand, but nobody thought they could hold that lead, especially when the Avs scored late in the period. Surely the knowledge that was won during Colorado's Stanley Cup triumph a year ago would overwhelm the still styrofoam-encased Kraken and the goalie the Avs used to employ, Philipp Grubauer.
Only Grubauer, who had been aggressively ordinary in front of the middling Seattle defense during their otherwise surprising season, Zenned his way through a disturbingly quiescent third period in which the Avalanche buzzed around the offensive zone but managed only six shots on goal. The Avs and their championship pedigree thoroughly and completely whelmed a situation that demanded overwhelming, and now they are just another one-and-done.
Worse, Colorado is just one team that's been around too long when the future of the league is clearly with teams that haven't even navigated the kindergarten of their years. Seattle is in its second year of existence, modeled as best as it could be on the Vegas Golden Knights, which throttled Winnipeg in five games and in six years already have a Cup final and two semifinals in their resume. Expansion teams are usually punished for being new, which has been shown to be an excellent way to kill a town's interest in a new sport, but the NHL made the pains of childbirth easier for the Knights and Kraken, and now Gary Bettman's fever dream of a Vegas-Seattle conference final is in place. All he has to do is take out the game's best player (Connor McDavid), the playoffs' best player so far (Leon Draisaitl) and the game's newly emerging best goalie (Jake Oettinger). These would be considered, at least by him, to be small prices to pay for being blamed for the abandonment of Quebec City in 1994.
And don't think he wouldn't consider it. He has been particularly pigheaded with markets like Phoenix and Miami, which have never really gained much traction, and is now enduring the semi-collapse of the once-vibrant California market. But Vegas has been an unalloyed triumph for him since their opening night six years ago, and Seattle has yet to have an uncounted seat. In the Non-Original 26 World, Seattle has been a stone win.
But not a star-studded one. The Kraken are more the prototypical hard team to play, like most expansion teams more persistent and positional than jaw-slackening. In other words, while they score with some facility (they were sixth in goals after being 28th in their first season), they do it anonymously. They have no players you can easily identify if your hockey experience is limited to YouTube highlights, and you couldn't identify Jared McCann, their leading scorer, in a lineup with his mom, his cat, and his toaster. Not only that, he is likely out for an extended period after taking a hit from Colorado's Cale Makar in Game 4 of the Avalanche series. Their second best-player, Andre Burakovsky, has been out since February and isn't expected back unless/until the conference final. Their third-best player, Matt Beniers, is 20 and has a Chipotle commercial, if that's your idea of fame. Their coach, Dave Hakstol, failed in Philadelphia (big surprise there) and was considered a hire of extreme meh until, well, Sunday night.
In short, Seattle's main selling point is its simple new-car smell, in the same way that Vegas made its bones five years ago by being the first team that Vacationing Gambleholic America could call its own. The Kraken can therefore win some hearts and minds against Dallas, which is built around Oettinger and a strangling defense which is effective but underfun to watch. If a cartoon squid can carry a day nobody thought it was ready to have, this is that opportunity, and with any luck it can even put a slightly perceptibly more mirthful smile on Bettman's lip-deficient face—if that's what fills your otherwise empty evenings, you poor bastard.
Stay in touch
Sign up for our free newsletter