MLB
The Giants' Organizational Mediocrity Runs Deeper Than Gabe Kapler
10:03 AM EDT on October 1, 2023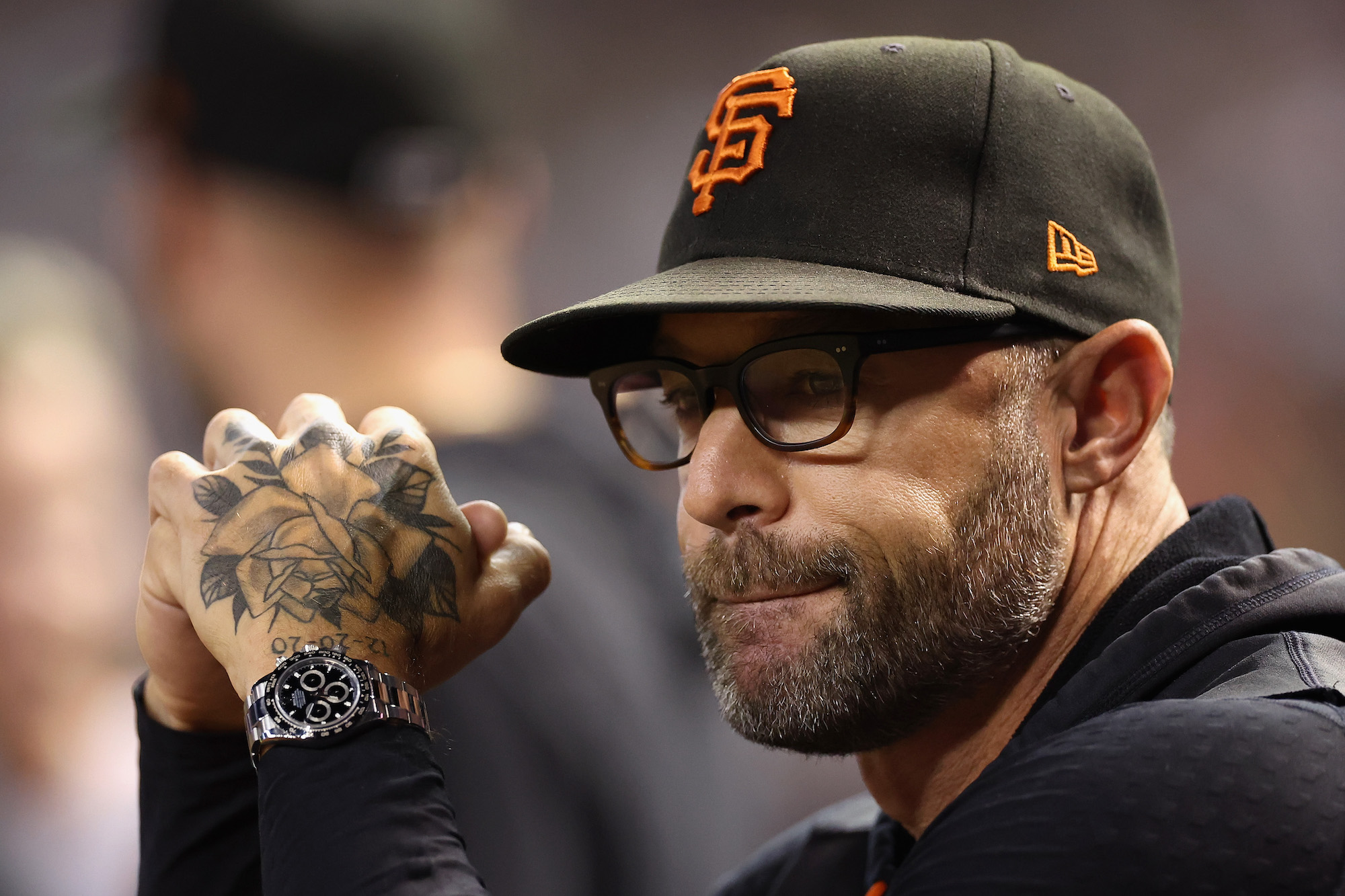 Baseball's regular season ends today, nearly 400,000 minutes of play ending with a flurry of games played as fast as possible so that everyone can shower quickly and be done with their year as quickly as possible. For 12 teams, there is a postseason still to fantasize about, for 18 others a stove to heat to make sure their fans don't forget them.
But one team is slightly more prepared for its offseason than all the others, and that would be the San Francisco Giants, who fired their manager of four years, Gabe Kapler, for his minimal part in making the Giants the most forgettable and therefore least necessary of teams. Everyone who spent more than 15 hours watching this Saskatchewan of a team—flat, featureless, and almost never in the news—agreed that Kapler hadn't done anything particularly poorly, including keeping close to his superiors, but he also hadn't done anything particularly memorable, either. In fact, the Giants haven't done or been anything particularly memorable for so long that the Oakland A's got more mileage for being terrible on the field and utterly detestable off it than the Giants did for adhering so closely to break-even. Even their City Connect uniforms, an homage to fog that faded from creamsicle orange to white-on-white halfway down the shirt, didn't have the heart to complete the job.
Yes, Kapler was fired for an even greater crime than being incompetent, stupid, or crazy, which used to be the rubric for sudden joblessness. He got it for adequately representing the blandness of the entire operation, and other than 2021, when the gaggle of ordinary players all having simultaneously career years combined for 107 wins and a first-round loss to the hated Los Angeles Dodgers, he was the very epitome of the team slogan, "We Meh, So You Don't Have To."
And even that act of "Well, we gotta do something" made little impression because the thing the Giants have treasured most in the Farhan Zaidi era—middle-of-the-fairway predictability—is now deemed utterly unfashionable. This should have come as no surprise to them if they'd been paying attention to America at all. To get anyone to rouse from their pre-apocalyptic torpor, you as an entertainer must be either amazingly good or execrably bad, and in either event have to give us people to care about.
But the Giants thought that those 107 wins were actually proof that they were smarter than anyone else—take a bunch of contractually tolerable spare parts and make them magic. It happened once. In the other three years of Kapleriana, they were 29-31, 81-81, and 78-81. Under interim manager Kai Correa they're 1-1, so it isn't just Kapler that adheres to the mean so devotedly.
Then again, maybe it IS Kapler, in that nobody knew where he started and Zaidi ended, and that white-bread-lightly-toasted feel extended to a roster that played to a standard that was actually three games worse than their actual record. They set a franchise record for strikeouts while hitting 70 fewer homers than they had in 2021, their pitching was absolutely league-average in every way, and their fielding was all potholders and shoes on the wrong feet.  Kapler's record challenging calls was like his non-2021 winning percentage—a hair below .500. He never said or did anything particularly noteworthy, barely complained about the umpires, and in general was pretty damned Saskatchewan himself.
And it wasn't like he hadn't hinted at all this in his two years in Philadelphia, where he actively WAS blamed by fans for seasons of 80-82 and 81-81. In sum, if you take out the year in which the Giants had no business winning the way they did, he is the very essence of league-average.
But we know that Kapler is only the itchy skin on this field of organizational eczema. Everything about it is bland. The leading home run hitter is Wilmer Flores with 23. The leading RBI man is J.D. Davis with 69. The top OPS+ performer is LaMonte Wade Jr., at 121. Logan Webb's name will be on some Cy Young Award ballots, downstream from Blake Snell to be sure, but that's the extent of their exceptionalism. This has been a festival of tedium.
And Zaidi and the Johnsons, daddy Charlie and son Greg, know it. Their joint legacy is never landing a big name, or doing big things as a result. Theirs is a monument to doing just enough, and the new modern fan base has spoken by aggressively finding other stuff to do. Something needed doing, and firing Kapler, so unlike the force of pure energy that was Bruce Bochy, was the safest and most obvious thing to do. It's a departure from the norm anyway—Kapler is the first managerial firing by the team since 1985, which was three owners and five baseball operations executives ago. Why they needed to fire Kapler with three days left in a lost season rather than next week is a mystery not yet revealed; maybe they thought finally doing something of notice when nobody expected it would get people to talk about them. You can judge for yourselves how well that worked.
What they need more than anything else is the massive offseason signing and concomitant money burn they haven't performed since Barry Bonds. They need to overpay to get an agent's attention, and then overpay that to get them to actually chat. They have to Steve Cohen this baby, and you saw what the Mets did this year as a result. They might simply be fundamentally rogered.
But they've seen how well doing nothing has worked, and firing Gabe Kapler was as useful as hiring him was. The problems lie elsewhere, and they look out of ideas already. 
Stay in touch
Sign up for our free newsletter