NHL
The Flames Might Actually Want To Keep Playing
2:11 PM EDT on April 6, 2023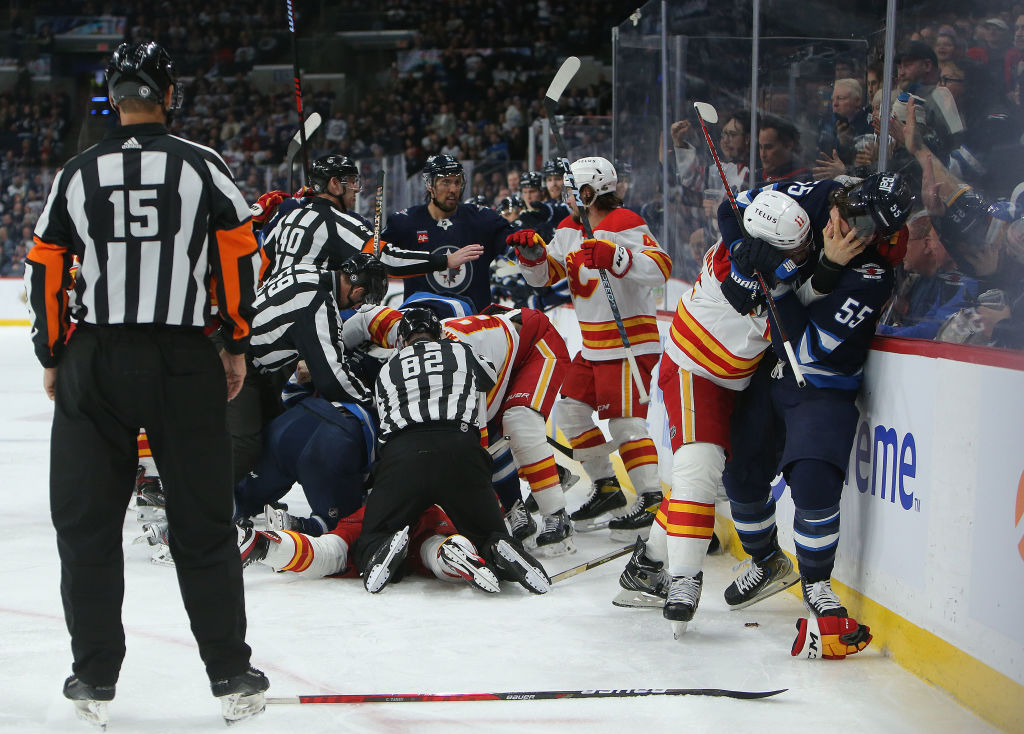 Even if they end up making the playoffs, this season was step back for the Calgary Flames. A year ago, they were perhaps the most fundamentally sound team in the league, with a plus-85 goal differential that was better than everyone but the Panthers and with a much calmer defense than those maniacs. Their top line, in particular, was a monster that kept its opponents pinned back against their own net, and though their season petered out in the second round against Edmonton, the Flames still had several months of strong, intimidating, hard-to-top hockey in their books.
But Johnny Gaudreau, who led the team with 115 points, didn't want to stay. He turned down a big extension in the summer to move to, of all places, Columbus. And then Matthew Tkachuk, who'd just put up a breakout 42-goal year, said that he didn't want to sign a long-term contract, so he was traded to Florida in exchange for Jonathan Huberdeau and MacKenzie Weegar. Getting maybe the best passing winger of his generation, the second-best defenseman in Florida, and then adding Nazem Kadri, a key piece of a Cup-winning offense, in return for losing those two studs helped Calgary save face, but a feeling of uneasiness remained. If they were to claim a Cup, it would not be with the core that fans had invested in.
The Flames can maybe take some solace in the fact that Gaudreau's Blue Jackets are irrelevant and Tkachuk, even though he's personally killing it with the Panthers, might also miss the playoffs. But they themselves have never quite managed to get this revised team on solid footing. Calgary started decently enough, at 5-1, but then they tripped into a seven-game losing streak and never got the wins back. A lot of the underlying numbers remain impressive—the Flames are second in the NHL in shots per game, and third-best in shots against—but everything else has been both disappointing and unsettling. Jacob Markstrom's save percentage tumbled from .922 last year to .891, and with the exception of Tyler Toffoli, none of the shooters are producing anything like what they did, or what they need. The Flames' 8.92 shooting percentage is worse than everyone but Anaheim, and as a consequence their stat sheet is filled with ugly regression even as their guys have stayed healthy. Huberdeau is at 15 goals and 39 assists after 30 and 85 last year. Andrew Mangiapane has 17 goals after 35. Elias Lindholm has 21 after 42. From an on-paper talent standpoint the Flames didn't fall off all that much, but they messed with their formula, lost the inimitable viciousness of the Gaudreau-Lindholm-Tkachuk combo, and now sit in ninth place in the West.
The Vulcan way of looking at this would point out that, as we humans conceive it, the Flames are the "unluckiest" team in the NHL. The lower-than-expected shooting percentage points to overachieving opposition goalies, and the fact that Markstrom has slipped so much is just one of those things that's ultimately out of a team's control. In the stuff Calgary can control—creating opportunities and limiting opportunities against—they're doing OK. But it's hard to have watched this team all year and not feel like there is something unquantifiably wrong with them. They have talent; they outshoot their opponents, often by wide margins; and yet they drop points like they have a hole in their pocket. The Flames have 15 overtime or shootout losses this season, second-most in the league, and in nine of those they've blown a lead in the third period. If you look at Gaudreau's and Tkachuk's exits, plus this inability to see wins through to the final minute, plus the fact that head coach Darryl Sutter is a notorious hard-ass who didn't exactly make lasting friendships in Los Angeles, there's a reasonable conclusion that this team is just emotionally not in the right place.
Though they'd recently scored some uneven wins against limp competition to keep pace with Winnipeg for that final playoff spot, Tuesday night looked like an unforgivable sin. At home facing Chicago—a tanking, unmotivated squad on an eight-game losing streak whose own fans would forfeit their remaining contests if they could—the Flames fell 4-3 in regulation, getting beaten on multiple occasions after carelessness with the puck. When there are barely any games left and you're trying to make up ground on the edge of the playoff race, these are must-wins. But the Flames looked like they had already played too many minutes and were ready to get off the ice.
"You can see the fatigue," Sutter said after the loss.
So the Jets, who were and still are trying to hold off the Flames, had 'em right where they wanted 'em. Winnipeg hosted Calgary the very next day, after two days off of their own. They had home ice, a rest advantage, a standings advantage, and a momentum advantage, having most recently crushed the Devils 6-1 and, less notably, the Red Wings 6-2. But in a feisty game that was even on shots, the Flames found an edge.
It was a choppy start for the Flames, who surrendered a power-play goal in the first, couldn't convert on their own man-advantages, and had their energy seemingly snuffed out by a lengthy goalie interference review that overturned their response in the second. But they quickly recovered to score their actual first goal in a chaotic stretch that led to five penalties, three of them on Calgary. Winnipeg got a fast break off a turnover and brought the puck very close to Markstrom but couldn't get it past the line. Pierre-Luc Dubois went down near the crease and got shoved in the noggin by the Flames goalie for his trouble, while Mikael Backlund broke out of the zone with possession and started a two-on-one with Mangiapane. They executed with textbook crispness, and then everybody started throwing hands.
Markstrom looked like last year's model for the rest of the night, and in the third, some purposeful mayhem in front of the net broke the tie in the Flames' favor, while a burst of skill from Huberdeau and Nikita Zadorov contributed an insurance goal. Calgary took home the win, 3-1, and they're now in effect just a half game back of the Jets: even on points with 79 games played to Winnipeg's 78.
There's a version of the Calgary Flames that will be very hard to beat in the playoffs, because they'll force your goalie to be sharp while limiting windows on the other end. I'm not convinced we've seen those Flames yet for any extended stretch, but Wednesday was at least proof of life.
Stay in touch
Sign up for our free newsletter