Soccer
The Champions League's 'RedZone' Had Its Crowning Moment
11:37 AM EDT on October 25, 2023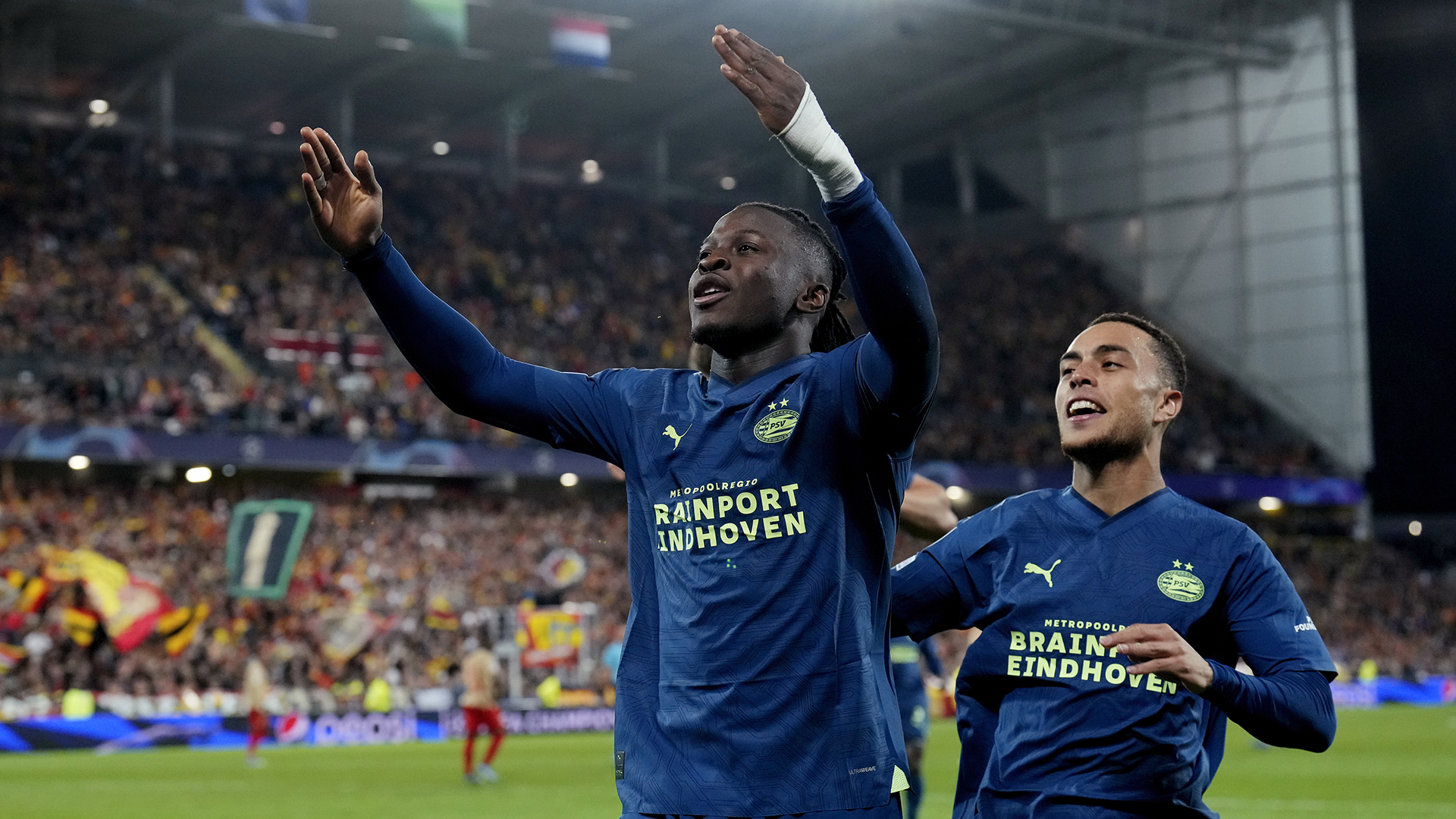 NFL RedZone has changed the way I watch football. As someone whose interest in the sport has faded over the years—in part because of the well-documented harm it does to both its players and society as a whole, and in part because the Patriots stopped being good (don't hate me, this is my truth)—RedZone is a perfect way to passively consume as much football as possible with very little investment. It's been a great invention for the NFL, and whoever realized that the sport's stop-start, highlight-friendly nature was ready-made for a hyperactive channel-flipping mode without the need to actually touch a remote is a genius.
Like any good idea, this one was immediately copied. Soccer's foray into the over-stimulation game comes in the form of CBS's Golazo Show, a RedZone clone that, like its inspiration does with touchdowns, promises to show every goal scored on a Champions League (or Europa League) matchday. It's the same idea as RedZone, but is usually far less effective.
While the American style of football lends itself well to seamlessly swapping between games as teams get closer to the titular red zone, soccer is a free-flowing sport. That makes the Golazo Show a necessarily subpar way of watching the game: The show does cut to games that are in promising positions—a corner kick, or a free kick just outside the box—but the sport's nature is such goals are unpredictable and the actual feel of the game cannot be communicated in brief clips of potentially high-leverage moments. It's impossible to watch the Golazo Show and get a real sense of how a game is going; you can't see midfield battles take shape, and any tactical adjustments are only made clear when the show's host, Nico Cantor (yes, son of Andrés), points them out.
I tend to only turn to the Golazo Show in the group stages, and only when there isn't a match I'm particularly invested in. If Barcelona is playing, or Liverpool in years past, I tend to just watch them, maybe with a second screen playing Golazo to have a vague sense of the scorelines across the competition. And if there's a winner-take-all match on the final matchday, that gets my attention. Given that I write about soccer for a living, it would be irresponsible to put up an article on a game I only watched in 30-second snippets at the whim of Golazo's producers.
However, on rare occasions, the Americanization of soccer via RedZone-but-for-goals works out wonderfully. Tuesday's Champions League slate served up the perfect conditions: While there were a couple of good matches on paper—Sevilla-Arsenal and Union Berlin-Napoli, especially—nothing jumped out at me as a must-watch. So, off to Golazo Show I went. I barely paid attention during the first half of the games. Most of the contests were tentative affairs in the first 45, with only two goals across six matches (Rodrygo's 16th minute opener for Real Madrid, and Gabriel Martinelli's stoppage-time tally for the Arse Lads). This is another reason Golazo can feel like a flop. Soccer is a low-scoring sport, so a show isn't necessarily promising much when it says it will show every goal.
The second halves were a different story, though, and this is where an unattached viewer would get the most out of Golazo. From the 53rd minute of these games until the 72nd, there were nine goals across every game, coming at such a fast pace that the show could barely keep up. Let's list them out:
Phew! That 19-minute stretch was the proof of concept that Golazo Show has needed since its inception in 2020. There have been exciting stretches before, particularly on those aforementioned final group-stage matchdays, but that had less to do with the format of the show and more to do with the fact that do-or-die matchdays for the Champions League are among the best in sports.
In contrast, Tuesday was a run-of-the-mill third matchday of the competition, with all of the teams still having everything to play for. The Golazo experience still was lacking, in some ways; I had multiple goals spoiled for me by Twitter, because the show can't catch up to real time when so much is happening across the slate. But it also was thrilling to bounce from goal to goal, seeing some incredible ones (Bakayoko's was probably the best of the bunch, and Khvicha Kvaratskhelia's assist for Napoli's goal made me howl in delight) and watching the balance of power tilt repeatedly in every direction.
Would it have been better to stick to one match and get the full enjoyment, rather than the smaller dopamine hits from this format? Yes, probably. In retrospect, I wish I had watched the Lens-PSV match or stuck to my instincts and watched Arsenal beat Sevilla. And even with all of the goals, I'm still not 100 percent sure how the matches were going outside of them. I could tell Manchester United was struggling with Copenhagen, but not exactly how or why, for example.
But for once, I didn't really regret my choice to give Golazo a chance. When the stars align with a perfect flurry of action, the show becomes a psychedelic experience, one in which soccer morphs into a Twitter timeline of highlights come to life. That's maybe the best way to look at Golazo in the aggregate: Where once you would either hope for replays intercutting into the match you're watching, or else scour CBS's soccer Twitter page for goals, this was all in your face. It's brash and often obnoxious, but when the floodgates open, there's perverse pleasure in letting the waters rush over you.
Stay in touch
Sign up for our free newsletter