NBA
The Cavaliers Paid The Price For Arriving Ahead Of Schedule
2:13 PM EDT on April 27, 2023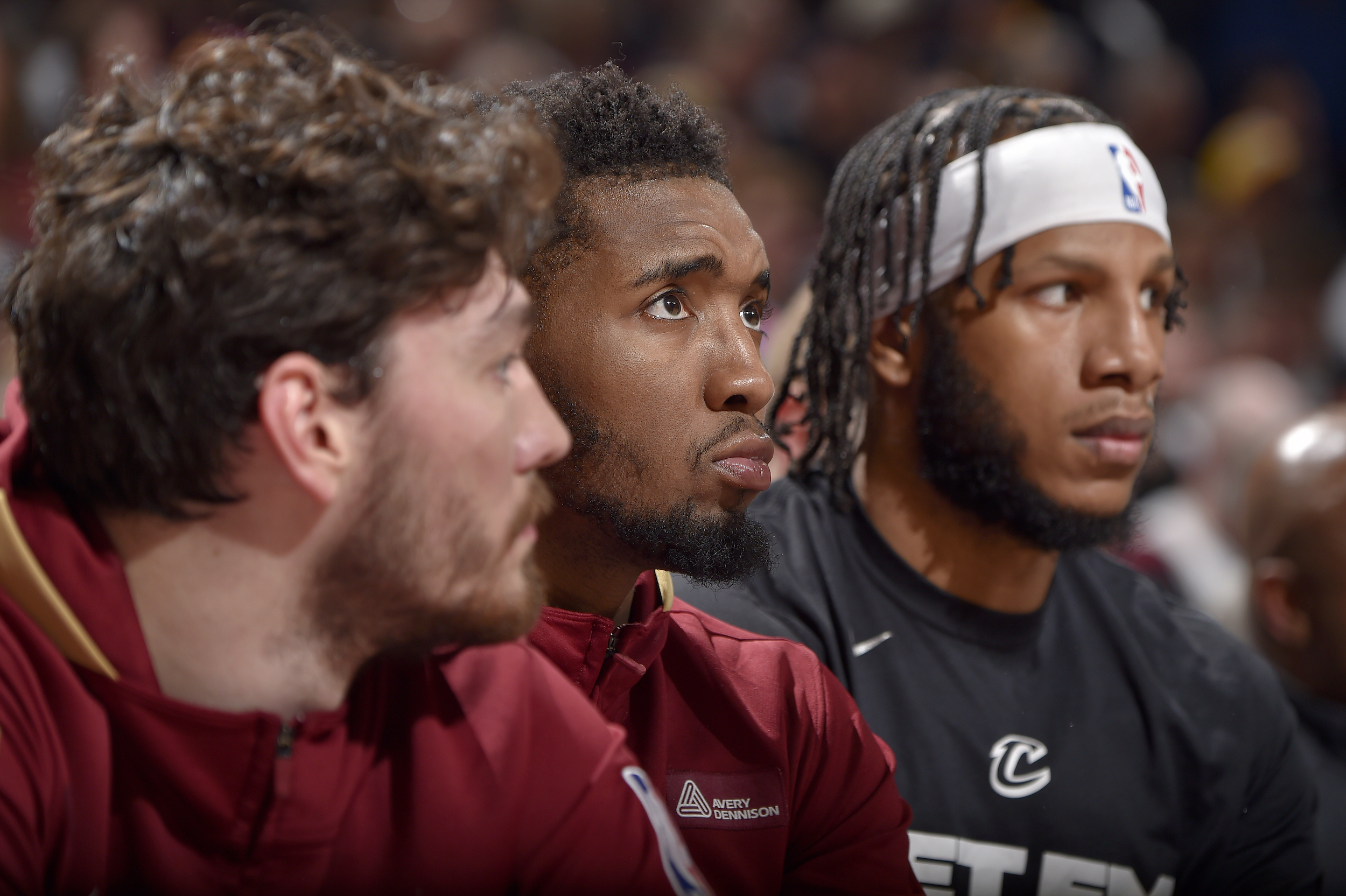 The New York Knicks—the Knicks!—dismissed the hell out of the Cleveland Cavaliers in their first-round playoff series, closing it out with a definitive 11-point victory in Game 5 Wednesday night. The Cavaliers—who won 51 games during the regular season, posted a top-10 offense and the league's best defense, and would not have seemed out of place playing their way to the conference finals—made a surprisingly light meal for the Knicks, who at no point in the series seemed particularly worried by anything the higher seed had to offer. We discussed this in Defector Slack and decided that a lower seed—even in a 4-5 series like this one—cannot execute a true gentleman's sweep: A lower seed taking their foot off the pedal in the first or second game of a playoff series is being reckless in a way that is, if anything, ungentlemanly. It would be rascally behavior; the appropriate moniker would be The Scamp's Sweep.
The Knicks obviously did not consciously relax during their Game 2 loss in Cleveland, but through the rest of the series they seemed perfectly at ease stiff-arming the Cavaliers when ahead and zooming up and overtaking them from behind. The vibes were very chill. A grinning Josh Hart trolled his teammate during a post-game media session. Julius Randle was loose and giggly in the days following a 17-point loss. Wednesday night, Hart munched chicken wings from the podium while Jalen Brunson walked assembled media through the usual post-victory talking points. The Knicks won the final three games by a combined 40 points; they led for all but about seven of the final 144 minutes of the series. A 4-5 series is not supposed to be this comfortable.
So this was a pretty bad flame-out for a Cavaliers team that had semi-credible championship aspirations. As you'd expect, they are feeling like shit about this. Donovan Mitchell, who was acquired by the Cavaliers from Utah last summer in a blockbuster, pocket-emptying trade, seems particularly despondent. "We did a lot of special things this year but for it to end this way, it doesn't feel right," he said Wednesday night. "For me personally, I don't feel like I was the player I needed to be for this group. That's what's going to keep me up at night. I've done it all year. I just didn't deliver like I expected myself to, like my teammates and everybody expects me to. I take that upon myself. I've got to be better."
Mitchell is a long way from the only reason the Cavaliers couldn't hang with the Knicks—Mitchell Robinson terrorized Cleveland's big men, including ripping down a hilarious 11 offensive rebounds just in Game 5—but it's also true that the Cavaliers did not trade a whopping five future first-round draft picks, plus two perfectly good rotation players, for an alpha scorer who goes quiet in a non-competitive first-round playoff exit. After a big star-like performance in Game 1 and an effective but passive turn as a playmaker for Game 2, Mitchell sucked mondo butt as the Knicks grabbed control of the series and then disappeared over the horizon. Cold shooting plagued him after Game 2, and a cold-shooting Donovan Mitchell only has so much value in an NBA playoff game. It was cold shooting from Mitchell across a miserable six-game series loss in last season's Western Conference playoffs that contributed to the Jazz pulling the plug on the Mitchell-Rudy Gobert core and starting a roster reconstruction. Mitchell became the signature win-now move of a promising Cavaliers rebuild; now he and the Cavs have to face the fact that for the second season in a row he's had his milkshake rudely slurped and his season summarily ended by Jalen Brunson.
This situation presents some awkward realities. The constraints on player movement that NBA owners wrestle into every new collective bargaining agreement make it extremely difficult for a team positioned where the Cavaliers find themselves today—on the precipice of championship contention but with real and clear roster needs—to fucking do anything to get better. Salary cap and luxury tax rules make wheeling and dealing in free agency all but impossible for teams that already have good veteran players under contract, and after the Mitchell trade the Cavaliers have outright control over just one first-round draft pick between now and 2030. Meanwhile, Mitchell's contract keeps him in town for two more seasons, with Mitchell having an option to stick around for a third. As pointed out by Jason Lloyd of The Athletic, Cavs owner Dan Gilbert has been burned in the past by the decision to wait for a superstar-level Cavalier to reach unrestricted free agency, and reportedly vowed that he would not choose the same path with future players. So the Cavaliers have to decide if Mitchell is The Guy, and then they have to figure out if they can convince him to commit long-term, and then they have to formalize that commitment with a contract extension that will likely cost something in the neighborhood of $250 million.
The Cavs will want to maximize the opportunity they have with this core, but without free license to spend and with the cupboard bare of juicy tradeable draft picks, they just have to kind of hope that today's playoff failures will develop into ingredients of future playoff success. "We talked about this a lot this season, how valuable these experiences are, these learning lessons are for us," reflected head coach J.B. Bickerstaff, after he and his players were pretty well pantsed across five games by a lower-seeded team. "These are things that you can't experience unless you go through it. As much as it hurts, these are the things that make you a better basketball player ... It is a miserable part of our business. But you have to fail in order to be successful. You go out and try to ensure that it never happens again. That's where the great teams are born. We have a special group, but it takes these. It sucks. But it takes these."
That's not as desperate and flimsy as it sounds! Cleveland's rebuild has matured so quickly, and this playoff exit stings so viciously, that it can seem like the Cavaliers are closer to the middle stages, or even the late stages, of this core's prime years than the beginning. This morning I dipped into Basketball Reference just to confirm that this series was in fact the very first time that Darius Garland has ever played in a playoff game. The Cavs skipped the middle step of NBA upward mobility, of bouncing through a conference's middle class for a couple years and getting their first taste of playoff basketball as a plucky eighth seed. LeBron James left Cleveland the second and final time in 2018: Since then their win percentage has grown from .232 to .292 to .306 to .537 to .622; they now have multiple All-Stars, a 21-year-old DPOY candidate, and a conference fourth seed, all grown from the ashes of their not-all-that-distant championship era. That's a goddamn masterclass in roster reconstruction!
It just so happens that these hot-shit Cavs weren't quite ready for the moment. With the benefit of hindsight, the team's baby steps into the crucible of playoff basketball wind up looking adorably optimistic, as when they took team photos with a Junkyard Dog chain after salvaging a split on their home court:
A commendably honest Garland talked Wednesday night about ultimately being surprised and overwhelmed by the pace and intensity of playoff basketball, something that he expects to process over the summer. Even Jarrett Allen, who came to the Cavaliers with a couple of playoff trips already under his belt, was flustered by the jump in competition, admitting that "even for me, the lights were brighter than expected." The Cavs had their asses punted off by the Knicks, but also, a young team making its first foray into the playoffs as a group is supposed to be humbled. Just because the Cavs have performed like a battle-tested veteran team during the last couple of regular seasons doesn't mean they don't have plenty to learn about the challenges of a playoff series. A tough Knicks squad with a battle-tested head coach, a New York team's familiarity with unforgiving bright lights, several matchup advantages, and a slight but non-meaningless edge in individual playoff experience worked them over pretty good. That in general describes how this is supposed to go.
By most measures, the Cavaliers arrived at this moment way ahead of schedule. This can and should be a valuable foothold for the next step to contention. It's just that the league is constructed to squeeze teams most once they become good. Some teams spend years delicately working to avoid the pressures that come with going all-in on opening a championship window. The Cavs built a promising core, that core made a leap, and the team went out and bagged a star. That's what you're supposed to do! Now comes the hard part. The penalty for nailing your rebuild is that you are expected to win, whether or not you're ready.
Stay in touch
Sign up for our free newsletter