High School Sports
Ted Silary Gave A Voice To High School Athletes
2:42 PM EDT on May 18, 2023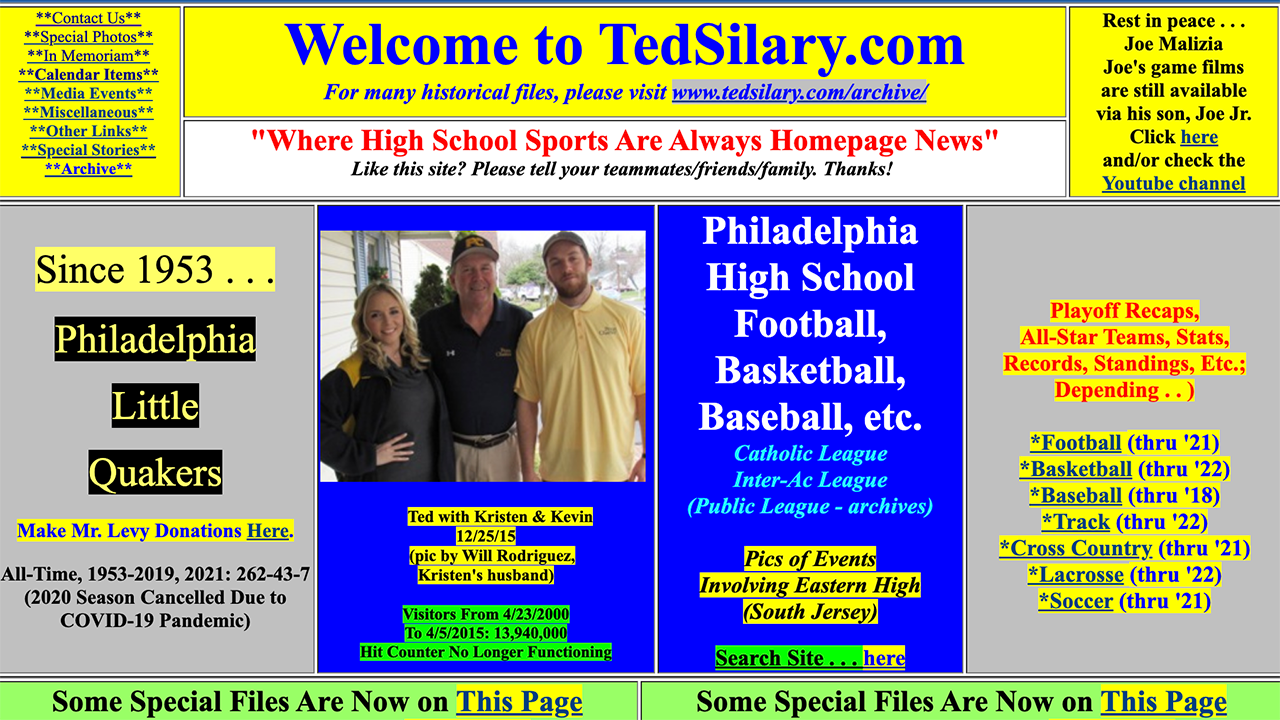 I emailed Ted Silary in late August with a stupid question—and he got to work on it immediately. Silary, a long-retired high school sports writer for the Philadelphia Daily News, was a font of information about Philly high school sports. I'd recently learned that my neighbor rented from Marvin Harrison, the Hall of Fame football player and notorious landlord. (If you're wondering about the state of Philadelphia landlords, my neighbors say "he's the best landlord we've ever had.")
I figured Harrison must have had some connection to the neighborhood, so I wondered: Did he go to the neighborhood elementary school? Silary swiftly wrote back: "Marvin lived across Olney ave—not far from Broad while attending Roman. I'll try to find out—in touch recently with Roman's FB coach." The very next day, he had an update from the football coach at Roman Catholic High School. "To my knowledge," Ed Brobine had told him, "Marvin did not attend Catholic school before Roman." Silary wrote back again a week later, expressing regret that he could not get me a better answer.
Silary began covering high school sports at the now-defunct Evening Bulletin in 1975, then worked at the Daily News from 1977 to 2013. Silary knew my dad, who worked as a sports editor at the Daily News for several decades. But he was like this to basically anyone who got in touch with him. He was the kind of journalist I really admire, the kind of reporter I hope I am: He was so in search of knowledge that the thrill of hunting down an answer became fun for him. He was exhaustive in chronicling current and historical high school sports in Philadelphia for what seemed like forever. His recent death, at the age of 72, is a real loss. No one covered high schools like Silary did. And I fear no one will ever fully replicate his coverage.
"Ted has the ability to make someone 'viral' before social media," Ryan Nase, a Father Judge High School grad who now coaches Northeast High, told the Northeast Times upon Silary's retirement from high school coverage in 2019. "When Ted did a story on you, you felt like a celebrity and he always treated you like a professional when, in reality, he was the true pro."
For some people, the only time they'd ever get their name in the paper was if Silary put it in one of his columns. He put in players' silly nicknames. (I had a favorite. I am sure I have this guy's name wrong, but I know I have his nickname right: Rick "Give Me The Ball" Thrall.) Plus, Silary had an endless supply of eyes at games—Tom "Hockey" McKenna was probably the best known—cultivating a small legion of basketball obsessives who helped him out. His work in the Daily News was somewhat irreplaceable, and editors knew it: When he retired from the paper in 2013, I heard they begged him to stay.
"Ted set the bar for how high school sports should be covered and how high school athletes should be written about, and I don't think it's a bar that will ever be cleared," Josh Verlin, founder and editor of the Philadelphia area basketball site City of Basketball Love, told Defector Media. "It was never about himself, only about the players he covered and the city and sports that he loved, which is maybe why he's not nearly as recognized nationally as he should be. His impact and work will continue to echo for generations."
Silary's website, tedsilary.com is a beautiful 1990s-World Wide Web relic. Though he had left the papers, Silary updated his site through 2019. (I'm sad I never asked him if he had a CMS or if he edited the HTML files and uploaded them via FTP, though I do not miss this type of web design.) And it still contains a wild amount of information, like the cross streets where every Philadelphia pro basketball player grew up. The Philadelphia Inquirer's Mike Jensen, writing in 2019, had a great summary: "Maybe the best part of the site is that you didn't have to be the best player in the city to get your recognition. It's one thing to have a list of top Philadelphia scorers from 2000 through 2015. It's quite another to list everyone who scored at least 15 points a game." Really, go to that website. It rules.
"Ted was a lot of things—a reporter, photographer, historian, storyteller, expert web designer—and he did it all while keeping the players, coaches and sports he covered at the forefront," Rosemont College head coach Bobby Hughes told Defector. "It was never about him. I can't help but think about how many framed articles sit behind desks in the Delaware Valley with a Ted Silary byline, or how many folded up clippings of a story Ted told sit in storage boxes waiting to be shown to a grandkid someday."
I really enjoy City of Basketball Love, Verlin's site that has been around since 2012. (The site clued me in on Jordyn Palmer, an eighth-grader who started last season for powerhouse Westtown School.) Aaron "Ace" Carter, who replaced Silary at the Inquirer in 2013, does fine work. (His profile of Palmer, whom I now get to claim "ground floor" status on, was excellent.) But no one covered preps like Silary. And local newspapers, including the Inquirer, don't have the commitment to high school sports coverage they once did. Box and line scores are a thing of the past. The Daily News print edition is basically just a re-skinned Inky. Yes, the writers who cover high school sports there do a good job. It is not the same without Silary.
I have dozens of emails in my archives with Silary. The first time I emailed him, I had a very specific question about a school and whether my high school had a chance to beat them in a playoff game. He declined to be interviewed for a possible tribute upon retirement in 2019. Once we were just chatting about his website, and off the top of his head he explained to me the long story behind a player's nickname. He was great at what he did, and I don't know that anyone will ever be as singularly great at it again.
Stay in touch
Sign up for our free newsletter