NFL
Sometimes You Just Have To Grab The Football
4:15 PM EDT on October 24, 2023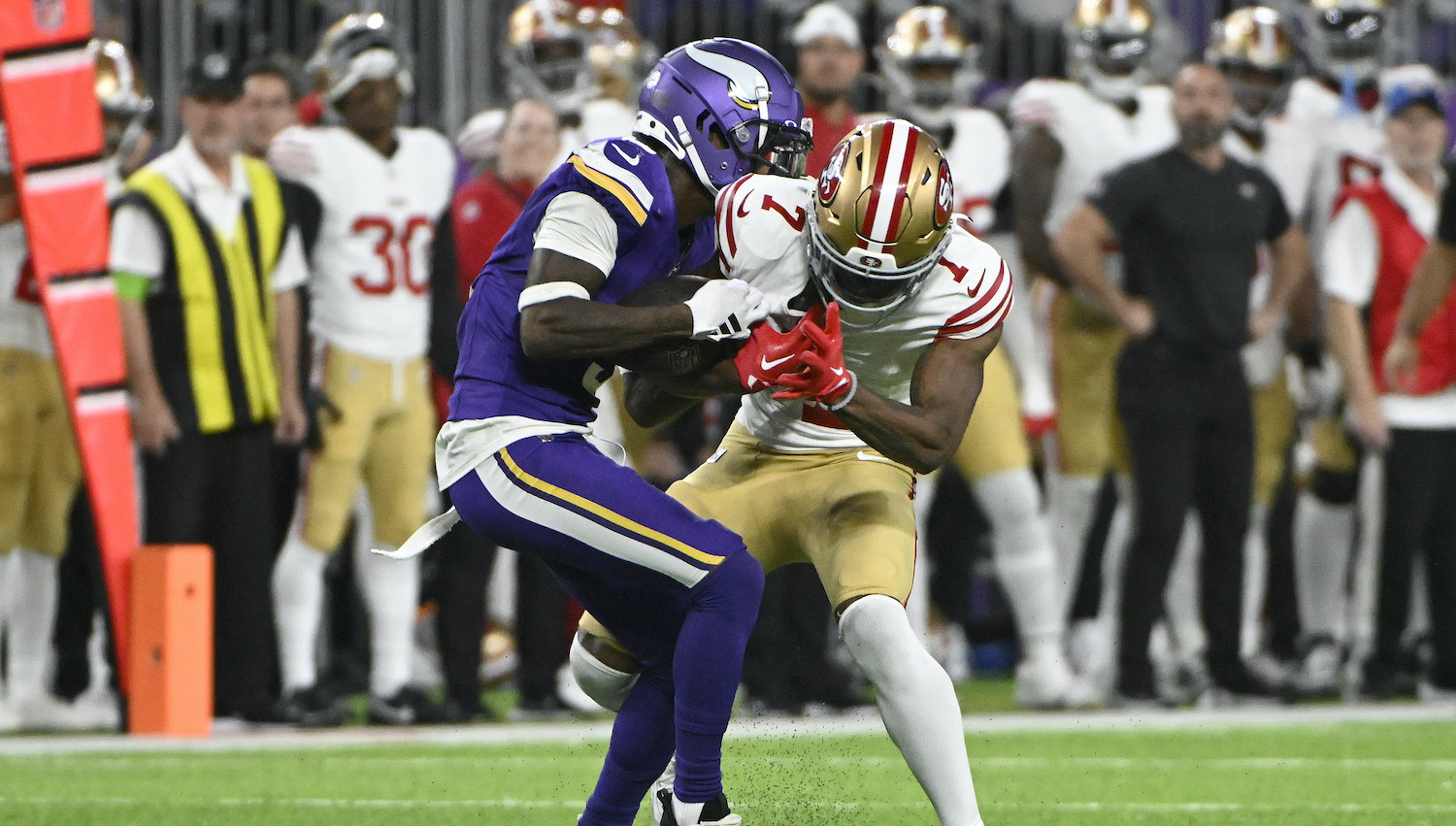 With just 16 seconds left in the second quarter of Monday night's matchup between NFC teams with wildly diverging fates, San Francisco 49ers defensive coordinator Steve Wilks sent the house at Vikings quarterback Kirk Cousins. Minnesota faced third-and-6 from their own 40 and the half was almost over, so the potential upside of sending seven rushers would seem quite limited compared to what the Niners were risking. San Francisco was also trailing by three and had finally stabilized with a 12-play touchdown drive following a lost fumble and another missed field goal. They had every reason to be normal, but instead they over-leveraged their defense to put Cousins under pressure, and he took a deep shot.
To a very limited extent, the Niners got what they wanted. Cousins felt the pressure and threw slightly behind Jordan Addison while he was tightly covered by Charvarius Ward. Minnesota's first drive of the game ended on an eerily similar play, as Ward ripped one away from Addison. Now Ward seemed to be in position to earn his second pick of the half and get his team a shot or two at the end zone before getting the ball back to start the second half. Instead, Addison won the 50-50 ball, and since the Niners had nobody else remotely in position to make a play, he waltzed into the end zone and secured a lead his team would never surrender. San Francisco made the wrong bet at the wrong time, and they paid dearly when they couldn't afford to do so.
The Monday night loss marks San Francisco's second consecutive close loss after the dominant five-game win streak to begin the season. Gone is the relentless swagger of their skill-position group, the defense's brutally effective run-stopping, and the razor-sharp decision making that kept them a step ahead of their first five opponents. The limited yet controlled quarterback play of Brock Purdy mostly looked limited against Minnesota, and having a blank-slate quarterback that fans talk about like he's Batkid is a lot less charming and quirky when that quarterback throws two brutal interceptions from inside of opposing territory in the final six minutes. All of which is to say, after showing themselves to be a prime Super Bowl contender for a month by putting up huge numbers and destroying offenses with four pass rushers, the 49ers now just look like a football team.
Kyle Shanahan was asked about the decision to blitz at the end of the half after the game, and he seemed upset. Was he cool with the decision? "That's something we'll discuss throughout this week," Shanahan said. "Obviously, I did not like the result."
In one sense, the Vikings match up oddly well with the Niners. Nick Bosa was stonewalled all game by creatively constructed double teams and the Vikings' capable tackle corps, and the team posted their lowest pass rush win rate in six years. When he doesn't have to make quick decisions under pressure, Cousins can still toss that thing, and Addison announced himself with a star-making performance, easily the best game of his rookie season against stiff competition. Going for 123 yards on just seven catches and two scores is no joke, nor is the manner in which Addison made plays.
Addison weighs just 175 pounds, making him the lightest member of the Vikings and an unwitting stand-in for the dynamic that seemed like it would define the game. The 49ers' whole thing is getting up in your shit, and the Ward pick in the first half was a clear statement of intent. Addison wrestling the ball away from Ward late in the second quarter wasn't just a big play in a big moment, then, it was a sign that the Vikings could hang with and even beat the Niners playing their own game. Cousins called the play "game-saving," while coach Kevin O'Connell said, "Jordan has been everything that I hoped for." Addison, for his part, said he refused to get punked again after Ward's early pick. "No, you ain't going to get it twice. No sir," he said. "I need all that. I need that back." That sounds like something the Niners would have said after Week 5.
Stay in touch
Sign up for our free newsletter