NFL
Brock Purdy Is Good Enough To Make His Teammates Annoying
11:43 AM EDT on October 9, 2023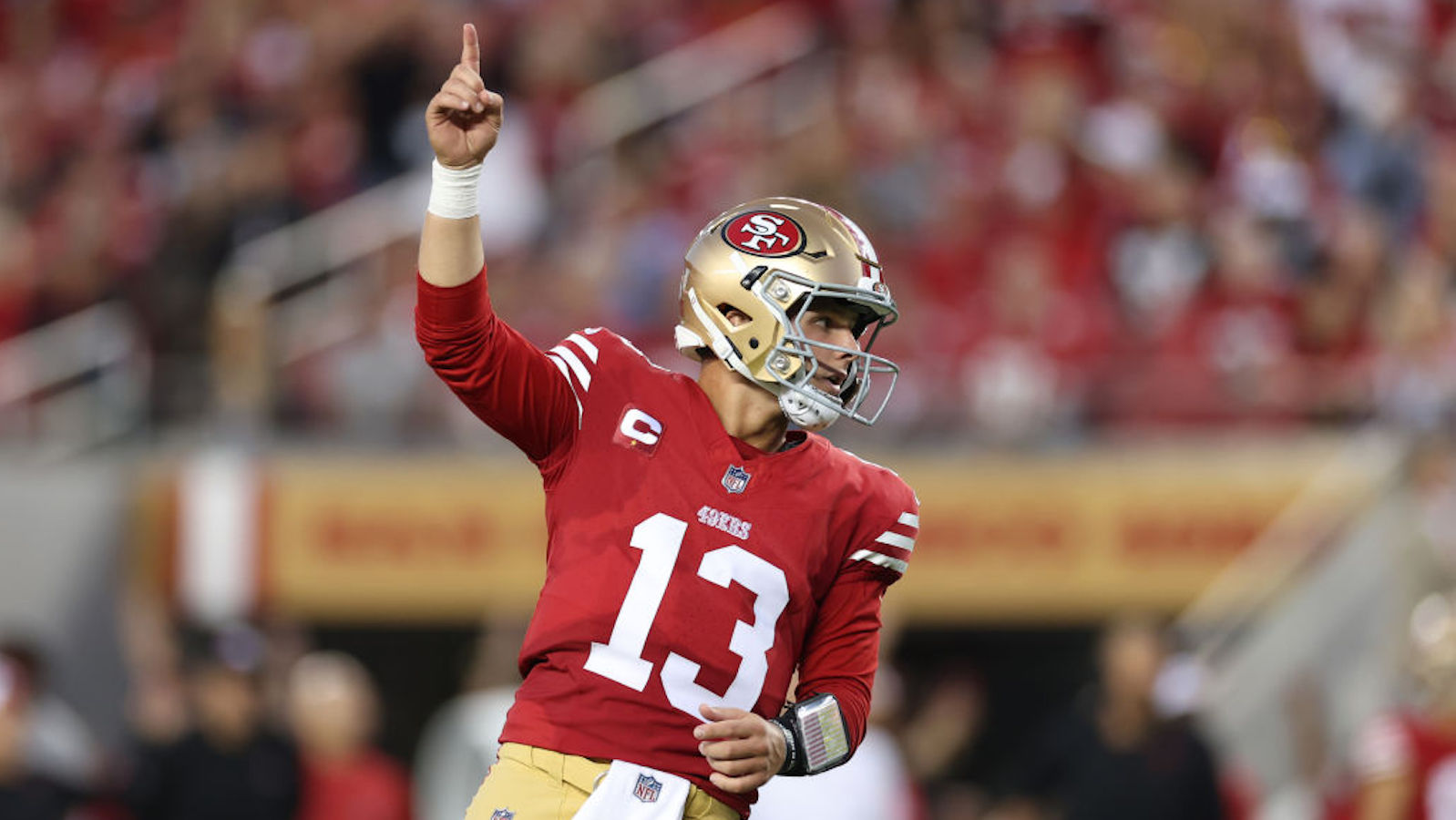 Not that we should ever care about the problems television networks have (on balance, they still inflict far more than they absorb, and that's just the all-encompassing rancidity of The Bachelor franchise), but NBC had an issue Sunday night that needed to be dealt with quickly, namely this: how to top Taylor Swift.
It was in many ways a loser's errand, starting with the fact that they couldn't go back to Kansas City again; the Chiefs were holding off the Minnesota Vikings on CBS. In addition, Swift didn't attend Sunday's game in Minnesota, so the telecast lost a chance for a veritable mural of horrified Swift shots when Kelce sprained his ankle late in the first half. NBC would be left with the seemingly daunting task of primping Cowboys-49ers, normally an easy enough flog, but it wouldn't be Taylor Swift. Nothing would be Taylor Swift.
So Mike Tirico and Cris Collinsworth pivoted as seamlessly as they could manage to the new new toy—Brock Purdy, the 49ers quarterback whose football sex appeal is largely found in the fact that he never screws up a play, let alone a game. He doesn't fumble, he doesn't throw interceptions, he doesn't lose games horribly or even at all. His career is one ankle injury from being perfect—you know, low-level Brady and very low-level Swiftian.
And Sunday's experience against the Cowboys was purest clinical Purdy: 17-of-24 for 254 yards and four touchdown passes, 60 plays, 29:54 of playing time and six touchdowns overall. No interceptions again, one sack in 60 plays from scrimmage, and all the failsafes that come with Christian McCaffrey, Kyle Shanahan, and a nearly seamless defense. What could possibly be wrong with this?
Well, here it is, in two quotations, one from fullback Kyle Juszczyk and one from safety Tashaun Gipson.
"He's just so consistent and he just continues to go out there and prove people wrong," Juszczyk said. "I'm happy that he's able to go out here and have a four-touchdown game on national television because, not that it matters what people on the outside are saying about him, but he deserves more respect than what he gets, I think. I hope he gets a little bit of that from this."
"Brock Purdy is playing at an MVP level," Gipson said. "He's protecting the ball and he's making plays. He's not just a game manager. He's ballin'. I just don't think he gets enough credit when you talk about the MVPs and things like that."
Ick. The "not enough credit" argument. The fast track to making people hate you before you've actually done anything hateable, and even though you haven't done anything to suggest that you're unhappy with the amount of credit you get. Purdy is rapidly, by NFL standards anyway, becoming the league's new teacher's pet, the kid who gets 100 percent on every test, always speaks politely to authority figures, is the president of every school club, volunteers at the local SPCA, and plays competitive chess as a hobby.
And again, before we get too far down this road of baiting the audience, none of this is on Purdy. He is a surprisingly good quarterback given his draft position, extols through example the virtue of efficiency as the most important of all the attributes, has the advantages that come with being surrounded by copious levels of talent and a coach who is better at not relying on his quarterback alone than anyone else in the game. And good for him. It's nice to be born on third base, and it is to Purdy's credit that he has never demanded regard as the league leader in triples.
Now either he figures that having the start of a career that is most like Brady's since there was Brady is credit enough, he understands that being on the most complete team with the most consistent coach is better than credit, or maybe because someone convinced him that credit is defined by contributing to the winning team in January and February, the two least traditionally football months of the year.
In other words, "credit" and "respect" have the same true value as "good chin" when you have to negotiate a car loan. "Credit" and "respect" have the same informative quality as a quarterback's win-loss record (Purdy's combined record of 15-2 on Football Reference includes the three games in which he mopped up and the playoff game in which he was injured). Nobody's bet ever pays off based on "credit" or "respect."
This is all a tortured way of saying "narratives are bullshit," in the same way that Swift and Kelce is kind of bullshit. We do amuse ourselves more often than not with the virtues of bullshit, but a lot of money and math classes have been spent on the raw numbers that make scoreboards useful and the analytics that define that success in 395 more arcane ways. Brock Purdy doesn't need credit because he has numbers. His numbers are affected by those around him, as they are for every player on every team in every non-individual sport. But if this is all going to descend into arguments about "credit" and "respect," we're going to learn how to hate Purdy for crimes he hasn't committed, and we'll hate him until the ultimate injury that claims and reduces them all, from Purdy to Zach Wilson and all the points in between.
Stay in touch
Sign up for our free newsletter