NHL
Something Old, Something New: You Can Borrow My NHL Preview
11:41 AM EDT on October 10, 2023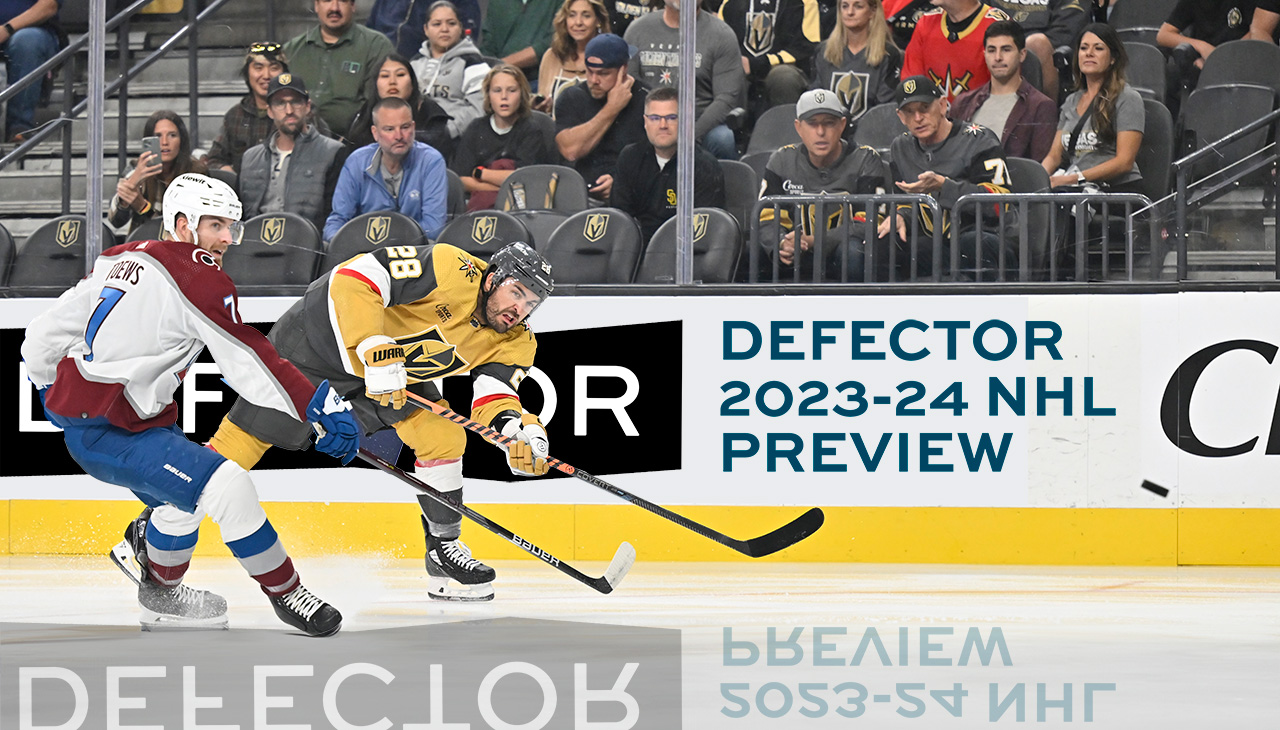 You can check the archives for yourself, so I won't try to fool you: I haven't blogged anything about the NHL since the aftermath of the Vegas Stanley Cup win. I have devoted my time instead to baseball, the arts, professional wrestling, and reporting on the sale of an influential gay blog. But I missed hockey the whole time, and even amid the noise of football weekends and the MLB playoffs and sometimes having a life outside my job, I'm excited for the water to freeze again. I am planning my holiday travel, looking at new sweaters to buy, and absolutely craving some poutine and Labatt. It's a brand new season! Anything can happen!
You may find more sprawling NHL previews on the internet, or ones written by bloggers who have truly breathed the sport even through the summer. But I have stuffed into this single post all that I believe you, the relatively normal observer, would like to know about this league in the middle of October. I have ordered teams by point total from last season, highlighted something that is old and new about each, and I've also made note of how they did in the playoffs last season, if they got that far.
The action starts in a few hours. Let's not waste any more time.
Boston Bruins (First round)
What's Old: That Presidents' Trophy win. The Bruins' regular-season dominance feels as distant as Bobby Orr after an ignominious playoff collapse in the first-round against the Panthers. This team was absolutely jaw-dropping over 82 games, the best in NHL history by plenty of measures. They had 65 wins, an impermeable goaltending duo, and a David Pastrňák–led attack that trailed only the Oilers in scoring. This was a once-in-a-lifetime group near the end of its window that seemed to put all of its energy into one unforgettable run. And yet, even with a 3-1 lead on Florida, the last team in, the train slipped off the tracks and Boston lost three straight weird and tight games to ruin all their plans. Now they're just another team.
What's New: The absence of Patrice Bergeron. The two-way genius anchored the Bruins' forward group for 19 seasons before hanging up his skates this summer. His departure, along with that of David Krejčí, is symbolic of the opportunity that Boston wasted when they couldn't beat the Panthers. There's just no scenario whatsoever where the Bruins enjoy a better regular season. They're not even a sure thing for the playoffs, given how competitive the Atlantic looks. But the weird—and for them relieving—thing about the NHL is that being the top seed doesn't actually mean all that much when the playoffs arrive. Just ask the Panthers! For all we know, this could still be the Bruins' year.
Carolina Hurricanes (Conference finals)
What's Old: The Hurricanes once again making the playoffs but not getting past the conference finals. That's five years in a row now that they've done it, and even though it makes for the longest continuous run of success in team history, it's no longer enough. Before Rod Brind'Amour took over as coach in 2018, Carolina was one of the most irrelevant places in the NHL. Now they're banging their heads on the ceiling. The Canes have an enviable core of relatively young players (even though they weren't very healthy by the end of last year), and Brind'Amour's style, which emphasizes keeping the puck as far from your own net as possible, is a mentally healthy experience for a fan. But even if these guys put together another strong season, it won't feel all that satisfying until they're sniffing the Prince of Wales Trophy.
What's New: The Canes have made a couple of noteworthy signings. They brought back Tony DeAngelo, a notorious asshole, after the defenseman had a down year in Philly that followed a career revival in Carolina. And they also made a bet on the winger Michael Bunting, who broke out in Toronto two years ago as an old rookie but had no real way of sticking around that cap-strapped roster. Together, they add to the Hurricanes' potential and maybe provide a few more bodies that can come up big in a playoff game. But again, the part that really matters for them is still many months away.
New Jersey Devils (Second round)
What's Old: There's very little that's old about this team. They're fresh out of the oven. Don't you smell it? That entrancing, toasty scent for which Newark is known? It's the Devils! After several years of stockpiling young talent and making solid offseason moves, a team that felt constantly on the brink of breaking out finally broke out, making their first playoff appearance since 2018 as they beat the Rangers before falling to the Canes in Round Two. The 25-year-olds on this team, like Jesper Bratt and Nico Hischier, already qualify as veterans, and their top scorer from last year, Jack Hughes, isn't even mature enough to say "PP" without laughing. These Devils are bursting with talent, energy, and aggression, and even though roster turnover will continue to be inevitable as they move through their window, I think this remains a good time to jump on the bandwagon for this fun bunch. I guess what's actually old is my continued inability to convince any of my pals to make the trek across the Hudson River to see them play.
What's New: Timo Meier is newish. At least, the ideal version of him would be. The Devils got this coveted trade-deadline prize from the Sharks, then signed him to an eight-year extension. In the playoffs the 40-goal scorer was mostly a non-factor, finding the net just twice, but it's worth judging him based on his larger body of work as an individualistic power forward who can create his own chances even without a lot of help around him. He's yet more evidence that the Devils don't just see high draft picks as the be-all, end-all of their rebuild, and are in fact willing to use their many assets to acquire top-tier vets. Among those prospects, though, you've got to be excited to see Luke Hughes (Lukey Boy), the standout college defenseman and brother of Jack, begin his first proper NHL season as a 20-year-old.
Toronto Maple Leafs (Second round)
What's Old: Even after finally breaking their first-round curse, the Maple Leafs are a team of unfulfilled expectations. For the last several years they've been one of the league's most successful regular-season teams, thanks to a flamethrower offense led by a core group of forwards who do the heavy lifting. But that style hasn't won them playoff games, and even after striking more balance and making it to the second round last spring, they didn't put up any real fight against the Panthers. Heading into this season, the Leafs feel kind of like a paradox. By winning their first postseason series since John Paul II was pope, it feels a bit like Toronto has resurfaced after years of holding its breath underwater. Simultaneously, however, nobody with any self-respect hangs a banner for a first-round win. If anything, they've only increased the pressure on themselves to do better next time.
What's New: The stink of failure is at least partially dissipated, for one thing. For another, they have a new high-upside scorer in Tyler Bertuzzi, who looked fantastic in an otherwise nightmarish playoffs for the Bruins. They've also extended the most famous piece of their superstar forward quartet, as Auston Matthews signed a $53 million deal that keeps him around through the 2028 postseason. (William Nylander is up next year, and then John Tavares and Mitch Marner.) The most intrigue, though, happened high above the ice. The franchise decided not to re-up the contract of whiz kid GM Kyle Dubas, who had stuck to what looked like a very structurally sound blueprint even as it repeatedly failed to deliver results in hockey's most stress-inducing media market. Dubas is in Pittsburgh now and has been replaced by the older Brad Treliving, who emerged from the wreckage of the Calgary Flames. It's not like the Leafs hired Jimmy Fallon to replace Socrates or anything like that, but it's still a bit of a head-scratcher. Sidenote: There's a Canadian version of Shark Tank called Dragons' Den, and Treliving's rich dad (he co-owns Boston Pizza) was one of the Dragons.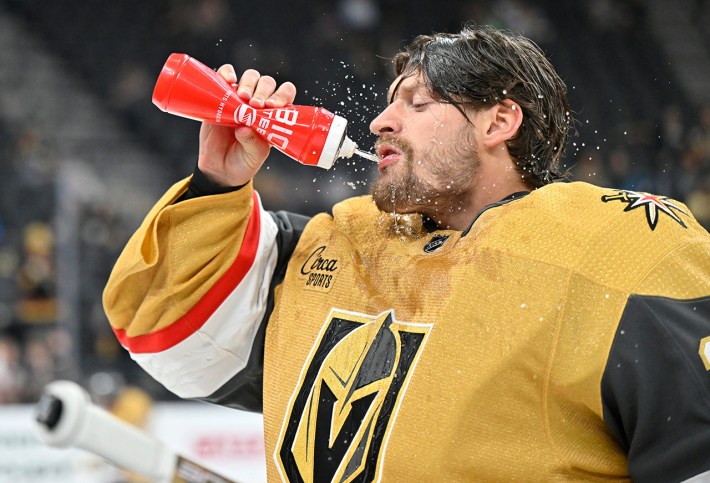 Vegas Golden Knights (Champs!)
What's Old: Their expansion-team status. Everybody knows you're officially an expansion team until you win your first Stanley Cup. The Blue Jackets? Expansion team. Sharks? Expansion team. Canucks? Expansion as hell. But with their title the Knights have officially joined the ranks of legitimate franchises. This is the second-newest team in the entire NHL. And yet they are, for now, the best.
What's New: They actually might know their goalie situation before May this time. Robin Lehner, who was supposed to be the long-term replacement for Marc-Andre Fleury, missed the whole year with a hip injury, and a bunch of their other goalies glommed on to the trend. Laurent Brossoit was hurt. Logan Thompson was hurt. And at some point they just started trying any guy in Vegas who had his own mask. They were the first team ever to have four goalies engraved on the Cup, but the most important one, easily, was Adin Hill, who enjoyed a flawlessly timed hot streak when he slotted in for Brossoit in the middle of Vegas's second-round series with Edmonton. In his sixth season as an NHL backup, Hill started a career-high 25 games and was perfectly acceptable, but it was his 16 playoff games in which he served as taut safety net that earned him a two-year, $10 million extension. What that contract says is that the team doesn't necessarily expect Lehner to come off of injured reserve, because their cap situation is much more difficult if he does, and so Hill is likely the first choice moving forward. He'll almost definitely come down from this current high, but even with mere adequate goaltending, Vegas is more than talented enough to add more accomplishments to its short history.
Edmonton Oilers (Second round)
What's Old: Connor McDavid and Leon Draisaitl, though actually watching them will never get old. Last year was 64 goals for Connor and 52 for Leon as they finished 1-2 in the points leaderboard, and when the Oilers were hot, they just aimed, fired, and shot other teams off the ice. The phrase "power play" never felt like more of an understatement than when these guys were attacking with a man advantage, and Edmonton's league-leading 325 goals went a long way toward making up for their mere 17th-place spot in goals against. At least until the playoffs.
What's New: That Connor and Leon are another year closer to free agency. Any Oilers fan who lived through the Gretzky/Kurri era knows that legends don't last forever, and you've got to rack up those titles while you can. So far, the Oilers have not. They've lost again and again to teams with greater depth and stouter defense, most recently the Knights in the second round. The old dynastic Oilers didn't have to contend with a salary cap, and they played before goaltending was invented, so you can maybe cut the current franchise a bit of slack. But GM Ken Holland, who made his name with those Red Wings clubs that always had like 11 future hall of famers, has yet to prove he can work within the limitations of the cap and differentiate players he personally likes from players who are worth big contracts. (They're giving five million to Jack Campbell for the next four years even though he was a massive liability in net last season.) This offseason was more about streamlining than adding, especially after the big addition of Mattias Ekholm on defense at last year's trade deadline. But as it stands now, Holland only has three more guaranteed years of Connor and two more of Leon to get a supporting cast that will assist them through the grind of a seven-game series against the best of the best. If he doesn't, it's a despicable waste of talent that stains this franchise's name.
Colorado Avalanche (First round)
What's Old: The Stanley Cup win from 2022. It didn't take long for that to lose its luster. For an all-too-quick moment in time, the Avalanche were a juggernaut that brought the rest of the league to its knees. But the NHL is not built to facilitate long-term success, and after losing their goalie and some critical scoring depth from their championship team, Colorado struggled to recreate their old dominance. They ended up still winning their division with a big second-half push, but their first-round loss to the Kraken in an unruly seven-game series was practically scripted as a changing-of-the-guard moment.
What's New: Hopefully for the Avs, they get a little bit healthier. Their beautiful captain, Gabe Landeskog, missed all of last year and has already been ruled out for this one, which is brutal. But Nathan MacKinnon and especially Cale Makar, both two of the best in the world at their positions, could have been closer to 100 percent last year and can carry a whole group when they are. (Valeri Nichushkin, too, had a very strange end to his year that saw him leave the team early, but he's supposed to be back.) It's hard to convince yourself that this group hasn't already peaked, but all they really need to do right now is finish the regular season in the top 16.
Dallas Stars (Conference finals)
What's Old: Joe Pavelski, who's 39 years old and entering the last year of his contract. The Stars made their concoction of old and young work for them, supplementing breakouts from Jason Robertson, Roope Hintz, and goalie Jake Oettinger (all mid-20s) with the resurgence of Jamie Benn and the continued production of Pavelski, who after missing most of the first round just whipped the Kraken in the second. Maybe he's got at least one more of these in him.
What's New: Wyatt Johnston. The now-20-year-old took part in a classic sitcom premise as he lived with Pavelski and his family during his rookie year, but he quickly asserted his own identity on the ice by playing in all 82 games while scoring 24 goals. The young center is skinny but makes up for that with a lot of dog in his play, and his season climaxed with a Game 7 winner in the third period against Seattle. It might be a stretch to ask Johnston to play 100 more games (including playoffs) without hitting some kind of wall, but the Stars have enough pieces with high ceilings that the hot ones can carry the load for the cold.
New York Rangers (First round)
What's Old: The Rangers again struggled to score in critical moments even as they invested so much effort into building a formidable group of forwards. After lucking into the second overall pick in 2019 and the first pick in the draft the following year, the franchise has yet to mold Kaapo Kakko or Alexis Lafrenière into more than up-and-down role players, and in seven playoff games against the Devils Kakko notched just one goal and one assist while Lafrenière did basically nothing. They should have been aided by the splashy trade deadline acquisitions of Patrick Kane and Vladimir Tarasenko—veteran producers with experience winning big games. But that big winter load-up turned out to be a catastrophic disappointment in the spring. In their four losses to New Jersey, the Rangers scored a combined total of two goals. In four games!! There's enough talent on this team that they should be able to finish the year in the top half of their division, but Igor Shesterkin can't save their asses in goal every night.
What's New: He's about to start at Boston College and therefore isn't immediately relevant to this team, but I'd like to briefly mention Gabe Perreault here. He set fire to the U.S. National Development Team with a record-setting 132 points in 63 games. Though he's a great director on the ice, concerns about his lack of speed or size dropped him all the way down to 23rd overall, where New York snapped him up. Even if a bunch of highly paid hockey minds viewed him as a can-miss kid, those numbers against his peers imply that there's a little seed inside of this teen that, with the proper development, might be able to blossom into an all-star talent. Too bad he's attached to the Rangers.
Los Angeles Kings (First round)
What's Old: Anže Kopitar is still the captain, and Drew Doughty remains here, too. Though Jonathan Quick moved on, those links to the glory days of the Kings' Cups in 2012 and 2014 are still front and center. Not only can they provoke nostalgia from fans, but after a stretch in the wilderness, these two guys have remained pillars of this renovated roster. Kopitar, proving that creativity doesn't diminish at the same rate as athleticism, led all Kings with 74 points, while Doughty bounced back from a season disrupted by injuries as he played 81 games on defense at an average of over 26 minutes a night. For two straight years they haven't been able to survive the Oilers in the first round, but they're a solid threat to anyone out west.
What's New: The spelling of Pheonix Copley's name, which his parents insist just makes more sense, but also the still-evolving goalie situation that he heads up. Three of the four netminders that suited up for the Kings last year are gone, and Copley will face new competition from ex-Senator Cam Talbot and ex-Jet David Rittich. All three of these guys are over 30, and none of them played better than league-average last season, so none of them, or the completely unseasoned prospect Erik Portillo, immediately demands to be entrusted with the keys to the crease. Pulling the right man out of the mystery box will go a long way toward shoring up the Kings' position. 
Minnesota Wild (First round)
What's Old: The money troubles that continue to dog this team. Zach Parise and Ryan Suter, who have both spent the last two full seasons with other franchises, are still owed $7 million each from the Wild this year and next. While the Wild keep making the first round of the playoffs, their cap albatrosses have ruined their chances of giving this roster depth. That they've avoided falling out of contention is a testament to how spectacularly Filip Gustavsson played for them in goal, but as the Wild try to take the next step above their relative success, they're climbing a ladder made out of sand.
What's New: Kirill Kaprizov is not new, per se. The 26-year-old winger was a special find by this franchise who's spent all three of his NHL seasons as Minnesota's top scorer. But as he continues to lead this otherwise shoddy offense, and hopefully scores 40 goals again, I can almost guarantee that he'll produce some kind of breathtaking play that'll feel new to everyone watching. Whether it's a sweet spin or a shootout fake or a sudden appearance on a rebound, the versatile and accurate Kaprizov is one of the league's freshest athletes, and watching him on his best nights is worth his own salary, Suter's, and Parise's put together.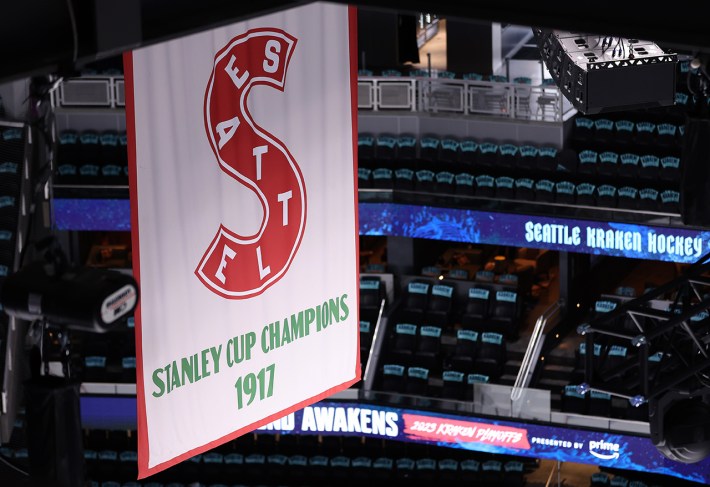 Seattle Kraken (Second round)
What's Old: Almost nothing? I guess hockey in Seattle actually goes extremely far back. They had a Cup winner in 1917. But for the few people reading this who weren't alive for that glorious Metropolitans season, here's the Emerald City history that matters: The Kraken drafted what looked like an OK team in 2021, suffered through one of the most disastrous goalie seasons in memory, recovered to make the playoffs as a wild card in their second season, and then upset the Avs in the first round before falling to the Stars in a hard-fought seven games. There. You're up to speed.
What's New: I think Matty Beniers still counts. He's a child, basically, and if there's anyone more important to the future of this franchise I don't know his name yet. Great scorers are the hardest thing to find in the expansion draft, because they're rare and teams won't part with them, and as a result the Kraken were 29th in goals scored in their first season. But along with an outlier of a 40-goal year from Jared McCann, it was the arrival of Beniers, the 20-year-old second-overall pick from 2021, who boosted the Kraken's offense into one of the league's most productive. The center earned Calder honors with 24 goals and 33 assists as a smart and dynamic operator, and optimism is high that he'll shoulder more and more of this team as he continues to grow and improve. Seattle hopes it won't have another No. 2 pick for quite a long time.
Tampa Bay Lightning (First round)
What's Old: The roster. As a consequence of their consistent success, the Lightning have had their cheeks pressed up against the salary cap for years, and so have had to shed productive players while being inhibited from acquiring new ones. Alex Killorn, Corey Perry, and Ross Colton are all meaningful losses from this past summer, and it means that the Lightning increasingly have to rely on the guys they did reward with giant contracts: Steven Stamkos, Nikita Kucherov, Andrei Vasilevskiy, Brayden Point, and Mikhail Sergachev. Those names should all sound very familiar, because they've all been helping the Lightning win since before that cursed Presidents' Trophy win in 2019.
What's New: The indignity of being so far down this list. All of the players mentioned above are fine targets for long-term deals, and the Bolts have gotten their money's worth. But the last iteration of this team was the least successful we've seen in quite a while, with a third-place finish in the division followed by a six-game playoff exit at the hands of the typically choky Maple Leafs. And with Vasilevskiy undergoing, in layman's terms, a microdiscectomy on a lumbar back herniation, their first few months without him could be a struggle that will cost valuable points. While you can't count out an organization this well-run, it also has all the signs of an inevitably fading dynasty that will desperately need all its pillars as healthy as possible just to maintain its position in this increasingly cutthroat Atlantic.
Winnipeg Jets (First round)
What's Old: That feeling of emptiness that accompanies unfulfilled dreams. Year after year, the Jets feel muddled and underwhelming, hanging on the fringes of the playoff picture while clinging to respectable but unhappy players. Last season was more of the same: a fourth-place division finish, a five-game cameo in the playoffs, and a thin group of forwards kept afloat by stellar goaltending from Connor Hellebuyck. When your foundational goalie has the best season of his excellent career and you're still only barely a wild card, that spells trouble for the next attempt, especially because Winnipeg is not a place that attracts quality free agents.
What's New: Not having Blake Wheeler. The 37-year-old ex-captain (awkwardly, he lost the captaincy well before he left this team) didn't see eye to eye with blunt head coach Rick Bowness, so his contract was bought out and now he's suiting up for the Rangers. As a playmaker, Wheeler may not be what he was, but he was at the heart of this team ever since the NHL returned to Manitoba, and for a fan it's never fun to lose one of your all-time favorites. (Pierre-Luc Dubois, a solid scorer, was also traded after it was clear he wasn't going to sign a new contract.) That Bowness is still here after aggressively criticizing much of the same group of players back in April makes me even more concerned about team morale. But … Laurent Brossoit is back from Vegas! Maybe you can squeeze a little bit of nostalgia out of that restored Jets goalie tandem.
New York Islanders (First round)
What's Old: Barry Trotz was unceremoniously booted from the bench after failing to make they playoffs in 2022, but the way these Islanders won games last season was very much the same as when they were Trotz's overachieving bunch—they didn't allow goals, even though they weren't particularly good at stopping the other team from shooting. Ilya Sorokin was their MVP, as the 28-year-old goalie finished third in the league with a .924 save percentage across 60 starts, and the fact that he in many ways improved on a spectacular first year as primary starter is both thrilling and terrifying. Thrilling, because it encourages you to believe that maybe he's locked into some rare and possibly mythical netminding consistency. Terrifying, because even the best goalies have off years, and with Sorokin flipping every which way to save games the Isles were still just barely a playoff team. It feels fitting, for that reason, that they're right down here next to Winnipeg. (Don't tell me you skipped over Winnipeg!)
What's New: Bowie "Bo" Horvat is here to stay. The former Canucks captain had his expiring contract sent to the anxious Islanders in the middle of last season, and rather than test free agency he signed a pretty comfy extension at eight years and $68 million. That deal comes with a lot of expectations that he might have trouble fulfilling. Horvat, at 27, put up career-best counting numbers in what was already his ninth year in the league, but the production with Vancouver was much, much higher than it was on Long Island. On defense and on faceoffs, there are plenty of ways he can contribute without getting his name shouted out by the PA guy. But year after year this offense has cried out for a flammable superstar, and Horvat is a notch below the league's best. The blueprint for this team's success remains the same, with or without him.
Calgary Flames
What's Old: Darryl Sutter is going to be spending a lot more time on the farm. A notorious hard-ass even by hockey standards, Sutter jumpstarted a talented but wayward Flames team in the 2021–22 season and then squeezed the life out of them last year. One offseason ago, it was clear that Matthew Tkachuk didn't want to be around, and neither did Johnny Gaudreau, and despite trying their best to get suitable replacements the Flames became mediocre almost overnight. They dropped from sixth to 19th in scoring, as a team that had three 40-goal scorers the prior year could not longer rely on its superline to dominate play. And they fell from third to 13th in goals allowed, which was primarily the fault of Jacob Markström's evil twin showing up to play for them. He went from having nine shutouts to one, and that's the only statistical decline safe enough to print in a family preview.
What's New: They took a shot on the still-young forward Yegor Sharangovich, whom Devils fans will tell you seemed like a real sweetie even as he struggled to meet expectations. But veteran assistant Ryan Huska is the important fresh face: the new coach who inherits a seemingly unmotivated or just plain exhausted group of players who let a lot of points slip through their gloves last year. My favorite and perhaps only thing I can tell you about Ryan Huska is that he played exactly one game in the NHL, registering 5:51 on the ice for Chicago in 1998. Well, Sutter played eight years and that didn't save him. Side note: Did you know that Hockey Reference abbreviates the Chicago NHL team as "CBH" up until they made "Black Hawks" into one word in the '80s, at which point they become "CHI"? That's extremely perverted behavior. On their part.
Florida Panthers (Cup final)
What's Old: Rat! RAT! Rat boy!
The guy gnawing on the drywall in Florida is Matthew (Ratthew) Tkachuk, who in coming over from Calgary last summer helped transform this team's identity from a loose bunch of scorers into an group of nasty boys who play with a sharp edge. They barely made the playoffs as they struggled with goaltending and the loss of top assist man Jonathan Huberdeau, but once they got in, they ruined lives with upset after upset of the best the East had to offer. Instead of zooming forward as fast of their skates allowed, these Panthers forced turnovers, annoyed opponents, and, once Sergei Bobrovsky heated up in net, became nearly impossible to beat until they were worn down with injuries in the Final. These guys had so much dog in them that their post-victory tradition was literally gnawing on a bone. If you didn't hate them so much, you'd kind of have to love 'em.
What's New: The fact that they're starting this season with a reinvigorated sense of self that tops even what they had in their Presidents' Trophy season. It's funny how a few weeks on a winning streak can better a whole regular season as the best team in the league, but that's what's so special about these Panthers. In 2022, they put up the points but got blown away by the Lightning. In 2023, they were one loss away from missing the playoffs entirely yet looked so awesome in the first three rounds that I can barely bring myself to care about the regular season. Yes, goalie is still potentially a trouble spot, and yes, the Eastern Conference standings won't be forgiving of bad months, but it's totally acceptable to be excited about the Panthers anyway.
Nashville Predators
What's Old: This team used to be one of the most fun to watch in the NHL. They had exciting young skaters, the atmosphere of their home games felt like a trashy tailgate, Taylor Swift was doing ads for them, and they enjoyed a couple of years as legit Cup contenders. But the Preds haven't won a playoff series since 2018. Their only 20-goal guy from last year is now in Dallas. And the celebrations are harder to come by when the team is grinding out low-scoring results for a middle-of-the-pack finish. Nashville's not a bad team, and they'll be helped by a pretty weak division, but this is a year to find a new direction.
What's New: Juuse Saros is still the undisputed top goalie, but I'm getting excited about the rising prospect Yaroslav Askarov, who's made some memorable highlights in the minors with his aggressive and flamboyant style of netminding. But the more important new faces are Barry Trotz at GM and Andrew Brunette on the bench. At first glance, these are opposite-facing hires. Trotz most recently led a defense-first Islanders team that struggled to score, while Brunette, in his one year as an interim coach in Florida, earned the best record in the league with fast-paced play that was sometimes sloppy but could usually make up for its mistakes with thrilling comebacks. The lineup projects to be more closely aligned with Trotz's reputation, but it's all a bit murky. Even with some veteran signings, and Filip Forsberg maybe returning to full health, this Preds season feels like a prelude to a rebuild, with a new vision on the way if they can't somehow overachieve with the remnants of the last one.
Pittsburgh Penguins
What's Old: This is a team made up of achy bones and rusting joints. Sidney Crosby and Evgeni Malkin played a miraculous 82 games each last season, but the Penguins just barely missed the playoffs and sat home for the first time since 2006. That streak's end was a long time coming, however, because the Pens hadn't actually won a playoff series since 2018. While this was, at one point, the undisputed best squad in hockey, they've failed to adequately replenish their supplies as the years have dragged on. Jake Guentzel is a reliable bright spot on the scoring lines, but otherwise, last year's model was a team where both top pointgetters, and both top defensemen by average ice time, finished the season closer to 40 years old than 30. When you're in the last year of your championship window, that's acceptable, but it had already closed on the Penguins.
What's New: The franchise scored GM Kyle Dubas after the end of his time in Toronto, and he's been busy trying to reanimate this roster. Reilly Smith and Ryan Graves are both valuable secondary pieces that come from winning backgrounds, but their biggest acquisition isn't too far from the Crosby/Malkin demo. Reigning Norris winner Erik Karlsson, who played his heinie off in a return-to-form season even as he was stuck on the Sharks, escaped to Pittsburgh in a blockbuster trade that likely moves the Pens at least above the dividing line cutting through the middle of the Eastern Conference. It's a bit of a risk to hope all these guys avoid injury, but it's a fun one that almost brings the Penguins back around to being scrappy and likable as they try to bear down for a late-stage comeback. (Chicago's tankfest at the finale of the Kane and Toews era is the other side of this coin.) Dubas believes that a group whose top forwards are Literally Sidney Crosby and Evgeni Malkin still has the potential for at least one more run, and for now the Pens will continue to do the best they can with the gifts they received nearly 20 years ago.
Buffalo Sabres
What's Old: The Sabres are no longer a joke. They do still have a playoff drought as long as the St. Lawrence Seaway. And it's far from a sure thing that they'll break it this year. But last season, out of the ashes of the Jack Eichel divorce, came a breakthrough. Led by Tage Thompson, a 6-foot-6 center who scored goals in bunches, this young squad gave their apathetic fanbase legitimately meaningful games late in the season as they got into barnburner after barnburner before just barely missing out on the eight-seed. 
What's New: Just that there's any kind of optimism around this team is new. They may not be able to rise above what looks like a pretty heavy barricade in the top half of the Atlantic, but I won't blame you if the Sabres have hooked you in. Some of their more valuable pieces, like Dylan Cozens and Owen Power, are still in their very early 20s, and it's rare for a developing player's improvement to be totally linear. But that 42-33-7 record … you can't not be piqued by that relative success. It's a little flower growing in a lonely hockey tundra. An Orioles-like ascendence founded on green talent feels totally within the realm of possibility. And if Devon Levi, the inexperienced but highly hyped goalie, can get his skates under him and provide stability where the Sabres had none, the chances of a long-awaited return to playoff hockey become a little more probable.
Ottawa Senators
What's Old: I feel like I've been saying the same thing ever since Senators Week over two years ago: When these Sens are on, they feel like a wicked curveball that the rest of the league struggles to handle. But that still hasn't made them a playoff team. Like division rivals Buffalo and Detroit, the Senators have been working on drafting their way out of irrelevancy, and there's no shortage of inspiring youth on this squad (and also Master Splinter–figure Claude Giroux). But none of those franchises have hit the payoff yet, and it's a zero-sum game that they're playing against each other.
What's New: Vladimir Tarasenko, a once-scary but perhaps past his prime sniper, is now in the mix to try to replace Alex DeBrincat's 27 goals from last year. And the return of Josh Norris, the 24-year-old who only played in eight games but scored 35 times the year before, can provide a big lift. But the coolest new thing about hockey in Ottawa this year is that the Professional Women's Hockey League is putting a team here for its inaugural season that starts in early 2024. (Only Montreal and Toronto represented Canada in the final season of the PHF.) I already have a favorite player: Their goalie, 2022 Olympic gold medalist Emerance Maschmeyer, who wore Crocs at her wedding and, back at Harvard, wore a mask that said "Masc" on it. That's my kind of team.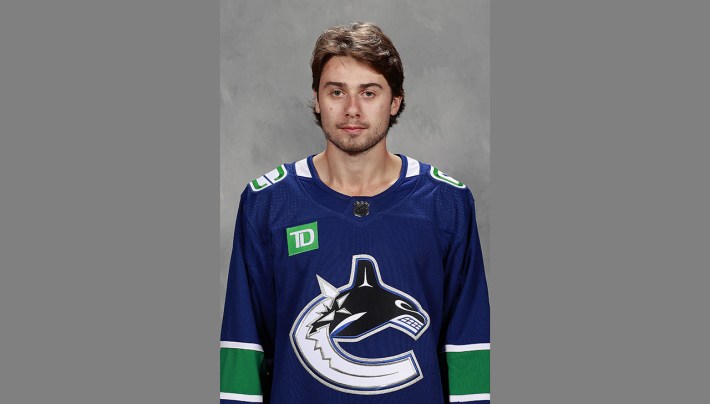 Vancouver Canucks
(Written by 'nucks sicko Maitreyi Anantharaman)
What's Old: Bruce, there he went. Management canned Bruce Boudreau midseason, but before they did, they began a public and protracted search to replace him. Boudreau was left twisting in the wind for weeks, and I was left feeling ashamed to be a Canucks fan. (Kidding. I was already ashamed to be a Canucks fan.) The new front office in Vancouver does business a lot like the old one—it's as directionless as the menu at Cactus Club Cafe. Jim Rutherford and Patrik Allvin play all the hits, making ill-advised win-now moves, and then taking drastic measures to bail themselves out. (See: Giving J.T. Miller a big extension and having to trade beloved captain Bo Horvat to make the cap math work.) Horvat said that being in a playoff chase with the Islanders last year was "a lot better than Vancouver" and do you know what we did? We got mad at him for saying that. Because no one makes fun of the Vancouver Canucks on our watch, except for us, every single day of our stupid lives.
What's New: ​​Is Quinn Hughes the most inspiring-looking captain? No. Well, he might "inspire" you to wonder if his dog just got hit by a car. But he leads by example, as one of the few seriously good players in a mostly unserious organization. Wearing the "C" on his jersey for the first time this year, he feels a new sense of urgency to win. "We're not little kids anymore," he said in the preseason. "They drafted us to do things and we've got to do those things." For the first time since Hughes's rookie year, he'll have a league-average top-four d-man to spell him in Filip Hronek, a trade deadline acquisition who only played four games before the team shut him down to let his lingering shoulder injury heal. Also, John Garrett retired from the best booth in hockey, so Dave Tomlinson will replace Cheech as color analyst. He is NOT our real dad.
St. Louis Blues
What's Old: OK, this is going to force you to think back a bit, but do you remember the last Stanley Cup before COVID, when the Boston Bruins were one game away? And do you remember how Brad Marchand's horribly timed line change at the end of the first period led to the game- and championship-winning goal? Do you remember their opponent? The one was that was really into Laura Branigan? That was the Blues. The Blues won the Cup that year! Crazy, right?
What's happened since? I have literally no idea. But I didn't see them in the playoffs this summer. If I had to guess, I'd say their old guys probably left and their young guys didn't turn out to be quite as good as expected.
What's New: Their most intriguing newish player is Jakub Vrana, who personifies the phrase "flashes of brilliance." He made the most of his opportunities on a stacked Capitals team and got traded to Detroit in 2021, where he scored a lot on a per-game basis but could barely get on the ice due to injury and time in the league's player assistance program. With his Wings situation basically unsalvageable, he got dealt to St. Louis. Even though the games didn't matter all that much, he appeared to regain his scoring touch as a Blue, notching 10 in 20 appearances. Barring some supernatural goaltending from Jordan Binnington, who might be a lost cause, this is not a team that commands much attention. But Vrana, if he can finally put together a full year, might deserve a wandering eye.
Detroit Red Wings
What's Old: Patience with the Yzerplan is running out. The former Red Wings captain, returning home after a job well done in the Tampa front office, entered with probably more goodwill than any GM hire in NHL history. That was in 2019, and the Wings still don't feel like a playoff-caliber team. A bunch of signings last year went nowhere and led to a mini-teardown where they bailed on key defenseman Filip Hronek and once-valuable scorer Tyler Bertuzzi for more draft picks. And as the Wings finished seventh in their division, with only six more points than the previous year, there were not many bright spots. The goaltending was bad. The scoring wasn't there. And most worrying of all, the sophomore campaigns for winger Lucas Raymond and D-man Moritz Seider were fairly underwhelming. (I think Seider still has the juice when he's got the right partner.) This was a team that once owned a luxury hotel in the playoffs, but if they can't take a major step forward, this will be their eighth straight year in a bedbug-infested basement.
What's New: Once again, the Wings were active in the offseason, but not necessarily productive enough to make up the four spots in the wild card race they'd need to jump. The most intriguing of their new guys is 25-year-old local boy Alex DeBrincat, who's a year removed from a 40-goal season in Chicago as a favored son of Patrick Kane. In Kane's role this year will be Dylan Larkin, another local boy, who just signed an extension to avoid leaving the only team (and state) he's ever known. Larkin is charming and slick, as good a face as you can have for a franchise this woeful, but he's also a bit miscast as the top center who's supposed to carry the team. He's more like the playmaker who'd make the best guy better, if there was one.
Washington Capitals
What's Old: After a bunch of first-round defeats, Washington's lengthy streak of making the playoffs is over. It wasn't a bad run, and the Caps sure had a great time along the way, but last season almost all of their key guys aged out of their prime, leaving them with the kind of pumpkin you have when the clock hits midnight. It's the natural cycle of a good team, but that doesn't make it any more fun to watch.
What's New: Alex Ovechkin is about to engage Miguel Cabrera Mode. The 38-year-old winger, who's shown an incredible understanding of how to protect his body from the grind of what will soon be 19 NHL seasons, has his eyes set on the biggest milestone imaginable. Even if he's a bit more limited than he used to be, he's still pretty incredible at the thing he does best, scoring 42 goals last year as the Caps' top target whenever he was on the ice. And it's the goals that matter above all else. Ovi has 822 in a career tinged with stop-start schedules and better league-wide goalie play than ever before. Reaching Wayne Gretzky's 894 isn't a sure thing, but those who have followed the consistency of Ovechkin for nearly two decades are looking toward 2025 with enthusiasm. The team around him doesn't project like it'll provide much of a reason to watch, but hockey fans in any city should and will turn out to watch Ovechkin keep shooting for that record, no matter the Capitals'.
Philadelphia Flyers
What's Old: I'm starting to regret the choice to put the league's bleakest teams all at the end. The Flyers weren't quite bad enough to deserve grouping with the most horrendous squads in the NHL on points alone, but they were blech from top to bottom. A bunch of their fans hoped for quite a while that they could land local-ish boy Johnny Gaudreau in the 2022 offseason, but he ended up in Columbus when Philly didn't even make a play for him. Their head coach, John Tortorella, lives out a tough-guy gimmick that got stale 10 years ago. And their players included Tony DeAngelo, whose history I'm sick of summarizing, and Ivan Provorov, who embarrassed the organization when he refused to warm up with his teammates on Pride Night, and also Brendan Lemieux, who before getting traded by the Kings once bit Brady Tkachuk (with his teeth!) and just generally seemed to confuse penalty minutes with goals. Just a demoralizing bunch of losers, they were. At least Gritty didn't get caught drunk driving or anything.
What's New: The Flyers are half-trying to brighten the mood. They have a revamped braintrust led by former players Daniel Brière and Keith Jones, though hiring a guy straight from TV doesn't have a great track record. They also no longer employ Lemieux, DeAngelo, or Provorov, and they have signed a personal favorite fringe guy of mine in Victor Mete, plus a steadying veteran influence in Marc Staal. But Tortorella is still there, and he's good for at least one dumb blow-up a year. That might be the only time you really need to consider the Flyers' existence.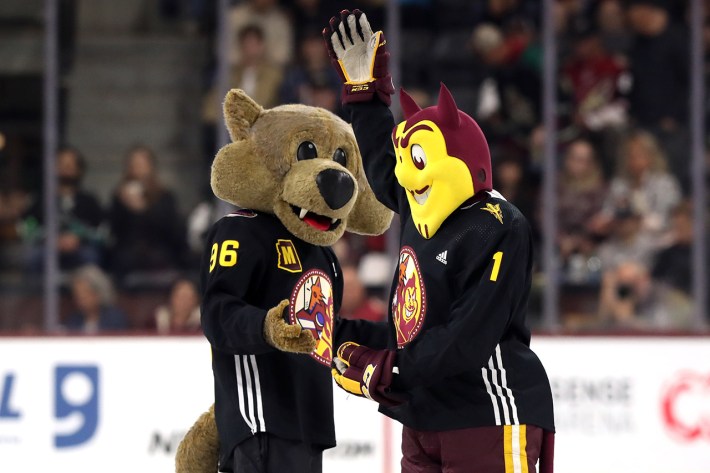 Halifax Coyotes
What's Old: Their first year at the 4,600-seat last-resort arena on the Arizona State campus could have gone better. It wasn't quite weird enough to care about all year long, except for when it became an intimate, sometimes violent social club for fans from Boston or Edmonton. But it was also still an absolutely ridiculous thing to put an NHL team in such confines for any longer than, like, a week. Since they were unceremoniously exiled from their old building, the Coyotes' plan was to springboard from college into one of those brand-new, supposedly state-of-the-art entertainment districts every owner dreams about. But the residents voted the proposal down in May, leaving the Coyotes stuck where they were and apparently out of options, at least in the near term.
What's New: After that arena vote fell through, I was worried that the Coyotes were going to grit their teeth to try to stick to Arizona by any means necessary. But I was so proud when they announced that they were giving up their efforts to establish hockey in the desert and would instead move to Halifax, Nova Scotia, which proved such an enthusiastic host for the most recent World Juniors tournament. Playing in the league's easternmost city will certainly be an adjustment, as will having fans. But even though the Halifax Coyotes won't have all the necessary talent to succeed this year, the arrival of rookie center Logan Cooley, who already scored the best goal of the preseason, is a sunny start for this brand-new era.
Montreal Canadiens
What's Old: This is, in fact, a team that miraculously made the Cup Final in 2021, and Montreal is allowed to still feel good about that, if they'd like. But take away the memories of that underdog surprise and you have a team that's been stuck in a rut. The great version of the Habs, which peaked around 2014, is scattered to the wind. Carey Price seems to be done with hockey. P. K. Subban definitely is. Max Pacioretty's on his third new team. There's no Jeff Petry, no Shea Weber. I'm getting misty-eyed here! While I know that group of Canadiens never became champs, they really had something pretty cool going for a bit.
What's New: The theme of this roster is "young players with underwhelming careers who might still have high ceilings." We're working on making that snappier. Kirby Dach was drafted third overall by Chicago in 2019, and they pretty quickly gave up on him. The 22-year-old Alex Newhook carried high expectations but couldn't break out on the Avalanche. Cole Caufield got injured last year after a promising start. And Nick Suzuki, the young captain, needs more production around him if he's really going to lead. The one to watch most closely, though, is Slovakia's Juraj Slafkovský, who is definitely big and theoretically slippery and accurate. He was drafted with the first pick by the Habs last year, in a choice that was far from clear-cut, and in the half-season he played while healthy he struggled to get comfortable on NHL ice. But he's just 19, and his mind is that age, too, so there should be plenty of future opportunities to prove that front office right. The best version of these Habs could be pretty dang threatening, if teams have the misfortune of catching them on a good night. But it'll take a lot of work to play at their peak with consistency.
San Jose Sharks
Chicago Blackhawks
What's Old: These guys suck. I don't like them. That's all I want to say.
What's New: They have Connor Bedard now, as a reward for making everyone miserable. Based on who you talk to in the NHL, the consensus No. 1 pick in the draft projects to be somewhere between Auston Matthews and Moses. He looked extraordinarily cool on the ice at the World Juniors and racked up something like a goal a minute in the WHL, and he was the young boy every terrible team so badly wanted when tank season rolled around. If there's a silver lining to his arrival in Chicago, for non-Chicagoans, it's that one player can't completely transform a hockey team, and going worst to first off the back of a teenager isn't something that happens, even if that teenager is a generational find. Taylor Hall is here now, which is maybe something if he's got any gas left, but this team still has a lot of road ahead.
Columbus Blue Jackets
What's Old: On July 1, 2023, the Blue Jackets announced the hiring of Mike Babcock as head coach. Babcock had last coached in the NHL in 2019, when he was fired by the Maple Leafs for not doing well in the playoffs and also alienating players with nasty little mind games. The hiring felt very Columbus: They'd just gone through a dreadful season with a ton of injuries, which dropped them to the very pits of the league; this was not an attractive job; they weren't going to be able to attract the most sought-after talent (except when Johnny Gaudreau randomly wanted to play here); and they believed their best bet was to take someone who'd had a lot of success many years ago and hope he had gained a better understanding of how not to piss off his players by being a big weird jerk.
What's New: On Sept. 17, 2023, Mike Babcock resigned from his position as head coach of the Blue Jackets. This came after some strange accusations that Babcock was ordering players to show him the photos on their phones, which prompted an investigation that uncovered a lot of players who already really, really didn't like their new coach. "We got it wrong and that's on us," team president John Davidson said of the hire.
Anaheim Ducks
What's Old: It's not often that one of the league's most marketable darlings plays on its very worst team, but that's the situation Trevor Zegras has found himself in. The 22-year-old, about to enter his third full season, is something short of a superstar for now when you look at the complete package, but he's got a great personality and a high hit rate on his goals. If you're seeing a highlight of his, he probably did something nifty with his stick and looked cute doing it. Nevertheless, the Ducks needed a half-dozen other players like him as they plummeted to the bottom of the league and missed the playoffs for the fifth straight year. Unluckily, they didn't score Bedard out of it, but they got the next best thing in the No. 2 pick Leo Carlsson, who joins a growing cohort of well-regarded prospects in this system. They can't take the Ducks anywhere else but up.
What's New: Zegras might have a famous girlfriend. Her name is Dixie D'Amelio and she is too young for your 28-year-old previewer to know who she is. The way it's been explained to me, her job is making posts on the internet, but I am not allowed to call her a blogger. This is the hockey version of Taylor Swift canoodling with Travis Kelce. It's the best we're gonna get.
Stay in touch
Sign up for our free newsletter