MLB
An "Old-Fashioned Pitchers' Duel" Didn't Always Mean What You Think
1:59 PM EDT on September 14, 2023
Baseball's history is so long and variegated that the term "old-fashioned" can refer to just about anything. You can use it for the cosplayers in the park who play without gloves but with Civil War beards. You can use it for Babe Ruth's diet of hot dogs and beer, or the golden-boy idealism of Mickey Mantle, or the segregation that disfigured the sport for decades. You can call old-fashioned the thought of someone downing greenies before pitching a complete game for the second time in a week, or a guy laying down a sac bunt while trailing in the fourth, or even now, overinflated sluggers blasting 65 dingers a year off a whole society of pitchers who could barely touch 93 on the gun, and the moral panic that ensued.
Just about any aspect of a century and a half of baseball can lay some claim to being old-fashioned. But for an announcer, writer, or fan, nothing is as old-fashioned as a pair of strong performances from a game's starting pitchers. I heard that cliche "We've got a good old-fashioned pitchers' duel" for the millionth time while watching the Cubs play the Diamondbacks last Friday, as Zac Gallen threw a nine-inning shutout for a 1-0 win, and I wondered, when did a pitchers' duel become invariably, ineluctably old-fashioned? Who was the first person to deem it to belong more to baseball's past than its present? Well ... it's complicated.
I searched through a bunch of old newspaper articles to try to glean an answer. It probably won't be surprising that "old-fashioned pitchers' duel" seemed to come into regular use as a phrase in the 1920s. For the first two decades of the century, baseball for a variety of reasons saw a steep drop in offense known now as the dead-ball era. But with the rise of Ruth, who all but invented the modern home run and smashed a mind-blowing 54 for the Yankees in 1920—more than any other team in the American League— the balance of power in an at-bat see-sawed back to the hitter. The use of "old-fashioned pitchers' duel," then, was used explicitly to contrast the light-hitting pre-Ruth days with the new age of the long ball.
"Of secondary interest was the remarkable pitching of Bob Shawkey," wrote the New York Herald in a 1920 Yanks–White Sox gamer, "Who had the better of Urban Faber in one of those old fashioned pitchers' duels which used to be the thing before hitting became so prevalent and popular. Babe Ruth's absence no doubt helped make it a flinger's frolic."
In a write-up of a 1927 contest between Rochester and Jersey City, The Bayonne Times' lede read, "An old-fashioned pitchers' duel, the kind that went out when the mighty Sultan of Swat set the style for free pill socking, was staged by Cliff Jackson and 'Lefty' Shoffner at West Side Park yesterday afternoon."
(As a quick side note, going through these archives was also a neat lesson in how much space newspapers used to give to baseball teams outside the "major leagues.")
From that decade on, the context for "old fashioned pitchers' duel" was established: There's a lot of slugging in the game today, but there was once a time when baseball was ruled unilaterally by the men who threw the ball. However, that's not where or how this saying began. The truly interesting history of the phrase begins well before Ruth ever sent one deep.
In a Montana newspaper's write-up of NL Opening Day 1919—a piece delightfully headlined "Old Man Baseball Crawls Out Of Dugout"—one of the subheadings read, "Brooklyn Takes Two Games From Boston—Rudolph and Cadore Have Old-Fashioned Pitchers' Duel. Oh-h-h Boy, Come On, She's Off!" That's a fantastic set of words, but after a 1918 season in which NL teams had averaged just 0.14 dingers and only 3.62 runs per game, calling a pitchers' duel old-fashioned didn't make much sense to me.
That line persists, though, as you go further back. It's in a 1918 edition of The Honolulu Advertiser, and it's there again in a 1914 recap of an Emporia vs. Great Bend game in Kansas, in which Otis Lambeth "showed that he remembered enough of the twirling craft to win one of those old-fashioned pitchers' duels from Joe Lillis." The single oldest version of it I could find is from a 1911 Indianapolis Star article, though even there it sounds like a well-traveled phrase: "Before the game had progressed very far it resolved itself into one of those old-fashioned 'pitchers' duels.' And a pitchers' duel always is a fine thing when the home team wins."
How would good pitching be old-fashioned in the depths of the dead-ball era? It'd be like basketball writers today calling Warriors games "old-fashioned three-point contests." It didn't fit, and even these references I found were explicitly contradicted by other newspapers that, when talking about "old-fashioned baseball," implied (correctly) that the previous renditions of the game had been marked by sloppy fielding and free hitting. (And, in at least one case, on-field smoking.)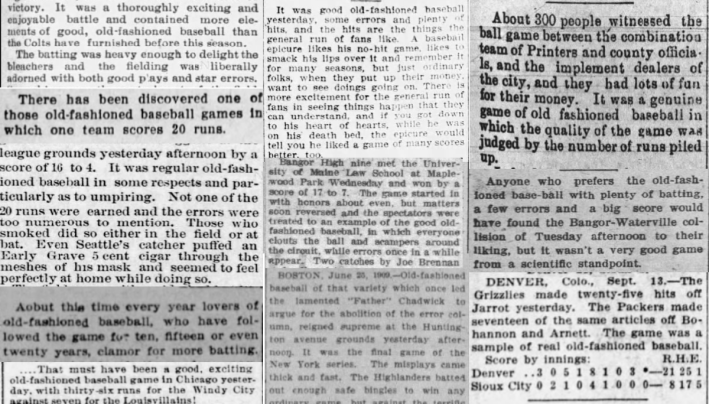 This bugged me plenty, so I made it the problem of MLB's official baseball historian John Thorn. He got back to me very quickly after I emailed him explaining my dilemma, and in doing so he gave me a brief lesson on the history of the term "pitchers' duel," without the "old-fashioned" attached to it. That phrase, just on its own, can be traced back to the rowdy and high-scoring 1800s. But in those times, unlike the dead-ball era, a pitchers' duel was something unique and therefore legendary. Thorn specifically directed me to this passage about an 1869 game, from his book Baseball in the Garden of Eden:
The Cincinnati winning streak ran into a couple of close matches, most notably a game on June 15 in which they defeated the powerful Mutuals of New York, at Cammeyer's Union Grounds in Brooklyn, by 4–2, the lowest combined score ever recorded to that time. At a time when holding an opponent to ten runs or fewer was regarded as a masterpiece of pitching and defense, this was instantly anointed the greatest game ever played.
I can't ask the sportswriters of the early 20th century what they were thinking, but I feel fairly comfortable drawing a conclusion. During the dead-ball era, when someone deployed "old-fashioned pitchers' duel," they were not making a comment on the current state of the game but rather hearkening back to some of the rarest and most indelible games in the sport's history. (Think of it a little like a modern shortstop's play being praised as "Jeterian"—it's not that Derek Jeter was a good defensive shortstop, but rather that he made some individually memorable plays over there.) When Ruth and the dong gave baseball a rapid makeover, however, "old-fashioned pitchers' duel" evolved to refer to the sport's norm before everything was transformed by home runs.
So, the next time an announcer calls a tight ballgame a "good old-fashioned pitchers' duel," which version will come to mind for me first? Will I stick with my old perception of the dead-ball era as the game's extinct standard, or will I honor the term's original meaning by comparing this 2023 game with a rare yet iconic low-scoring matchup from a long-ago era of blazing offenses? Which fashion is truly the fashion of old? I'm not sure yet, but I do know that I'm an even bigger nerd now than I was when I started this search.
Stay in touch
Sign up for our free newsletter