NHL
Arizona Is Gary Bettman's Waterloo
9:53 AM EDT on May 17, 2023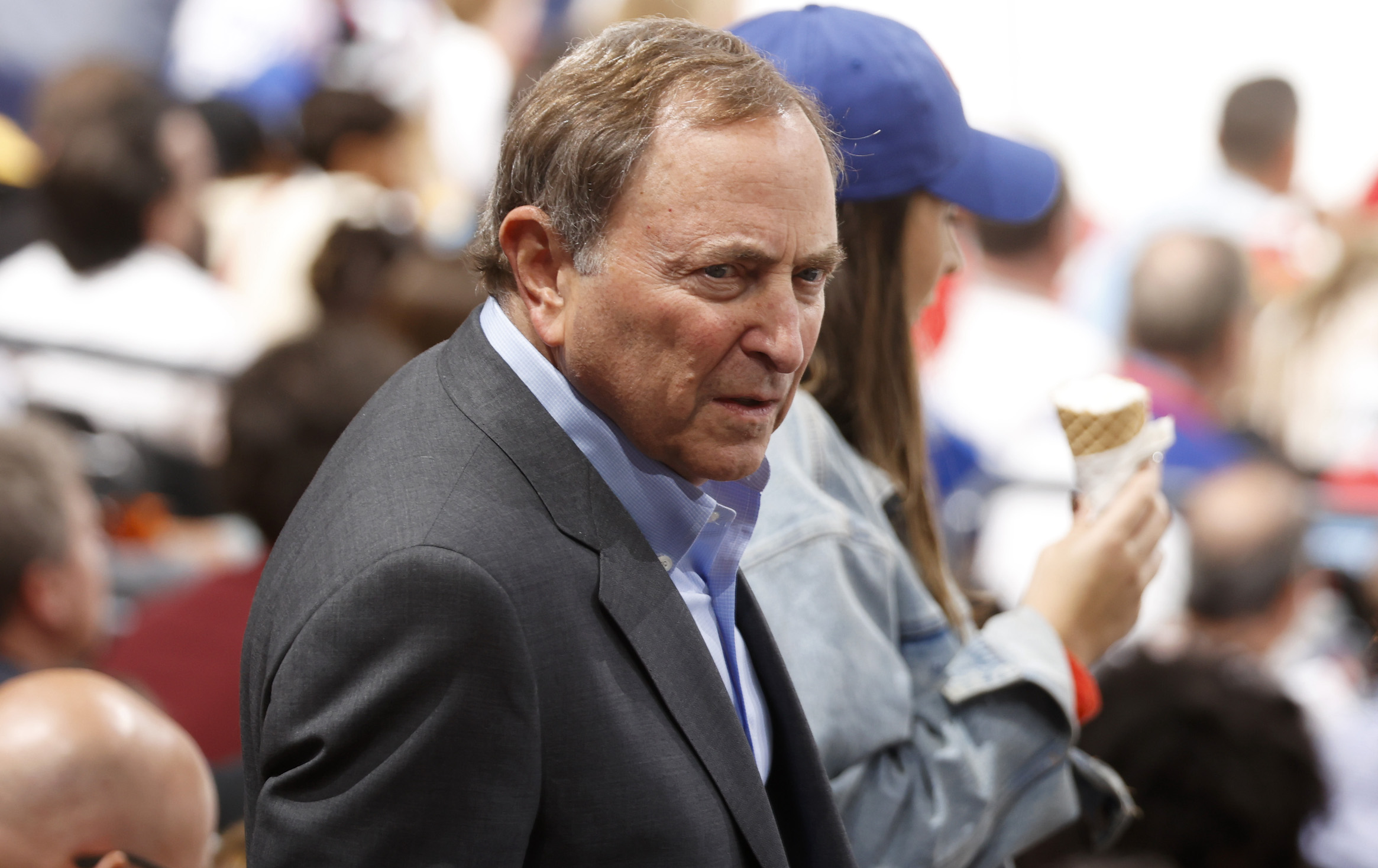 The clear presumption surrounding the Stanley Cup conference finals is that all four rinks will feature a massive disembodied Gary Bettman head at center ice as a tribute to the league's southern strategy with which he is most often connected. This, however, like all other meaty yet easily digestible tales, is a bit of a lie.
Bettman does have fingerprints in Raleigh, where the Carolina Hurricanes open the penultimate sessions Thursday night, as the 'Canes were the ever-charming but devotedly also-rannish Hartford Whalers. He also gets the midwife's bonus for the Vegas Golden Knights, who were formed from the league's corporate womb as the best team in the Western Conference six years ago, and will host the Western Conference final Friday night. So two hats off to him, to whatever level that satisfies.
He was, however, still David Stern's yappy bulldog at the NBA offices when the Dallas Stars were formed from the neglected embers of the Minnesota North Stars, and the Florida Panthers were already approved and announced two months before he left his post on the U.S.S. Stern to become the longest-serving commissioner in the already continent-wide NHL. Yes, there is one fewer Canadian team than there was when he arrived, but Bettman's real essence is not that he hates Canada as much as he hates the Canadian dollar, and like all commissioners, Bettman goes where the money is and the new arenas are.
Thus, this, the first all–Sun Belt semifinal (Raleigh, Sunrise, Las Vegas, and Dallas) is not so much Bettman's vision as much as it is the logical march from the land where hockey is king to where it is Sir Loin of Beef. And even at that, the two relocated teams came from the decidedly non-Canadian markets of Hartford and Minneapolis.
No, Bettman's legacy for those of you who need him to be the villain of this piece, re-emerged last night in the Valley Of The Sun, where voters rejected yet again the concept of paying the Arizona Coyotes not to leave the state. This time, it was the active and voting citizens of Tempe, with support from the city of Phoenix and Sky Harbor Airport, who decided to tell this seventh version of Coyotes ownership to dig its dirt in someone else's playground, and more importantly, to dig it on someone else's dime.
If there is a place where Bettman's mirthless grimace should be the centerpiece at center ice, it is Phoenix, where he has spent much political and legal capital keeping the pluckily underpowered franchise from re-relocating to Minneapolis (originally) and then from moving to, depending on the strength of the rumor, Seattle, Hamilton, back to Winnipeg, Quebec City, Portland, Kansas City, Las Vegas, and Houston. This ballot measure—actually, three separate ballot measures that all needed to pass in tandem—was going to soak the taxpayers for half a billion dollars over a 46-acre piece of landfill near the airport most famous for catching fire in its previous life as a compost yard. In its time it has also been a sand and gravel mine and a dump site, so the jokes just tend to make themselves, as is always the case with this franchise.
And after all three measures lost by roughly the same 56-44 margin with what was described as near-record turnout, the list of potential suitors for this team that was always better off in Winnipeg has now grown to include Salt Lake City, where Utah Jazz owner Ryan Smith has recently met with Bettman and was a potential buyer for the Pittsburgh Penguins when Mario Lemieux sold them in 2021 to John Henry and Fenway Sports Group. Smith would have to get "terribly disappointed" Coyotes owner Alex Meruelo to sell, but at this point the only time Meruelo hasn't been "terribly disappointed" since buying the Kachinas in 2019 was when they moved to the 4,600-seat Mullett Arena—and that only because they had been evicted from their boneyard in Glendale for being tardy with the rent. In a business built on the illusion of perpetual growth, the Coyotes have aggressively downsized, and with this news, may have to do it again. Of the metropolitan areas mentioned as possible new homes, only Houston has a larger population, and Houston already has plenty of teams to ignore.
So this, too, is Gary Bettman's legacy. On balance, he has been right more often than not with relocations and expansions in his three decades as an owner wrangler, but to call this his perfect semifinal is playing faster and looser with an already swift and roomy narrative. The Nielsen market he has believed in most stridently despite all evidence has just backhanded him one more time. There is no reason to think that Canada will get the Coyotes back because Bettman is if nothing else a stubborn old coot, but he has been living with this migraine for almost as long as he has been Hockey Boy, and all the I-told-you-sos he might want to issue in the next fortnight, it is good to remember that he didn't come up with the southern strategy as much as he supervised its second and third phases. And at this point, you can't get much southier than Phoenix, unless you're keen to give the Coyotes a try in Hermosillo.
Correction: A previous version of this story misstated the size of the tax breaks for the arena project.
Stay in touch
Sign up for our free newsletter