NHL
Sidney Crosby Calms The Waters
11:27 AM EDT on March 23, 2023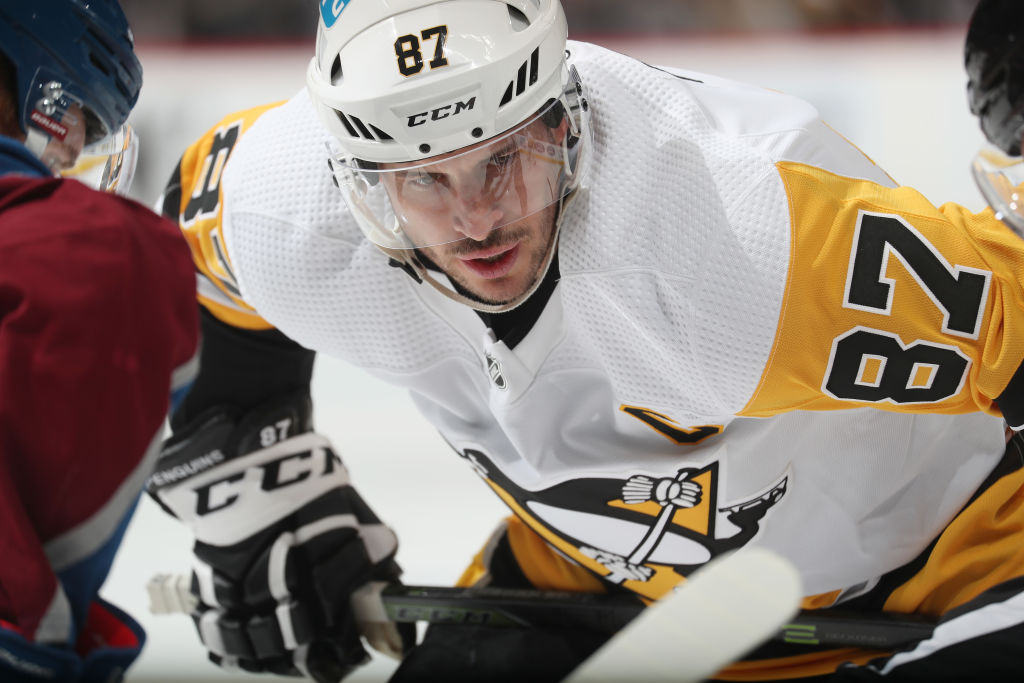 As a franchise, the Pittsburgh Penguins are starting to look burned out. While they do hold by far the longest active playoff appearance streak in the NHL—16 seasons—they've now gone four straight without actually winning a series. This year, as the league's oldest team, it's become a real struggle just to keep that streak alive. Not unlike the New England Patriots, the Penguins have for a long time been a team that could augment their permanent superstars with random anonymous sidekicks who blossomed into something unexpectedly valuable. But as they've tried to extend the streak to 17, weathering the departures of key support like Evan Rodrigues and Mike Matheson, as well as health issues with Kris Letang and Jeff Petry, the Donks and Flibbets that would keep the Pens afloat haven't materialized.
As a result, especially as top goalie Tristan Jarry has regressed, the Penguins have spent the season playing very streaky and ultimately average hockey, with a current goal differential of minus-1. In the four games heading into Wednesday night, specifically, they suffered one of those rough stretches at a very bad time, taking zero points as they endured humiliations like a 6-0 pounding at MSG and a 2-1 loss to a new Senators goalie who had made one NHL save five years ago. These failures allowed the Florida Panthers to pull even on the final playoff spot in the East. And traveling into Colorado, home of not only the defending champs but also a hot squad who had seemingly just put it all back together in a soft run of the schedule, the Penguins should have been getting anxious.
They were probably still feeling the nerves in the locker room at first intermission, after a tense start with some great Avs opportunities that nevertheless kept the game 0-0. But early in the second, their captain showed yet again why he is both a leader and a hockey genius. Sidney Crosby, Mr. Penguin, took a pass outside the offensive zone, moved toward the net, shredded Samuel Girard like an old credit card statement, and then flipped an backhander with beautiful touch over the right shoulder of Alexandar Georgiev for the goal.
It was a relatively comfortable two points for Pittsburgh from there. A five-on-three soon after made it 2-0, and both times the Avalanche scored, the Pens managed a quick response that maintained their momentum and the two-goal advantage. The end of the 5-2 victory was even pretty playful, as Jarry, who scored a goalie goal in the minors, tried multiple times to shoot the puck the length of the ice into the empty net. (Bryan Rust eventually managed.)
The goal was a milestone for Crosby in a few different ways. It was his 30th on the season—a cool thing in its own right for a normal player—and it tied him with Mario Lemieux for the most 30-goals seasons in team history (11). Even more impressively, the 35-year-old is the first NHL player ever to notch such a season both at age 18 and 35-plus.
"It means I've been in the league for a while," Crosby said with a bit of a smile when informed of this tidbit in the postgame. "In your first year, you want to prove that you belong. And even at 35, I still think you want to prove you belong, because it is a younger league."
Even as Jake Guentzel outscores him and Evgeni Malkin continues to rack up points, nobody feels like he belongs on the Penguins more than Sid. Still playing 20 minutes a night and producing as much as he did in all but his most dominant seasons, he remains the axle around which this wheel turns. The team may continue to struggle in its quest to secure reinforcements, but there's no sign that his own play will drop off anytime soon. As long as his body can still mostly respond to the supernatural way he sees the defense's weak points, Crosby's play will remain as familiar as ever.
There's a part of me that wants to say the Penguins are just playing for the pride of their playoff streak, because the Bruins—and even Carolina if the Pens somehow jump up to seventh—are so demonstrably superior that they should in theory turns these guys into formal wear. A day ago, when the Pens looked unpolished and flustered, that was an especially easy thought to hold. But even historically great Presidents' Trophy winners have proven to be vulnerable in the first round, and Crosby ... well he's still Crosby. That after a small dry spell for both himself and the franchise he can emerge with a moment of such magic inspires belief that everything will be all right for the Pens, even if the signs generally say otherwise.
Stay in touch
Sign up for our free newsletter