Pro Wrestling
Saudi Arabia Hasn't Bought WWE Yet, But Its Wrestlers Should Be Ready
9:01 AM EST on January 12, 2023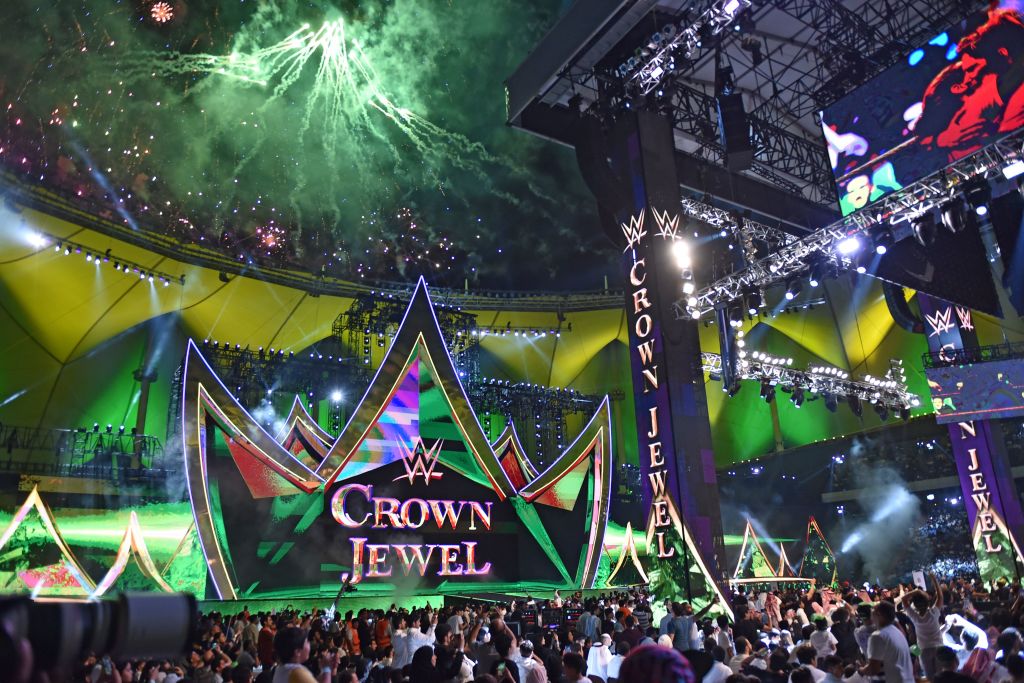 Just a few days after Vince McMahon bullied himself back into the company he ran for 40 years, Tuesday night brought one piece of big, definite news for WWE, and one absolutely monumental rumor that, if true, would convulse the international landscape of the pro wrestling industry.
First, the definitely true thing. Stephanie McMahon, Vince's daughter, announced that she would be resigning from her position as co-CEO and chairwoman and leaving the company. McMahon had taken a leave from her old position as chief brand officer in May 2022, only to come back a month later as an interim and then official replacement for Vince.
When Vince restored himself to the company last week, ending an exile brought on by reports of hush-money payments he made to cover up his sexual misconduct, the official line from WWE was that he was only returning to assist with a sale of the company and did not intend to disrupt the work of Stephanie, her co-CEO Nick Khan, and head of creative (and Stephanie's husband) Paul Levesque, a.k.a. Triple H. Stephanie's sudden departure, timed as it is with Vince's re-election as chairman, clearly contradicts that statement. It seems safe to assume that Vince is seeking to take back the power that his arrogance and misogyny briefly cost him, and it's fair to wonder if Levesque, who followed a similar path as his wife, might be next as Vince looks to reassert dominance over the company's products.
Now for the rumor. Also on Tuesday night, whispers turned to chatter turned to screams about a deal in which the Saudi Arabia Public Investment Fund would buy WWE for presumably several billion dollars and then take it private. The sources of these reports ranged from an anonymous Reddit user that goes by "kermit125" who consistently breaks WWE news to a small wrestling news site called "bodyslam.net" to a guy at DAZN who later deleted his tweet, so this wasn't exactly a story that could be picked up with confidence. But amid all this smoke, WWE itself stayed eerily quiet. Finally, on Wednesday morning, people inside the company started giving off-the-record semi-denials with very specific wording. The gist is not "We aren't selling to Saudi Arabia" so much as it is "If we were in fact selling to Saudi Arabia, it would take a little longer than this."
It's not a surprise that Saudi Arabia would have an interest in buying WWE. They're already responsible for the the company's most lucrative live shows, paying $50 million per event since 2018 for two pay-per-views to be broadcast annually from inside the country, and their sportswashing endeavors have already had major impacts on soccer, golf, boxing, and F1. I guess, technically, this is sports-entertainment washing, but it still tracks with the Saudi government's increasingly sweaty efforts to buy global legitimacy and a pardon for its human rights abuses through pop-culture spectacle.
Would Fox and NBC, WWE's current broadcasters, absorb the PR hit of a sale to Saudi Arabia and re-up their expiring media rights deals? What about other partners like Fanatics or Mattel? Is Vince going to cut a deal that ensures he keeps his throne even after a sale? Will a significant number number of fans, out of disgust for either the Saudi deal or Vince's return, actually quit supporting the brand? I don't know. Maybe everything stays business-as-usual after a Saudi purchase and Smackdown becomes as uncomfortably normal as a Newcastle–West Ham match. At this point, it's impossible to predict what WWE's situation will look like in a week, let alone a month or a year.
But like any company dealing with existential uncertainty, it's the employees who don't have any control over its direction who feel it the worst. Women at WWE would be working under a chairman accused of sexual harassment, rape, and career sabotage when denied sexual favors. Other talent, like Sami Zayn, who's been banned from the Saudi shows because of his Syrian immigrant parents, will be bracing themselves for the worst. After the relative calm promised by Vince's departure, and the reported boost in morale with Levesque running TV in a steadier and more transparent manner, WWE's workers again find themselves over an abyss.
Vince's comeback and the heated discussions about a sale serve as a reminder—for AEW wrestlers, too—that even if you have a good boss and like your workplace now, your employer will always have the power to make your life worse. That is, of course, unless you use your solidarity with your coworkers to exercise some power yourself—specifically, with a union that can use negotiation, public pressure, and the threat of a strike to change the stuff you don't like about your job and enshrine the things you do like in a binding contract. WWE and other wrestling promoters have always shown an unbridled hostility to unionization, and the effect has been significantly smaller revenue shares, more precarious working conditions, and greater overall restrictions on workers in comparison with unionized sports. But these performers now have some extra leverage in their ability to potentially disrupt a multi-billion dollar windfall. This might a good time to try again.
Correction (5:16 p.m. ET): The article originally stated that WWE received $50 million per year from its deal with Saudi Arabia. It's actually $50 million per event.
Stay in touch
Sign up for our free newsletter