NBA
San Antonio Is The Perfect Spot For Victor Wembanyama
9:01 AM EDT on May 17, 2023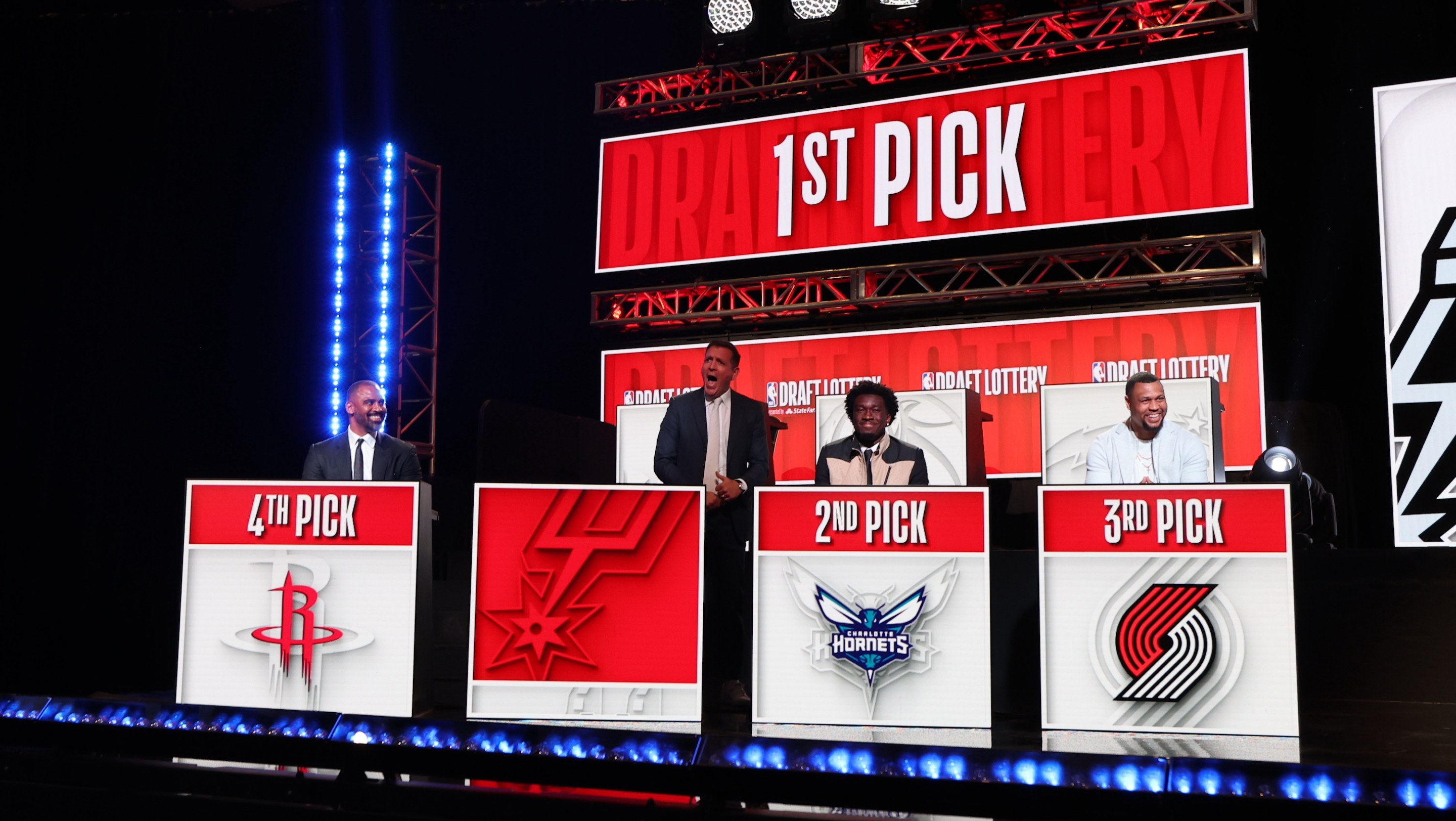 Gregg Popovich, sir, prepare to put off your retirement plans for a few more years. You have a big huge French guy to coach. For the third time in franchise history, the Spurs will have the first pick in the NBA Draft, and for the third time in franchise history, the Spurs will use that pick on a seven-footer widely regarded as a generational talent. Victor Wembanyama is going to be a San Antonio Spur, which is historically a great thing to be.
There were precious few surprises in the NBA Draft Lottery. One of the four teams that dedicated itself to losing, en masse, all year, won the big prize, while the other three will pick second, fourth, and fifth. Only Portland moved up, and they only jumped two spots from fifth to third. Everything went more or less how it was supposed to, and the only possible quibble I could see from non-Pistons fans with how the process went is that the Blazers are once again going to be rewarded with a cool teenager for punting on their season early, but also, the only real bit of structural tanking they've done was hire Chauncey Billups.
I worried that Wembanyama would end up going to a team that's already too good (Bulls), an organization that's too disastrous (Wizards), a franchise that is both at the same time (Mavericks), or to Houston (Rockets), but thankfully he did not. San Antonio is none of those organizations, and for short-term and long-term basketball reasons, not to mention historical heft, it's the perfect place for Wembanyama to go. He spoke about his pending Spurshood, and he sounded like someone whose preferences aligned with the rest of his country.
As for the basketball: The 2022–23 Spurs had the worst defense and second-worst offense in the NBA, and still their total of 22 wins was a whopping three more than their projected win total (only four teams had positive differences of three or more, and all were Finals contenders). Their woeful net rating and record are the pure product of playing the kids. Nobody over the age of 23 besides traded players averaged more then 22 minutes per game last season, and Keldon Johnson, who I think of as lone veteran minutes-getting holdover from the DeRozan-Aldridge era, is still younger than Davion Mitchell and Herb Jones, who were picked two drafts after him. Johnson is the jewel of the team. He's a 22-point scorer who gets his without being a turbo-mega athlete or a knockdown three-point shooter. Don't take that as derogatory: He's a fine athlete and an average shooter, but he moves and attacks at the right times, and he knows his spots.
He's one of three building blocks on the roster, alongside Devin Vassell, a huge shooter who has real two-way potential and started to show some unexpected sauce as a passer last season, and Jeremy Sochan, a weird, athletic player who is a hell of a defender and who turned a horrific offensive season around by starting to shoot his free throws one-handed. Tre Jones and Malaki Branham are also around, and they can both kinda do some cool stuff, but my point here is despite playing with a team composed entirely of nebulous, young wing players, the Spurs played hard as hell all year. They had the fastest pace in the league, and they never lapsed into Houstonian nihilism or Pistonian injury crud. All their core was missing was a competent big man and someone with superstar upside, and voila (French word), Wembanyama falls into their laps.
Wembanyama will immediately change the Spurs' whole defensive outlook. While his level of offensive skill at his size is the A1 trait that pops off the screen, Wembanyama can most affect a game with his rim protection. I watched his final regular-season game in the French league, in which he only had two blocks but changed the tenor of every single defensive possession. Guys would get a step on their defender, turn the corner into the lane, see Wembanyama standing eight feet away from them, and fade away instead of challenge him or even pull up. He got switched out into space and handled himself perfectly, and the specter of him recovering from halfway across the court was clearly a terrifying thing to contend with.
The shooting and play-making and ball-handling will have to develop; he's so big that he seems like he might average 15 points per game purely off offensive rebounds and dunker spot luck. Weirdly, neither Wembanyama nor Sochan really need the ball in their hands. That's a rare luxury for a team assembling a young core, as it tends to be way more straightforward to find capable stars that need to initiate and finish tons of possessions than it is to find elite connectors who make everyone else better. The odds are that Wembanyama develops into the sort of player that can have the impact of that level of star on the ball, but style-wise, he is on a team, under a coaching staff, alongside a young core, that will bring him into an egalitarian system that he can grow within.
This is also the same system that fostered legendary big men David Robinson and Tim Duncan and the same team where all-time French players Boris Diaw and Tony Parker won championships. Wembanyama will now join both lineages, under the most decorated coach in NBA history. It has felt odd watching Popovich, an old guy who coached teams full of incredible old guys forever, sticking around to coach one of the worst teams in the NBA. Absent the immediate chance for glory in his mid-70s, few in his position would continue to put themselves through the grind of coaching. You have to really love something—not to mention be very, very good at it—to keep coaching a young team as hard as he did knowing they were just waiting until May to roll the dice on a chance to get a superstar.
And for his patience, Popovich has been rewarded with his third game-destroying big man. Wembanyama is so different than either Robinson or Duncan, and it's worth stringing the three centers together as an illustration of how much the role has changed. I'd posit David Robinson as an archetypal, pre-2000s center. He blocked, he boarded, he dominated the area under both rims and didn't do much else anywhere else. By the time Duncan was drafted, the NBA was once again a behemoth's league in a way that it never was during Robinson's peak (because his peak was also Michael Jordan's peak), and they won the 1999 title together, which is also the last time both Finals teams' best players were centers. Duncan and Robinson never won fewer than 53 games together (besides the lockout year) and they helped usher in a very big man–centric decade. That was a unintentional crime against basketball, and the late-period Shaq and Kevin Garnett era represented an aesthetic nadir for the NBA, one the once-boring-as-hell Spurs played a key part in erasing, once they had time to reinvent themselves.
A big narrative from the early–Kawhi Leonard–era teams that made it back to the Finals again starting in 2013 was that the Spurs, long unfairly maligned as the epitome of rote, boring basketball (as if Manu Ginobili was capable of boring) were fun now. They passed it supremely well and attacked with balance. This was the germ of the spread pick-and-roll game that the Warriors eventually turbocharged, though I think it is important to remember the 2013 and 2014 Finals as an important turning point. Within a few short seasons, the center role was unrecognizable, and the Tim Duncan Spurs helped usher in its revolution.
At the end of that developmental track and also the lineage of Spurs bigs is the theoretically perfect modern center. I cannot wait to see what kind of player Victor Wembanyama turns out to be, as he is without precedent. He seems likely to win a bunch and do hilarious, profane things to people who try to challenge him at the rim, but most of all, he seems like most likely draftee since LeBron James to change the fundamental substrate of NBA basketball. That he gets the chance to do that in San Antonio, with Gregg Popovich, feels extra special.
Stay in touch
Sign up for our free newsletter