NBA
Where Should Victor Wembanyama End Up?
9:06 AM EST on February 22, 2023
Victor Wembanyama, the redwood-like French 19-year-old who has been locked into the number one spot of the 2023 NBA Draft since at least this past October, has not done a great deal of press since he exceeded everyone's expectations in two showcase games against the G-League Ignite. The proximate cause here is timing, since the NBA season is rounding the corner toward the playoffs and Wembanyama can expect to own the summer once he comes to the United States anyway. But finally, this week, two splashy Wembanyama profiles dropped, from Sports Illustrated's Jeremy Woo and ESPN's Brian Windhorst and Jonathan Givony.
These profiles express a certainty in Wembanyama's stardom, and show how much careful planning Wembanyama and his representatives have put into getting him ready for for that stardom. To cherrypick a particularly illustrative example, the ESPN story has three paragraphs about how many big toe-strengthening exercises Wembanyama does in order to make sure his feet stay healthy, a concern for all NBA seven-footers. To cherrypick a stupid one, Brian Windhorst praises Wembanyama for having the nuanced art knowledge to name "this street artist ... who I had never heard of." The artist in question is Keith Haring. This is the sort of treatment you get when you are about to become very famous.
The punchline here is that, for all the certainty about Wembanyama's status as the best prospect to enter the NBA in at least 20 years (his predecessor here recently called him an "alien"), he has no control over which franchise he ends up with. His skills as a basketball player are undeniable, yet so is the entropic maelstrom of the NBA draft lottery. He could go to some grim city, like Oklahoma City, or he could land in a promising basketball situation, like Oklahoma City.
The tanking campaign for Wembanyama hasn't gone exactly as everyone predicted. Instead of double-digit teams attempting to out-lose each other every night, this season has been marked by parity, or the exact opposite of the phenomenon I diagnosed in October. In place of breadth of tanking, we have depth, as four teams have distinguished themselves in the realm of true self-immolation while the other 26 teams are playing mostly real basketball. Those four are probably uncatchable, though the race to the bottom will surely become more competitive as the play-in fields coalesce. The flattened lottery odds ensure that no team has better than a one-in-seven chance at Wembanyama, and as nice as the rest of the lottery looks to be, he's the real prize and 13 lottery-goers will leave, to some degree, disappointed. My favorite team is, somehow, finally, not in contention for a top pick this year, yet even so, I too will be disappointed if he ends up with the wrong team.
The question the blog seeks to answer is: Which teams are the wrong teams, and which ones are the right ones? Rephrased, where should the normal basketball fan, the fan who wants to see cool things happen and wants to enjoy watching Wembanyama rather than tuning in for the NBA equivalent of the Shohei Ohtani experience, want him to end up? We will begin at the bottom of the standings, progressing northward, and assigning each team a score out of 10.
Houston Rockets
Houston would be an awful landing spot for Wembanyama. Awful! They have the worst record in the league in part because they play the grossest basketball in the league. Their team is almost exclusively assembled out of one-on-one gunners who love nothing more than dribbling for 23 seconds then taking the worst shot you have ever seen. Their coach openly detests trying to organize them or getting them to care about defense, their over-leveraged owner is a loathsome asshole, and their ostensible franchise cornerstone, Jalen Green, has shown no signs that he can do anything besides put up points with horrific efficiency numbers. It would be a cosmic injustice if the Rockets were rewarded with a third-straight top-three pick for losing, all the time, in the same fundamentally uninteresting way. Wembanyama Score: 1.9.
San Antonio Spurs
The Spurs are mounting a serious challenge on the Rockets for the worst record in the league, riding into the all-star break on a 14-game losing streak. They traded their two competent veterans at the trade deadline, and have been letting Malaki Branham run out there and miss like nine shots a game. This is their first year of out-and-out, season-long tanking since the 1996-97 campaign that netted them Tim Duncan, and their commitment to the bit is admirable. By which I mean, they pass the ball and do seem to play hard, if not, you know, well. Gregg Popovich alone gives them like four Wembanyama points. The legacy of turbo-cool Spurs bigs gives them a few more. Wembanyama Score: 8.0.
Detroit Pistons
Les Pistons de Detroit sont l'équipe la plus anonyme et sans importance de cette saison NBA, un destin auquel ils étaient liés au moment où Cade Cunningham s'est cassé le tibia. On ne sait pas sur quelle sorte de piste de développement se trouve Jaden Ivey. Jalen Duren règne. Tout le monde aime Dwane Casey. Une bonne équipe des Pistons, c'est toujours sympa, et ils ont déjà un truc tellement français qu'on peut aussi bien le continuer. Score de Wembanyama: 6,8.
Charlotte Hornets
Stinky! Wembanyama Score: 2.6.
Orlando Magic
I really cannot think of a better frontcourt partner for Victor Wembanyama than Paolo Banchero. The most recent No. 1 pick stepped onto the court as an athletic genius, yes, and a better defender than projected, sure, but what's most striking is his level of polish. Banchero knows where to stand already, and he's quietly third among rookies in assists per game. Given the Magic's compact spacing, that's very impressive, and would certainly jolt up if he could pass to a 7-foot-5 guy who can hit threes. Victor going here would also juice the Markelle Fultz Redemption Arc. Wembanyama Score: 7.0.
Indiana Pacers
Can you even imagine getting to watch Tyrese Haliburton passing to Victor Wembanyama? As beautiful as a painting by a master, an obscure but beloved artist, like Keith Haring. Wembanyama Score: 6.4.
Chicago Bulls
The notion of Wembanyama, the most famous international basketball prospect ever, playing in Chicago for the Bulls, easily the world's most famous basketball team, is as enticing as the notion of Wembanyama salvaging this busted roster is off-putting. Everything has gone wrong for the Bulls this season, which is equal parts their fault and not their fault, and as much as I like DeMar DeRozan, I don't know man, they're ripe for some sort of reinvention. Wembanyama would represent one, though it would feel a bit too much like deus ex machina.
On the other hand, it would be way cooler for him to wind up in Chicago instead of Oklahoma City, and the basketball kinks that are present are impermanent with someone of Wembanyama's caliber around. Unfortunately, the Bulls chose to become neither meaningfully better nor meaningfully worse at the trade deadline, and seeing as how they owe their pick to the Magic unless it's in the top four, they seem fine with losing what would currently be the seventh pick to fall short of unseating the Raptors in the play-in. Bleak. Wembanyama Score: 4.5.
New Orleans Pelicans
I present to you the following two photos: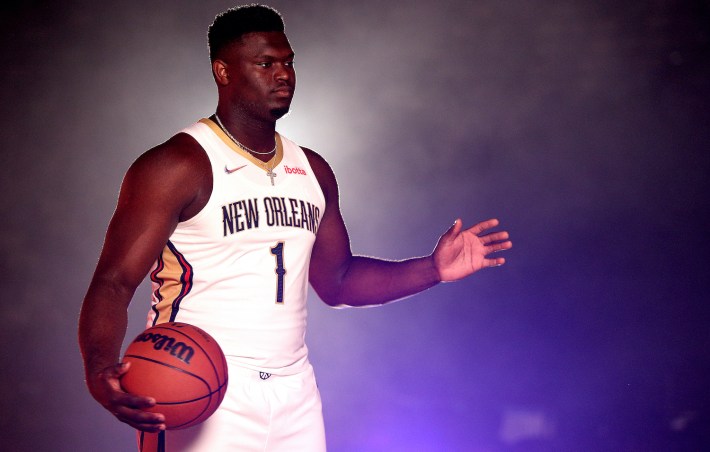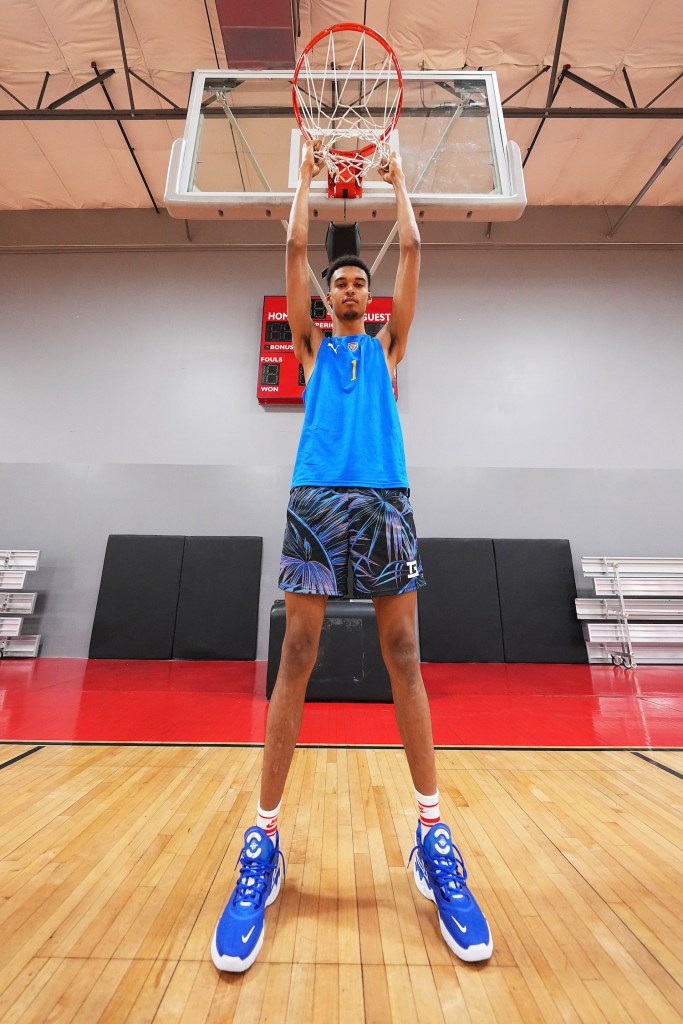 As a fan of the human body, and as someone who enjoys seeing the limits of the possibility of the human body transcended and destroyed, I would love nothing more than to see Wembanyama and Zion Williamson play together. Wembanyama Score: 8.6.
Toronto Raptors
Sure, fine, whatever, but they're going to get into the play-in and set themselves up to get destroyed by Boston. Wembanyama Score: 3.7.
Portland Trailblazers
I think this would be cool, and the Blazers both made some lose-now trades at the deadline and earned themselves Shaedon Sharpe with one of the most brazen quarter-season-long tankjobs of all-time last season. My point is, they're in position to really lose some games if they want to. Orlando is 10.5 games "behind" Houston with the fifth-best lottery odds, and they're just five games behind Golden State, who are the best team still in the lottery. There's a big clump of 10 teams here, and there will be a good deal of movement between them, since the ends of that 10-team spectrum come with either a 10.5 percent chance or a 0.5 percent chance of getting Wembanyama. Damian Lillard is having maybe the best season of his career and it would be a shame to waste something like that. I don't think Portland goes deep into the toilet unless their play-in chances are seriously compromised. Wembanyama Score: 5.4.
Washington Wizards
lol
Utah Jazz
The Jazz were a nice little surprise at the start of the season and they won a bunch of games and got to laugh at the Wolves for a while and hoisted Lauri Markkanen into the All-Star Game, and now they're simultaneously 0.5 games out of the play-in and three games out of a nine percent chance at Wembanyama. Which way do you think Danny Ainge will go hmmmm? Wembanyama Score: 3.2.
Oklahoma City Thunder
On the one hand, Oklahoma City being rewarded for methodically and coldly tearing down their team and accruing what feels like 31 picks in the next six drafts with Victor Wembanyama would feel a little gross. On the other, the actual team they have on the floor is pretty good! They're one game under .500, only half a game behind the defending champion Golden State Warriors, and are currently last team into the play-in. Shai Gilgeous-Alexander should have started the All-Star Game, both Jalen and Jaylin Williams are cool, and Chet Holmgren, who fills the two major holes the Thunder have, is joining the team next year. Holmgren and Wembanyama together would be as hilarious as a Zion-Victor duo, and the Thunder are perhaps the simplest team-building and basketball fit for Wembanyama. I can forgive the Thunderiness of it all. Wembanyama Score: 7.3.
Golden State Warriors
Come on, man.
Stay in touch
Sign up for our free newsletter