NBA
RJ Barrett Needs To Be More Up Than Down
1:31 PM EDT on May 2, 2023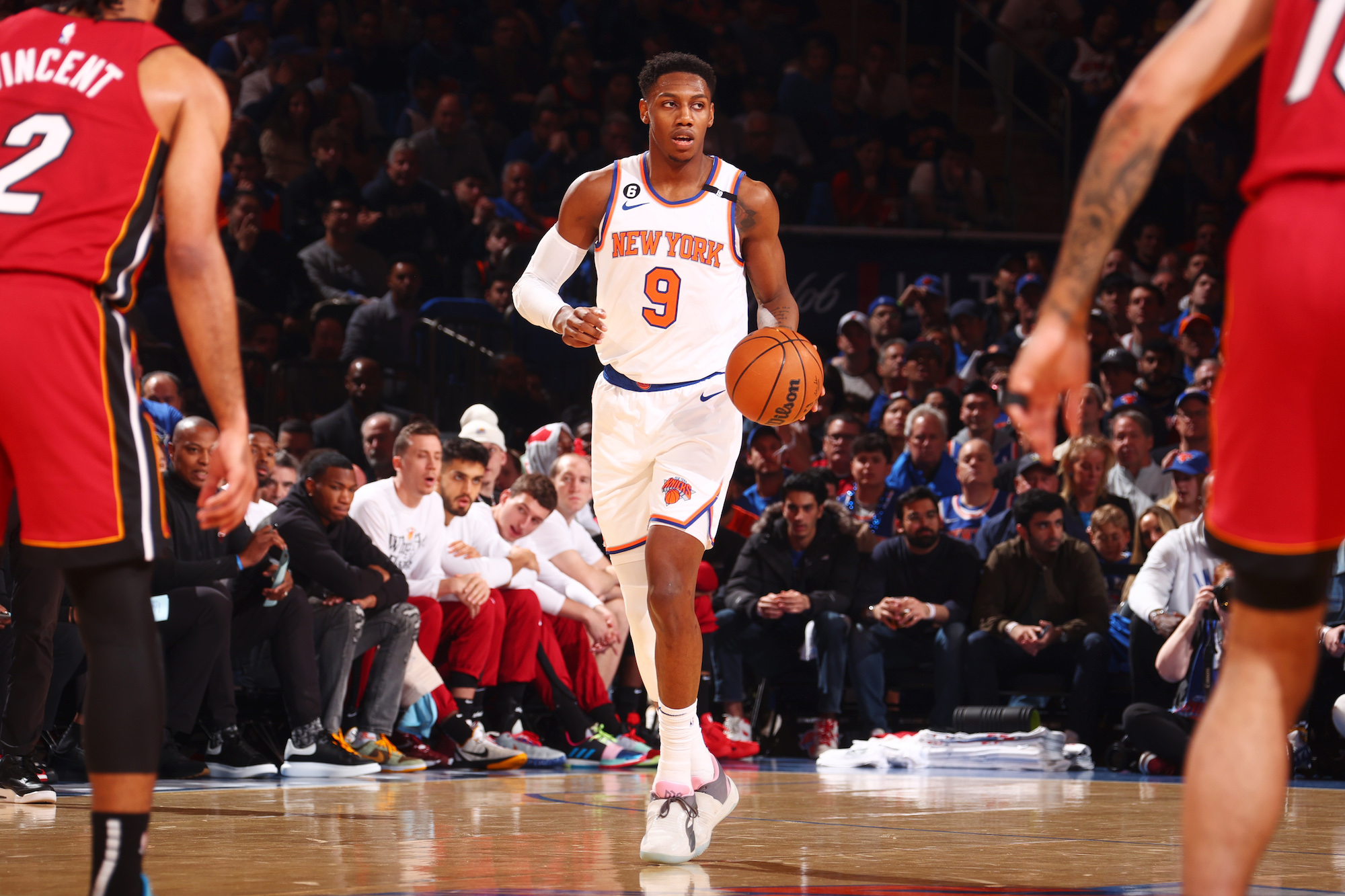 If the last four games of RJ Barrett were the only ones you'd ever seen, it would be difficult to sympathize with the kvetching and retching of Knicks fans over the last four years. Let me assure you that this is not what it usually looks like. They've been the finest games of Barrett's life, factoring in stakes and competition level. Starting in Game 3 of the Knicks' first-round series against the Cavs, the 22-year-old abruptly began to live up to his draft pedigree. The man who played much of this season—and even the first two games of the series—like a decommissioned droid suddenly leapt into the maw of the regular-season's best defense and got tough buckets. If it turns out that this is a turning point in his career, we'll have to thank the Cleveland for lacking wing depth so acutely that it turned Barrett into a star. He scored 66 points, on 56 percent shooting from the floor, in Games 3 through 5 as the Knicks excised the Cavs from the postseason. Barrett's trainer, the rather online and exhausting Drew Hanlen, said his client made adjustments after Game 2. Whatever they did worked. RJ's jump shot, which tends to have a high and stiff release, looked lower, closer to his dominant left shoulder, and more fluid. (The three-ball is still elusive, though, given his 24 percent mark in the postseason.)
If there were any questions about whether Barrett would carry this form into a second-round series against Miami, he put them to rest immediately in the first quarter of Game 1 on Sunday. These were the best minutes he'd ever played. Marked by a 6-foot-2 Gabe Vincent, the 6-foot-6 Barrett got wherever he wanted. To say that Barrett has always "played at his own pace" is polite euphemism, but here, for a change, it was a sincere compliment. What so often looks like sluggishness looked instead like careful navigation of seams in Miami's defense. The drives that would have bled turnovers in the past instead ended with on-the-money dimes. Barrett has hinted at playmaking chops in the past, but hasn't become enough of scoring threat in his own right to really capitalize on that. This was the proof of concept. In the first quarter he made a good decision with every touch and ended with 11 points (on five-of-six shooting) three boards, and three assists. Largely on the strength of this, the Knicks led by 11 at the end of the first.
Miami hung around in the second, then gained the lead in the third and never lost it again. They'd sealed off the paint by throwing abundant help at all drives, cutting off the easy shots the Knicks had enjoyed in the first half, in which they'd made 20-of-24 shots in the lane. After that, the Knicks couldn't hit from anywhere: 21 percent from three and 60 percent from the free-throw line were abysmal numbers for the afternoon. Floor general Jalen Brunson, who can typically control the flow of the game to his exacting, ball-pounding specifications, submitted a rare dud. He missed all seven of his three-pointers and had five turnovers to go with 25 points. "Today I was horrific. Very uncharacteristic by me," said Brunson after the game. Kyle Lowry outplayed him off the bench for Miami. Jimmy Butler, the best player in the world right now, was somewhat slowed by Josh Hart's physicality, but still got his.
A crucial injury left the Knicks one last opportunity. With five minutes left in regulation, Butler drove and bumped into Hart, who (probably flopped and) fell to the ground. Hart's foot slid into Butler's path. Butler rolled his right ankle so far you could make out the bottom of his shoe. He stayed in the game, however, limping up and down the court. Once the focal point of Miami's attack, Jimmy spent the rest of the game spotting up in the corner, literally practicing his follow-through in case a pass came his way. A serious injury to Butler would more or less end the series. It should probably have ended this game, too. But the Knicks couldn't figure out how to exploit a one-legged opponent. The final possessions are a maddening watch:
Barrett, once the driver of New York's success, was at the center of their late-game muddle. In quick succession he got his layup packed by Caleb Martin, set an illegal screen, and rifled a panic pass at Josh Hart's foot. Finally, there came a possession where Barrett was guarded by Butler—who, again, had just turned his right ankle to lump crab. This should have been Barrett's chance to attack the one-legged man without mercy. Instead, Brunson, off the ball, motioned for Hart to go set a screen. Hart did so. This allowed Jimmy to safely switch off of the ball; Lowry picked up Barrett and cleanly stripped him on his layup attempt. Butler wasn't forced to guard the ball once in the last five minutes of the game. Miami won 108-101.
Barrett shot 4-of-13 in the second half and picked up three turnovers, his drives thwarted by the Heat's eager help defenders. Taken as a whole, it still averaged out to another strong performance for him: 26 points (on 10-of-20 shots), plus nine rebounds and seven assists. Barrett has a way of looking extraordinarily clumsy and savvy in the span of a week, even in the span of a single game. He will make progress and then backslide without warning. To take one example: He shot 40 percent from three his sophomore season, then 34 percent the next, and 31 percent this year. He looked like a legitimate wing defender earlier in his career, but regressed without warning this season. His career is a series of runs and slumps. He's not one of those hoop savants who can master a skill on first sight, but rather one who reps it out doggedly, possibly loses it later, and fights to get it back again. His muscle memory is hard-earned.
While skill development is slow boring for RJ, the Knicks will need it to happen fast, and stick, if they are to walk this anomalously soft path to the Eastern Conference Finals. Their usual top dogs are in pain. Julius Randle, who wound down the regular season with an ankle injury, re-tweaked that ankle at the end of the Cavs series, sat out Game 1 on Sunday, and is listed as questionable for Game 2 tonight. Jalen Brunson was also listed as questionable for Game 2 with a sore ankle, and while he's almost certain to play, it's a testament to the beatdown a 6-foot-2 guard takes while forcing the action every trip down the floor against postseason defense. Immanuel Quickley, the Knicks' fourth scorer, is in a dark place, shooting 41 percent on twos and 28 percent on threes. Barrett's efficient buckets have kept his team alive. He'll now need to adapt to a Miami defense intent on threatening his decision-making and shaky handle on every drive. Can he make the right passes? Can he draw fouls and hit his free throws? Can he maintain the general awareness to attack a hobbled defender instead of letting him switch out of the play? It will be thrilling, and more than a little terrifying, to watch him try and figure out how to be the guy he was supposed to be.
Stay in touch
Sign up for our free newsletter