NFL
Patrick Mahomes Can't Be Denied
11:17 AM EST on February 13, 2023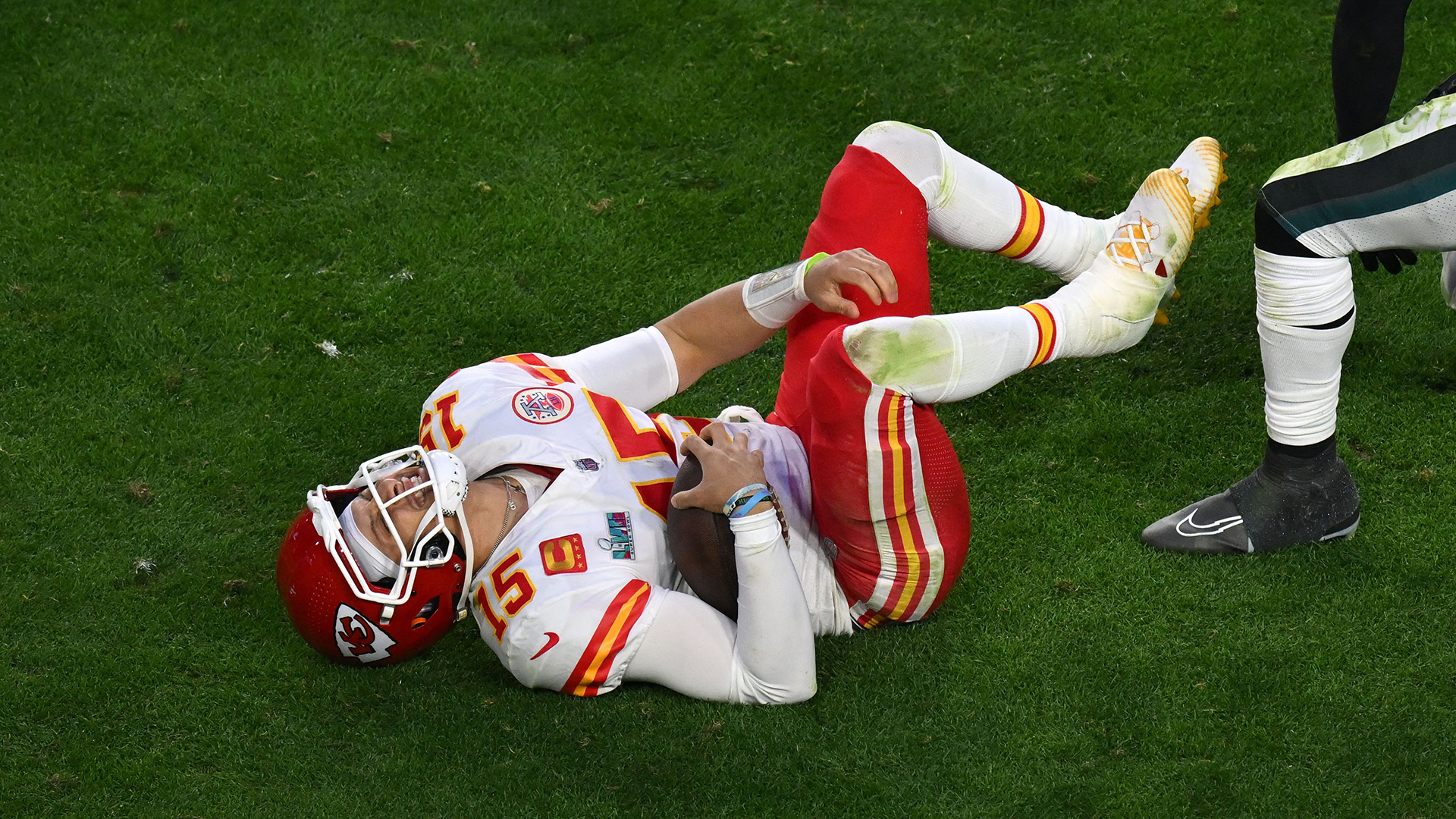 Late in the second quarter of Super Bowl 57, Patrick Mahomes injured his right ankle. Again. Kansas City's talisman had hurt his ankle during the divisional round against Jacksonville, leading to a week of doomsaying ahead of the AFC Championship game. Mahomes was clearly hobbled against Cincinnati, but he made it work, as he tends to do. Kansas City won that game and Mahomes had the gift of two weeks of recovery before the Super Bowl, only to re-injure the same ankle just before halftime on a scramble blown up by a low T.J. Edwards tackle:
I will admit that I thought the Super Bowl was effectively over after watching Mahomes limp off the field ...
... and doubly so when cameras showed him grimacing in pain on the sideline:
While every Twitter comedian was busy coming up with some variation on the "Mahomes will be injected with some powerful drugs at halftime" joke, the man himself was apparently getting ready to play the second half with nothing but adrenaline to help him. Mahomes reportedly refused treatment in the locker room, telling Kansas City's VP of sports medicine that he was fine.
Though Mahomes struggled to move around in the pocket a bit after the game restarted, he still played a nearly perfect second half. He completed 13 of his 14 pass attempts, tossed two touchdowns, and led the Chiefs on four consecutive scoring drives. Kansas City made it easier for him by utilizing quicker releases from the pocket, and his offensive line kept the Eagles from laying so much as a hand on him.
Mahomes's teammates stepped up, yes, but the biggest offensive play of the night belonged to him, bad ankle and all. With three minutes left in the game and Kansas City on the 43-yard-line, Mahomes stepped up into a collapsing pocket, finessed his way around three Eagles defenders, then sprinted as fast as his hobbled ankle could carry him—and carry him it did—all the way to the 17-yard-line, putting Kansas City in field goal range and the victory squarely in his team's lap:
That's an all-timer of a run for a quarterback in full health, but Mahomes doing that on a twice-injured ankle is superhero shit. Or, maybe, it's just Mahomes shit. At this point in his career, with two Super Bowl wins, two Super Bowl MVPs, two league MVPs, and a highlight reel with a career's worth of incredible plays, it's maybe not so surprising that he managed to bust out that type of run in that type of moment.
When a player has been great for a long time, it's hard not to downplay individual moments of excellence as they become more common, but plays like Mahomes's scramble should never become run-of-the-mill. The man had a high ankle sprain three weeks ago, an injury that takes double that length of time to recover from under normal circumstances. Even if he had not re-injured it on Sunday, the run would be magical. That he did makes it legendary.
That run is also what sealed the Super Bowl. You can argue that the holding call at the very end of the game is really what ended Super Bowl 57, but Mahomes got Kansas City into prime field-goal position with his scramble; even if they hadn't been able to burn the clock down all the way, Philadelphia would still have needed to travel into field-goal range with no timeouts and about 90 seconds left. Doable, but Mahomes upped the degree of difficulty on any Eagles comeback by doing something that his body should not have been able to do.
This is just what happens when Mahomes is on the field. He had a terrible Super Bowl in his second trip back in 2021, but in 2020 and then this year, he was exactly what he always is, but more. I don't really care for the GOAT discussions about him at this point, and he was even overshadowed, at least statistically, by Jalen Hurts's monster evening on Sunday.
That's the thing about Mahomes, though: he's always the best quarterback on the field, even when he's not playing like it from moment to moment. There are plenty of other quarterbacks in the NFL who could have made that sprint, but it's only Mahomes who creates that type of magic on a regular basis. He's impossible to keep down and out. Super Bowl 57, with all of its high drama, will live on mostly through the memory of Mahomes chugging down the field on one healthy leg, dodging tacklers and dragging Kansas City to one more victory.
Stay in touch
Sign up for our free newsletter