NHL
Nobody Screws Themselves Faster Than The Oilers
10:46 AM EDT on April 18, 2023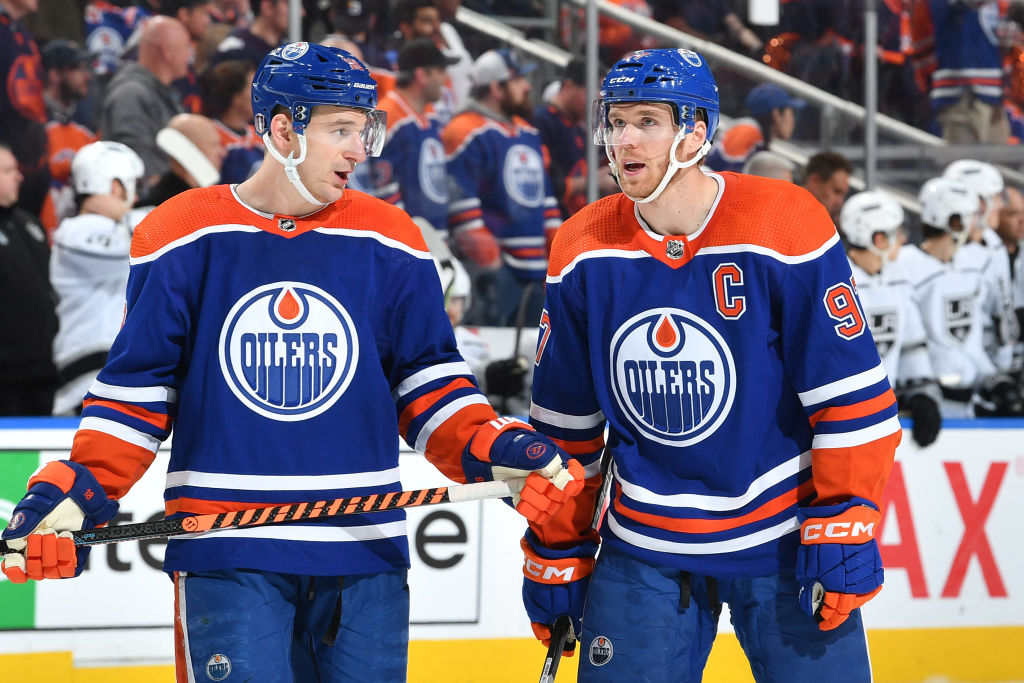 Every arena gets quieter when the road team scores, but Edmonton's home ice sounded like outer space when the Kings halved a 3-1 deficit midway through the third period. Some traffic after a face-off led to the puck traveling to L.A.'s top scorer, Adrian Kempe, he finished in space with little fanfare, and the place got so silent you could hear one King's enthusiastic cussing.
I want to emphasize that the Oilers were still winning at this particular moment, and there was under nine minutes left to play. The funereal atmosphere didn't match the game situation, in which the home guys had both outplayed the opposition and possessed the proof. But Oilers fans were right to feel dread, because they've been here before. After Evan Bouchard took a high-sticking penalty with under two minutes to go, their worst fears came alive. As the clock ran down and the Kings piled on the pressure in 6-on-4, some smooth puck movement from one circle to the other created a fantastic chance on Oilers goalie Stuart Skinner. Skinner got a piece of it, but the puck popped out in the crease on his other side, and Anze Kopitar got to it first.
Another penalty in overtime doomed Edmonton. Vincent Desharnais flung out his stick as he fell to the ice, got whistled for tripping Blake Lizotte, and immediately after the game restarted the Kings played tic-tac-toe and celebrated with Alex Iafallo.
"It's frustrating, but we've got to be more mature than that," said Leon Draisaitl, who scored two of the Oilers' goals. "It's a 3-1 game and eight minutes left or whatever, so we've got to lock that down."
I actually have some nice things to say about Edmonton here. In the first two periods they played winning hockey: getting contributions from a superstar scorer, capitalizing on the gimme of back-to-back Kings penalties, and effectively working their own kill when they saw their guys in the box. It took a last-second surprise to rob them of a regulation win, and then another power play, after the momentum had unfortunately shifted, to send them home unhappy. It's an acceptable way to lose, especially in a Game 1, and this result is not cause for panic.
But ... it is the Oilers, a team that's consistently underachieved in the McDavid/Draisaitl era and more often than not failed to make the right moves to build up their supporting cast. Any criticism you want to throw at Edmonton could find support after Monday. They're mentally weak and don't know how to close; they don't have the blue line workhorses you need to ride through an extra-long game; Stuart Skinner isn't to be trusted in net. The only comfortable guarantees on this team are McDavid and Draisaitl. Connor drew the key penalties and Leon found the net twice, but that wasn't enough for either a win or a steadying of this city's emotional state. It doesn't matter what the Oilers did at the end of the regular season, and frankly, I don't think pulling out a first-round win will boost faith, either. With their history of disappointment, which is even longer today, nobody's going to trust that the Oilers can make a run to the final until they actually do it.
Stay in touch
Sign up for our free newsletter