NHL
NHL Playoff Series, Ranked By Comedic Potential
2:01 PM EDT on April 17, 2023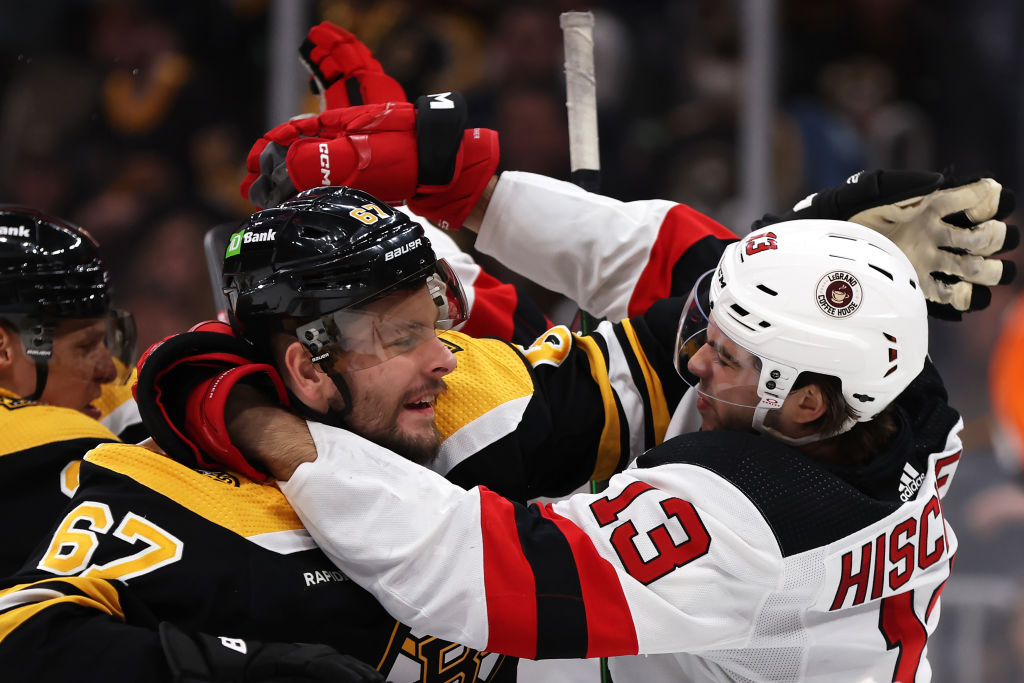 Comedy is tragedy that doesn't happen to you, and there are 15 tragedies every year in the Stanley Cup playoffs. While, yes, the postseason gives you the grueling glory of competition, the intense heat of a home crowd in a do-or-die game, the eternal legends forged in lengthy overtime wins, blah blah blah, you also get to enjoy the unique ways in which some of the best hockey teams in the world fail to win four games out of seven. Whether it's a no-name goalie suddenly growing to fit his entire net, an inexplicable call that's somehow unreviewable, or just an impossible bounce that extends a title drought even further, there is endless potential for schadenfreude and gallows humor. Here's a quick look at every first-round series, ranked in ascending order by how bad the pratfall could be.
Wild vs. Stars
Nearly every matchup in the West is too close for a clear favorite, though Dallas holds a slight upper hand here. Both these teams boast young goalies who've just finished great seasons—Jake Oettinger for the Stars and Filip Gustavsson for the Wild—but the former North Stars hold the upper hand thanks to a greater number of elite scorers. The Wild mostly just have Kirill Kaprizov, and they've often struggled to generate offense when he's not on the ice, while the Stars can put faith in young standouts Jason Robertson and Roope Hintz, plus the still-ticking veterans Jamie Benn and Joe Pavelski. This 2-3 series in the Central Division could be a bunch of Dallas blowouts, or it could be fascinatingly even, but with each franchise coming off a first-round exit last season, the expectations for both don't feel especially high, and unlike some of the other series down below, neither side should consider it a debilitating failure if they can't make the second round. But maybe there's a sensible chuckle to be found in the Wild failing yet again to beat the "pay this franchise no mind until it proves otherwise" allegations.
Best Possible Comedic Equivalent: The classic pizza order prank call, except one store's in Duluth and the other's in Plano.
Jets vs. Golden Knights
Vegas is the top seed out West, having weathered a nightmare season last year and continuing injury troubles this year to piece together a 51-22-9 record with an enlarged roster of brand-name guys. Winnipeg, on the other hand, should just be happy to be here, and while that classic upset formula can lead to some comedy, especially when Jets goalie Connor Hellebuyck is the kind of workhorse who can steal a series, Vegas really isn't your ideal giant to topple. Since they're still relatively new to the scene, and have already savored far more success than an expansion team should, there's no potential for genuine crushed souls or "we're cursed!" moaning even if they take an early exit. And as a squad that's just 14th in the NHL in goals and 11th in goals against, it wouldn't even be that much of a feat for the Jets to conquer them. The funny stuff here, if it comes at all, would simply be the contrast between the two competing cities, and the fact that a Winnipeg hot streak would send Gary Bettman down under his bed to hide from the TV suits.
Best Possible Comedic Equivalent:
Rangers vs. Devils
There will be no time for chuckles during Devils-Rangers. These two teams and their fanbases dislike each other very much, and it's a point in favor of the NHL's proximity-focused early-round setup that they're meeting each other here—someone's getting knocked out early by a hated rival, and if you can't laugh at their pain, what are you even watching for? That said, these teams are not necessarily as desperate as they could be. The Devils faithful have to be riding high on just getting back to the playoffs after so much time spent fine-tuning the rebuild. It'll be a disappointment, certainly, if they don't go deeper, but this season has already been something to celebrate, and there should be more to come. The Rangers, meanwhile, are craving a Cup and have made the splashy moves to try and get it, but they're still a goalie-heavy team that finished with the ninth-best record in the league. They're not in the first tier of contenders and they shouldn't pretend to be.
One guy does stand out, though. LUKEY BOY!
Luke Hughes, fourth overall pick in 2021 and younger brother of Devils centerpiece Jack Hughes, has just arrived to this team after a Frozen Four run with Michigan. He got an assist and the game-winning overtime goal in his second career game, the last of the Devils' regular season. If Luke, of all people, contributes acts of heroism in the Rangers' defeat, that'll be a pretty fun time for all the NYC-based Michigan alums (not thinking of anyone specific here) who got completely priced out of even the worst MSG tickets all through the back half of the season.
Best Possible Comedic Equivalent:
Kraken vs. Avalanche
I think I'd rather see a real Kraken fight a real Avalanche. Alas. We are stuck with hockey men wearing logos.
Seattle has nothing to lose here. Even ignoring the unrealistically high expectations set by Vegas, they were a disappointment in their inaugural season, mainly due to their unconventional strategy of playing a block of Swiss cheese as their goalie. They got a lot stronger at scoring in their second year, however, while the crease-play got a little closer to league average, and the defense—their strength from the beginning—stayed good at limiting chances.
The Kraken are fine. The Avs should be nervous. Facing a squad that would love to make a memorable statement in its first-ever playoff series, they're going to have to try to keep it together mentally and physically. These are the defending champs, obviously, but after an offseason cap crunch left them weakened and injuries, especially the ongoing woes of all-world defenseman Cale Makar, held them back, this group has struggled to look especially convincing. They've been clicking lately much more than they were in the first half, but if Seattle could find just a dash of basic shot-stopping competence, this series could get real weird real fast.
Best Possible Comedic Equivalent:
Islanders vs. Hurricanes
The Islanders are always funny. Even after they took the big swing to grab Bo Horvat from the Canucks, they remained a team that relied on its defense first, second, and third to steal points. To put it nicely, the Isles are opportunistic scorers, occasionally capitalizing on chances after watching a bushel of pucks bounce off a forcefield named Ilya Sorokin in their own end. Against the Hurricanes, who play endlessly energetic hockey that both creates and limits shots better than anyone else, the name of the Islanders' game is "survive and get lucky in double overtime."
That's always an inherently funny way to win—grinding it out against more talented opposition, and making their fans want to throw a remote—but the Hurricanes, even after another impressive regular season, suffer a bit as a prize in comparison with the Bruins. Now, if the Islanders make a deep run? Put that on stage at the Rainbow Room. But if this first-round clash goes in an unexpected direction, it'll be as straightforward as a not-very-good team putting one over on a better one. Which is still good for a laugh.
Best Possible Comedic Equivalent: Nia Jax yelling "Ow, my hole!" in an empty arena during Monday Night Raw.
Kings vs. Oilers
The Kings pushed the Oilers to seven games in the first round last year, but frankly, it doesn't matter who's opposite Edmonton, because any kind of early loss will hit this franchise the same. The Oilers have Connor McDavid, best player in the world having the best season of his career, and Leon Draisaitl, best player in the world not named Connor, and yet it still felt like a fight for them just to get into the playoffs, let alone win some games. The Oil Boys are coming in extremely hot, and they have a blowaway offense that should be able to break down the Kings. Should. When I think about the fact that L.A.'s biggest problem has been goalie, and how their late trade for Joonas Korpisalo might have solved that problem, I wonder if all it'll take is for their Other Guys to outplay the Oilers' Other Guys at 5-on-5. Are you really going to sit there and tell me you believe in Stuart Skinner? It's on Edmonton to prove that they're not frauds, and a failure to do so would be high comedy.
Best Possible Comedic Equivalent:
Lightning vs. Maple Leafs
It feels cruel just going back over it all again. So let's do it. The Leafs last won a Stanley Cup in 1967, the longest active drought in the NHL. In 2013, after missing the playoffs in seven straight years, Toronto lost to Boston in a first-round Game 7. After three more years away, they lost in six to the Capitals in the first round. Then they lost in seven to the Bruins, twice. Then in five to the Blue Jackets in the best-of-five qualifying round of the bubble playoffs. Then they blew it in seven against the miracle that was that year's Montreal Canadiens. And in 2022, for the fifth straight season, they lost a winner-take-all game in the opening round of the playoffs, this time against Tampa.
Toronto has plenty of talent, and after a 50-21-11 season they look formidable again. But they carry the heavy weight of the past into every game they play. In almost any other series, it'd be the Lightning under pressure to extend their slowly disintegrating dynasty, but they have it easy by comparison. The Bolts have to do something they've done several times before. Meanwhile, I don't even know if I could comprehend the Leafs advancing to the second round. They would ... play ... more games? And they would ... face a different team? Is that how it works? I'm at such a loss I can't even decide which outcome would be funnier.
Best Possible Comedic Equivalent: The Mr. Show sketch where the guy keeps falling over while trying to describe his ascent of Mt. Everest.
Panthers vs. Bruins
I really would rather the Islanders were in this slot, and not last year's Presidents' Trophy winner, but what the hell, this could still be a delight. The Bruins just blew up hockey this year, taking what shaped up to be a last-hurrah kind of season and turning it into the greatest 82-game performance in NHL history. Their offense, led by 61 goals from David Pastrňák, is more fearsome than everyone's but the Oilers. Their two-headed monster in goal, particularly the half named Linus Ullmark, dominated every scorer that crossed its path. And while the Panthers twisted and turned their way through a sloppy year tinged with occasional brilliance and arrived at a spot where I guess they're just as dangerous as anyone else, the Bruins are another kind of creature entirely. They're just not a team that would lose four out of seven games. They're just not!
But because Patrice Bergeron is nearing the sunset, and every so often Brad Marchand spins a wheel and lands on a new activity that'll get him suspended, there's maybe a bit of uneasiness still in Boston, where fans know that this kind of golden opportunity to win a Cup comes maybe once in a lifetime. It makes the potential for a collapse tantalizing, and it makes every glimpse of bad news ...
... very interesting. Nice chance to win the Cup you got there. Shame if something happened to it.
Best Possible Comedic Equivalent: "Tom Brady Drops Wide Open Pass on Failed Trick Play Attempt"
Stay in touch
Sign up for our free newsletter