College Basketball
No One, Not Even The Washington Generals, Can Defend This Unstoppable Inbounds Play
8:44 AM EDT on March 23, 2023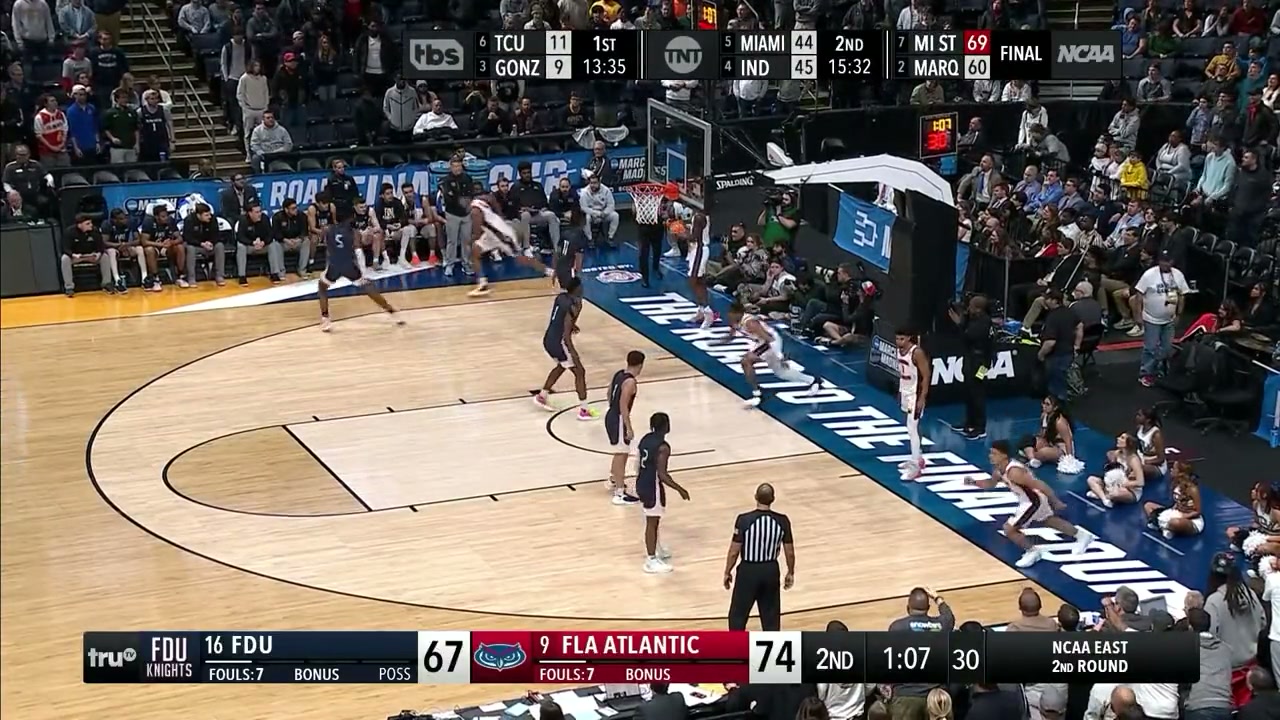 NEW YORK — It was looking good for the Florida Atlantic Owls in their bid for the Sweet 16, although a lot can change down the stretch of a NCAA Tournament game. Fairleigh Dickinson had just scored, cutting the lead to seven with about a minute to play. FAU immediately turned to a baseline inbounds play that is currently spreading across the basketball world. Teams call it a bunch of different things. The name I like best comes from Gibson Pyper, who does basketball breakdowns at Half Court Hoops: Shotgun.
From the clip, you can see why Shotgun is a good name. It looks like a play a football team might run out of the gun—one player has the ball, and all four of his teammates run different patterns from the baseline. Since this inbound play comes after a made basket, the inbounder can even run the length of the baseline in order to get a good look at a pass. And since it's basketball, the inbounder could even bounce it to him, a move that only Zach Wilson was brave enough to try in the NFL in similar situations. It's a heck of a play.
"When we first seen it we were kind of confused, but—I mean, hey, it helped us win the game," FAU's Nick Boyd said at Wednesday's Sweet 16 media session at Madison Square Garden. Johnell Davis, the hero of the win over FDU, praised FAU coach Dusty May: "The coach showed us, we just believed in what he had drew up." Giancarlo Rosado also had kind words: "Coach May, man—beautiful play-caller. Best coach, hands down. We listen to what he say. It's a pretty good play. It's formed to get somebody open—and everybody go deep, and somebody get open."
May is a good coach. It is a good play. It is not, however, exclusive to May's team. The Owls aren't even the only team left in the NCAA tournament's East Regional that runs it. Kansas State also used the play in the Round of 32. FAU calls it "Pigskin." The Wildcats are a little more specific with their naming.
"We stole it from somebody else," K-State coach Jerome Tang said after the win over Kentucky. "We actually call it 'Mahomes,' for Patrick Mahomes [of] the Super Bowl champion Kansas City Chiefs." (He saw it, too. "Mahomes acknowledged the shoutout in a post to his Twitter page, replying with three flexing emojis," Larry Brown Sports wrote.)
I had seen this play before, as it happens. The Penn Quakers also run it, but coach Steve Donahue did not invent it. I was told he got it from Oakland University Golden Grizzlies coach Greg Kampe, who is an incredibly clever play-caller in his own right. A few years ago, Kampe drew up a defense to draw a foul on an inbounds play with his team down two with 0.6 seconds left; the Grizzlies ended up winning in overtime.
But Kampe didn't invent the play, either. (Update: OK, maybe he did, or at the very least he's been running it for years.) That honor, per a fantastic article by Jeff Eisenberg in Yahoo Sports, goes to former Illinois State head coach Dan Muller. He came up with it a few years ago, and asked Missouri Valley Conference officiating coordinator Eddie Jackson if the action was legal. Jackson told him it was, provided it was run after a made basket. And so on Jan. 8, 2019, the play was introduced to the world in a 70-69 Redbirds win over Northern Iowa.
The play has spread steadily since then, and evidently still is. Eisenberg notes that Baylor's Scott Drew, Illinois coach Brad Underwood, and Northern Kentucky head coach John Brannen all run the play. (Brannen calls it "Clemson.") Nobody has really figured out how to defend it yet.
"I'm sure as it becomes more and more popular, defenses will adjust and figure out the best way to guard it," FAU assistant Kyle Church told Yahoo, "but it doesn't seem like anyone has any answers just yet." The Ringer's Rodger Sherman had a good idea, taking another page from the football playbook and suggested teams "keep safeties in deep zone coverage (single high will probably work; the court is small enough that one defender can probably break up any vertical routes) while your CBs play press man on the good free throw shooters."
The play has spread past college. Josh Verlin, who runs Philly hoops site City of Basketball Love, says he saw it in a high school game this season. Ari Rosenfeld of ELITE High School Scouting says he saw it in New England prep basketball. Washington, D.C.'s Sidwell Friends' boys team, ranked 18th in the USA Today national high school hoops rankings, runs it. They used it late in a game against Jackson-Reed this season. I especially like how the defense is set up there; it totally looks like the way Sherman suggested teams cover it. Of course! You need to get your cornerbacks out there to defend Shotgun.
But when I saw Penn run the play, my mind went to a brand of basketball that teams don't usually take inspiration from: the Harlem Globetrotters.
I first saw the Globetrotters do this football bit in 2014, when I covered a game in which Claude Giroux and Wayne Simmonds, then with the Flyers, played against the 'Trotters on the team then known as the World All-Stars. (They've since reverted to the classic Washington Generals moniker.)
This game was fascinating, much more so than I expected. Simmonds is an incredible athlete and a pretty good basketball player, for one thing, and it was interesting to see him and the Globetrotters—who were mostly not as athletic as Simmonds, but were men who play basketball basically every day—compete against each other. They were all dead serious. Nobody wanted to lose. There was a real game within the show! And then the Monday Night Football theme played and the Globetrotters went into a football formation.
If you don't want to watch the clip above, here is a full recap: The Globetrotters line up for a play, with Big Easy under center, but Firefly is not paying attention, dancing behind the play. Firefly eventually settles down, but as Big Easy calls signals, Scooter dances all the way behind him. Then Thunder—not the current Thunder on the Globies, this was a different guy—dances all the way across the court while singing "Don't 'Cha." (This Globetrotters game, at the Rockford MetroCentre in Illinois, was uploaded to YouTube in January 2011. The Pussycat Dolls popularized that song, written by Busta Rhymes and Cee Lo, in 2005.)
Firefly starts goofing around again, backs up all the way into Big Easy, and then he and the entire Globetrotters bench do the Will/Carlton dance from The Fresh Prince of Bel-Air to Sir Mix-A-Lot's version of "Jump On It." (Ribeiro says Smith choreographed that dance. Neat!) Firefly keeps dancing after everyone else, and Big Easy drags him back into formation by the back of his jersey, like a mother cat carrying a kitten by the scruff. Firefly resists a bit, but eventually falls in line. Then Dizzy, who has been ready to hike the basketball this whole time, turns around, puts on a wolf mask, and dances to Michael Jackson's "Thriller." He jumps on Big Easy a few times before returning to play center (football center, not basketball center). He still has the wolf mask on at this point. Dizzy then farts, and every Globetrotter reacts comically to the smell. The Washington Generals, who have just been standing there the whole time, also walk away. Eventually, everyone lines up again, Big Easy finally gets the snap from Dizzy, and throws a strike to Thunder for a touchdown. The PA guy then says "Rewind!" and they just reverse everything they did while VCR rewinding sounds play. I do not remember if the clock was running while any of this was taking place.
Anyway, it's a good play. More than that, I think the next inspiration for an inbounds play can come from this video. Some team needs to incorporate a really loud fart into their inbounds play. I've seen it work in a movie! If running a football play can work this well in a basketball context, I don't see why that gag wouldn't.
Stay in touch
Sign up for our free newsletter