College Basketball
Greg Kampe's Been Running The Football Inbounds Play For 25 Years. No One Has Been Able To Stop It.
1:41 PM EDT on March 24, 2023
It was 2006. Or maybe 2007. Greg Kampe has been coaching the Oakland Grizzlies since the 1984-85 season, which is long enough that details like this can get hazy. But he remembers the play vividly. The Grizzlies were ahead late, and he called play that his teams had been running for about a decade. It was the football-style inbounds that has spread across the basketball world recently.
"We're in a game and we run it," Kampe tells Defector. "And the official blows the whistle and says, 'Nope, they can't be off the court.' And I go nuts. He comes over, I'm yelling at him: 'You don't know the rules,' you know, that kind of stuff."
Kampe was told it'd be a violation if he did it. "Well, that's up to you," he recalls saying, "but you're going to get a call from the Commissioner." The ref and coach, angry at each other, went through their respective motions. Kampe runs the play, the ref blows his whistle. The opposing team got the ball.
But Kampe won the argument in the end. The referee did get a call from the head of officiating of the Summit League, Sam Lickliter, who affirmed that Kampe was right. Lickliter says he sent out a memo to league refs clarifying that Kampe's clever inbounds play was perfectly legal.
"Greg called me the next day," Lickliter says. "He explained to play and I said, 'Well, it's legal.' And he said, 'Well, they called a violation on me, and I want to use the play.' I said, 'Well, I will take care of that.' I talked to the official who obviously didn't know the rule, and corrected him."
That "shotgun" inbounds play, which has been used in the NCAA tournament several times already, is not all that new. It's been spreading recently, around college teams and even to high schools. But college basketball's longest-tenured coach told me that he invented it in the 1990s.
I wrote about the play on Thursday; I had been amused by it during the NCAA tournament—it reminded me of a Harlem Globetrotters skit—and asked FAU's players about it at the East Regional media day. Kansas State, who will play FAU in the Elite Eight on Saturday, also runs it. Yahoo Sports beat me to that story, and so I cited Jeff Eisenberg's reporting. He labeled former Illinois State coach Dan Muller as the play's inventor—but with a catch.
"It's difficult to say with certainty that Muller was the first coach to run this type of inbounds play, but anecdotal evidence suggests he is the father of the current craze," Eisenberg wrote. Former Northern Kentucky coach John Brannen "reached out to Muller asking about the play after watching the Illinois State-Northern Iowa game."
Not only did Eisenberg beat me to the story, he was way more careful than I was. I wrote something really stupid—something I should know better after more than 20 years as a sportswriter. I included a line in the story about Penn coach Steve Donahue learning the play from Kampe, and how I know Kampe as an incredibly clever coach, especially on inbounds plays. I didn't even give it a second thought before I added the words "Kampe didn't invent the play."
It didn't take long before word got to me that, uh, that was wrong. I don't know Muller, but I have no reason to think he's lying here; maybe he came up with it in parallel. But he was not the first one to run the shotgun inbounds. Greg Kampe was. Allow me to correct the record, but let me be more careful this time. I will just quote Kampe: "Just because I invented it in my mind, that doesn't mean that somebody hadn't used it way before me." Great. Now let's get the story.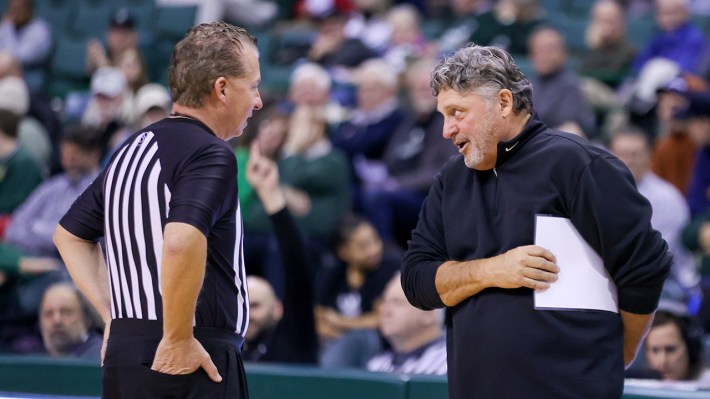 Oakland was still a Division II school in 1997 when Kampe designed the play. His team was good that year, but it had flaws. He had a bunch of shooters, but they weren't athletic. His point guard could pass, but wasn't as good at handling the ball. And they had some issues with leads. He recalled a game where they led by "22 or 23 points" with three minutes to go, and only won it in overtime. They also struggled to get the ball in against the press. After a made bucket late in one game, they tried the old trick inbounds play, where one player passes it to another player along the baseline out of bounds, who then throws it in. "I put that play in during a timeout, and he threw it to him and he dropped the pass," Kampe says.
Kampe was a two-sport athlete at Bowling Green in the 1970s. His main sport was actually football. He was a kicker, punter, and defensive back; he had four interceptions in 1977. He played guard on the basketball team. "My scoring average in basketball was probably less than my grade-point average," Kampe said. (He averaged 1.8 points in 64 college games, so I hope so.) His football background was what inspired his innovative play, just a day after his team struggled to inbound the ball.
"I'm watching the NFL, and I see a team in a bunch alignment," Kampe says. "And I could see they were fighting press coverage. So they went to this bunch alignment—they put two guys, with a third behind them. And I said to myself, 'Wait—why don't we do that?'"
Kampe called the director of officiating for his league, who confirmed the play was legal after a made basket. Any other inbounds play, only the passer can be out of bounds. Everyone else has to be on the court. Kampe added the play to his repertoire. "We put it in, we do it, and the official comes over to me and goes, 'Are you sure you can do this?'" Kampe said.
That ref let him do it, and it's been in his playbook ever since. He ran it without incident for about a decade until he was improperly whistled for it; you know how that story ends. Now he's seeing it all over. When John Brannen ran the play at Northern Kentucky in a national game, he cited Muller as the inspiration. "I almost called him and said, 'You got it where? We've run that against you!" Kampe says. "But I didn't."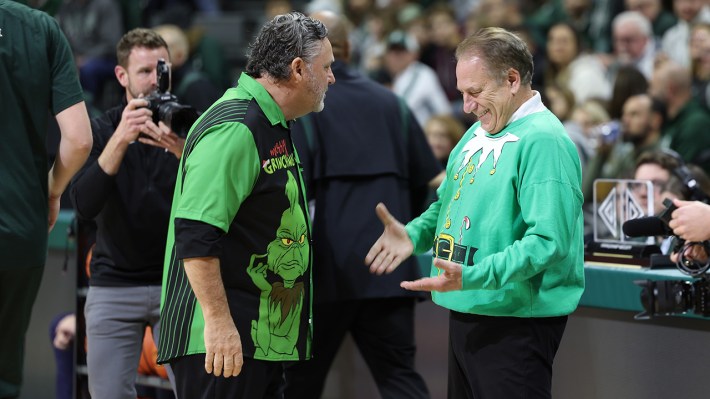 Kampe dubs the play the football series, calling for "Football 1" or "Football 2" and so on. Over the 25 years he has been running it, his team has never failed to get the ball in. "It's unguardable," Kampe says. "We have four different calls, just like a quarterback could call an audible based on how they line up to guard it. And we actually use football terminology: 'You're running an out, you're running an out-and-up, you're running a comeback.' Each spot in it has their assignment on what to do."
He has showed the play to others. Kampe says Donahue got it from him during a clinic hosted by Drexel coach Zack Spiker. Not everyone decided to use it. Oakland is near Auburn Hills, where the Detroit Pistons used to play. At one point the Pistons practiced at Oakland's gym, and he became friendly with people there. Once Stan Van Gundy had Kampe, Tom Izzo, Mike D'Antoni, and Sean Miller at the practice facility.
"D'Antoni went through all this stuff," Kampe recalls. "He's the most brilliant offensive coach that the NBA probably has ever seen. And so we're going around the table, and we're supposed to talk about something that we do that's a bit different. And I showed everybody this play. They all laughed at me and were like, 'We'd never do that.'"
Kampe has taken the Golden Grizzlies to the tournament three times. They won a play-in 2005, but it was by double-digits; they've lost their other three tourney games. Because of this, Kampe had not really been able to show the play to a wide audience. Now other coaches are spreading the word for him; even if Miller or Izzo won't use it, it certainly seems like many other teams will start.
I am being careful this time. The history of basketball is long. A different coach may have come up with this play independently before Kampe did. Whatever the case, it is going to be a long time before teams figure out how to guard it.
Stay in touch
Sign up for our free newsletter