NBA
Nikola Jokic Is A Big Strong Guy
3:40 PM EDT on May 2, 2023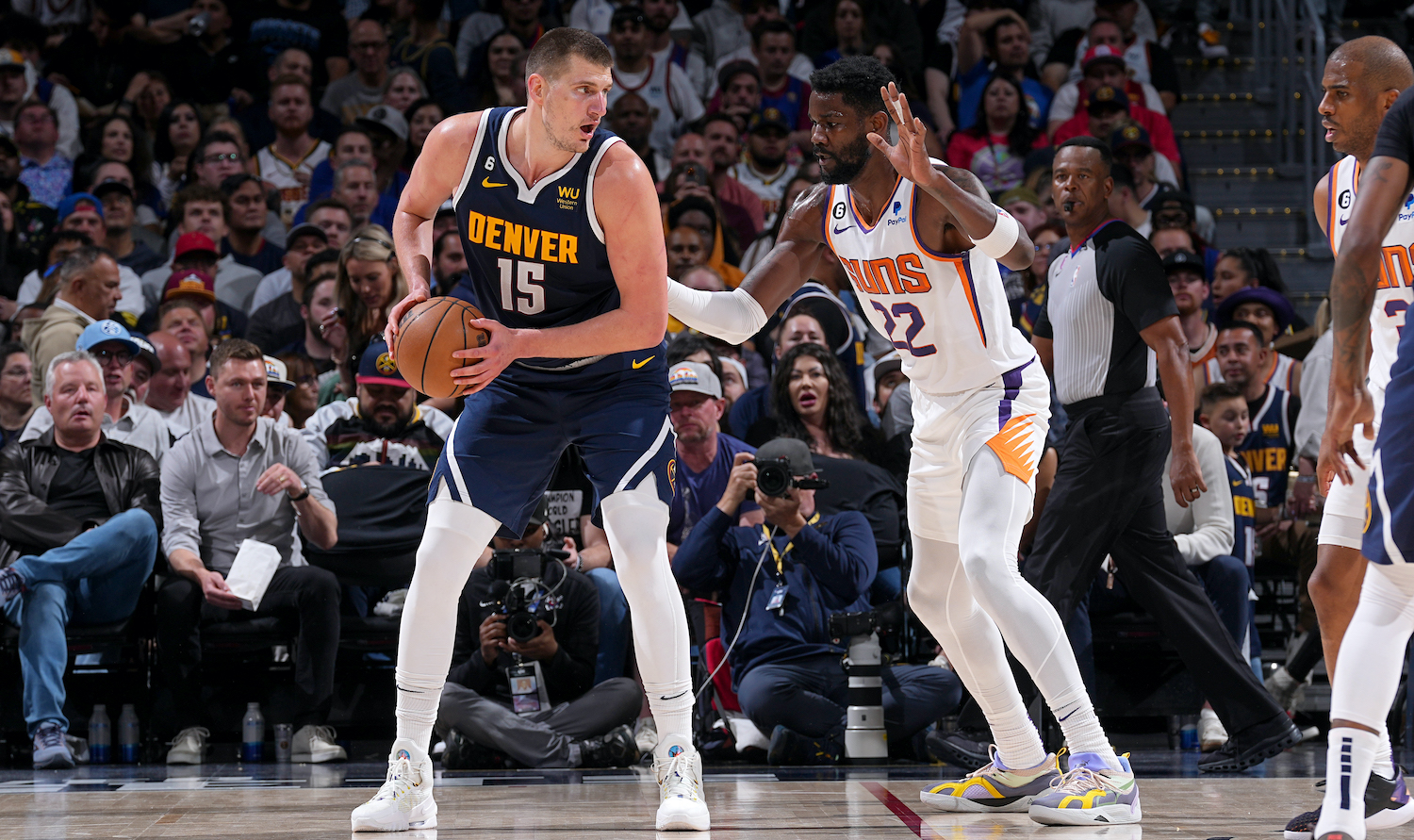 Through two games, the Phoenix Suns have played a bit of a gambit when defending the Denver Nuggets: they are sticking Deandre Ayton on Nikola Jokic, straight up, without any concerted effort to pressure him. Their strategy is not without precedent, as a different iteration of the Suns smoked a much diminished version of the Nuggets at this stage of the playoffs in 2021 employing a similar scheme. The theory then heading into the rematch was that Ayton played Jokic as well as anyone in the league, and would hold his own well enough to prevent Jokic from destroying the Suns by passing into the space left open by a second defender rushing at him. It did not work out well for them in Game 2.
Jokic was easily the best player on the floor throughout Denver's ugly 97-87 win over Phoenix, slapping together a robust 39-16-5 outing on good shooting, with two steals and a block. On a night when Jamal Murray and Michael Porter Jr. combined for 15 points on 5-for-22 shooting, the Nuggets needed Jokic to put pressure on Phoenix, and he obliged, mostly by personally destroying Ayton. As a rule, slowed down isolation basketball at this stage in the playoffs tends to be an unreliable way to score, unless said isolation is preceded by a bunch of on- and off-ball screens to draw out a poo-poo defender like Jordan Poole. Ayton is a strong, smart post defender, but Jokic can score from such weird angles that he can dice up even the best interior watchmen. The Suns wanted to prevent Denver's offensive blender from running at the cost of allowing Jokic to go one-on-one, and Jokic took the challenge. The two-man game with Murray finally started working late in the fourth quarter, but the first 7/8ths of the game looked like this:
You don't see low-post play at this volume very often in the NBA, and certainly not in the playoffs. Only Jokic, Anthony Davis, and Giannis Antetokounmpo are posting up more than four times per game in the playoffs (Joel Embiid's number are probably only lower because he works a little further out), and nobody is scoring more than a point per possession. We just witnessed the Kings' historic offense grind to a halt because Kevon Looney erased Domantas Sabonis's paint scoring, and really, now that every team left always plays with multiple shooters, just letting a slow guy dribble for 12 seconds is a wasteful way to play. Unless you have Jokic. His water polo game was rolling on Monday, most importantly at the end of the third quarter, when he scored all of Denver's nine points in the final two minutes to keep his team in contact during Phoenix's best offensive spurt of the game. He wound up shooting 13-for-17 in the paint, and perhaps as importantly, his aggression put Kevin Durant and Ayton in foul trouble.
The most impressive single number in this game was the meager 87 points Denver allowed Phoenix to score, and Jokic was s significant factor there, harassing ballhandlers in the lane, troubling those that challenged him, and, most importantly, rebounding the ball. Neither team could shoot in the first half, though the Suns racked up two-point halftime and eight-point third quarter leads by battering Denver on the boards. And in fact, they seemed primed to create some meaningful separation in the third until Jokic kept his team in the game with 12 second-half boards. The Suns had seven offensive rebounds in the second quarter, and their eight-point lead would have been closer to 15 had Denver not grabbed five of their own misses to Phoenix's zero in the third.
Eventually, Murray joined the party and he and Jokic's two-man game put the game out of reach late in the fourth, but we must return to the third again, as it was the most critical quarter of the game. The situational awareness to pound Ayton in the third was huge, and Jokic made a bunch of smart adjustments, like making an on-the-fly tweak to the Nuggets' help defense on the roll man. Phoenix loves to have their rollers make quick vertical passes; Jokic saw it and diagnosed the perfect coverage for Gordon.
Phoenix will look better on their home court, especially if Chris Paul is ready to go, though despite having two other All-NBA level players and an extremely versatile big man in Ayton the Suns remain very shallow. They don't seem to have integrated Durant as much as they hoped they would have by now, either. Monty Williams employed the same spray-and-pray bench strategy he used late in the regular season by playing six bench guys, hoping at least one would pop. Suns reserves shot 2-for-16, and every single one had a negative plus-minus. They will need something from someone, and they will also need to mix things up on Jokic just enough to make him guess a bit more. If Ayton just singles up on him, he'll get in foul trouble, and Jokic will know help's not coming, so he can (slowly) cook. It's on Murray and Porter Jr. to actually do something with the rock to make Phoenix pay when they do switch things up.
Stay in touch
Sign up for our free newsletter