Soccer
Newcastle Roared To Champions League Life
9:04 AM EDT on October 5, 2023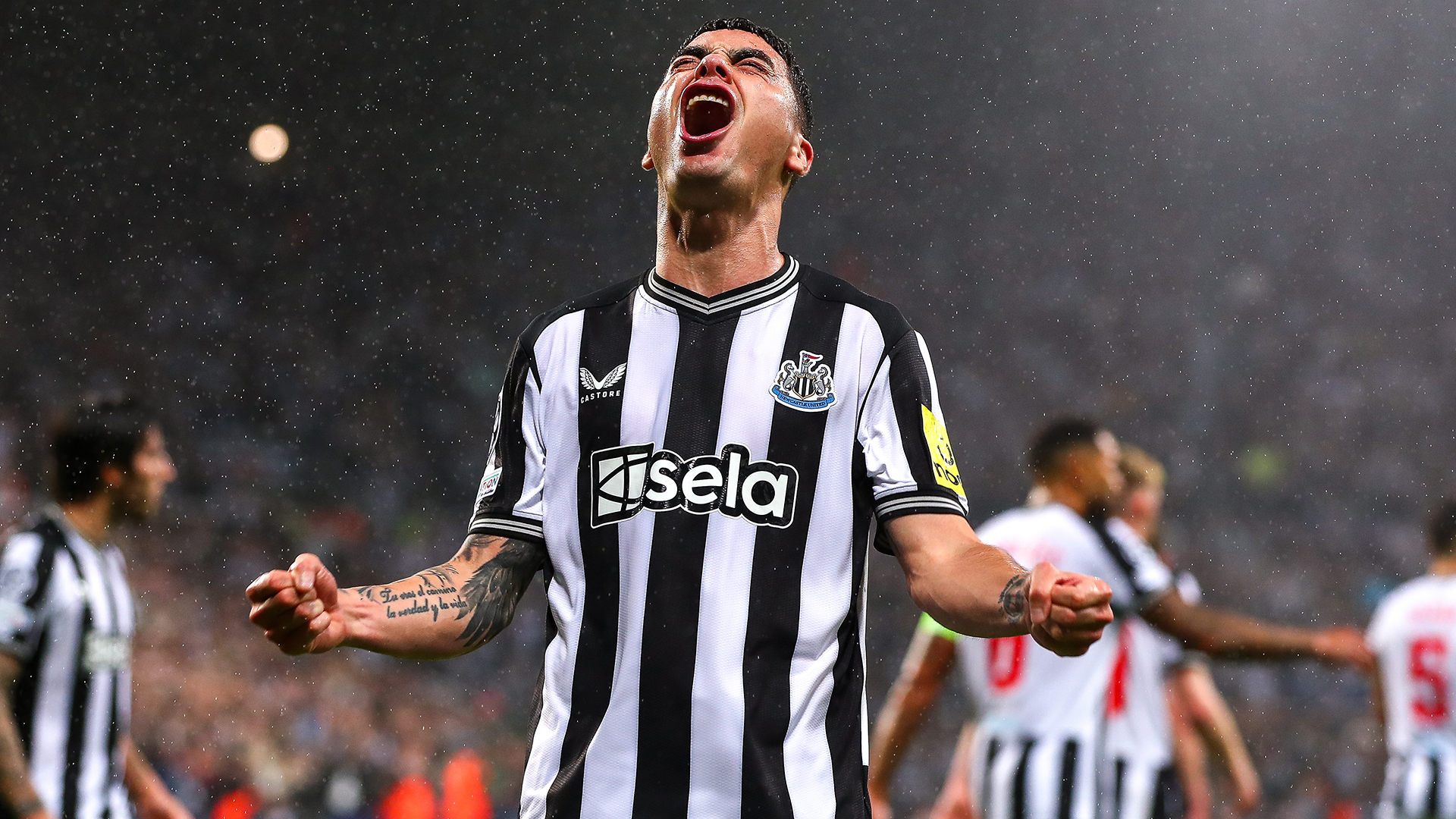 Though Newcastle United made its long-awaited return to the Champions League a couple of weeks ago in Italy against AC Milan, the club celebrated the return of top European action to St. James Park on Wednesday in style. Drawn in the so-called group of death, alongside Milan, Borussia Dortmund, and Wednesday's opponent Paris Saint-Germain, the task of making it out of the group stage and into the knockouts looked to be a tall one for the English side, but the magic of a raucous home crowd made it a bit easier, as the Magpies fed off an intense atmosphere to not just beat PSG, but to absolutely demolish the French giants, 4-1.
It had been 20 years since the crowd at St. James was able to celebrate a Champions League goal, back when legendary striker Alan Shearer, Premier League's all-time leading goalscorer, notched a hat trick against Bayer Leverkusen in the second group stage of the 2002-03 edition. On Wednesday, Newcastle made up for lost time. From the get-go against the heavily favored and mostly battle-tested Parisians, the Magpies pressed all over the field, allowing the French side to control possession but never letting them get into any sort of rhythm. Things looked uncomfortable for PSG, a fact no doubt helped on by the hostile crowd in the northeast of England, and it was no surprise when Newcastle's first goal came from a sloppy bit of PSG play that was forced by all of that pressure.
Marquinhos, surely one of PSG's best and most experienced players, gifted Newcastle an attack, and while Alexander Isak couldn't finish on the first try, onrushing midfielder Miguel Almirón made no mistake with his cool left-footed shot to the far post. That's not an easy finish for even a striker, but the Paraguyan managed to slice the ball past Gianluigi Donnarumma all the same. The Italian could maybe have done better on Isak's initial shot, but it's hard to blame him too much for the opener. Don't worry, though, his time of fucking up would soon come.
Newcastle's second goal was as chaotic as the first was pretty. A set-piece cross into the box kicked off the usual pin-ball game, this time including a couple possible hand balls on each side, before Bruno Guimarães could finally latched onto the loose ball and try a shallow angle shot, which Donnarumma saved. The rebound fell back to Guimarães, who might have been offside on first look, and the Brazilian lobbed a beautiful cross to the 6-foot-6 Dan Burn, who just barely got it over the line past Donnarumma. The VAR check after the goal was perhaps a countering endorsement for the system after the Liverpool-Tottenham disaster, as the replay reviewed two separate incidents—plus a goal-line technology check on Burn's eventual header—but after a lengthy break, the goal stood, and it was delirium once again at St. James.
Though the final possession stats heavily, and I do mean heavily, in PSG's favor (74 percent to 26 for the hosts), Newcastle's game plan in the first half was an off-ball masterpiece. Knowing his side didn't have the technical ability to keep up with PSG in a battle of wits and passing, manager Eddie Howe instead had them attacking with their heads up on the counter, always looking for the pass behind the backline. That continued shortly after halftime, when Kieran Trippier spotted a perfect run into the space left behind by an unorganized PSG defense, and Sean Longstaff was able to convert that bit of positional excellence into a goal that, well ... Donnarumma is more to blame for this one:
For a goalie of Donnarumma's quality, getting an arm on a ball like that should, most of the time, lead to a save, but whether he simply misjudged the power of the ball or didn't get his arm around to where he wanted it in time, the Italian will look at Longstaff's goal as his worst moment of a performance to forget.
After the third goal, Newcastle finally ran a bit out of gas, and let PSG back into the game. Luckily for the home fans, Newcastle bent but never really broke. The 56th minute did bring a goal from nothing by defender Lucas Hernández, but the consolation strike was not a harbinger of things to come. Newcastle simply regrouped, got into a more compacted defense, and held off half-hearted attacks from PSG, with some much rarer threatening moves from the visitors sprinkled in.
That was enough to set the stage for the best goal of the match, and from center back Fabian Schär, no less. Schär is more of a ball-striker than the average center back, but when your backline stanchion is completing give-and-gos outside of the opponent's box, and cracking a perfect power shot into the top corner of the net while falling down, it is just your night.
And what a night it was for Newcastle and its fans. There's much to be written, and some which has been written here, about the insidiousness of how Newcastle, one of England's proudest and oldest clubs, became an extended arm of the Saudi Arabian sportswashing machine, and it's a bit funny that this grand return to the Champions League happened against PSG of all teams. Similarly, the way some Newcastle fans have tried rationalizing away the ickiness of their newfound riches has itself been off-putting. But that's not an indictment on a fanbase that, frankly, has deserved better for a long time. (Hi, Mike Ashley! And good riddance!)
To see those fans hooting and hollering as their club steamrolls one of the legit title hopefuls is a beautiful thing, as is seeing PSG get taken down by players like Burn, Longstaff, and Schär, none of whom would be considered PSG-caliber players even on their best days. Newcastle might still struggle to get out of this brutal group, what with a return leg against PSG in Paris alongside what should be a tough couple of matches against Dortmund and hosting Milan on the final matchday of the group stage. However, the Magpies showed on Wednesday that, on any given day, and especially in front of its home supporters, there is enough talent and tactical acumen here to beat anyone, and to do so with aplomb. At the very least, the group of death has claimed its first notable victim, and it's only surprising because it is PSG who got trounced and who is now wondering what went wrong when it visited St. James Park.
Stay in touch
Sign up for our free newsletter