Death To The NCAA
New NCAA NIL Rules: Guilty Until Proven Innocent
1:27 PM EST on February 2, 2023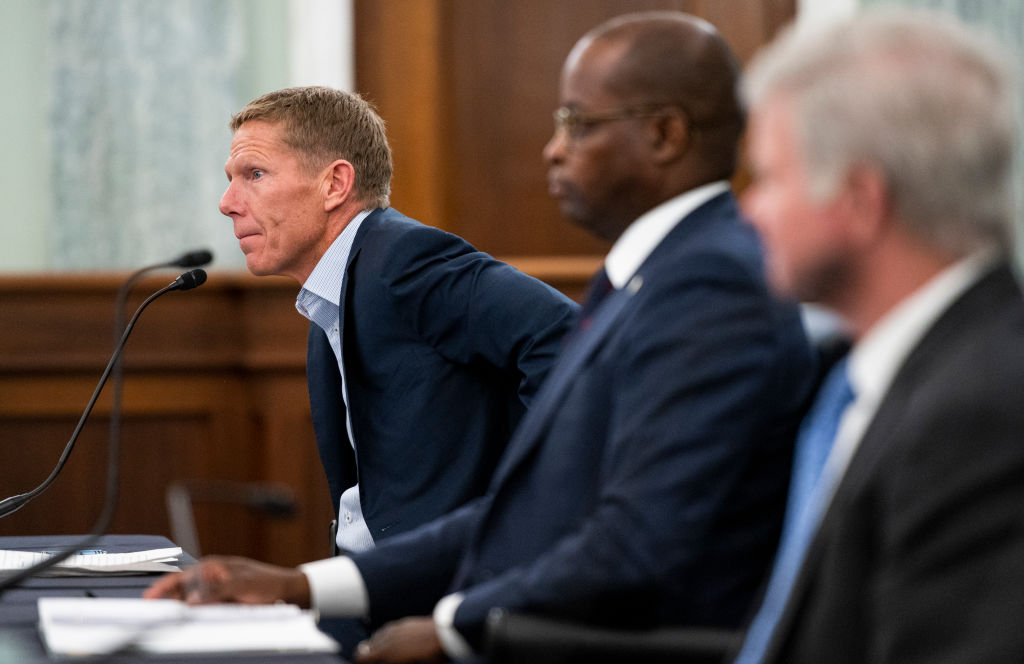 For some reason, it's become commonplace to compare the restrained market economy that is the new NCAA NIL reality with "the wild west." Athletes are paid for their public association with a product, as a workaround for the archaic rules preventing them from being salaried workers, and we're meant to believe this is anarchy. What's actually much closer to "the wild west," or whatever you want to call it, is the NCAA's new framework for enforcing its policies preventing NIL payments from being used to attract players to a particular school. The bylaw known as "the NIL presumption," which went into effect in the new year, knocks down a necessary pillar for any civilized legal or regulatory system by putting the burden of proof on the accused rule-breakers to assert their innocence.
Nicole Auerbach wrote about the NIL presumption at The Athletic today as part of an interview with Jon Duncan, the NCAA's vice president of enforcement. First, here's the bylaw in its entirety (emphasis mine):
"In cases involving name, image and likeness offers, agreements and/or activities in which related communications and conduct are subject to NCAA regulation, the infractions process shall presume a violation occurred if circumstantial information suggests that one or more parties engaged in impermissible conduct. The enforcement staff may make a formal allegation based on the presumption. The hearing panel shall conclude a violation occurred unless the institution or involved individual clearly demonstrates with credible and sufficient information that all communications and conduct surrounding the name, image and likeness activity complied with NCAA legislation."
This policy has at least one very obvious problem: Everyone in college sports is full of shit. Presuming guilt on accusations opens the door to all kinds of bad-faith manipulation from rivals, and the NCAA has not proven it can be trusted to sort the so-called meaningful violations from the junk. When asked by Auerbach about the potential for false rumors to be taken as true and turned into a formal allegation, Duncan says, unconvincingly, "We work really hard to test information that comes in. We're common-sense people."
But even if the NCAA were competent, this is still a fundamentally flawed system with a bug that's being touted as a feature. In praising the change, and noting how it makes life easier for investigators by moving a lot of their work to the schools that are charged, Duncan casually dismisses the need for clearcut evidence of wrongdoing:
I do think it relieves us of the obligation to have a smoking gun in every case, to have some witness on the record say exactly what happened and why, or a damning text message or video — which occasionally you get, but not very often you get.
Having a smoking gun is important! The whole reason that idiom exists is because we've all repeatedly agreed that hard evidence matters and the presumption of innocence is worth protecting.
If the NCAA is looking to punish schools without actual proof of guilt, then they're just targeting behavior that seems suspicious, or feels like it's not on the level. It's a stupid way to run a judicial system (even a fake one), and while the organization could do without having a phony detective agency dedicated to limiting workers' pay in the first place, if they are going to have one, it could at least adhere to a basic principle of human rights. We live in a society, after all.
But it makes perfect sense why the NCAA wants more leeway in punishing the schools, administrators, and ultimately the players they see as offenders. As the overblown "wild west" cliche implies, the last year-and-a-half since NCAA v. Alston has led to probably the best time ever to be a college athlete. With new paths to making money that can benefit popular personalities in non-revenue sports and even keep major stars in school for longer, at least a little bit of the gross exploitation that literally defined college athletics has been lifted. But this relative worker freedom comes at the expense of some of the power the NCAA once held over its subjects. The old guard hasn't exactly been secretive about its displeasure with the new developments. Clearly, they're going to try whatever they can to reverse them.
Stay in touch
Sign up for our free newsletter