NHL
My Yotes Are Getting Better
1:15 PM EST on November 15, 2023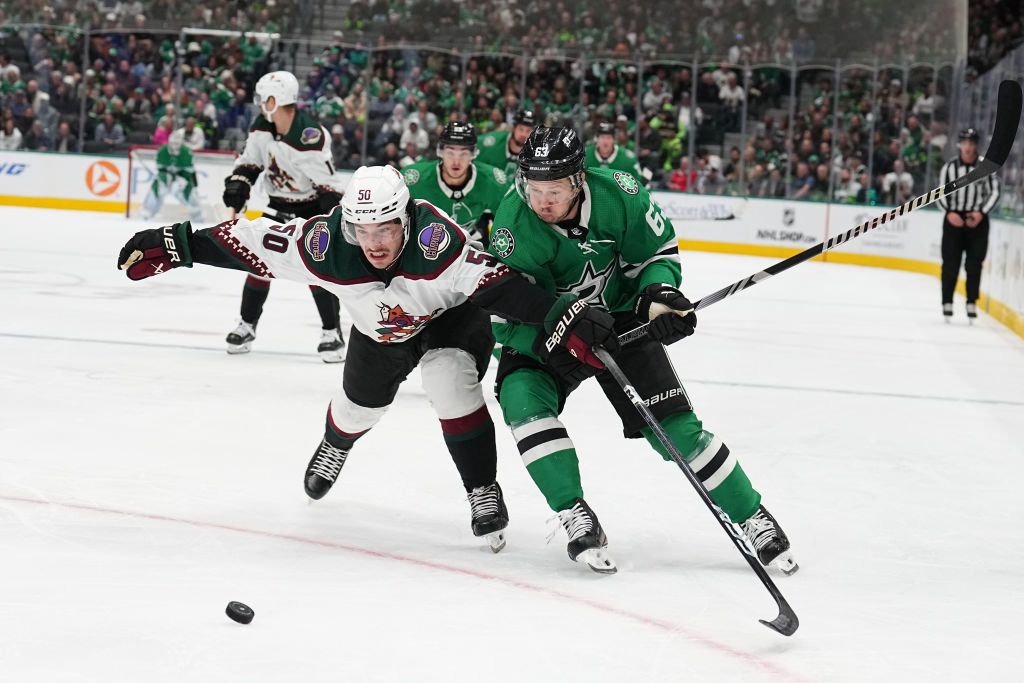 Being a fan is less an emotional indulgence than a calling. Take the case of the Arizona Coyotes. My Arizona Coyotes. After years of kicking them in the rear end, laughing at their struggles, feeling relieved at their failure to meaningfully improve their roster, bemoaning their very existence, and mostly ignoring their pointless regular-season losses, I found my feelings about them starting to change at the beginning of this season, which is in some ways their most dire yet.
Arizona, a strategically important location in the mind of Gary Bettman, has been an indifferent-at-best home for the NHL, especially over the past decade as the Coyotes have struggled to pay their bills and failed to play a single playoff game in front of their fans. They got effectively booted from their full-sized arena at the end of the 2021–22 season and flopped onto the twin-sized mattress that Arizona State was willing to loan them. But the sales pitch that the 4,600-seat Mullett Arena would be an exciting and unique temporary home has quickly turned sour, as the voters' rejection of a new arena plan this past spring gives them no clear path back to respectability.
The regular people most affected by the Coyotes made their choice at the ballot box, and frankly I applaud them for it, because it is never not funny to deny a rich guy something he wants. But the actual players on the team didn't ask for any of this, and I don't want to lump them in with the franchise's overall dysfunction. This is a group of kids who dreamed of playing in the NHL and deserve a proper NHL experience. Arizona as a whole has failed to provide that. Fandom is usually an anonymous membership in a large group, but here, it's possible that one person can make a difference. Everything around the Coyotes feels so barren and sad, and my frustration has gradually transformed into something like sympathy. I'm starting to believe I was meant to give the Coyotes some love.
Through a month of action, my tentative interest has been rewarded with, while not a dominant start, the exact sort of intriguing-but-flawed hockey that can hook me. (I really do love a sincere push for improvement.) My Yotes are a middle-of-the-pack 7-6-2, getting their points by winning at the wobblier aspects of hockey. They're converting on their power plays and enjoying better goaltending than their opposition, even though they're definitively and consistently losing the possession battles. It's been an exertion just to get to average, and The Athletic gives them a nine percent chance to make the playoffs, worse than all but five other teams.
The redeeming quality in these Coyotes is that every single one of their losses has been worthwhile for a viewer. Six of the eight have come by a single, measly goal. Of the two others, they entered the third down just one against the Kings and eventually fell by three after an empty netter, and they surrendered two in the final 17 minutes to Winnipeg to lose by that margin. My Yotes have shown up every night.
It's their most recent two games, however, that have best illustrated the allure of the Yotes Yindset. They've been messy, thrilling, and charming, as a group of young skaters without much experience at winning in the NHL stretches itself to hang with the competition. On Saturday, that competition was Nashville, and the final score was 7-5. Those numbers still undersell the unpredictable, almost nauseating push-pull of this game, with momentum shifted at nearly every commercial break. The Preds led 2-0 and 4-2 early on, and they outshot the Yotes 41-25, but the Coyotes pushed on with three goals to finish out the second period, and even after Filip Forsberg tied the game 5-all with six minutes remaining, the level-headed unselfishness of the Arizona power play produced a game-winning slapper for top defenseman Sean Durzi, who's brought rare high-stakes experience in his first few games since being traded by the Kings. Durzi's dramatic goal, his fifth of the year, was met with an annoyed emptiness by the pooped-out Nashville crowd, and as such it marks the only time to date I've ever wished the Coyotes were playing at home.
The first two periods of Tuesday night's clash with the Stars were not so hot. The Yotes even went the whole second without scoring! But the chaos of the third more than made up for any previous silence. Specifically, Jason Zucker tied the game at 2-2 with eight minutes left, and after over two minutes without a whistle, Lawson Crouse busted behind everyone and beat Jake Oettinger to take the lead. Then, after over two more minutes without a whistle, Tyler Seguin took advantage of a defensive lapse to re-knot the score. Only the post allowed the Coyotes to escape to overtime, where Matt Duchene denied them a second point with a game-winner some 40 seconds in.
Because being an honest-to-goodness Yotes die-hard should give me an in with Bettman and his lawyers, I'd like to show you the entirety of that sequence between the Zucker and Crouse marks. It's a frenzied bit of up-and-down action, the kind that you literally cannot look away from, lest you miss something crucial. And even though the Coyotes don't ever look in control of what's happening, there's a kind of feistiness to their play that makes it so dang rewarding when their man breaks free and finishes. This is, to me, hockey at its most fun, if not its most skilled, and it's brought to you by none other than the Arizona Coyotes.
A lot of folks' most beloved Yote, pride tape rebel Travis Dermott, is unfortunately out with an injury. But I'd like to make note of a few other players on this team who deserve their own shine. The Coyotes haven't had a captain since 2021, but Clayton Keller, a determined playmaker who's only lacked a supporting cast, should be next in line. For God's sake, he led the team with 86 points in 82 games last year, in a season that began just six months after he broke his femur. Give him the C!
There's also Logan Cooley, a teen with undeniable offensive skills who, even without scoring much just yet, has adjusted to NHL ice with a cool 10-pack of assists in his first 15 career appearances. His preseason bolt of lightning still stands, to me, as the must-see goal of the year so far.
My favorite Yote, and also the one who worries me the most, is the grinder Liam O'Brien, who's got both great hair and a close relationship with the penalty box usher. Last year, he ranked 18th among Coyotes skaters in time on ice and first in penalty minutes. He's at it again this year, like when he took exception to an innocuous hit in St. Louis last Thursday, saw red, and pursued Sammy Blais like he was Yosemite Sam chasing Bugs Bunny. That dude's locks are custom-made for a player whose helmet gets thrown off every game.
Even a month into the season, it's still impossible to project a future for any NHL team besides the Sharks. Like, the Bruins look ridiculously good again, and the Oilers seem to be in deep trouble, but there's still so much time and so much regression remaining that you shouldn't be strapped into any real takes. The Coyotes, it follows, could be experiencing some temporarily rough luck in close games, or this solid beginning might just be an anomaly that eventually corrects into another lottery pick. Speaking for myself, I'm starting to prepare for a long and grueling fight to snag a wild card slot, a winter full of games that matter and a spring, perhaps, of stressful hope. And when they move to Halifax and double their fanbase overnight, I'll be able to say I remember the dark days in the desert.
Stay in touch
Sign up for our free newsletter