College Football
Michigan State: Sorry For Putting Hitler On Our Jumbotron
11:04 AM EDT on October 23, 2023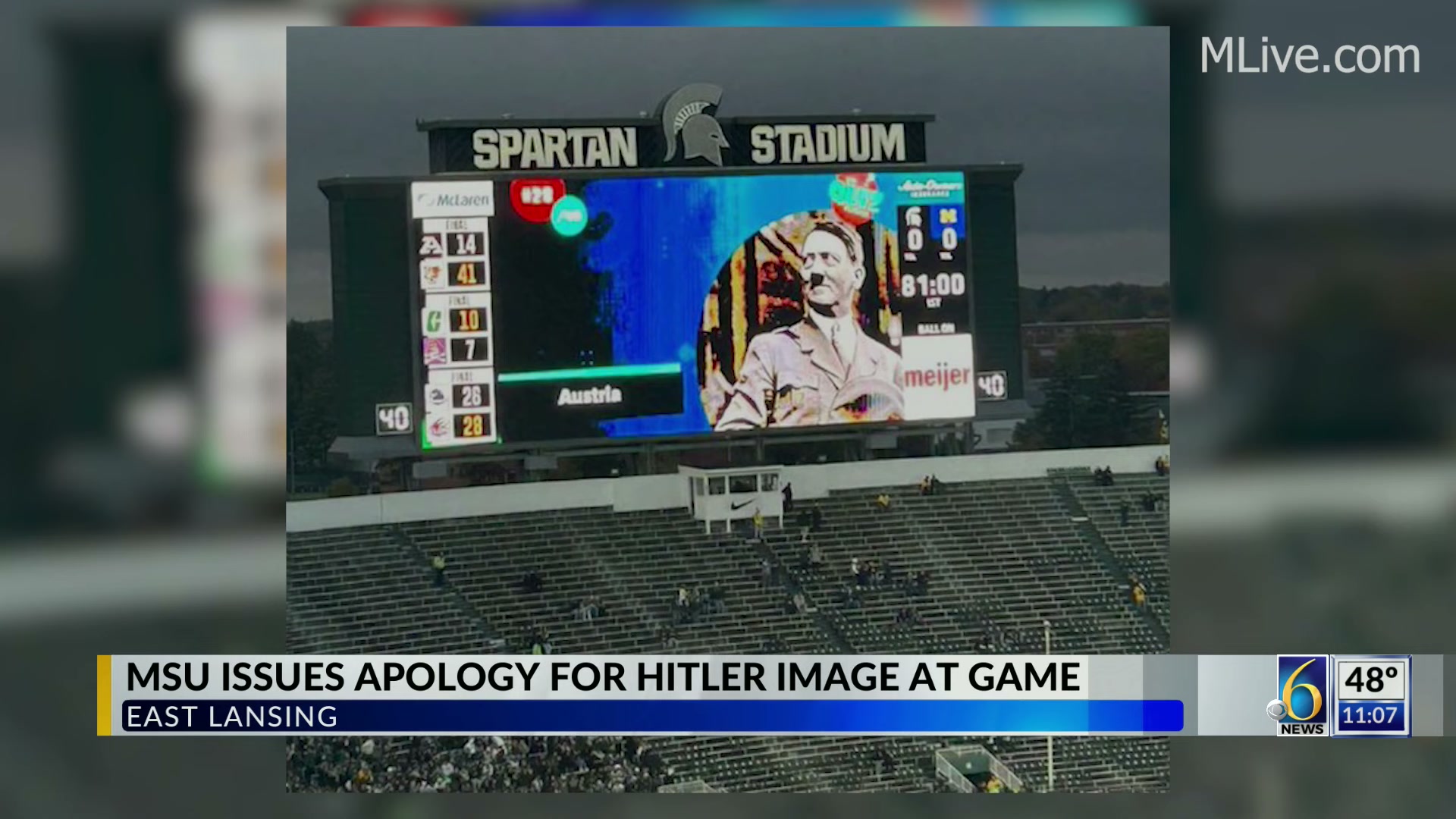 Michigan State is not having a good football season. Coach Mel Tucker was fired after anti-rape activist Brenda Tracy said he masturbated on a phone call with her, among other offenses; the firing promises to be a protracted ordeal in its own right. The team itself is not having a good season either. Coming into Saturday's game against Michigan, the Spartans had lost four in a row. Three of those losses came by double digits, and the fourth was a loss to Rutgers in which they had a 24-6 lead.
Michigan came into Saturday's rivalry game ranked No. 2, and the game went worse than MSU fans could have imagined. The Wolverines were 25-point favorites; they won 49-0. It was the worst home loss in Michigan State history. They were outgained 477-182. The margin could easily have been larger.
But fan and media attention were elsewhere after the shellacking. Normally, this might be a good thing: Instead of reports about how the Spartans hadn't lost this badly to their in-state rival since 1947, there might be stories about something else. Anything else. Well, almost anything.
You read the headline: People are talking about Michigan State football today because they put a giant image of Adolf Hitler up on the Jumbotron pregame. It was part of a trivia video that the school aired on the big screen. "MSU is aware that inappropriate content by a third-party source was displayed on the video board prior to the start of tonight's football game," MSU spokesperson Matt Larson said in a statement released during the game. "We are deeply sorry for the content that was displayed, as this is not representative of our institutional values. MSU will not be using the third-party source going forward and will implement stronger screening and approval procedures for all video board content in the future."
This statement is a top-tier deflection. Twice Michigan State puts the blame on a "third-party source," and it did not take long to find the quiz, or that third party. The video shown on the board was by a YouTube account named The Quiz Channel, a production of Netherlands-based Carsilius Media. It was a 40-question quiz. One of the questions asked where Hitler was born.
This is all terrible. But I am particularly amused by the questions around the one about Hitler. The preceding question asked what color Spock's blood is (green); the one after the Hitler question asked about Bruce Springsteen's usual backing band (The E Street Band). Sandwiched between them was a question about Hitler's birthplace (Austria). Did the quiz guy write all three of these in a row? The quizmaster himself didn't respond to my email, but he did post a comment on the video.

This confirms the obvious: Someone at Michigan State threw up a random YouTube quiz on the Jumbotron without asking the creator or even watching the video, and that led to Hitler showing up on the scoreboard. I was curious about the appropriateness of that trivia question even in the original video, though. I asked my friend, the longtime Philadelphia quizzo host Johnny Goodtimes, what he thought about it.
"I wouldn't be offended if someone asked at bar trivia what country he was from," he said. "That said, in a video round, it's kind of weird. Time and place are very important parts of trivia writing. I think asking a picture question about Hitler on the Jumbotron at a major sporting event is honestly one of the stupidest mistakes in trivia history."
A video question about this is kind of weird; a Jumbotron Hitler image is unfathomable. I suppose this is a good rule of thumb: The larger the image of Hitler, the less appropriate it becomes. A Hitler question in a bar, or on a little trivia video on YouTube? I'd avoid it, personally, but it's probably fine. But if you put Hitler on a 5,359-square foot Jumbotron, it is not right. You just shouldn't do that. This is something to bear in mind, if you didn't know before. Please don't do that (put a giant Hitler image up) if you ever happen to find yourself in control of a big screen.
Yesterday, Michigan State athletic director Alan Haller released a 326-word statement that took more responsibility for the HitlerTron, writing that the school "is responsible for all content shown on its video boards." The person who put the quiz up is suspended with pay "pending the results of an investigation." MLive reported that MSU usually shows trivia questions before the game. It is kind of unfathomable that the school plays a random YouTube video of trivia questions and not some video content produced in-house, but I suppose the football support staff has been dealing with a lot the last few months.
Stay in touch
Sign up for our free newsletter