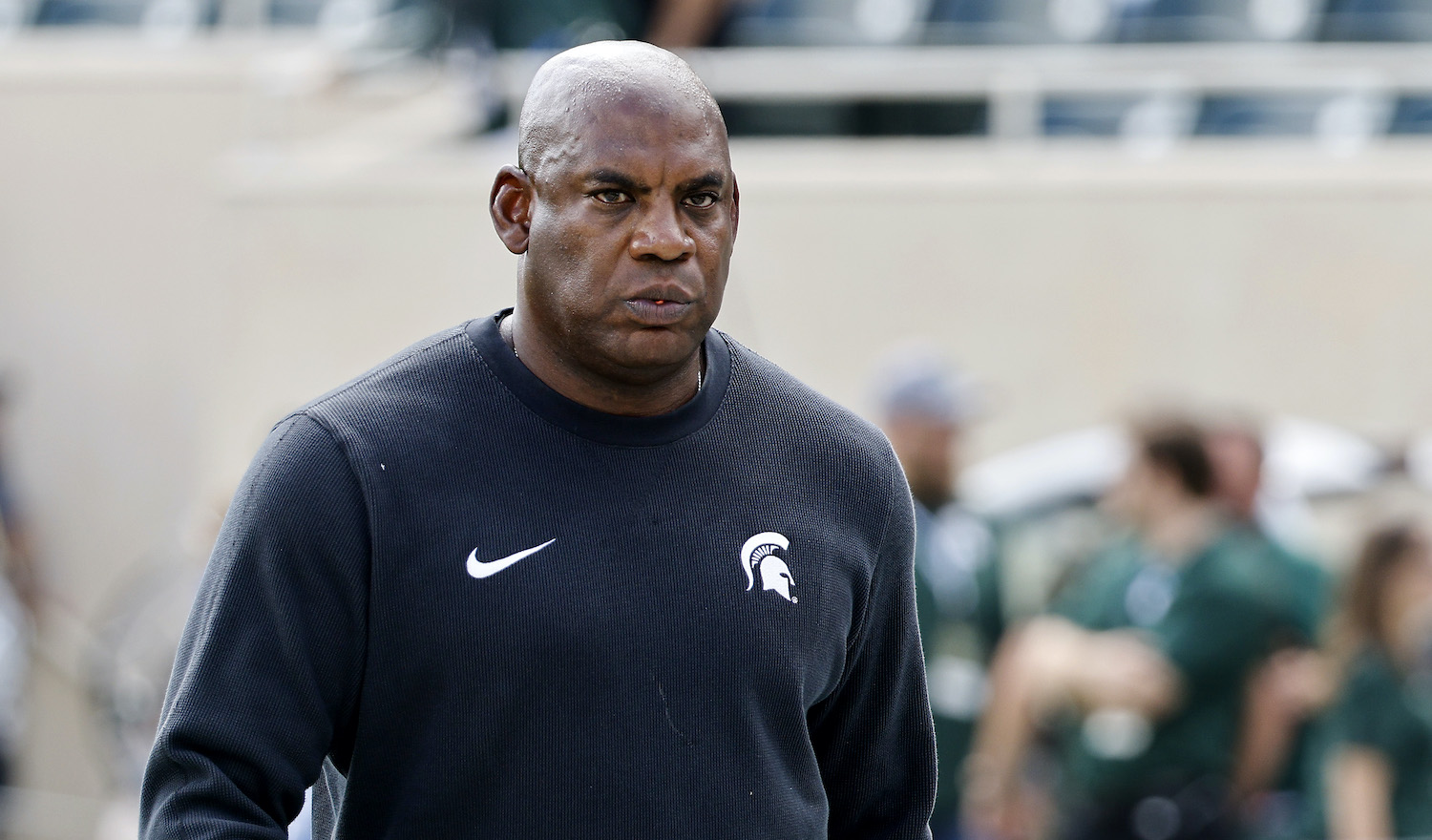 Lawyers representing currently suspended Michigan State football coach Mel Tucker filed a 25-page letter on Tuesday in response to the school's notice one week ago that they intended to fire him for cause and void the remaining $79 million on the 10-year contract he signed in November 2021. Per the terms of Tucker's 2021 contract, MSU has to give him a week's notice before firing him for cause, a period during which Tucker is allowed to compose a response to the school's arguments and make his case. In their letter, Tucker's lawyers dismissed "the flimsy foundation of the University's finding" and claim it "falls far short of the mark" for a formal breach of contract.
A brief recap: Anti-rape activist and speaker Brenda Tracy filed a sexual harassment complaint against Tucker in December 2022, eight months after the two had a phone call on which Tucker masturbated, which he says was part of mutually agreed upon "phone sex" and she says happened without her consent, after she had repeatedly tried to set boundaries with Tucker. The university began an investigation, speaking extensively to Tracy and her lawyers while mostly getting stonewalled by Tucker and his representatives. MSU wrapped their investigation on July 25, shortly before reporters started sniffing around the story, though news of the investigation and alleged harassment wouldn't drop until early September. MSU suspended Tucker shortly after USA Today and ESPN published stories on the matter, and they began the process of firing him one week later.
Shortly after he was suspended, Tucker's lawyers released a long statement saying the allegations were completely false, and now they have released a significantly longer and more detailed letter. The contract clause that MSU says Tucker violated states that he can be found to be in breach if he commits "any conduct which constitutes moral turpitude or which, in the University's reasonable judgement, would tend to bring public disrespect, contempt, or ridicule upon the University." That is admittedly very vague, which Tucker's lawyers use to their advantage. "[Tucker] did not engage in unprofessional or unethical behavior or 'moral turpitude' by any stretch of the imagination," they wrote. "In fact, as discussed below, under Michigan law, assault and battery does not even constitute 'moral turpitude,' and the flimsy foundation of the university's finding—a private relationship involving mutual flirting and one instance of consensual phone sex—falls far short of the mark." It is worth noting here that what Tucker is being accused of is both unprofessional, as Tracy was an MSU contractor, and unethical, at least by the standard that Tucker is married.
In between MSU's notice and Tucker's response, USA Today published another report on MSU's investigation that details a few specific times Tucker contradicted himself or changed his story in the process of laying out his version of events. Tucker's letter is less concerned with specifics as it is with making a larger-order case about the supposed invalidity of the investigation itself, and as such, its tone is remarkably pugnacious. "Tucker is just the fall guy for the university's negligence and misfeasance, the long history of which includes and predates the Nassar matter, but which unfortunately has continued and tainted the university's handling of this matter," the letter reads. Tucker's lawyers also specifically call out MSU AD Alan Haller for overstepping his jurisdiction and looking into an employee's private matters without cause to do so. "If the university investigated your private life or that of any other employee, it would certainly find something 'embarrassing' to presumably justify your or their termination," they write. Again, drawing a border around Tucker's alleged conduct and writing it off as "private" is logically fallible, as Tracy was working with MSU.
The initial termination letter claims that investigators "amassed a body of undisputed evidence of misconduct that warrants termination," and a hearing is scheduled for Oct. 5 and 6. Given the huge amounts of money in play here, you can expect this fight to be rather bitter and drawn-out. Meanwhile, Michigan State football has been blown out by a combined score of 72-16 in the two games since Tucker was suspended.
Stay in touch
Sign up for our free newsletter