College Football
Michigan State Suspends Football Coach After Sexual Harassment Investigation Goes Public
9:11 PM EDT on September 10, 2023
When the weekend began, Mel Tucker was the head football coach at Michigan State—and also, quietly, the subject of a six-month-long university investigation after anti-rape advocate Brenda Tracy reported to the university that Tucker had sexually harassed her, including masturbating without her consent during a phone call. Not even an hour past midnight on Sunday, the investigation became public via reporting from USA Today as well as ESPN. Less than 24 hours later, at press conference, Michigan State's leadership confirmed reports that Tucker had been suspended without pay.
ESPN was first to publish a story about Tucker being the subject of an investigation, but USA Today's report by Kenny Jacoby had far more detail (more on that later). According to USA Today, Tracy met Tucker during her 2021 visit to Michigan State. Tracy was there to tell her story about being gang-raped by four men, including two Oregon State football players, back in 1998. It's a story that Tracy has told at universities across the country going back nearly a decade. Afterward, they talked about her coming back to campus again.
Tracy and Tucker kept talking after she left campus. Around November of 2021, not too long after Tucker signed a 10-year, $95 million contract, Tucker "started becoming interested in Tracy romantically," USA Today reported. It's here where Tracy's and Tucker's accounts told to an investigator hired by Michigan State started to differ, a lot.
Here is a summary of what Tucker said, per USA Today: They flirted a lot. They talked about their mutual physical desires of one another. And Tracy told him that she wanted a "sugar daddy," per the article.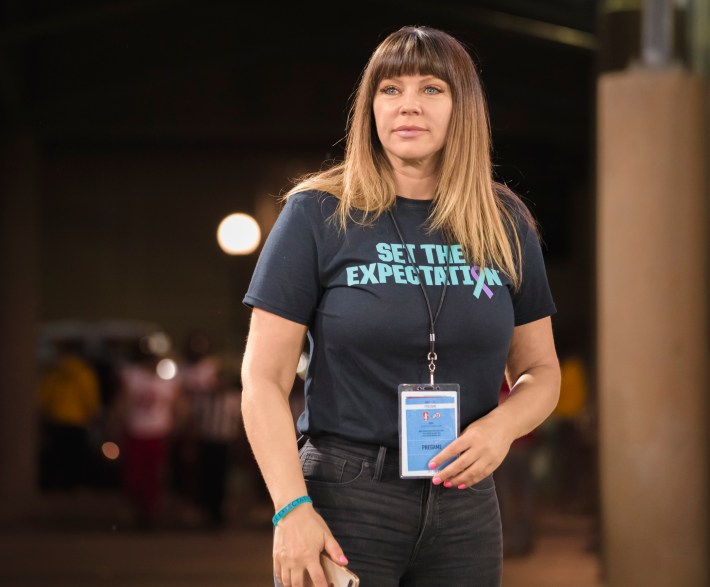 Here is a summary of what Tracy told an investigator, per the same article: It was entirely one-sided. She tried to set boundaries with him—like when he asked her if she'd date him if he weren't married, and she said no because they worked together—and she grew to believe that he "was less interested in her cause than in her."
Tracy came to visit Michigan State again in April of 2022 for a spring game, during which she and her nonprofit were shown on the jumbotron. Afterward, Tucker called her four times, asking to see her alone. She declined. Tucker called her again 12 days later. From USA Today:
According to Tucker, he became aroused when Tracy made a comment about needing to hit the gym more to look better without clothes on. They then discussed how having phone sex could complicate their relationship, he said, but Tracy suggested once would be harmless and he agreed.

"Unequivocally, there's no doubt about it," Tucker told the investigator, case documents show. "She was the one who said we'll do it."
Tracy told the investigator that the call started out OK. Then she sent Tucker a photo of them from the spring game, and he starting talking about her butt and called himself "an 'ass man.'" From USA Today:
She remembered Tucker's voice getting deeper and weirder as he continued talking about her buttocks. She asked him what he was doing, and he said he had a "hard dick" and was touching himself.

"You're touching yourself?" Tracy asked, according to the investigation report. Tucker responded, "Yes."

Tracy said she thought to herself, "Oh my god, this is happening, and I can't stop it." In the moment, she said, it didn't occur to her to hang up. Eventually she said something along the lines of, "If you do this, I don't ever want to hear about it, we are only friends, that's it."

When he finished, Tracy said, Tucker told her, "Thank you, good night, sweetheart." She responded, "Yeah," and he hung up.

Then she sat at her desk for a while, staring at her phone and crying.
Tracy told USA Today that "her partnership with the school was paramount and she focused on that." She still planned on visiting Michigan State in July for a training, but Tucker canceled it. They had one more phone conversation in August. Tracy filed a complaint with the university eight months later. She told USA Today that "she decided that if she let it slide, she wouldn't be the person she claimed to be."
---
From there, USA Today goes into a lot of details about how Michigan State's investigation went. Tracy, her witnesses, and her lawyer were cooperative and provided evidence; Tucker's side was not. They offered to settle with Tracy; she declined.
Perhaps most significant from Tucker's defense, though, is that he and his lawyer, Jennifer Belveal, commissioned Brett Sokolow to write a letter saying that policing Tucker in this case would set a bad legal precedent. Sokolow is one of the best-known Title IX consultants in the country and once was president of the Association of Title IX Administrators. He is, to put it bluntly, in the sphere of people who work on gender violence in education a very big deal.
"Can an employee never have phone sex?" Sokolow wrote, per the report. "How far does MSU intend to go in policing the private conduct of its employees, and how does it expect its 20,000+ employees to react when they find out that they no longer have private lives outside the reach of their employer?"
Despite Sokolow's letter, the investigation continued. It also found that both Tracy and Tucker deleted all their text messages, making them unavailable to the investigator. Tucker said he routinely deletes all his message because he gets so many. Tracy said she deleted hers after her last phone call with Tucker because she thought she had to cut off all ties with him.
Michigan State's investigation ultimately produced a 106-page document and suggested a hearing, which is slated for October, after which another outside attorney, per USA Today, will decide if Tucker violated any rules.
---
Though the USA Today story is very long, it was not first. Less an hour earlier, ESPN's Dan Murphy posted a much less detailed story saying Tucker was the subject of a sexual harassment investigation but it did not say who had filed the complaint or why. According to that article, ESPN had filed a public records request with Michigan State on July 30—Michigan State athletic director Alan Haller would later say the investigative report was done on July 25—"seeking documents related to any complaints alleging that Tucker violated the university's relationship violence and sexual misconduct policy." Michigan State denied the request, claiming releasing the documents "would constitute a clearly unwarranted invasion of an individual's privacy."
ESPN said it "has engaged a Michigan-based law firm to pursue potential litigation."
Strangely enough, USA Today had to call another ESPN reporter for its own article. As part of the Michigan State investigation, Tucker had said that ESPN reporter Paula Lavigne was "investigating the veracity of the gang-rape story at the heart of Tracy's public persona. The information, Tucker said, made him question how Tracy 'goes about her business,'" USA Today reported.
So USA Today reached out to Lavigne, who issued a statement saying, "Neither (Tracy's) organization nor Tracy is or has been the target of any investigative reporting. I'm perplexed that Mel Tucker would respond to a complaint of sexual harassment by involving me or ESPN."
---
A little after 5 p.m. ET, Michigan State held an extremely short press conference. It allowed for just three questions asked and lasted about 10 minutes. The AD, Haller, said the report had been finished on July 25, and the hearing was scheduled for the week of Oct. 5. Michigan State president Teresa Woodruff spent a lot of time assuring those at the presser that this was not the MSU of old, the one that did nothing about reports of a doctor sexually abusing athletes under the guise of medical care, the one that refused to release thousand of documents about that now-convicted doctor, Larry Nassar, the one had to settle with members of its former women's swimming and diving team after eliminating their program, and and the one that employed a physical therapist accused in a lawsuit this year of sexually assaulting a patient.
On the decision to change Tucker's interim measures from having no contact with Tracy, as well as additional oversight from Haller of the football program, to the suspension, Haller said: "It's an ongoing process, and we update those interim measures as we receive information."
With Tucker suspended, secondary coach Harlon Barnett will serve as the interim head coach. Former Michigan State football coach Mark Dantonio also will come back to help out, Haller said. Dantonio, Michigan State's all-time winningest football coach, was part of reporting done by Nicole Noren and Lavigne at ESPN in 2018 that said under Dantonio's tenure, "at least 16 MSU football players have been accused of sexual assault or violence against women." Dantonio called the reporting "completely false." He resigned two years later.
Diana Moskovitz is Defector's investigations editor. You can reach her at diana@defector.com or, if you prefer protonmail, dfmoskovitz@protonmail.com. If security is a concern, download the Signal app and send her a text at 929-251-8187.
Stay in touch
Sign up for our free newsletter