Soccer
Mesut Özil Would Dare
5:16 PM EDT on March 22, 2023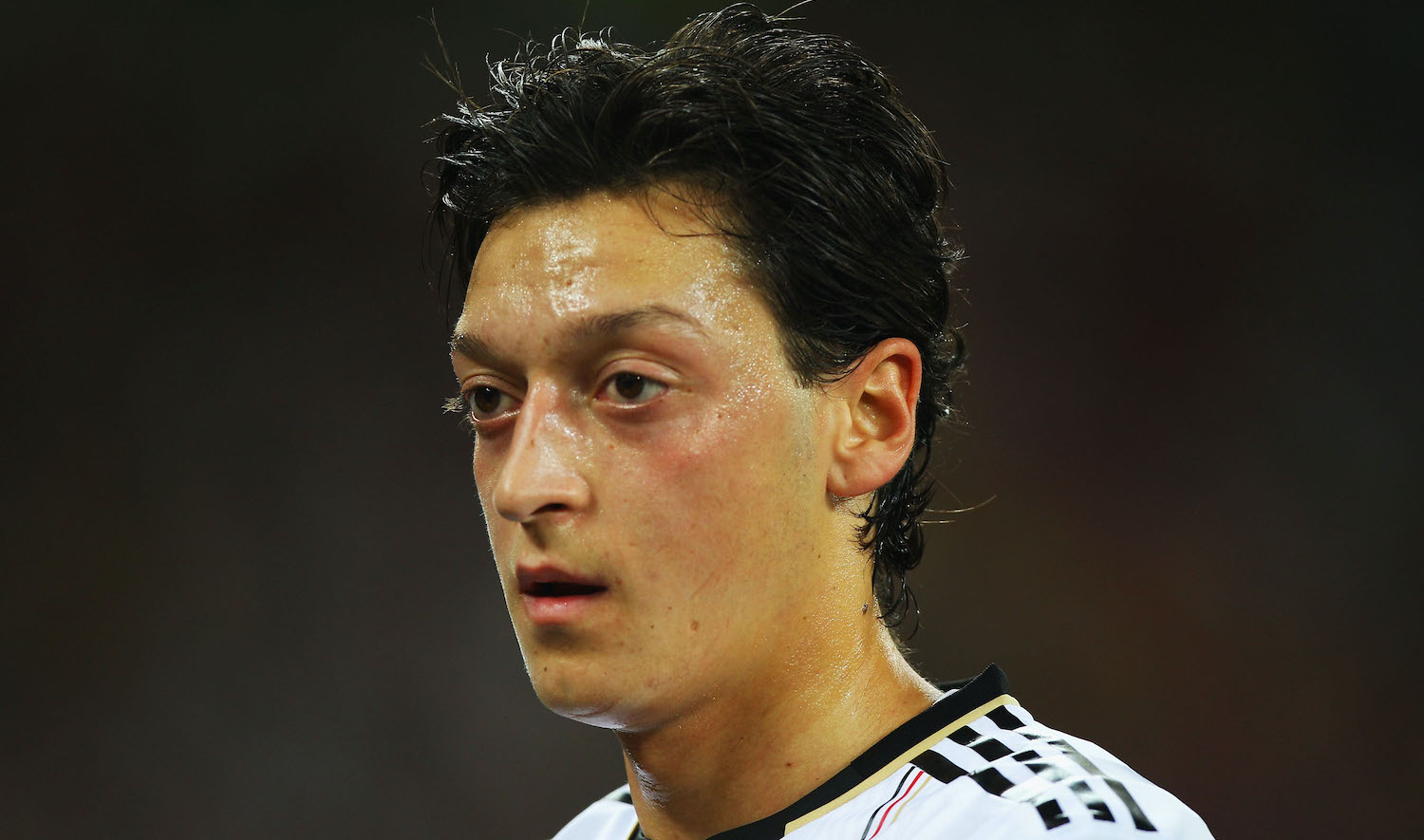 "If you love to watch football," Arsene Wenger said after his team defeated Everton 2-1 in 2015, "you love to watch Özil." It was a line the legendary Arsenal manager repeated many times over the five seasons coaching Mesut Özil, and he was right every time. Though the greatest successes of Özil's career came with his national team, and though his Arsenal tenure unraveled dramatically, there's something about the pairing of Wenger and Özil that always struck me as pure. The mainline criticism of both men towards the ends of their careers was essentially the same; that the heft of their achievement never matched up to the beauty of their game. My counterargument is: Isn't the beauty the point?
Mesut Özil announced on Wednesday that he would be retiring from professional soccer after a 17-year career spent with Real Madrid, Arsenal, Schalke, Werder Bremen, Fenerbahçe, and, finally, İstanbul Başakşehir. He was a star on the German national team throughout the 2010s, playing 120 minutes of the 2014 World Cup final, and though he won a handful of trophies in Spain and England, Özil was never quite as successful at the club level as he was in a German shirt. Any straightforward accounting of Özil's career must reckon with the fact that he never won a Champions League or Premier League title as the evolution of the club game hastened his obsolescence.
But thankfully, this is not a straightforward accounting, so I will not remember Özil as an attacking midfielder who found himself unable to run enough or otherwise physically compete in the modern, press-based game. His legacy is cemented forever as one of the game's most skilled magicians. I will remember him as one of his era's greatest playmakers, certainly its slickest, and since soccer is a sport more consumed by and reverent of its aesthetic qualities than any other, I'd argue that his standout moments matter more than his lack of trophies. What matters is scoring like this ...
... creating a goal like this ...
... and being able to pass like this.
Özil will step away from the game with one of the best highlight reels of all time, and to me, that first assist to Ronaldo is the platonic ideal of an Özil passing highlight. To even think of trying to fit any pass into that small of a window, as both defenders are clearly attached to Ronaldo awaiting a cross, is audacious. More Madrid attackers are running into the box, and playing a less ambitious ball probably results in a higher chance of scoring a goal. But no, drifting left, Özil smacks a perfect curler with the outside of his left foot right into the window.
Özil notched 222 assists in his top-flight career, a stunning number that is almost exactly twice the number of goals he scored. At Madrid, he was often deployed wide, tucking in for Ronaldo to make runs into the space, then hitting inch-perfect balls to him and Madrid's strikers. He played under Jose Mourinho, who would often yank Özil in the biggest games in favor of more defensively robust midfielders. When he was on the pitch, he got to play behind an incredibly talented frontline, stocked with players who could convert his slip-passes, through-balls, and tortuous crosses into goals; the very season Özil left, Real Madrid won the first of its four Champions League titles in five years.
Arsenal was the ideal club for Özil, one whose stylistic sensibilities aligned with his. I'll always remember his first Champions League game with the club, against a good Napoli side, when Özil scored a banger and provided another beautiful assist. It was an otherworldly performance, as if Özil's geometric wizardry sped the team up an extra 20 percent, made them hit the ball a bit cleaner that felt possible by the laws of physics. They rolled Napoli in that first leg, and for a brief window, it felt like anything was possible for Özil at Arsenal. His vision was sublime, and he would more reliably connect on no-look flicks and all manner of behind-the-back nonsense than any other player in the Premier League. Sometimes it didn't work, but when it did, it was magic.
It all soured for Özil within a few years, as the aesthetic achievement never translated into anything more than a handful of FA Cup wins and unbroken disappointment in all the big competitions. He couldn't keep up with the pressing and increasing speed of the meta-game, and his cat-like attitude and degree of remove even sparked a dumb body-language scandal. He stuck around until early 2021, enduring a protracted contract saga, the fallout of the failed Unai Emery hire, and the pandemic-truncated 2020-21 season (in which Özil offered to pay Gunnersaurus's salary), though he was clearly on his way out of the club after a nasty public dispute with new Arsenal manager Mikel Arteta. He hastened that process by bravely and very publicly denouncing China's treatment of its Muslim Uyghur population, a stance for which his club threw him under the bus.
Arteta was on the field with Özil that glorious day against Napoli. Though seven years isn't that long of a timespan in soccer, it feels weird that Özil shared the pitch with Arteta for a while and also lasted long enough at the club that his last appearance in, uh, March 2020 came alongside Arteta's bedrock superstar, Bukayo Saka. Even if the game changed around him, Özil was never anything less than a purist, and no matter how difficult things ever got for him, his ability to weave beautiful soccer out of thin air never meaningfully diminished. He was a wizard to the last; his final Arsenal touch was an assist.
Stay in touch
Sign up for our free newsletter