Music
Meet Us At Midnight For '1989' (Defector's Version)
12:15 PM EDT on October 27, 2023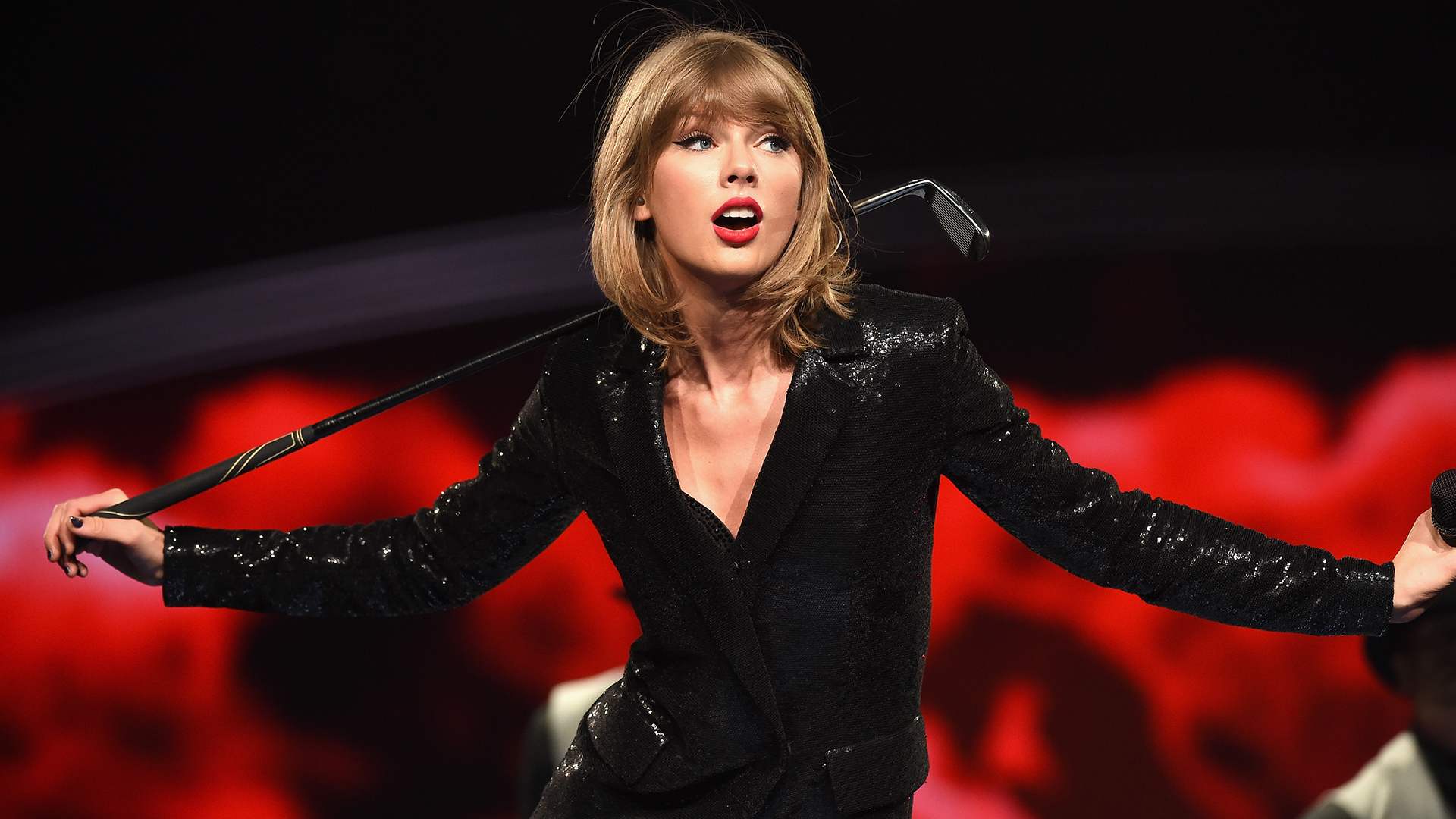 The most exciting part of Taylor Swift re-recording her first six albums has been the new "Vault" tracks she adds on to each "Taylor's Version" release. In theory, these are songs that she wrote alongside the original albums that didn't make the cut, for one reason or another. We'll get into the lore of vault tracks and how much we actually believe in that theory later in the blog, but on their face, these previously unreleased tracks have offered some of the richest Taylor Swift meta-commentary on her own work.
The Red re-release brought us versions of two songs Swift wrote for other country artists, "Babe" and "Better Man," now recorded in her own voice, as Taylor Swift Songs. We also got what might be the pinnacle of a vault song's potential in "Nothing New," a duet with Phoebe Bridgers about Swift's early-20s anxiety about aging as a woman in entertainment, released a decade later. 
With that in mind, we—Defector's resident Swifties—had high hopes for 1989 (Taylor's Version), which released at midnight on Friday. We stayed up and scribbled our sleepy, Jack Antonoff–addled thoughts about our first listens of the 1989 vault tracks for your enjoyment and our crumbling sanity. Don't hold anything against us; it was very late by the time we finished.
"Slut!"
Kelsey McKinney: Even though I heard a leak of this song earlier in the day, I still haven't quite grappled with it being a ballad. Taylor has said many times that she has three kinds of songs "fountain pen, gel pen, and quill," and I'm not really sure which one this one is. 
Alex Sujong Laughlin: Is it possible that since Midnights we've added a new pen? A vape pen? Vibey, big basslines, whispery vocals, not overly invested in the storytelling.
Luis Paez-Pumar: This feels "gel pen" to me, but I'm not sure what that means. Maybe I'm being influenced by the lyric video. However, this feels to me like the worst parts of 1989, sorry! The ballads on this album generally don't work for me as well as the big showy pop songs, and this feels like a muted version of those. Mainly, it reminds me that the vault tracks were mostly unreleased for a reason. I do like the bridge though; "You're not sayin' you're in love with me/ But you're going to" is very "Mastermind"-y.
Abigail Segel: I am appreciating the lyrics of this song and the reveal of what she was feeling back then in words she could certainly never say now. But I too am a tad disappointed on first listen because this is not the bombastic pop that 1989 is so notable for. Alex, I'm with you on the vape pen—sonically, this feels like a cut off of Midnights, and I mean that in a bad way. 
KM: It is immediately obvious to me why this song was not released, which is not that it's a big feeling, but that it has the words "drunk in love" in it, which certainly would have been seen as derivative had she released it on the original 1989.  
AS: It is also certainly more genuinely self-reflective than most other 1989 songs, in a way that only a decade of hindsight can offer. "Blank Space" is a masterpiece, but it is entirely satirical.
ASL: As the vault tracks have been released during the re-recordings, I find myself wondering how much of the original tracks were actually in the vault, and what the timeline of this actually was. Because storytelling-wise (however much there is), the lyrics feel very reminiscent of reputation-era songs like "Delicate" and "King of My Heart."
KM: Oh my god should I share my hater theory? 
LPP: Absolutely, I love being a hater.
KM: OK, so y'all know I am a Taylor stan. But I do not believe for a fucking second that these fully formed songs were in the vaults. I'm sorry but there is no way 2014 Taylor Swift wrote a song about being a slut just like there is no way 2012 Taylor Swift wrote a song with the line "fuck the patriarchy keychain on the ground" in it. I like these songs so much, and I am very much here for the pretense of revisiting the moments in your life that you weren't ready to approach when you first created art out of them … but also … please be for real. 
AS: You're totally right, and we know it! She literally published diary entries of the original cut verses of "All Too Well" and the ones in the 10-minute version simply aren't them. Taylor is a master at revisionist history. 
ASL: I'm very into the idea of the vault tracks being a project of returning to that moment and playing with the scraps from those eras, and creating new work that comments on the meta-narrative of her career. Like, "Nothing New" hit so much harder in 2021 than it would have in 2012. But that's not the mythology.
LPP: Her songwriting on most of the vault tracks is, if not more mature, at least more structured. These songs definitely rely on how her writing has changed in the years since. The 1989 vault tracks therefore sound like Midnights, because they work in similar styles and she can't help but sound like her most recent era. (Similarly, the Red vault tracks were influenced by folklore/evermore, for the same reason.) That's the more generous reading of why they all sound modern while still retaining some of the original album's identity. The more cynical explanation is that she's a master chameleon and can slip back into these eras as needed, but she knows that her fans will eat it up if she throws in hints of Midnights. 
AS: My read is that all the vault tracks are certainly based on songs she wrote back then, but she feels total creative freedom to change and polish them as she pleases, and doesn't feel a need to mention that to us!
KM: I totally agree with that, and think it is her right! But it's funny that the general consensus has been that she just had these songs fully formed and unpublished for a decade. Also, *nerd alert*, but when you look at the literal structure of "All Too Well (10 Minute Version) (From the Vault) (Taylor's Version)" the new sections literally have a different chord progression than the original pieces of the song, and that kind of switching chord progressions midway through the song isn't something we saw in her songwriting (at least publicly) until evermore. 
ASL: AND the lore of the song was that it was a warm-up song that she just kept going harder and harder on! 
AS: As long as I get "Sweet Tea and God's Graces" as a vault track from her debut, I'll be happy. 
KM: Alex, do you want to talk about the love-of-your-life, Jack Antonoff's influence here? 
ASL: JFC. *heaves self onto soapbox* It does feel appropriate that from the first second of the first vault track, Jack's production is just screaming in your face. This album was the beginning of their partnership that has gifted us with so much, but also terrorized much of the fanbase with his, um, heavy-handed production style. I'll just say as a producer myself I admire him because I can hear his fingerprints in the music while letting the artist shine (though I know people will disagree with me on that).
AS: I'd like to note that Jack actually didn't have anything to do with most of the original 1989… we really have Max Martin and Shellback to thank for guiding Taylor through her full pop transition. It's again revisionist history to see 1989 as a Jack album, and I think it says a lot about this fanbase's over-adoration of him. 
LPP: Jack Antonoff will pay for his crimes, in this life or the next.
KM: I cannot overstate how little I feel about Jack Antonoff. I wish him well. I wish him to be less visible to me. I do not however accept Alex's stance that this is production art more than the Max Martin fingerprints on other albums. But I know literally nothing. What I do know is that at least once a week I see a man on the streets of Philadelphia and think "is that Jack Antonoff?" But it is just a man wearing big glasses. So that's a cultural impact worth noting. 
Say Don't Go
LPP: This is more like it! I love that the verses here sound like they could be the offspring of "Clean" and "Out of the Woods," and the pre- and post-chorus titular lyric slaps. 
HOWEVER! This does have a common problem for Taylor songs, in my eyes: I hate when her bridges are in this style. By that I mean, the repetition without any sharp lyrical content. I am just such a sucker for Taylor's wordier and/or sillier bridges, that something like this takes me out of the song, right when I was loving it. Her strength as a songwriter is specificity, and the bridges tend to do a lot to help songs be About Someone Or Something Specific, but this one reads more like, sorry to keep harping on this point, the bridges on Midnights, which were mostly along the same lines.
KM: I immediately liked this song. Maybe I have bad taste, but there's something swelling about the backing music of this song that I find really appealing and enticing. I completely agree that it's very "Clean"-core, but I love "Clean," and unlike "Clean" and, honestly, "Out of the Woods," which she has had a hard time staging, this song feels built for the stage immediately. The long silence in the final chorus is made for people to scream. 
AS: This song is "You're Losing Me" if it were on 1989—all the same emotional resonances of wanting your partner to just give something but its lyrical sharpness is toned down in favor of a catchy hook and a repetitive chorus. 
KM: I'm also wondering, in my sleepy state, if this isn't just the sister song to "All You Had To Do Was Stay," almost as if this was written from the other perspective. One person begging the other to stay, and the other saying, "but you didn't say that." Unfortunately, I'm listening to "AYHTDWS" now, and this song really slaps. 
AS: It also has a similar vocal lift; the "stay!" in "All You Had To Do Was Stay" and the "say" in "Say Don't Go" feel very similar. 
As a Swift historian, I am also racking my brain to figure out who this could possibly be about, and my deranged theory is that she was perhaps still processing the Jack Gyllenhaal breakup when writing this. This feels so compatible with what we learned in the extended "All Too Well." Maybe it's crazy—definitely it's crazy—but what's being a Swiftie without being crazy?
LPP: Can I share something here?
KM: Yes, always. You are amongst friends. 
LPP: I think the thing I care least about Taylor Swift songs is who they are about. Aside from laughing when I first learned that "All Too Well" was about Jakey G, I just have never found the detective work and timeline-matching all that interesting. This is my truth, and maybe why I am not a True Swiftie.
AS: Oh, to be healthy. 
KM: Luis, I kind of agree with you. Part of the fun to me (as a Gaylor) is ignoring all major evidence in favor of minor evidence, so to me intention is already a muddy and unnecessary thing which I can set aside in favor of my own preferred reading. It's called "being delulu," look it up. 
AS: Lord help us all. 
KM:  I want to be super clear here that I think Taylor Swift is straight. I simply choose to read the songs through a queer lens, which is why I must absolve myself of all realities and "truths." 
AS: OK, totally fair, and would be so uninteresting to only view music through what inspired it in the artist's life. 
ASL: Great job discussing this song, team. I spent half this time thinking we were talking about the next song, and the other half trying to figure out what song this reminds me of. 
[UPDATE: It's been 10 hours and I have figured it out. This song sounds exactly like "Pompeii" by Bastille.]
Now That We Don't Talk
KM: The first thing that I have to say about this song is that it… does not feel like a full song? Two minutes and 26 seconds is very short for a Taylor Swift song. I believe she has the right to short songs, but also ... this doesn't feel like a complete narrative to me. I'm not sure why it's here. 
AS: 1989 has notably short tracks compared to the rest of her discography, but I was also taken aback when it just … ended. 
ASL: The line in the outro, "I don't have to pretend I like acid rock / Or that I'd like to be on a mega yacht / With important men who think important thoughts" feels very "In your house with your organic shoes and your million-dollar couch," but with less bite.
LPP: That line also reminds me of "And you would hide away and find your peace of mind / With some indie record that's much cooler than mine" from "We Are Never Ever Getting Back Together." The woman hates alternative rock and hipsters, even in 2023! Respect.
ASL: We're three songs in and the big question I have is whether enough time has passed for the vault-ification of song fragments to occur in a way that feels fruitful. Maybe time passed isn't exactly the metric, but I have wondered if the vault tracks would feel less vital the more recent the original albums are.
KM: All of these feel like they should have been cut from 1989. They aren't as strong as the finals, which is theoretically what the vault tracks are supposed to be. But you're right, Alex, the Red tracks in particular seemed to benefit from distance. 
LPP: Another point of evidence about these songs not being written in 2014 or whenever: "I call my mom, she said to get it off my chest (off my chest)" is so similar to "Lavender Haze" that it was distracting me. Even down to repeating it. Doesn't help that this song's synths could be ripped from Midnights without anyone blinking an eye. Maybe 1989 and Midnights are sibling albums in a way I didn't realize before. I wish I had a more thorough take about these songs than this! But, sorry, they are boring because of the Midnights influence. 
AS: No, I think it's very clear that the 1989 vault tracks, at least so far, are deeply colored by being ultimately produced in the wake of Midnights. Not to bring him up again, but they've all been produced by Jack, and I really don't think he would have been the producer on these had they been released with the original record. For me, Midnights is very clearly of an older Taylor, 1989 is of a younger Taylor, and these vault tracks are an older Taylor being ineffective at pretending to be young. 
KM: Luis, it is very interesting you say that about sibling albums, because one of the fan theories is that 1989 was supposed to have a sister album, and that it was delayed because of the *drama* in Taylor's life that forced her to release reputation, and then further delayed by the two pandemic albums. So there is literally a whole slew of Taylor fans who believe that Midnights was written in 2015 to go with 1989. 
ASL: There were high hopes for a rock album—if the double album for the re-record had panned out, that was what I was hoping for. But it's sounding like a lot more Midnights.
LPP: Kelsey, that would explain why Midnights is so horny. 
KM: LMAO.
Suburban Legends
AS: In the prologue to this re-release, Taylor confirmed what everyone knew: she made her (in)famous girl squad in the original 1989 era to heal the psychic wounds of not having friends growing up. This song feels like a romanticization of that childhood state; she didn't have friends, but she had a boy, and they were going to be suburban legends forever. 
KM: Recently, our co-worker Israel said that he was once told that a piece of writing could be worthwhile if you could find just one line in it that you were proud of and that meant something. And this song is a perfect example of that. I love the line "And you kiss me in a way that's gonna screw me up forever." 
ASL: There's a lot I like about this song, including that line, and even the Miss Americana high school imagery, but god, it's hard to get past how identical this song sounds to "Now That We Don't Talk." I like this one better, but its shine is dimmed when they're sitting next to each other like this.
LPP: Jack Antonoff, sleep with one eye open. Maybe if you combine these last two songs, they will turn into one full song, which would explain their shorter lengths. 
I do think that this song has the better lyrics of the two, and really of all the vault tracks to this point. The line Kelsey pointed out was the first one that made me pause and rewind to hear it again, and I also like "I broke my own heart 'cause you were too polite to do it," which is classic Taylor: vivid and vague at the same time, perfect for, say, an Instagram story post teasing the album and oh wait she did exactly that.
AS: Speaking of vivid and vague, the imagery of suburbia plus waves crashing on the shore is vibe-y enough if you don't use any critical thinking skills, but then you realize she never lived in a place with waves and the closest to suburbia she lived in was actually just rural Pennsylvania—"Christmas Tree Farm," hello—and then you realize this song exists in a classic Taylor world where space and time don't really matter. 
KM: The Futurists once made a manifesto, and one of their points was that "space and time died yesterday," and that really does seem like Taylor's stance here, I agree. 
AS: That's definitely what she was thinking too. Futurism. 
ASL: I do think these vault tracks are making a strong case for giving yourself time to lie fallow for a little while. Come up with some new ideas, or phrasing, or something. I keep thinking about how Red and Lover were meant to be these award-bait albums and she was crushed when they didn't win Grammys, and what did win—and what really feels like pushed her to the next level in her songwriting—was folklore/evermore, which came about unplanned, during months of forced isolation. Which isn't to say that she doesn't try to win awards with every album, but when I look back over her discography, these were the moments that felt like huge steps forward creatively.
AS: I'm gonna disagree a little; not with your message, but in how it applies to Taylor. I truly think that Taylor Swift would die if she couldn't write music. She is always writing music. She doesn't have a therapist, but she has a guitar. Her issue is when she doesn't have smart people around her who can firmly and lovingly tell her when a song is bad, or doesn't fit with the rest of a record. So it's not actually the lying fallow that she needs; it's the self-awareness to leave things off albums. By nature of these being vault tracks, it actually makes sense that they're not as good, and it shows that maybe she did have some good sense in what songs she chose for the original album. 
ASL: My expectations for vault tracks are just so high after "I Bet You Think About Me" and "Nothing New" that I want them to be full, distinctive pieces that are both left over from and commentary on the original album. Which is a lot to ask for!  
AS: Well, Red is a perfect album, but we (I) already knew that.
LPP: Hey, me too!
KM: She's also admitted that not being able to play music during the pandemic almost killed her. I agree with both of you in that I think she both cannot lie fallow at any time, and also very much should take a break to rejuvenate herself. 
LPP: She can't take a break, or won't, because the re-recording project is just too important to both her brand and her legacy. But maybe she should stop making new albums until she gets the last two out the door.  
Anyway, if this next song sounds exactly like the past two, I'm going to bed. 
KM: SAME. Truly, I am thinking, "is it over now?" 
Is It Over Now? 
AS: Talk about happy, free, confused, and lonely at the same time! This is the kind of song that even though it is STRANGE, it is also FUN and EUPHORIC and SEXY and actually made me intrigued. Thank god we got something to nibble on in this vault!
ASL: This song gives me what my favorite songs in 1989 gave me: pain and confusion and heartbreak, but coated in sugar and Coca-Cola.
LPP: Agreed, Alex. This whole song is what I loved about 1989 the first time around, and it matches the same sonic dreamscapes that the original album did so well. I can't believe this is in the same vault as "Slut!", which feels even more boring in retrospect.
KM: I'm dying at the choice to include the line, "blue dress on a boat," which is clearly a reference to the picture of her on the boat after Harry left looking sad as hell. It's such a strange image to pair with this song. Like you said, Abigail, it's the collision of the beauty and euphoria of the song with the kind of silence and pain of an image like this that makes it interesting. 
ASL: Can we talk about the bridge? 
AS: Please!!
LPP: To loop back to an earlier thought, I'm so glad we got a real bridge, and it's meaty! I love the way she sings "I think about jumping off of very tall somethings." It's interesting to me, as well, that the verses are so short and truncated here but everything else, from the chorus to the bridge, is wordy and evocative.
ASL: A recurring thing she does in her melodies is to repeat the same note over and over and over again, which can be effective, like in "Out of the Woods'' when the lyrics are telling a story of anxiety, but sometimes it feels like a melodic crutch to get as many words out as possible without having to do too much. I was really tickled by the way she sang "Only rumors 'bout my hips and thighs / And my whispered sighs," which felt more deliberate.
KM: I'm sorry, I'm really trying to take this song seriously. But I cannot get over the seagull sound. There is a seagull just chirping so often and that's so funny to me. Someone was cookin' in the production studio. 
AS: As a Segel, I have always felt an affinity for seagulls, so I appreciate the representation. 
ASL: It sounds to me like a yelp that was pitched up with a bunch of reverb to sound like a seagull. We all know I'm a stupid Jack partisan, so I like it. I like it when they add in discordant, repetitive sounds that don't make sense, like at the beginning of "Labyrinth." It adds a texture to the wall of sound that I really enjoy.
LPP: I will give credit where credit is due: I also like the dumb seagull sound! Good job, Jack, you got one, buddy.
AS: This song links to so many other songs in her discography. The flight of the paper airplanes in "Out Of The Woods," the wilt of the rose in "Maroon," the coffees in "Holy Ground," the clone from "It's Time To Go," the hips of "Death By A Thousand Cuts," the flashing lights of "Wonderland," the "Question...?" of "And is it over now?" It's so impressive to have such a deep catalog of music that a singular song can automatically evoke strong links between so many tracks
KM: This is a question I've long had about the fan theories and kind of conspiracy theories that collect around Taylor. Is it that she is leaving breadcrumbs? Or is it that she just has metaphors that become crutches and that she returns to over and over again. I'm not sure if it's a bad thing if these are just repeated motifs in her discography, or if she means to do it, but there is definitely a tied ribbon effect to this song. It makes sense to me that she sorted it last.
ASL: OK, it's late and we're tired, so this completes the fourth midnight arrival of Taylor Swift's re-recordings. If TikTok is right about anything, we'll have more music to dissect by the time we wake up. [Update: She released a re-record of the "Bad Blood" remix with Kendrick Lamar, but no new music.]
Personally, I'm still hoping for a Harry Styles collab, but I might be hoping forever.
Stay in touch
Sign up for our free newsletter