Olympics
Lawsuit: Olympic Bobsledder Says Team Chiropractor Sexually Abused Her For Years
5:03 PM EDT on September 21, 2023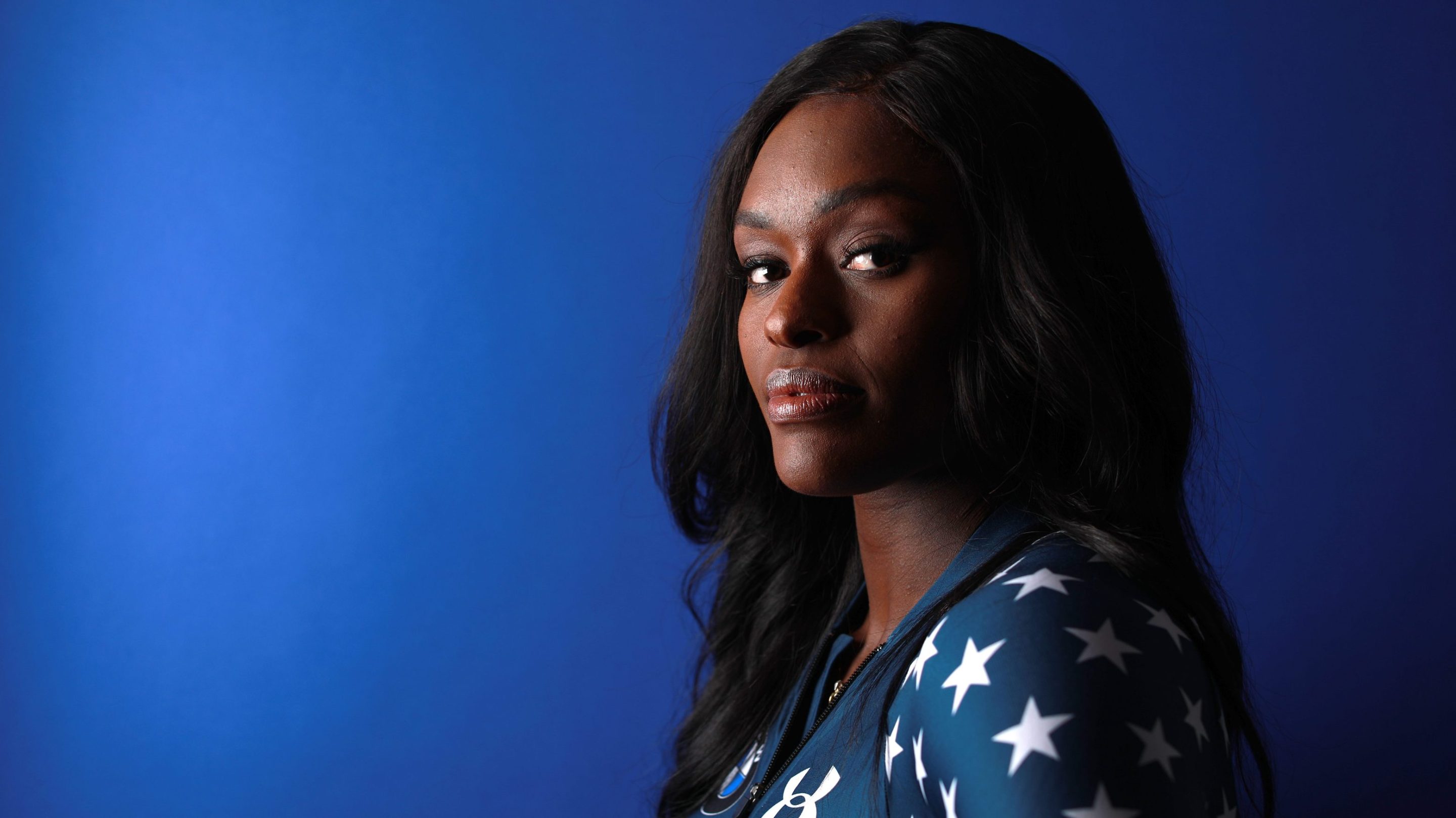 Olympic bronze medalist Aja Evans filed a lawsuit this week saying that she was sexually abused for years by a chiropractor who frequently worked with the bobsledding national team. As with Larry Nassar, the former USA Gymnastics doctor who was convicted and sentenced to a lifetime in prison for his years of predation, Evans said in her lawsuit that she was abused by the chiropractor under the guise of him providing her with medical treatment.
The lawsuit, filed in New York state court in Essex County, names the chiropractor, Jonathan Wilhelm, his chiropractic practice, the USA Bobsled and Skeleton Federation, and the U.S. Olympic and Paralympic Committee. It was first reported by ESPN.
In a statement to ESPN, Wilhelm's lawyer denied the lawsuit's assertions. He called them "baseless," added that "at no point did Dr. Wilhelm commit these heinous and disgusting acts," and said that Wilhelm would "pursue all legal avenues to protect his professional reputation." A spokesperson for USA Bobsled said the federation would not respond to any specifics in the lawsuit but added that "USABS remains committed to promoting a safe and respectful environment for all athletes, coaches, staff, and volunteers." A spokesperson for the USOPC said the organization had not seen the lawsuit, but asserted that it "remains committed to ensuring the safety and wellbeing of Team USA athletes, and we are taking every step to identify, report, and eliminate abuse in our community."
Per ESPN, Wilhelm also is the subject of a U.S. Center for SafeSport investigation, though his name does not appear in the public database.
Wilhelm began working for the bobsled team around 2012 as a High Performance Team medical provider, according to the lawsuit; that was the same year Evans joined the USA Bobsled team. In her lawsuit, Evans described how years of conditioning, training, and coaching had taught her to always trust her team coaches and directors. So she trusted Wilhelm. But Wilhelm, her lawsuit said, "took advantage of that trust and the power which the governing bodies of USOPC and USA Bobsled bestowed to him over athletes like Plaintiff and her teammate."
While providing "treatments" to Evans, per the lawsuit, Wilhelm would touch her inner genital area and her groin. According to the lawsuit, Wilhelm "always found reasons to work on or around Plaintiff's adductor muscles, despite no complaints of issues specific to this area. It was well known among the athletes treated by Defendant Wilhelm that he would always find a reason to 'go for the adductor.'"
This continued for years. In the lawsuit, Evans said the abuse was "so pervasive, persistent, and common, it is difficult to calculate the exact number of times the abuse occurred." It reached the point that Evans began wearing a second layer of underwear beneath her track shorts for "additional protection." She said in her lawsuit that Wilhelm repeatedly touched her "inappropriately, and moved her shorts in a direction that exposed her genitals without consent, explanation, and without draping Plaintiff with a towel or using gloves."
During the 2016-17 end-of-season review, Evans and her teammates sent a letter to USA Bobsled about another issue with Wilhelm: him taking photos of them without their consent. Per the lawsuit, Wilhelm was not investigated and their complaints were dismissed, leaving Evans "confused and afraid to speak out."
It eventually reached the point, per the lawsuit, that Evans and her teammates hired their own team chiropractor, paid for with their own money, to avoid having to seek treatment with Wilhelm. As Evans told ESPN: "I didn't feel like the USA bobsled team was taking what I was saying seriously, and it was becoming a distraction for me and my performance ... and so it felt like what was within my control was doing this with my teammates and just focusing on getting through the season." As a Black woman in a sport often controlled by white men, Evans added: "It was almost like I had to pick and choose my battles, like, did I want to lose my spot by continuing to push a topic that no one seems to care about?"
On Dec. 3, 2021, Evans crashed into the wall during a training session, requiring 30 stitches on her face and losing so much blood that her teammates said it looked like "someone had taken an axe" to her face, according to the lawsuit. And yet the experience was made even more painful because, when Evans regained consciousness, "she found herself at the side of her abuser, Defendant Wilhelm, who was beside her and touching her as she came out of her unconsciousness."
"It was a moment of terror for Plaintiff during an already-harrowing experience," the lawsuit said. "Throughout her suturing and blood loss, Plaintiff recalls that nurses were attempting to get Defendant Wilhelm out of their space, and that Defendant Wilhelm was even interfering with her medical care, and attempting to hold up his phone and snap photos of her with his iPhone while she was in such a vulnerable state."
After Evans returned from her injury, Wilhelm harassed her again, per the lawsuit. During the 2022 National Push Camps in Lake Placid, New York, Wilhelm tried to treat Evans while she was on the treatment table, even though Evans had said she did not want to be treated by him. When he tried anyway, she "jumped off the treatment table," the lawsuit said. At the same event, Wilhelm again tried to take images of her and her teammates without her consent.
The lawsuit names eight counts, including sexual assault and battery against Wilhelm as well as multiple counts of negligence by all the named defendants. Evans is currently out of bobsledding as punishment for missing a drug test, which her lawsuit said was on accident; the test was scheduled for soon after she'd had surgery due to the training accident. Meanwhile, Wilhelm remained with national bobsledding team until about September of 2022.

Diana Moskovitz is Defector's investigations editor. You can reach her at diana@defector.com or, if you prefer protonmail, dfmoskovitz@protonmail.com. If security is a concern, download the Signal app and send her a text at 929-251-8187.
Stay in touch
Sign up for our free newsletter