La Liga
La Liga's Racism Problem Boils Over
11:25 AM EDT on May 22, 2023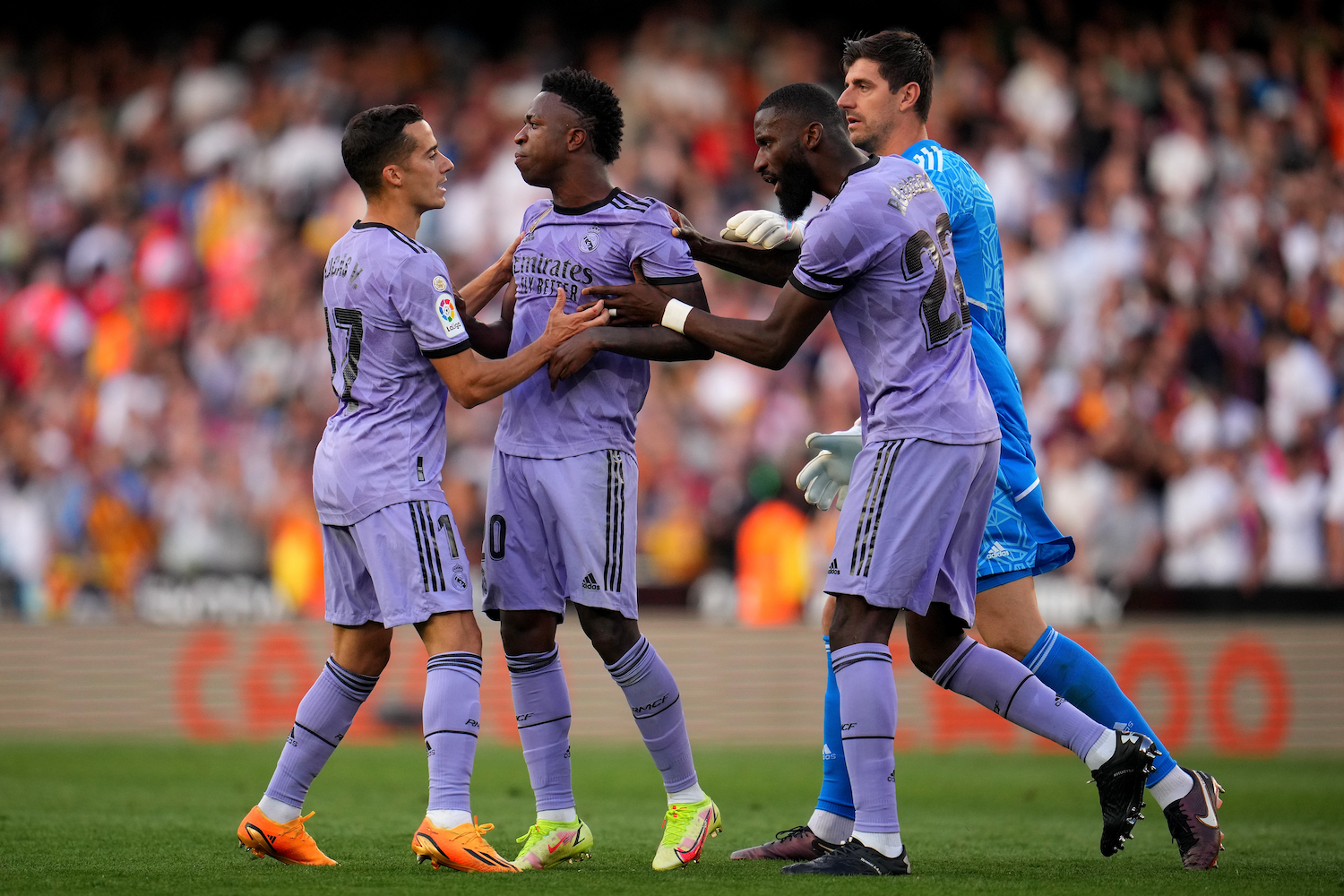 On Sunday, home fans of Valencia CF chanted the Spanish word for "monkey" at visiting Real Madrid's Vinícius Jr.: They gathered to chant it at him when he was on the team bus, arriving at the stadium, and they chanted at him during the game. In the 71st minute, Vinícius pointed out one of the abusive fans to the game's referee, and the game had to be stopped briefly; in stoppage time he was sent off for his reaction after a Valencia player hooked an arm around his neck. Afterward, Vinícius issued a statement condemning both racism in Spanish soccer and La Liga's failure to address or curtail it.
It wasn't the first time, nor the second, nor the third. Racism is normal in La Liga. The competition thinks it's normal, the Federation does too and the opponents encourage it. I'm so sorry. The championship that once belonged to Ronaldinho, Ronaldo, Cristiano and Messi, today belongs to racists. A beautiful nation, which welcomed me and which I love, but which agreed to export the image of a racist country to the world. I'm sorry for the Spaniards who don't agree, but today, in Brazil, Spain is known as a country of racists. And unfortunately, for everything that happens each week, I have no defense. I agree. But I am strong and I will go to the end against racists. Even if far from here.
This is nothing new for Spanish soccer or its fans; in fact, it happens often enough that the league has a generic anti-racist statement that stadiums play over their public-address systems, as Valencia did on Sunday, when racist abuse disrupts games. If you would like to be made sick to your stomach, search the name of any black La Liga player on pretty much any social media site and scroll through the results for a minute. Earlier this season, Athletic Club's Nico Williams was forced to shut down all his public social media accounts after fans rained abuse on him following that team's elimination from the Copa Del Rey; Madrid's David Alaba had to take similar measures after his own team's fans mobbed him with death threats online for giving a vote to Lionel Messi for FIFA's men's player of the year award. But the vilest examples take place in the stadiums themselves, where Vinícius is far from the only black La Liga player in this or any other season who has to hear people chant that he is a monkey while he is doing his job.
Vinícius in particular has had to endure unmatched levels and volumes of abuse at games this and every other year since he came to Madrid from Brazil in 2018; the Spanish newspaper Diario AS counts Sunday as at least the 10th notable incident of racist abuse toward Vinícius since 2021. Earlier this season, Real Valladolid fans threw bananas at him during a match; Mallorca fans routinely call him a monkey during games there. In January somebody hanged an effigy of Vinícius from the underside of a bridge ahead of a game against crosstown rivals Atlético Madrid. Some Barcelona fans broke out in chants of "Vinícius, die!" during that team's La Liga championship parade last week; the chants recurred on Sunday in Valencia. These are just examples.
It isn't just fans. Opponents have implicitly condoned the abuse, blaming it on Vinícius's famously flamboyant playing style, his penchant for drawing fouls on opposing defenders, his big personality. A drearily familiar ritual after each incident—it has recurred after pretty much each Real Madrid away game this season—involves opposing players and coaches generically disavowing racism, like, in concept, and then saying things to the effect that if it happens over and over again, everywhere in the league, to one player, maybe the player should examine whether he is doing something wrong. After Sunday's events, a Spanish journalist had the gall to tell Real Madrid's manager, Carlo Ancelotti, that he—along with Vinícius himself, and his teammates, and apparently thousands of others—had misheard the chant; that fans were actually chanting the word for "silly." La Liga's floridly useless president Javier Tebas, as ever, seems more interested in defending the league against Vinícius than in defending Vinícius against the hordes showing up to stadiums each week to call him a monkey and throw bananas at him.
The implications in Vinícius's statement—that Brazilians now regard Spain as a racist country, and the "even if far from here" at the end—ought to be a sobering slap to those most responsible for the long-term health of professional soccer in Spain. Even as Real Madrid and Barcelona may still be the world's two most glamorous clubs, the English Premier League has definitively overtaken La Liga in recent years as a competitive and commercial force, and most of the latter's individual clubs are broke or close to it. Money, prestige, and competition are already compelling reasons for the best players and biggest stars to prefer playing in the U.K. instead of Spain, a self-reinforcing cycle as it leads to better competitive outcomes and bigger TV contracts for the Premier League. No small part of La Liga's strength over the years has come from its Brazilian talent pipeline: Vinícius is just the latest phenomenal young black Brazilian to blossom into superstardom in Spain, and one of a handful on this Real Madrid squad alone. The crystallizing awareness of Spain as a place where a black athlete will be subjected to abuse pretty much weekly, and where authority figures will dither and equivocate and defend themselves instead of acting against it, could relegate La Liga, deservedly, to full backwater status in the sport.
That those cold business calculations could be what finally prompt Spain's soccer authorities to take serious measures against the clubs hosting this stuff is incredibly depressing. Soccer leagues elsewhere in Europe have curtailed abusive fan behavior, including racist shit, through the threat of points deductions and the enforcement of empty stadiums as penalties for clubs whose fans can't engage with the sport with anything like civility or decency. That Spain hasn't gotten around to it says just as much, in its way, as the chants themselves. But if recognition of the simple humanity of black athletes, or genuine intolerance of the abuse to which they're subjected, were going to spur action on the part of La Liga or the clubs themselves, they would have by now.
Stay in touch
Sign up for our free newsletter