MLB
Justin Verlander Pulled The Astros Out Of The Quicksand
11:58 AM EDT on September 26, 2023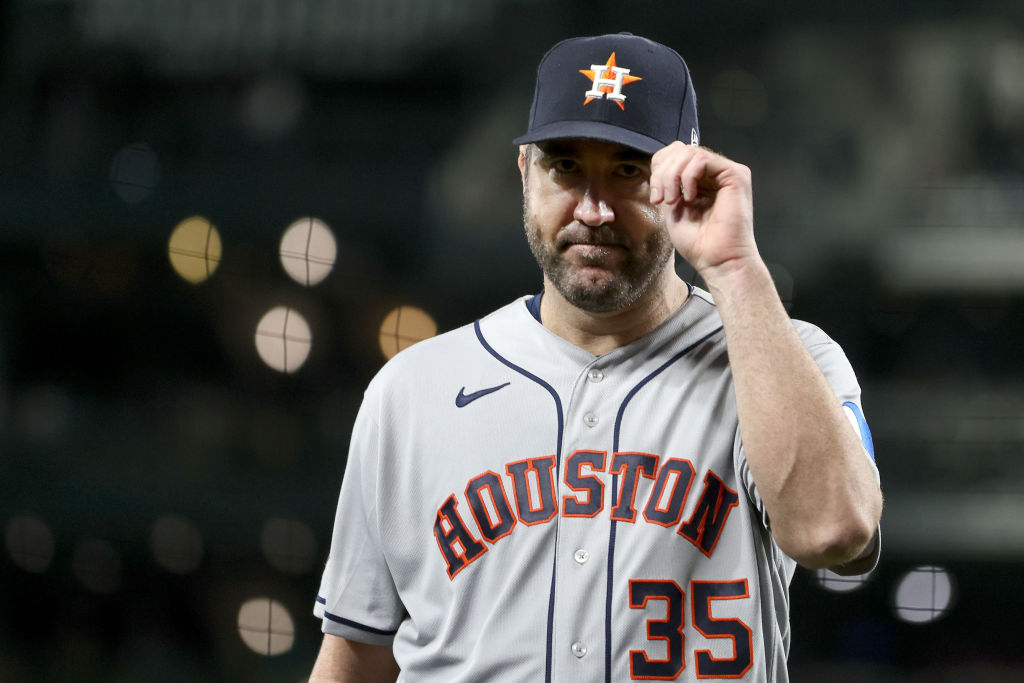 They say to open with the drama, so we'll begin with the lone suspenseful part of Justin Verlander's start against the Mariners on Monday night. His Astros had jumped out to an early 4-0 lead, but in the bottom of the third, JV allowed two singles and a walk to put the tying run at the plate with only one out. And that tying run was Julio Rodríguez, the Mariners' leader in almost every hitting stat that matters. (Except hit-by-pitch; Ty France is a magnet for those things.)
Rodríguez, born nearly 18 years after Verlander, had already had a special moment with the pitcher. As a rookie last May, still adjusting to the big leagues, he contributed to a terrible day for the Houston pitcher when he hit a first-inning two-run shot in an eventual Mariners win. Rodríguez ended up regaining possession of the ball, and later in the series he had a clubhouse attendant ask Verlander to sign it. "Hopefully it's the last one off me," the pitcher wrote.
Through several more meetings, including Game 1 of last year's ALDS, Rodríguez hadn't been able to repeat himself. But another home run off Verlander in this particular moment had the potential to change the course of the entire Mariners season. Seattle had just lost three in a row to the Rangers, and they sat a half-game back of Houston for the final wild card spot with only a week's worth of games left to make up that margin. But instead of tying the game 4-4, Rodríguez snuffed out all the momentum. He couldn't make solid enough contact on one of those vintage 12-to-6 Verlander curves, and his grounder went straight to short, allowing the Astros to turn a double play and get out of this jam.
The rest of the game was as smooth as cream cheese. While an ultimately pointless ninth-inning double led to a Seattle run and a slightly spoiled line, Verlander's eight-plus innings of three-hit, one-walk ball on only 96 pitches were exactly what Houston needed in this battle of playoff hopefuls who had each just endured horrible weekends. While the Rangers and Jays have the inside track on clinching two of the three remaining AL spots, the Astros badly booted their chances with a humiliating home sweep at the hands of the Royals, who have loved playing spoiler. Only the equally unsuccessful play of the Mariners kept this slumping squad from completely losing their grip.
"It's like Groundhog Day," Astros manager Dusty Baker said back on Saturday. "We're playing hard, they're playing good ball, but we're having trouble pushing runs across, hitting with runners in scoring position. When we do good, we're going to get a bunch of them for a period of time. I just feel that. We're so close to breaking games open. Just didn't get it done."
Alex Bregman was less cinephilic: "It feels like we're playing terrible," he said. "That's it. We're not playing good."
Verlander hasn't been immune to these issues. In a season that he started late due to injury, in which his output inevitably worsened from his Cy-Young comeback season and he had to suffer the indignity of playing for the Mets, he's been effective but never quite a sure thing. At 40, after all that arm's been through, it must be increasingly difficult to get it consistently functioning at an unhittable level week after week. In Verlander's last start, he allowed three runs in six innings as the Astros lost to the Orioles. The start before that, he gave up five to the Oakland A's—oof.
If that Julio double play finds a hole, this morning-after assay of Verlander's form could have come up completely different. But as it actually happened, Verlander was the stopper who saved the Astros' butts. Working a little more relaxed because of that early lead, JV threw more slowly than usual but got great movement on his breaking stuff, avoiding solid contact without being wild. It made for the kind of performance that most of the Astros' staff should be capable of producing—particularly Cristian Javier and Framber Valdez, Tuesday's and Wednesday's starters against the M's—but haven't done enough of lately. Even if the past month has been an ugly one, however, the Astros' experience in the spotlight means they can quickly solidify themselves as World Series threats as soon as they start playing to their ceiling. It doesn't take a long memory to know what guys like Bregman, Altuve, and Álvarez can do when they're in the postseason, and Verlander has them back on track to getting there.
Stay in touch
Sign up for our free newsletter