MLB
José Ramirez And Tim Anderson Had A Real Fight, Not A Baseball Fight
10:44 AM EDT on August 6, 2023
You know how it is in the American League Central: terrible. Awful. Pure brick. Ass. Not at all the sort of baseball that a person should watch. But.
But even in games between teams in that accursed division, even in limp and humid early August games between a pair of teams that both spent the last week actively trying to make their respective rosters as much worse as they could before the deadline for that sort of thing passed, there can be moments that pull everyone involved up and too-briefly out of the American League Central. Theoretically these could be flashes of baseball transcendence, but given that this is the American League Central those moments, when they arrive, will look a lot more like what happened in the home half of the sixth in Saturday night's game between the White Sox and Guardians.
What the sprawling brawl that followed José Ramirez's one-out RBI double lacked in baseball transcendence it more than made up for in widescreen scope and its deft use of classic dramatic tropes—timeless tragic flaws like "hubris" and "not keeping your hands up," enduring narrative themes like "man versus man" and "coach versus coach" and "Eloy Jimenez is limping." From the moment that Ramirez took exception to the tag that Anderson landed, late and not a little vigorously, on his head as he slid into second, there was a lot of everything. By duration, if necessarily not by intensity, there was a lot of the usual shouting and standing around that makes up the average big-league brawl. There was notably more visual comedy and more White Sox-style black comedy than the norm, as well. Mostly, though, thanks to one flush right hook from Ramirez, there was much more concisely and vigorously applied violence than baseball fans have seen since Rougned Odor's chain spun a perfect 360 at Jose Bautista's expense back in 2016.
First things first: Tim Anderson is going to be stuck with this one for the rest of his days. He has been suffering through a truly brutal season even relative to his extremely sad team, and just last week snapped a 419-plate appearance, 96-game homerless streak. But Anderson has had a fantastic career and the game as a whole is better and more fun when he's playing well. Everyone who cares about baseball being good should absolutely hope that he's got more fine years ahead. This will make it easier to take, hopefully, when casual fans catching Anderson batting in an All-Star Game or turning two in October will think to themselves, "Is that the guy who dropped his glove behind second base, feistily struck the Notre Dame Fighting Irish Logo stance, and then absolutely got whomped by José Ramirez in August of 2023?" Yeah, actually. Same dude.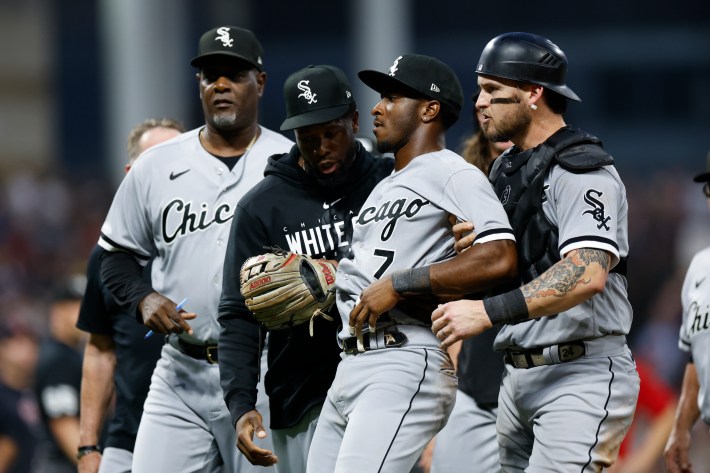 The moment that this dispute went from the usual point-and-shout affair to something more obviously cinematic came when Anderson shook off his glove and squared up, and he'll likely bear some responsibility for that when the league announces whatever discipline it announces. But when second base umpire Malachi Moore swiftly quit the scene like a NHL official, the responsibility for that decision was already rushing downhill towards Anderson, or more precisely heading his way along a broad arc, from the right.
Given that Ramirez was being restrained by towering White Sox starter Michael Kopech at the time, the looping right hand he landed on Anderson's unprotected right jaw was shockingly powerful. Or maybe Anderson was off balance after the wild combo that he'd thrown himself. Either way, the result was indisputable insofar as Tim Anderson was very abruptly and very decisively on his ass. Ramirez's knockdown was so clean that Guardians radio broadcaster Tom Hamilton was moved to pay extemporaneous tribute to Howard Cosell with his call.
By the time the bullpens, which had filed in a brisk but orderly fashion down their shared staircase and into the outfield so that they could join the brawl, arrived on the scene, Ramirez might as well have been giving a post-fight interview to a pained-seeming Jim Gray while one of his uncles held a championship belt up above his head. As it was, Ramirez explained himself after the game, through the team interpreter. "It's not from yesterday or from before," he said. "I even had the chance to tell him during the game, 'Don't do this stuff. That's disrespectful. Don't start tagging people like that.' In reality, we're here trying to find ways to provide for our families. When he does the things he does on the bases, it can get somebody out of the game." (Anderson was not made available to the press after the game, although the team noted that he was not injured.)
If things had ended with that 10-8 round for Ramirez, it would still have been notable. But while things had peaked by then—Anderson was ejected and helped off the field by his teammates, for what we might as well assume will be the only time—they were by no means over.
There was, for one thing, a proper second act. This began as a surprisingly heated Coachfight in foul ground, which spun up unexpectedly from the winding-down, Everybody Milling Around Saying "Hey Whoa" sort of situation that followed Anderson vs. Ramirez. The Coachfight led in turn to a separate little squabble along the first base line. In what retrospectively seems like either an overstated or poignant act of foreshadowing, NBC Sports Chicago cameras found White Sox outfielder Eloy Jiménez standing outside the fray waving his arms, "saying," White Sox color commentator Steve Stone said, "pretty much, 'Can we all get along?'"
The very existence of this paragraph answers that question. Once everyone got the coaches to relax, things returned to the uneasy Everybody Milling Around Saying "Hey Whoa" stage again, and seemed even to be trending towards the traditional Walking Away Saying "That's What I Thought" endgame.
This was when Tim Anderson returned to the field. This time, White Sox first baseman Andrew Vaughn, who had struggled to hold Anderson back during the earlier stages of the brawl, figured out a more effective way of restraining his teammate. Vaughn got behind Anderson, picked him up, and simply carried him away from more trouble like a pet owner removing a too-bossy corgi from an overheated dog run. Vaughn toted Anderson halfway up the first base line and back into the dugout; for a second and final time, Anderson disappeared into it.
It seemed a delightful bit of physical comedy to wrap things up, until the TV cameras caught Jiménez again. This time, the former voice of reason and 2020 Silver Slugger Award recipient looked extremely distraught just outside the home dugout. "Just totally apoplectic," White Sox play-by-play announcer Jason Benetti says. "And maybe...he hurt himself in all of this?"
There were still some dregs remaining. Mike Clevinger's name got mentioned somewhere in there, and his leering image is briefly seen on TV, but the fuse was out on the broader affair to the point that even Mike Clevinger was unable to make things worse. What followed was some more lite milling about, some yapping from Emmanuel Clase and Clevinger, and, finally, the wary return of the teams to their respective dugouts.
It is then that the camera returns, brutally and inexorably, to Jimenez. "He's not walking particularly well at this point," Stone notes. It is only at this moment that equilibrium is restored to it all, and the viewer is inarguably back to watching an AL Central game. Seems like a good time to head out.
Stay in touch
Sign up for our free newsletter