Soccer
Jérémy Doku Unleashed
9:49 AM EDT on October 24, 2023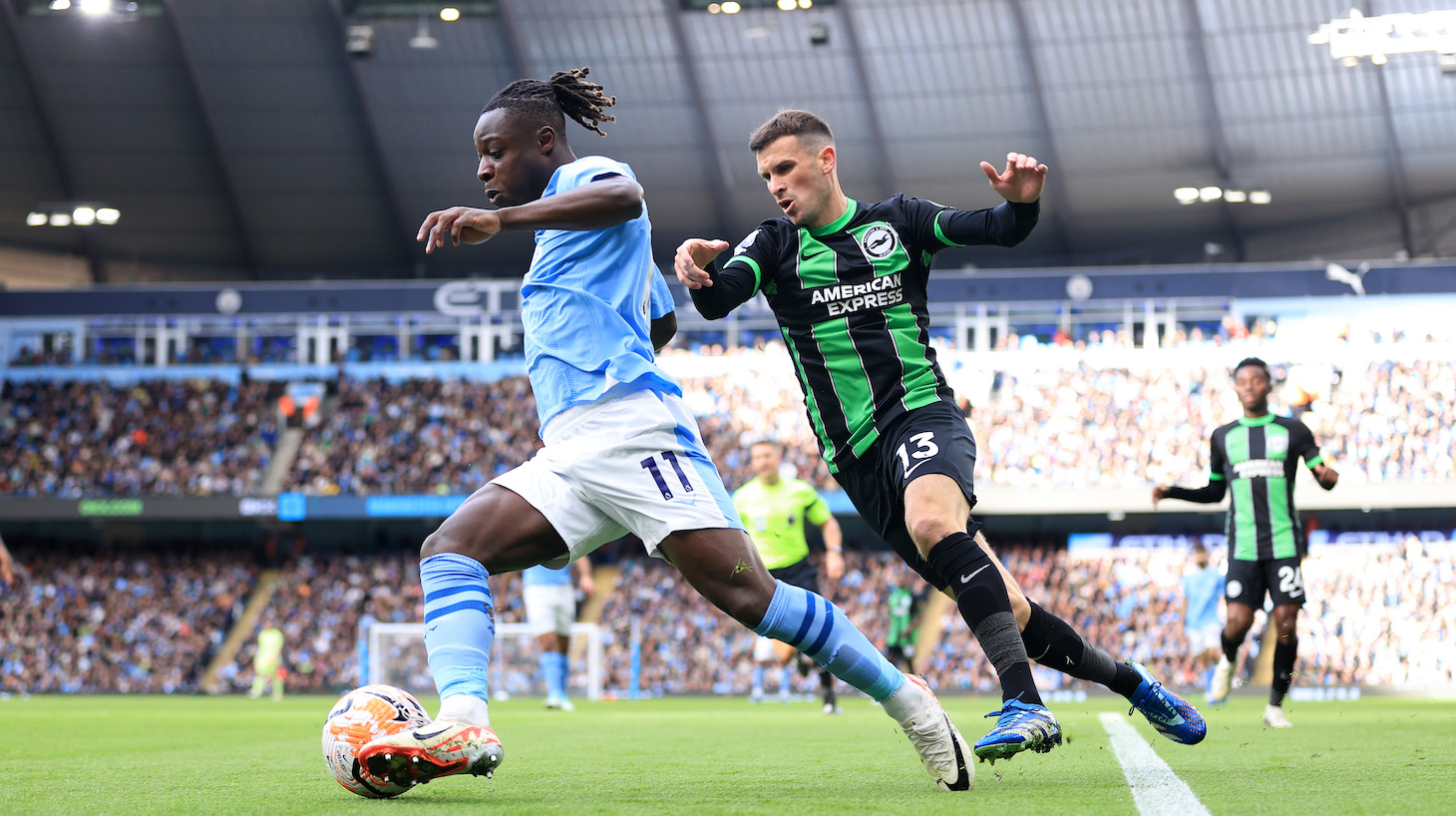 Pep Guardiola is obsessed with control. If there's a downside to his otherwise brilliant and obscenely successful managing style, it's the way he will sometimes take very cool players, ones who thrive on movement and spontaneity and risk, and sand off all of those jagged, thrilling edges until what remains is a proficient but dulled cog that slots perfectly into his greater tactical schematic. With Guardiola, it's only the truly special players to whom he grants real freedom.
And that very well might be the highest praise one could give to Jérémy Doku. Doku is only 21 years old, has yet to achieve any particular accomplishments of note during his young career, and has only recently joined the reigning treble winners in Manchester. But the magnitude of his talent has already convinced Guardiola to eschew his micro-managing predilections and let the Belgian winger loose.
Much like the Man City-Arsenal showcase from the last Premier League weekend, Saturday's Man City-Brighton & Hove Albion match was a clash of two teams both defined by their managers; more so than Erling Haaland vs. Kaoru Mitoma, this contest was heralded as Guardiola vs. Roberto De Zerbi. But like that previous City-Arsenal affair, Saturday's match was actually decided not by the blackboard strategizing of the two managers, but rather by the destabilizing influence of one player whose talent and confidence commandeered the game. Like Gabriel Martinelli two weeks ago, this time it was Doku who made the difference.
Even days later, whenever he closes his eyes, I'd be surprised if James Milner sees anything other than Doku bearing down on him. The nightmares the aged Englishman must be having—I imagine Doku as the Devil himself, pitchfork in hand, eyes aflame, red horns peaking out from his ponytailed dreads—feature repeated torchings only somewhat more metaphorical than the ones Milner was subjected to during Saturday's first half. And could you blame him? Doku is possibly already the most fearsome dribbler in England.
Statistically, Doku sits either atop or right near the top the league's leaderboard for dribbles attempted, dribbles completed, progressive carries, progressive carry distance, and carries into the penalty area (all stats per 90 minutes, from FBref). Physically, I don't think there is a more devastating burst of pace in world soccer at the moment. Notably quick first steps are often called electric, lightning-fast, or explosive, but these straightforward comparisons are insufficient when applied to Doku's signature trick. From a standstill, Doku leans forward and tenses his thighs; with that, power stations erupt in a shower of flame and sparks, and an entire city's electric grid melts away. The stadium goes dark, but only for a second as the auxiliary generator kicks in. But Doku is already gone, a yard down the pitch that might as well be a mile. He will not be caught.
It only took 45 minutes of Doku trampling all over Brighton for City to establish a lead that would not be surmounted. Five minutes in, Doku picked up the ball in space on the edge of the penalty box, sped forward, and whipped a shot that, with a little more composure and accuracy, could've given City the lead. Not even two minutes later, Doku received the ball in a similar position, lured in Pascal Gross, accelerated down the flank, slowed down to let Gross catch up, feigned helplessness with his back to the game and with little room to escape, before exploding into a turn at a completely unexpected angle down the touchline, leaving Gross for dead and sliding in a cutback pass that Julián Álvarez redirected into the net.
Doku didn't play a direct hand in City's second goal—which came from City's other physical marvel, Erling Haaland, in the 19th minute—but throughout that opening period of play, Doku was the one who assured the Citizens' superiority. Guardiola may love his tactical labyrinths, but he's no fool; he knows that when you have a dribbler of Doku's stature, you get him in space, club the ball out to him, and let him run riot. Simple, direct, and ruthlessly effective. By halftime, Doku had completed four of his five attempted dribbles, had literally ran Milner off the pitch (De Zerbi took him off during the break), and transformed City's left flank into a realm of chaos and speed and danger—an environment hazardous for Brighton's defenders and De Zerbi's tactics and probably also Guardiola's stress levels, but in which Doku was sovereign.
It's not yet clear whether Doku has already cemented himself as the presumptive starter on the left wing. He competes for playing time there with Jack Grealish, one of those very cool players who Guardiola has sanded down into something effective but less distinctive. But what Doku has already earned from his legendarily regimental manager is the right to freedom on the pitch, something that probably only Kevin De Bruyne similarly enjoys on the current roster. Guardiola will no doubt shape the version of Doku that exists in the future—the manager does after all provide oodles of one-on-one opportunities for the Belgian to shine, and by refining his decision-making and polishing his final gestures when it comes time to pass or shoot, Guardiola will likely help Doku grow into a true superstar—but it's evident that Doku's paths ahead will be charted by Doku himself.
Stay in touch
Sign up for our free newsletter