NBA
James Harden Knows
8:58 AM EDT on May 8, 2023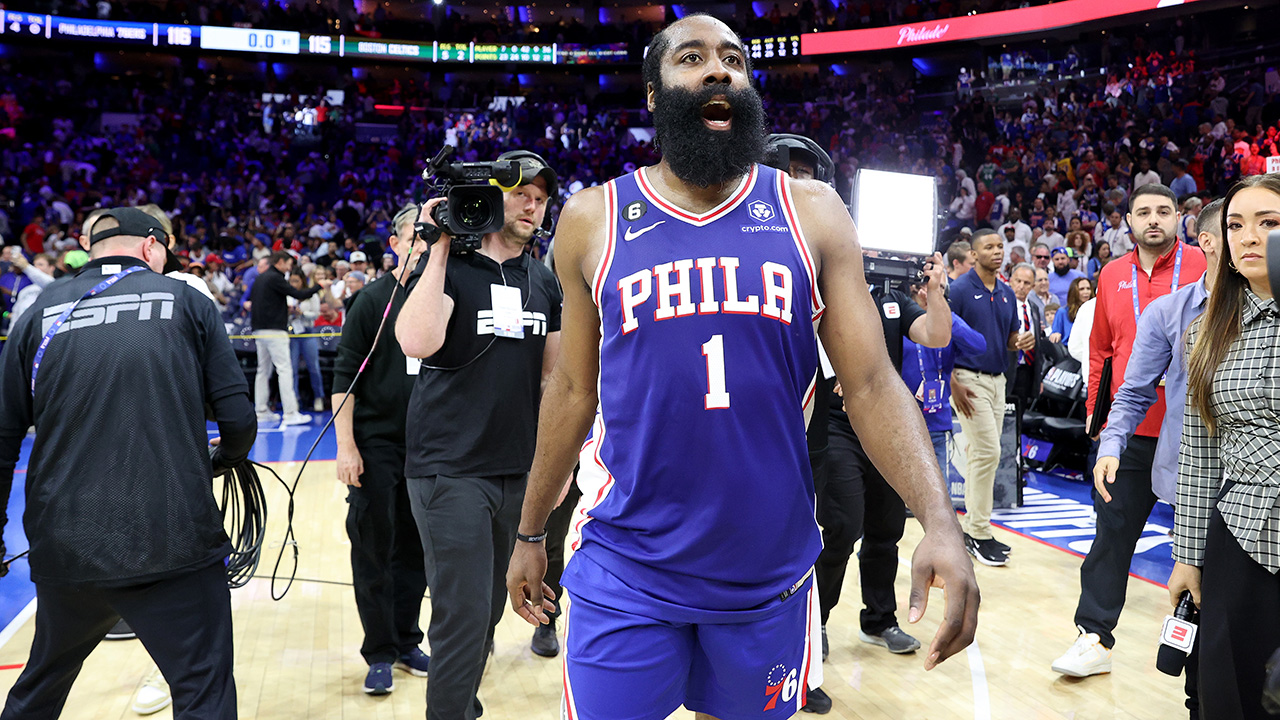 PHILADELPHIA — Before Sunday's game, 76ers coach Doc Rivers did something he'd never done before: He texted James Harden a link to a song. After scoring 45 points in Game 1 of the Eastern Conference semis, Harden slumped through two big Celtics wins. He was 5-28 from the floor. The Sixers season was slipping away. Rivers sent Harden "You Know My Name," a gospel song by Tasha Cobbs Leonard. Based on how Harden played today, it is a heck of a motivational song.
Harden capped off a 42-point night by hitting the game-winning three-pointer with 16 seconds left in overtime. The Sixers' 116-115 victory evened their series with the Celtics at 2-2. The teams play Tuesday in Boston.
"He sent me a song," Harden said. "It's a gospel song and I'm like, 'Alright, whatever.' So I just told my homies let's put it on. It's a seven minute song! I let the whole song play and I'm like, 'Alright, there gotta be some good ju-ju in this song.' However he's feeling, I gotta feel like that. It guess it worked. It's the first time he ever texted me a song. I wanted to see how he was feeling."
Leonard's song is not your typical pregame pump-up music. It is slow. It is about Jesus. It it not usually played at basketball games. Leonard, who takes over from featured artist Jimi Cravity about two minutes in, is a wonderful singer. It is not James Harden's usual jam: When TMZ asked him what he was listening to last year, Harden played Bino Rideaux's "Bother You." That song has just a few more cuss words than "You Know My Name." Rivers thought it was appropriate to send to Harden, though.
"We talked," Rivers said, "and probably 15,000 other people probably talked to him. But James, you know, I sent him a gospel song before the game and title of the song was 'You Know My Name.' And James Harden was James Harden tonight."
Alright, whatever. Imagining that this song inspired James Harden to victory is fun, but Rivers hit on a factor with a bit more causality in his postgame press conference as well: Harden's game-winner was a catch-and-shoot three. This was once a shot Harden almost never attempted. Last regular season, Harden shot 1.1 a game (7.3 percent of his shots). This regular season, Harden took 1.9 a game (13.4 percent). Throughout his career, Harden was a real outlier: Nobody dribbled more before taking three pointers than he did. This season, he was asked to take more shots without dribbling at all.
"I watched in the summer," Rivers said. "We watch him every day, and he works on it. He works on it. But it's something he hasn't done his whole life. And the last shot to win this game was a catch and shoot shot from James. Tell every freaking kid: 'Work on your weaknesses. Keep working on 'em. And you never know.' Tonight was that night for James."
The game-winning play design was pretty simple: Harris curled off a screen, the Celtics switched, and so Jayson Tatum was covering Embiid instead of Marcus Smart. Embiid forced his way inside, then passed it back to Harden. He'd inbounded the ball and had been standing in the corner wide open after Jaylen Brown doubled Embiid in the paint. The shot was good.
The Celtics still could've had the comeback win. Smart hit a three-pointer that came just after the buzzer; he'd also missed a three at the buzzer in regulation. The play was basically the same each time: Tatum drove to the basket, three Sixers defenders collapsed on him, he kicked it out to Smart. "We just went a little slower than we expected," Smart said of the final play in overtime. "We wanted to go really fast. They did a good job of getting their guys on the right people and making a play."
Harden, who was 16-of-23 from the floor, also had eight rebounds and nine assists. He was so good it looked like the Sixers might win this one going away. After weathering an early Boston spurt, Philly led by as many as 16. (I assume this mattered even less than to the Sixers' win than a gospel song, but: They really started going in the first quarter after the arena showed Wanda Sykes on the big screen.)
The Sixers got tired. The rotation was shortened to eight. Harden played 47 minutes, Joel Embiid 46, Tobias Harris 45, Tyrese Maxey 44. Even subtracting the five minutes of overtime, this was a playoff high in minutes for everyone but Harris. The Celtics kept the game within reach with spurts at the end of the second and third quarters, cutting double-digit leads to nine points in the final minute of each. A 10-0 run, ending with a wide open Al Horford dunk, gave them the lead with 3:51 to play. The Celtics increased their lead to 105-100 on a Malcolm Brogdon three, and it looked like it might be over for the visitors instead. But Harden hit a jumper, and P.J. Tucker got a three-point play after an offensive rebound to tie it. The Sixers ended up with their own rally to win.
Tucker did his postgame presser with Harden. He had one comment about Leonard's "You Know My Name": "You're gonna play it again on Tuesday." Hey, whatever works.
Stay in touch
Sign up for our free newsletter