NBA
James Harden Is In The Mud
2:29 PM EST on November 13, 2023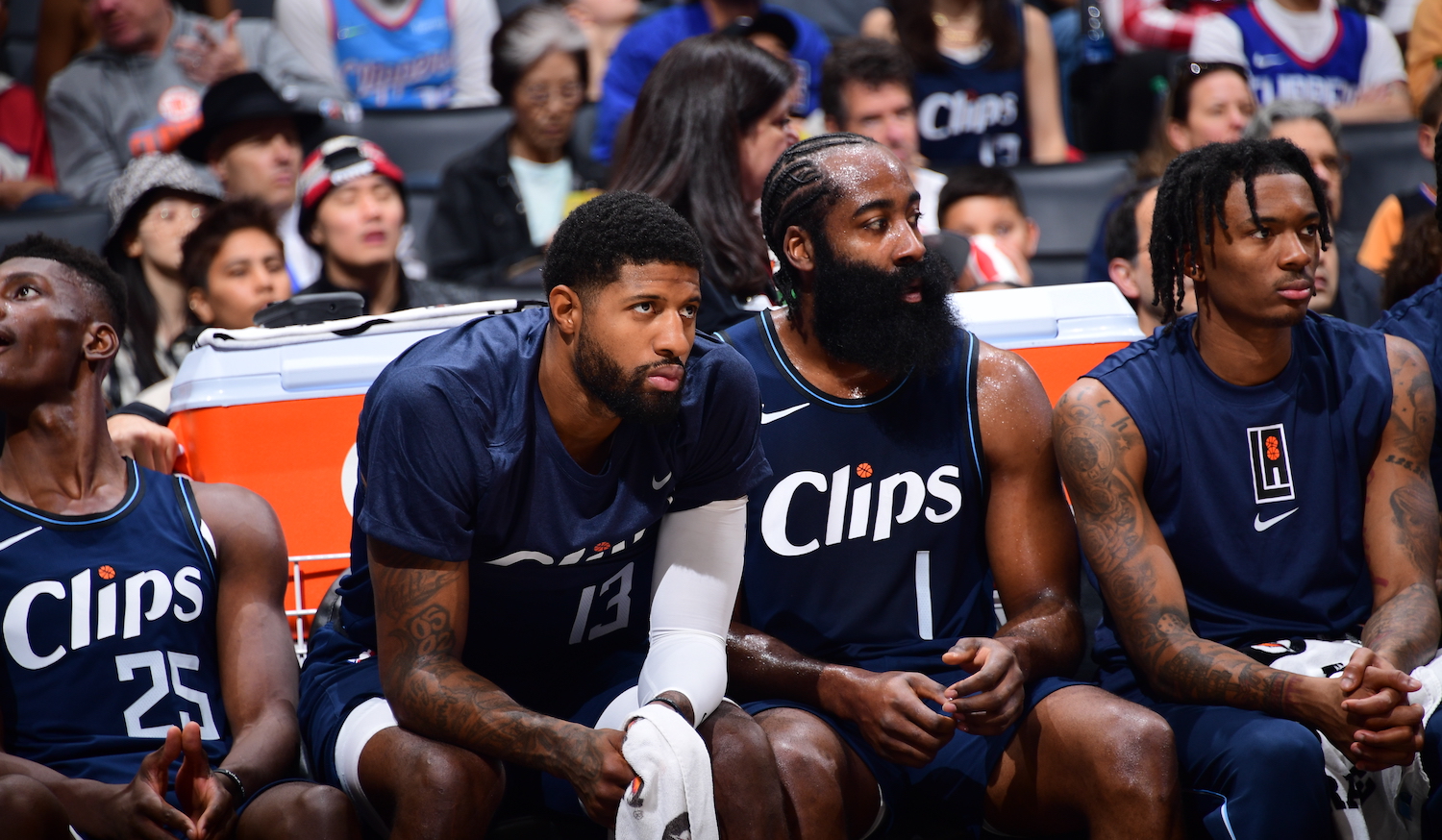 As a feat of physical comedy, the following James Harden lowlight is nigh-untouchable. Harden has Grizzlies big Santi Aldama on a switch in the middle of the shot clock in the first quarter on Sunday, and as Kawhi Leonard trudges to his left to join his teammates on the spectators' side of the court and drag Marcus Smart out of position to cover the drive and the kick, Harden dusts off each of his shoes, first his right, then his left. It's as if he's the Road Runner, spinning his feet before hitting the ground, telegraphing his intent to zip by Aldama and get to the rack.
Or, anyway, that's what it might look like if you've been watching James Harden over the last decade and change. The James Harden of yore was like an organism purpose-evolved for the hunting and punishing of these sorts of mismatches; the threat of his burst and grim, actuarial foul-drawing abilities were scary enough to keep any shot-blockers from getting into stepback range. In this play, though, Aldama stands his ground as he watches Harden dribble, once, twice, thrice, taking a half-step back as Harden starts to jab, but only to coil himself to contest the shot. Harden, once a shark and now moving like a sea cucumber, oozes into a pocket of space that's not really there, airballs so badly that the shot functions more like a pass, gets the ball back, and then tosses Bismack Biyombo the floater equivalent of an alley-oop. Biyombo is on the Grizzlies, though, so that shows up in the box score as a blocked shot. The possession ends in a shot clock violation, with James Harden on the floor.
The Clippers lost the game, 105-101, with Harden logging an impressive minus-28 in 29 minutes. It's the best effort they've mounted in the five games since they've acquired Harden; he's played in four of those, all of which the Clippers have lost. The team is minus-67 with Harden on the floor, and plus-24 with him on the bench. They have played their four slowest games of the season since the trade, down about four possessions per game and they've sagged back to 22nd in pace after starting the season out flying.
Making any significant trade four games into an NBA season is always going to produce weird results, as the Clippers now have to accommodate a new, ball-dominant star on the fly and reshuffle a rotation finally shorn of several redundant wing defender guys, all against teams that spent the summer preparing to play with intact rosters. The gambit the Clippers made in their trade with Philly—it amounts to a hilarious, presumably unintentional homage to the Morey theory that bad chemistry is a market inefficiency—was that Harden's talent as a playmaker and shooter would un-gum their stodgy offense, and add a little extra pep to a group otherwise obsessed with standing around and watching each other dribble for 14 seconds. You can see how that has worked.
Tyronn Lue bit the bullet and integrated Harden into the surliest possible lineup in the NBA alongside Russell Westbrook, Paul George, and Kawhi Leonard, apparently unaware that Harden is also enamored with standing and that a grumpy 34-year-old guy who lost his zip last year would not suddenly regain it when plopped into a dynamic where bipedal motion is actively discouraged. Inertia, in other words, is dabbing on the Los Angeles Clippers.
---
The Clippers benefitted immensely from signing Russell Westbrook after the trade deadline last season, because he likes to run with the basketball and get easy buckets for a team otherwise dedicated to only taking and making the most difficult shots. The Harden acquisition works on a somewhat similar axiom, though his skills as a passer (he's still a virtuoso of the pocket pass, in particular) have been diminished, to an apparently disastrous degree, both by the Clippers' lethargy as an off-ball team and by Harden's lack of juice off the dribble.
Without bending the defense, it doesn't matter how good of a passer you are, and so instead of Harden slicing up compromised defenses, the offense has turned into various Clippers taking turns trying to dribble by defenders while the others stand around and watch. It looks so ugly and disjointed. They've made the fewest passes per game in the whole league by 15 since Harden's started playing. A lot of those passes have looked like this.
This would be funny even if the Sixers were struggling since trading Harden, but in fact they have been the best team in the NBA since the trade, and precisely because of Harden's absence. Without a plodding stepback artist in his way, Tyrese Maxey has assumed lead guard duties for the Sixers and seized his moment. The Sixers have won their last eight games, and the only blemish on their record this season is a one-point heartbreaker in their first game of the season in Milwaukee against the Bucks.
More importantly, they are riotously fun to watch. Maxey only plays at top speed, which is very fast if not quite as fast as De'Aaron Fox's. But what makes him stand out is his commitment to running, all the time, in situations where opponents wouldn't expect a point guard to be committing to a full sprint. That dedication gets Maxey into these lovely, ersatz playmaking situations and keeps the defense continually off balance. He'll slip a screen and teleport to the corner, or dump it off and scream to the basket without hesitating for one second. Last night, Maxey destroyed the Pacers with 50 points, leaving Bruce Brown's brain scrambled.
It's a thrill to watch, and Maxey's play has made the Sixers totally dominant. Maxey is putting up 28.6 points and 7.2 assists on 51/43/93 splits, and he never, ever turns it over (career-low 4.7 turnover percentage on career-high 26 percent usage). The most stunning stat here is that the Sixers are eighth in pace this season, a minor miracle for a Joel Embiid team; it's akin to a starfish chasing down an eel. One might wonder if the Sixers would have enough pop after the trade, since they flipped a guy who won them two second-round playoff games for a couple of aging wings and draft picks, but it hasn't been an issue. Nick Nurse is letting Maxey step into audacious pull-ups, he has Tobias Harris playing with joy again, and his trust in Kelly Oubre, before a car driver ran him over and broke his ribs, was paying off in a fantastic redemption arc. It is remarkable how much getting rid of James Harden alone has made things better.
The Clippers can't seek such a balm for themselves, as they are now so overleveraged and bereft of excess draft capital that they don't really have a better option than trying to make this all work out. They're in the lab trying stuff, and one has to assume they will at some point win a game, despite Harden or because of him. Unfortunately, these two teams don't play each other until March, because the idea of the Clippers having to contain Maxey on one end and figure out how to score while all five players stand completely still on the other is a very funny prospect to imagine.
Stay in touch
Sign up for our free newsletter