NHL
It's Really Been A Week For The Senators
11:23 AM EDT on November 2, 2023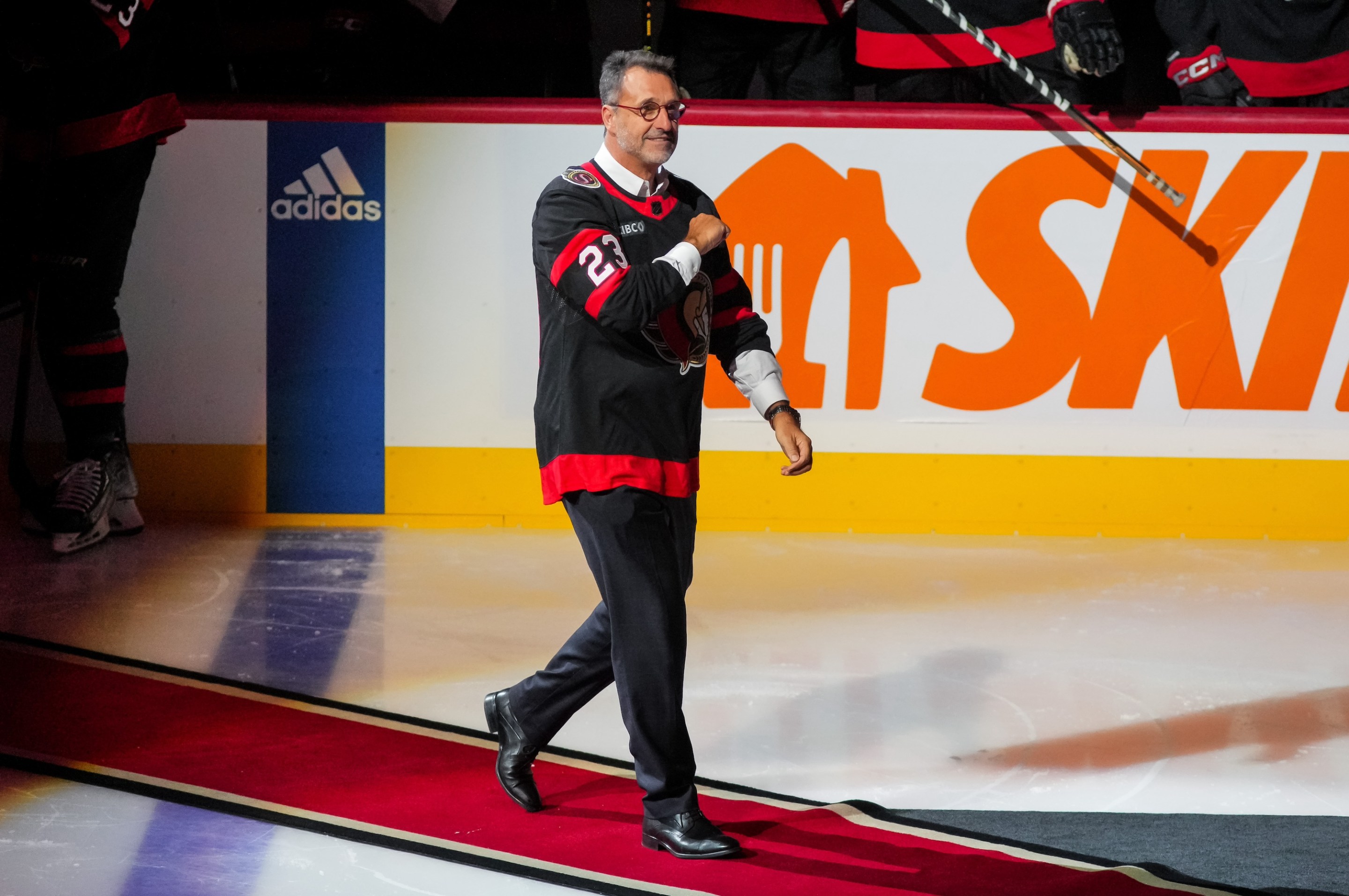 New Ottawa Senators owner Michael Andlauer held an unpleasant press conference—the first of many, if the history of this franchise is any guide—on Wednesday to announce the firing (sorry, "resignation") of longtime general manager Pierre Dorion. There was indeed a "last straw," as Andlauer alluded to, but there didn't have to be for this move to be inevitable.
Upon Dorion's promotion to GM in 2016, the Senators promptly made the Conference Final, then proceeded to rack up six straight DNQs. Multiple rounds of rebuilding have stalled or sputtered, multiple prominent players have forced their way out of Ottawa, and the organization has generally been surrounded by a persistent air of dysfunction. A lot of that could be blamed on previous owner Eugene Melnyk, who died last year, but not all of it, and none of it now. Much has been promised and nothing delivered, and it was past time for a fully fresh start. But, this being the Senators and not a normal franchise, wiping that slate clean just had to be messy as hell.
First, let us discuss the next-to-last straw. Last Friday, unsigned center Shane Pinto was suspended 41 games by the NHL for still-mysterious gambling-related reasons. The league release went out of its way to state that Pinto was not punished for betting on hockey, but since betting on non-hockey sports is not against the rules, it wasn't and isn't clear what Pinto actually did wrong, and no one seems in a rush to explain. Elliotte Friedman dropped a hint. "One of the major issues leading to Pinto's penalty was along the lines of "proxy betting," Friedman reported, "where another individual or individuals have access to a legal account in his name." Vaguely ominous! Yet still vague.
Even before the suspension, Bruce Garrioch of the Ottawa Sun reports, Andlauer was upset with the front office's handling of Pinto. He was unsigned because the Sens had maneuvered their way into not having enough cap space to sign him, and were going to have to trade away a useful asset to clear space. Dorion did not earn any brownie points with his new boss by breaking that news to him, one suspects.
Now we get to the Dadonov thing. In the 2021 offseason, Ottawa traded winger Evgenii Dadonov to the Vegas Golden Knights—but failed to inform the Knights that the contract the Sens had given him included a limited no-trade clause to certain teams. One of those teams was Anaheim, which was revealed to everyone's surprise when Vegas tried to trade Dadonov to the Ducks in March 2022. The trade was voided, and a league investigation launched into Ottawa's administrative oversight.
It's still not known whether the Senators failed to inform the Golden Knights of the no-trade clause intentionally—a lack of a NMC makes for a more appealing trade target—or merely negligently. Either is a pretty sizable fuck-up. The former would represent an attempted evil-genius scheme that you'd have to be stupid to think would work. The latter would represent incompetence. Tough call.
On Wednesday morning, the NHL announced its investigation was complete and the Senators will have to forfeit a first-round draft pick of their choice in the next three drafts. This was the last straw. Aware of the impending punishment, Andlauer said he had dinner with Dorion Tuesday night and the GM was told to hit the road. (This brings up an etiquette question. At what point of the dinner do you tell him he's out? Do it late, over digestifs, and the poor bastard feels like an ax is hanging over his head the entire time. Do it early, when the bread arrives, and the rest of the meal has to be awkward as hell.)
"At the end of the day, we're at fault for what transpired," Andlauer said at his Wednesday press conference. "We can argue about how harsh this penalty was, but ultimately this could have been avoided. ... [L]et's put it this way, a lot of the decisions that have been made and a lot of the situations that we've had could have been avoided."
"Why I inherited this is beyond me," Andlauer said in a quote that is extremely funny if you pretend he was talking about the Ottawa Senators. In fact he was talking about the punishment for an action that took place under the previous regime, and the extended time between malfeasance and discipline. He said the NHL never informed him during the franchise purchase process that the investigation was still ongoing, and he's got a point. Not that it would have necessarily derailed the sale, but a first-round pick is a significant asset, and a non-Mickey-Mouse league would've made prospective owners aware that this was potentially in play.
"I am looking forward to less phone calls from the NHL," Andlauer deadpanned.
His clean slate will have to wait a bit, until the pick is forfeited and until his hockey ops guy Steve Staios can hire his own coaching staff. Head coach D.J. Smith and his assistants are all in their final years of their contracts, so the only drama is whether they serve out the season or not. The Senators are 4-4-0 and in last place in the Atlantic, so there should be plenty of last straws still to come, should Andlauer require another.
This has been Senators Week. Thank you for your attention.
Stay in touch
Sign up for our free newsletter