MLB
It's Hard To Be A Youth At The World Baseball Classic
5:29 PM EDT on March 14, 2023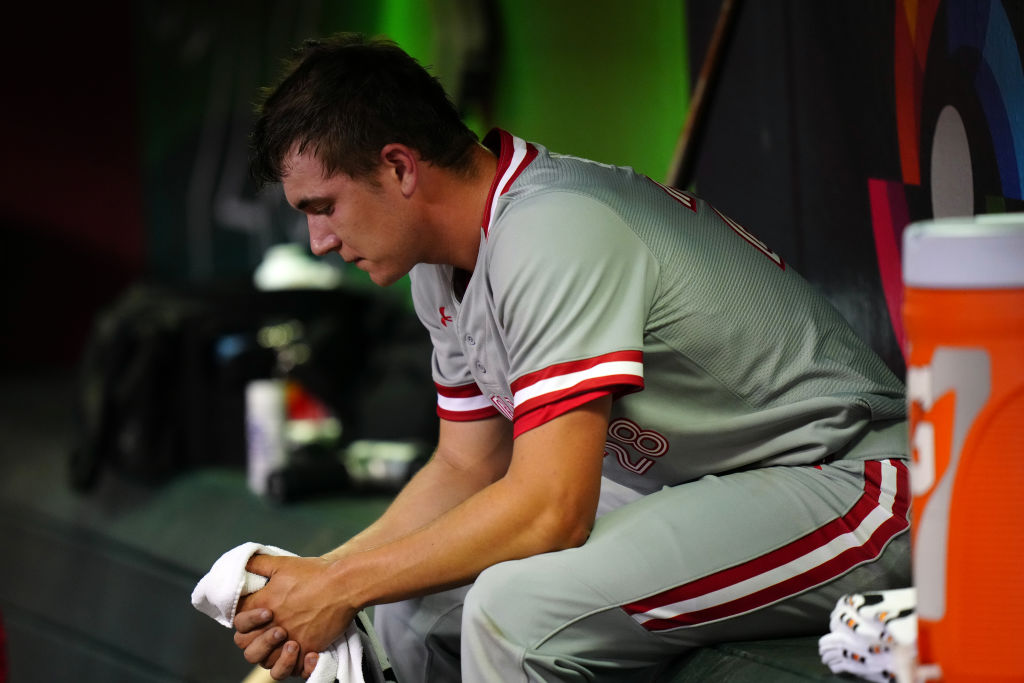 Stars are born at the World Baseball Classic, under the bright lights and insane circumstances of international competition. Duque Hebbert, a 21-year-old right-handed pitcher from Nicaragua, was asked on Monday to retire the meanest part of the Dominican lineup: Juan Soto, Julio Rodriguez, Manny Machado, and Rafael Devers. Hebbert told MLB.com about the moment the bullpen phone rang and he realized who he'd have to face in the top of the ninth. "I was like 'Oh my God. I got the toughest part of the lineup," he said.
Rather than come down with a sudden and severe case of ulnar collateral ligament damage, Hebbert found it in himself to go out there and pitch to four exceptionally scary hitters. He struck out Soto in three pitches, drawing a big whiff with his changeup, and put Rodriguez away with an 80-mph slider. He gave up a double to Machado, but got Devers to swing and miss on the changeup again, after falling behind 3-1. Hebbert couldn't see the anguished faces Soto and Rodriguez made as they walked back to the dugout, but he did see the thumbs-up Devers gave him when the inning ended.
In the Nicaragua dugout, some very proud coaches and teammates awaited Hebbert. "All my teammates were hugging me, because I'm the youngest on the team," he said in Spanish in an interview afterward. A contract also awaited Hebbert; a member of the Team Nicaragua staff works as a scout for the Detroit Tigers and asked if he'd be interested in signing with the team. He agreed immediately, but told MLB.com he plans to officially sign the contract when he returns to Nicaragua, so that his mother and grandmother can be with him when he signs it.
The lovely tale of young Duque Hebbert must be cherished, because there is another more unfortunate way this can all go: the way of Mitch Bratt. A 19-year-old Texas Rangers prospect who has never pitched above Single-A, Bratt had to start for Team Canada in its game Monday against the U.S. He was facing not only a stacked roster, but a vengeful one. The previous night, Team USA had been dominated by Mexico, 11-5. I would badly like to tell you that this good Newmarket boy shut down the vile Americans Hebbert-style, but what happened instead was Mookie Betts singled, Mike Trout walked, Paul Goldschmidt walked, Nolan Arenado doubled to score Betts and Trout, Kyle Tucker's sac fly scored Goldschmidt, Tim Anderson walked, and J.T. Realmuto singled to score Arenado. With two on, one out, and four runs already on the board, Team Canada manager Ernie Whitt took Bratt off the mound. Teammate Freddie Freeman and the gaggle of infielders tried cheering him up, but the young pitcher was bummed.
The two runners on base ended up scoring in what would be a nine-run first inning for the U.S., so Bratt's final line looked pretty ugly. The players on Team USA were mostly glad to have bounced back from the loss to Mexico, but they felt some sympathy for Bratt. "Faced a tough lineup, but he competed," said Anderson. "Everybody in this game is going to go through a rough stretch," Trout said. "It's how you come out of it. You've got to have that mentality to come out of it. I think I look back and when I first came up I struggled, but I learned from it. And, like Tim said, it's a tough task for a young kid. I think he's, what, 19 years old?"
Bratt possesses both the strength of spirit and the selective memory that keep athletes from giving up and moving to the woods after one miserable outing on national TV. An Arizona Republic story about the game includes this sweet bit about Bratt's reaction to Trout's words: "As a reporter relayed that quote to Bratt, he broke into a smile and said, 'That's pretty cool coming from him.'" It's not a contract offer, but it's nice.
Stay in touch
Sign up for our free newsletter