Soccer
Isco's Career Renaissance Is Better Late Than Never
11:19 AM EST on November 6, 2023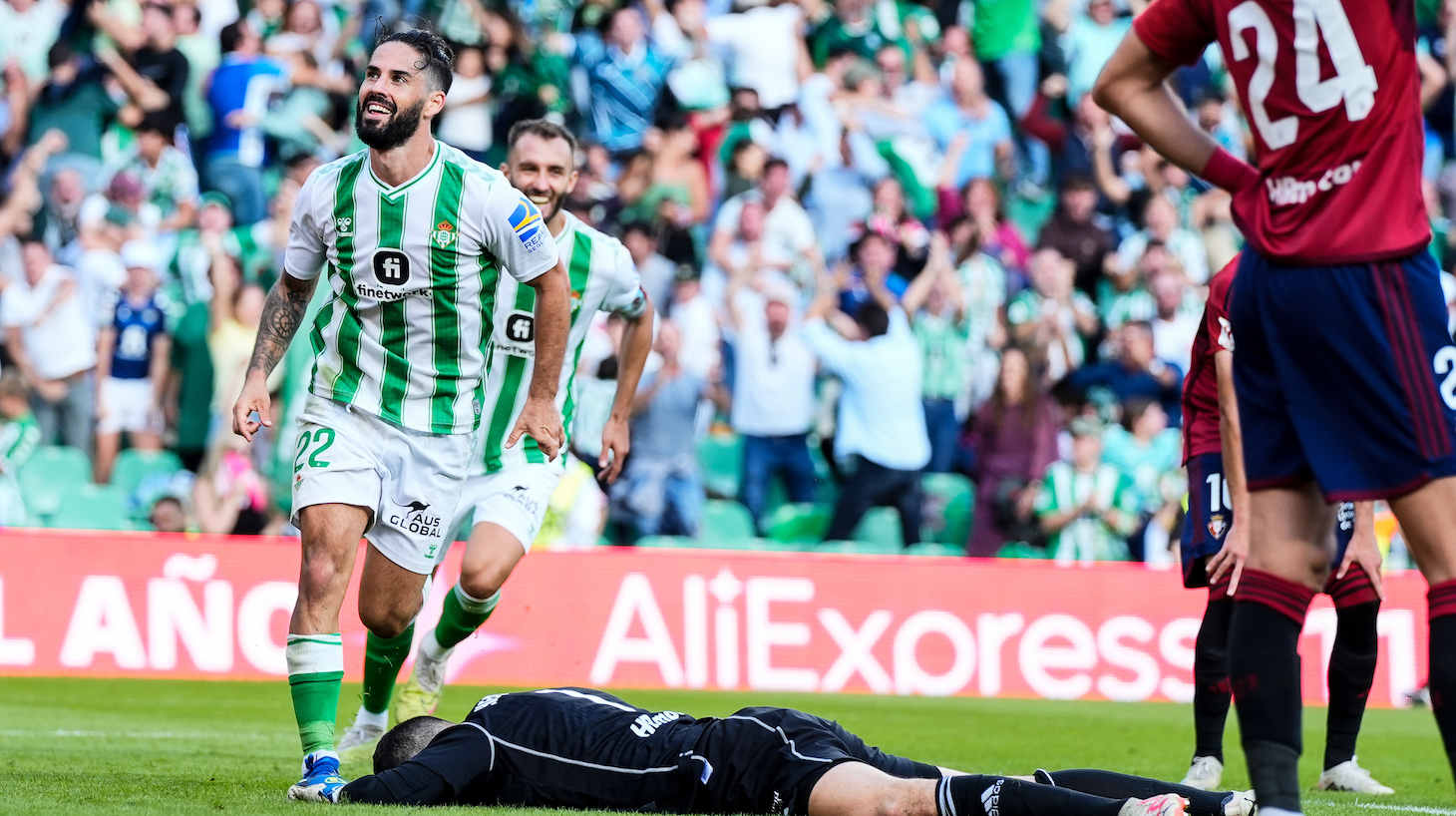 If you'd have told me 10 years ago that Isco Alarcón would end up where he'd found himself this past summer, I wouldn't have believed you. Once considered the crown jewel of Spanish soccer, Isco went from starring on the game's biggest stages to totally disappearing from the world soccer scene in what felt like a blink of an eye. And the oddest thing about his precipitous downfall is how it has hardly made a sound.
In the summer of 2023, Isco was just starting to stand back up after hitting what had to have been rock bottom. The year prior he'd finally washed out at Real Madrid, where his early prominence had given way to years of almost total anonymity. For four seasons he sat there, mostly on the bench, watching on as the years of his contract and the remainder of his prime whittled away.
Upon leaving Madrid, the Malaga-born midfielder had decided on a homecoming of sorts, joining Sevilla ahead of the 2022-23 season. Sevilla offered him a return to his native Andalusia and the presence of Julen Lopetegui, a manager with whom Isco shared a deep and abiding trust—something that had been painfully absent during his lost years in Madrid. But a slump in form cost Lopetegui his job just a couple months into the season, and a blowup between Isco and Sevilla's sporting director saw what should've been a happy union go up in flames not even halfway through the season. Sevilla offered to rescind Isco's contract in December, and Isco accepted. He'd stay a free agent through the end of the 2022-23 campaign. Coming into this season, the former wonderkid was on the wrong side of 30, without a club, and hadn't played anything close to his best soccer for five years. As for his future, it was unclear where Isco might play, what he'd look like if he did, and whether he even wanted to anymore.
But how did things come to this, where the biggest talent in Spain had totally vanished from sight, with any kind of reappearance far from certain? To find out, we need to go back near the beginning.
---
Ten years ago, Isco looked like the surest of sure things. He'd positively erupted onto the scene at Málaga, where he starred as the young face of one of the continent's hottest nouveau riche projects. He led the Boquerones, owned by Qatari sheikh Abdullah Al Thani, into the Champions League for the first time in club history in 2012, and followed that up by getting them within two agonizingly conceded stoppage-time goals away from a stunning place in that competition's semifinals. Back then it was the era of the Spanish midfielder, when a diminutive, lithe, lisping playmaker was considered almost a prerequisite to any club's efforts to achieve lasting success. In the tradition that had given the world such luminaries as Andrés Iniesta, Cesc Fàbregas, David Silva, Santi Cazorla, and Juan Mata, Isco was next in line.
When it came time to take the next step in his consecration by leaving Málaga, the 21-year-old Isco resisted the temptation to join his Málaga doyen Manuel Pellegrini at Manchester City, a new nouveau riche outfit like the one he planned to leave. Instead, he chose the bluest-blooded club of all: Real Madrid. It was a risky choice. No talent is great enough to guarantee itself success when donning the heaviest jersey in the sport. History is littered with examples of stars, both of the budding and established variety, collapsing under the notorious pressure and impatience of Real Madrid.
But Isco was not just any talent. From his first jaunts on the pitches with Málaga, it was obvious that Isco was special. His style of play has always been obsessively devoted to the ball—to getting it, to protecting it, and to personally escorting it along its long and treacherous journey into the opponent's goal. There's something of a magnetic effect to his game. He is eternally drawn to the ball, following it wherever it may go, whatever his ostensible starting position may be. Upon receiving it, he lures in defender after defender, who come at him in waves seeking to collapse the space around him so that they can strip him of it. But with the short steps of his powerful, bowed legs, the delicate touches of his light feet, and the keen mind that finds and invents paths to freedom on the fly, Isco rebuffs all attempts at dispossession with the effortless flair of an old sage in a Shaw Brothers movie, batting away assailants like so many flies.
It is only when Isco is fully convinced that the ball's best bet for reaching the goal lies with the feet of someone else that he reluctantly releases a pass, the nature of which, due to the slew of bamboozled defenders that lay in his wake, almost always sends a teammate into wide open spaces or the heart of the penalty area. Or, should he have successfully beaten half of the opposing team off the dribble and found himself within striking range, he'll unleash one of his trademark wicked shots, either arcing balls into the upper corners of the goal frame or straight little arrows that the zip through the tight gaps between keepers' gloves and the feet of the goalposts.
All of this makes for a slow, ornate, chaotic, gorgeous spectacle—and an effective one, too. The effectiveness is what kept him his club's good graces, since only steak served on the finest silverware keeps the Bernabéu beast content. But you get the feeling that for Isco, whose constant demands for the ball and his baroque interventions when he has it seem to evince a deep need for personal expression and public recognition of his talent, it's the sizzle that really gets him going.
With Real Madrid, Isco both sizzled and served, at least for a time. In the greatest team the Champions League has ever seen, the one that won the big-eared trophy an unprecedented four times in five years, Isco was an absolutely critical piece. Nothing was given to him at Real. Though he was a splashy signing when he joined in 2013, Madrid followed his arrival up with a series of tidal-wave caliber acquisitions subsequently: Gareth Bale, James Rodríguez, Toni Kroos. A between-the-lines attacking midfielder, Isco found himself competing for playing time with two of the sport's most legendary attacking and midfield lines, the BBC of Benzema, Bale, and Cristiano, and the CMK of Casemiro, Modric, and Kroos; and you can't forget Rodríguez, Ángel Di María, Marco Asensio, Mateo Kovacic, Martin Ødegaard, and Dani Ceballos, all of them highly regarded players also tasked with clawing their way onto the field in the same positions as Isco.
But despite the historically unmatched depth of Real Madrid's squad in that era, Isco still managed to carve a significant role for himself. In the 2014 UCL final, the one that finally delivered the 10th European triumph that the club had maniacally chased for more than a decade, it was Isco and fellow second-half substitute Marcelo who changed the air, helping turn what had been a clunky and stressful match into an exhibition in white. Isco would once again come off the bench in the 2016 final, but for the 2017 and 2018 editions, he was there in the starting lineup, both times keeping no less than Gareth Bale on the bench. But that was who Isco was at the time. The club never made it easy for him, never planned a clear spot for him in its ideal starting XI, but in the biggest matches and the tightest spots and the toughest challenges, somehow Isco always appeared, demanding the ball and escorting it and his team toward the ultimate goal.
---
That stretch between 2017 and 2018 was Isco's peak. At Madrid, he'd learned how to bring his inner ball-tyrant nature to heel a bit, streamlining his game so that it would better fit as a compliment alongside the superior talents of Ronaldo, Modric, Kroos, and Benzema. In reward, and especially in big games, manager Zinedine Zidane tweaked the 4-3-3 formation in which the CMK and BBC most naturally fit, turning it into a 4-4-2 diamond especially designed to feature Isco in his favorite no. 10 position. That Isco would've been a locked-in starter at every single team in the world, the one exception being the team he actually played for. A huge part of Madrid's success at the time was making good use of the depth Isco provided.
During that same stretch, Isco had emerged as the Spain national team's focal star. Julen Lopetegui was in charge, which reunited Isco with the manager with whom he'd romped to the 2013 U-21 Euros title. It took Lopetegui very little time to replicate his successful strategy with the U-21s by building the senior national team around the now mature Isco. Spain offered the midfielder what Real Madrid couldn't: full freedom to grab the wheel, chart the course, and steer the team exactly how and where he wanted. Naturally, Isco took the opportunity with both hands. Isco's Spain reached its pinnacle in a masterful outing against Italy in a World Cup Qualifier in 2017, where he was in complete and utter control. Each touch, dribble, pass, and goal of his revealed a team shaped in Isco's own image.
In the summer of 2018, the 26-year-old Isco was on top of the world. Real Madrid had just won its third consecutive Champions League, in which, as mentioned before, Isco had once again fought his way into a position of prominence by season's end. The national team that belonged to him stood on the precipice of a World Cup that would for the first time give him the platform to showcase the full extent of his powers. Zidane had surprised everyone by resigning as Real manager, but right before the World Cup started, news broke that the club had chosen Lopetegui as the Frenchman's successor. The script seemed pre-written: Lopetegui and Isco would lead Spain to success in the summer, and two would then build on that by bringing the same formula to Madrid, at last granting Isco an unquestioned place near the top of the team's hierarchy.
However, right as this vision of imminent success started to come into focus, everything fell apart. In a bizarre show of macho stupidity (foreshadowing!), the Spanish soccer federation's newly elected president Luis Rubiales fired Lopetegui days before the World Cup commenced, enraged that the coach had agreed to take the Real Madrid job without kissing Rubiales's ring first. Shaken and leaderless, Spain suffered an embarrassing loss to Russia in the round of 16.
There was no respite to be found back in Madrid either. Lopetegui's tenure with the Blancos was brief and humiliating. He lasted just a few months—part of which Isco was unavailable for, having undergone surgery for appendicitis—before a 5-1 loss to Barcelona in an October Clásico saw the club toss the manager out on his ass. Just like that, all the hopes of the Isco and Lopetegui alliance were dashed before it even really began. In the aftermath, Isco had to start back at square one.
---
From the heights he'd reached coming into in the World Cup in the summer of 2018, and the swift and lurid fall of both of his teams thereafter, it's maybe fitting that the terrible momentum of all of it took down Isco's career at the same time. Though fit enough to play about a month after surgery, Isco struggled to return to form after recovering from appendicitis. Interim manager Santiago Solari, who replaced Lopetegui, did not count on Isco and gave him scant playing time. Zidane came back as Madrid manager before the 2018-19 season was out, but he too seemed to have lost faith in Isco. That season Isco played his fewest minutes since coming to Madrid. And things only got worse from there.
From 2018 until his contract expired in 2022, Isco never regained the position he'd earned over the first five years of his time at Real Madrid. The returns of former Isco champions Zidane and, later, Carlo Ancelotti failed to reverse his fortunes. The generational change he potentially could've benefitted from never took place; the agelessness of Kroos and Modric, coupled with the precocity of younger midfielders Fede Valverde, Eduardo Camavinga, and Aurélien Tchouaméni, left no gap for Isco to step into. He still got decent minutes as a substitute and rotation player along the forward and midfield lines, but the role as the team's 12th man, the player too talented to leave off the pitch in the big games even at the expense of bigger names, was never his again.
Isco's minutes shrank and his waistline grew (photos of the unflattering fit of his shirts have become something of a cruel meme in recent years). Eventually, fans stopped wondering whether he might return to his old self, and instead saw him only as a ballast on the club's budget that time would hopefully soon excise. He did stick around long enough to win a fifth Champions League with Madrid, when the remaining old guard from the glory years re-established its historic greatness by winning the competition again in 2022. For the entirety of that European campaign, Isco played 97 minutes across three matches. He was an unused substitute in the final.
Finally, the summer of 2022 brought Isco's time with Real Madrid to a close. Though he'd spent four years in the wilderness, the 30-year-old presumably still had enough tread on his tires to mount a comeback. It was no surprise when he chose the Lopetegui-led Sevilla as the site of his attempted career resurrection. It was a chance for the pair to realize some semblance the lost promise that died during those hellish months of 2018. But it wasn't to be.
Sevilla started the season with five losses out of eight matches, and the club's sporting director, Monchi, fired Lopetegui. In Isco's telling, Monchi turned on Isco soon after. In a long and revealing recent interview with Marca, Isco accused Monchi of making up lies about him—specifically, that Isco had requested to leave Sevilla once Lopetegui left. Isco went on to say that the club then pressured Isco to cancel his contract with the club. Isco refused; he wanted to stay and play. One day, Isco confronted Monchi about how the club was handling the situation. He called the executive the biggest liar he'd ever met in the sport. Monchi flew off the handle, and according to Isco grabbed the player by the throat. Monchi and Isco had to be physically separated. The incident was disturbing enough to convince Isco that he never again wanted to play for the club, and so he soon after agreed to rescind his contract, foregoing the rest of the salary that would've been owed to him. Isco told Marca that neither Monchi nor Sevilla ever apologized.
It was December when Isco's time at Sevilla came to an end. In January, he was on the cusp of a move to Germany, with Union Berlin reaching out to sign him on the last day of the winter transfer window. Some funny business there—Isco said Union twice changed the terms he and the club had agreed to, doing so after Isco had already flown to Berlin and completed a medical—saw that deal fall through. Rather than look to sign elsewhere as a free agent right away, Isco said in the Marca interview that he needed a break. "Mentally I was not prepared for another move, another project… I felt that I needed to stop, do therapy, organize my mind, organize my life, my thoughts…" He hired a psychologist. With help, he got to a better emotional place, and once again felt the excitement and hunger to play again. And so in the summer of 2023, he once again set out to see if he could re-start his stalled career.
---
That Marca interview he gave this offseason really is eye-opening. In it, he spoke with clarity about what had gone wrong at Real Madrid. The turning point was indeed in 2018: "[A]fter the World Cup everything went wrong." In retrospect, he said he should've left back then. But the allure of Madrid, and the well-founded trust he had in himself, convinced him to continue fighting. "Do you know what happens?" Isco told the interviewer. "You are in Madrid and you are at the maximum a player can aspire to. You are in the biggest club in history, in which you have also had bad moments but in the end, you always managed to overcome… You always ended up playing forty or fifty games." He figured things would be the same when Lopetegui was fired, but for reasons he said he still doesn't understand, Solari was dead set against playing him. "And from then on, Isco no longer existed for anyone," he said.
Isco described himself as "totally demoralized" after Solari froze him out, and while he was optimistic that things would change when Zidane returned at the end of that season, he was already in a bad place both physically and mentally. Coming off that and the World Cup the summer before, "my head and my body couldn't [do it]." He thought he was getting back in form the next season, but then the pandemic hit. He rarely featured in the team after the restart, which he said was mostly his fault. Presumably he was too far gone, too dejected by the prior failed efforts at getting back on track, too distanced from the warmth of the crowd that, at his best, always seemed to fill him with the energy and drive to thrill them with his resplendent abilities. When Ancelotti replaced Zidane and told Isco he was not in the manager's plans, Isco accepted his fate. He'd have to wait until his contract was up to discover what was left of his talent.
And so that is how Isco Alarcón reached the summer of 2023 as a forgotten player from whom nobody expected anything. It would've been a shame but not at all a shock had Isco announced his retirement then and there. But Isco used his time away from the game to rediscover his joy for the game and his desire to play it once again.
The most common idea Isco expressed in that Marca interview, given before he'd settled on a team ahead of the current season, was his desire to have fun again. What is he after? "I want to play football, to have fun, to compete, to show that I have good years of football left in me. I want to forget the bad experiences I have had and focus on the good ones that are to come." What is he looking for in a potential new team? "A project in which I can have continuity, a team that wants to play football with an associative, fun style… I am at a point in my career in which, after winning everything, what I want now is to enjoy." What is his motivation? "The important thing is that I still have the excitement intact. I want to play, to compete, to have fun and I look forward to returning." What are his priorities? "I'm never going to prioritize money, otherwise I wouldn't have gone to Sevilla. I have and had many offers from Qatar and [Saudi] Arabia, with large amounts, but I want to play, compete and have fun."
If Isco communicated any real sense of worry in the Marca interview, it centered around his concern about making sure the club he chose next would be the right one. "I don't want to make another false step in my career, which would be difficult to manage, although I think I would overcome it because I am a brave guy and I would do it. But I don't want to be wrong." In light of everything he said he was looking for, it made perfect sense when he eventually settled on rejoining a different manager from the halcyon days of his past, this time Manuel Pellegrini.
---
Manuel Pellegrini is maybe the best in the world today at putting together teams fit the requirements of the classic no. 10. He's done so for Juan Román Riquelme at Villarreal, both Santi Cazorla and Isco himself at Málaga, both David Silva and Samir Nasri at Manchester City, and both Nabil Fekir and Sergio Canales at Real Betis. This era has grown increasingly distrustful of the classic no. 10, the little emperors who, from a throne resting just behind the protective shield of a center forward, presided over the field as sovereign, traversing the full bounds of their kingdom and dictating the whos and whats and whens and whys. Pellegrini is the rare manager who still indulges the style and position that the demands of modern soccer had supposedly made obsolete. Unsurprisingly, this has made Pellegrini's teams often some of the coolest and most fun teams to watch. Maybe more surprisingly, Isco has taken to the little fiefdom Pellegrini has prepared for him with the kind of freshness and proficiency we haven't seen from him in years.
Isco has started all 12 of Betis's matches in La Liga so far this season. He has been named the man of the match in eight of those. With Sergio Canales leaving the team over the summer after securing himself a high-paying move to Monterrey in Mexico, and with Fekir still recovering from a significant injury suffered last season, Isco has stepped right in and carried the Béticos. Pellegrini's team overall hasn't been as good or entertaining this year as in previous seasons, when Betis has found itself pushing for the Champions League places, including a joyous Copa del Rey title in 2022. But this team, Isco's team, has provided plenty of reasons to watch.
His mind clear, his manager's faith guaranteed, and the love of the crowd growing, Isco has been on fire so far this season. The magnetism of his game is completely back: he trots the length and width of the pitch to catch the ball, hide it between his legs, skitter with it past the defenders lured by the illusionary promise of taking it from him, and passing or shooting it when the moment calls. Not since Lopetegui's Spain has Isco been this empowered to go and do what he wants, which is everywhere and everything.
As a concession to the current game's demands, Isco's also shown impressive defensive commitment, which was long pointed to as the big flaw that kept him from consolidating a regular starting role for himself in Madrid. And even though Betis as a whole hasn't (yet) been great, Isco's greatness has kept the team in the hunt for the European places, where they currently sit sixth in the league table. With Fekir just now getting back to health (on Saturday he played his first minutes since February), Betis will unite Isco with an ideal partner to amplify his game and bring him and the team to new heights—heights few expected to ever see Isco touch again.
---
Isco has been one of the stand-out performers in La Liga this season, and his journey from nowhere to here makes his one of European soccer's most legitimately inspirational stories. Here's a guy who had the world at his feet as a 21-year-old, and over the course of a decade scaled the heavens and tasted immortality but then crashed back to earth and couldn't get back up. In the face of the most brutal setback yet, rather than call it quits, he took his time, improved his mental health, rediscovered his love for the game, and charged right back into the thick of things. Betis isn't in line for any of the trophies Isco made a habit of collecting during his time in Madrid, but I'd be surprised if finishing this season the way he's begun it doesn't wind up feeling to him like the most rewarding feat of them all.
Plus, there are still new things to win. Isco hasn't played for Spain since 2019. His form this season has increased the calls for national team manager Luis de la Fuente to bring the Betis man in, and reports say Isco has been included in De la Fuente's preliminary list ahead of the mid-November international break. Should he continue playing like this all season, there's a great chance he'll be in the roster for next summer's Euros—though, looking at the absurd depth of Spain's midfield, it will be difficult for him to get much playing time there. Him getting on the roster and earning a starting spot and helping Spain win the Euros might all be a long shot, but if he's taught us anything at this point, it's that no one should ever count Isco out of a fight.
Stay in touch
Sign up for our free newsletter