Tennis
Iga Swiatek Is Back Where She Started
11:14 AM EST on November 8, 2023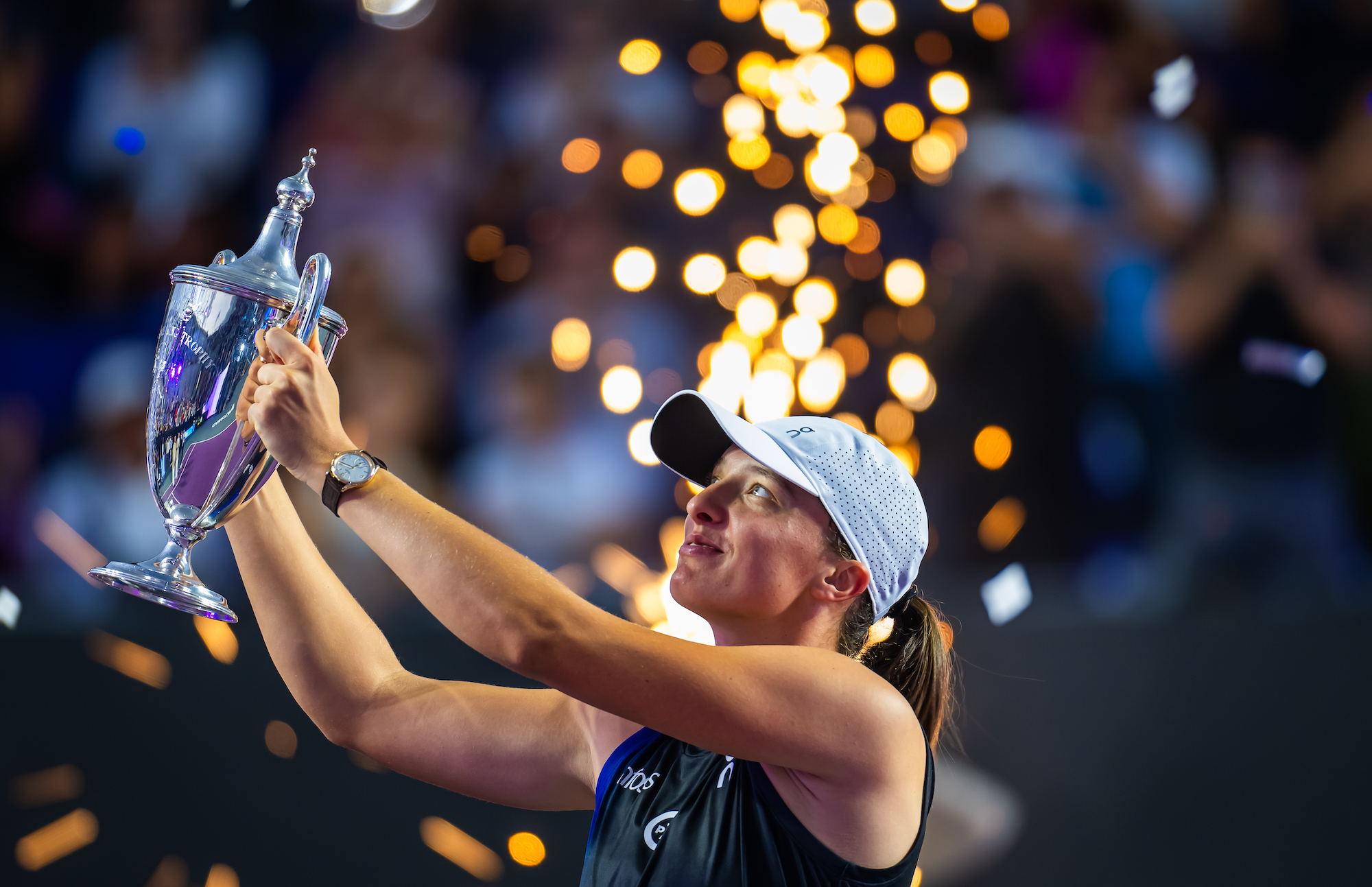 At the start of this calendar year, Iga Swiatek was at the peak of women's tennis, and several layers of atmosphere separated her from the rabble. She had just wrapped one of the best seasons ever in contemporary tennis: a 67-9 record, with a 37-match win streak, two major titles, and six smaller titles. She'd won her first major two years prior, but it was only in 2022 that everything in her game seemed to fall into psychological, physical, and tactical alignment. She'd always been an adept mover who could retrieve difficult shots out of weird crouches or hard sprints. But Swiatek and her coach Tomasz Wiktorowski decided to push against the grain of her defensive instincts, to shape her into a more proactive and assertive player. Even if this style of first-strike tennis did not come naturally, the results were impossible to argue with. Swiatek was not just beating her opponents but redacting them from the discourse. As 6-0 sets and 6-1 sets are slangily referenced as "bagels" and "breadsticks," there was lots of fan chatter about "Iga's bakery." (Asked about the meme recently, she said she wanted to be "respectful" to her opponents.) Swiatek was only 21 and had distanced herself so convincingly from the field that it was worth asking whether would get any worthy rivals.
Any worries about competitive balance were quashed early in the 2023 season. Two tall and thunderous hitters, Aryna Sabalenka and Elena Rybakina, led the counterinsurgency against Swiatek—Sabalenka beat her in the final at Madrid, and Rybakina had handed her three losses by May. As these players took turns scooping up titles over the early stretch of the season, there was talk of a "Big Three" coalescing in the WTA, and while that hasn't quite come to pass, all three are now major champions with plenty of prime years ahead of them. Elsewhere, Iga was beaten by talented spoilers like Barbora Krejcikova, Elina Svitolina, and the ill-tempered disruptor Jelena Ostapenko (who preserved her bizarre, perfect 4-0 head-to-head). Even longtime Swiatek sufferers found a sliver of daylight this year. Coco Gauff hadn't found a way to beat her in the first seven tries, but managed the upset during the summer hard court heater that culminated in her U.S. Open title. Jessica Pegula, another inveterate Swiatek victim, also pulled off two wins this season. And Sabalenka, who made it to the finals of three majors, managed to usurp the No. 1 ranking. The 2023 season was a corrective to apparent hegemony. Iga's not running away with every title for the next decade. Maybe this is a fair fight after all.
For all relative success of her peers, Swiatek was still performing well enough that she could recapture the top ranking at 2023's last big event: the WTA Finals, the annual showcase for the season's best performers. Eight singles players do battle in a group stage and then the four best play out a single-elimination bracket. This year's iteration of the Finals, which was rumored to land in Saudi Arabia but ultimately scheduled last-minute for Cancun, had its conspicuous defects. Players and coaches objected to pretty much every logistical or technical aspect, like insufficient practice courts and stringing services; a stadium court built on top of a golf course that yielded inconsistent bounces and made players feel unsafe moving around; and ramshackle stadium seating barely completed in time for the event. As Sabalenka wrote on Instagram, "I really feel disrespected by the WTA. I think most of us do. This is not the level of organization we expect for the Finals." Environmentally speaking, hurricane season is just wrapping up in Cancun, so there were also gale-force winds, floods, and plentiful rain delays. The most compelling and competitive WTA season in recent memory was set to end in wet farce.
The matches went on anyway, and in these gnarly conditions, Swiatek reigned. At a player party that opened the tournament, she stood out in a red dress, while everyone else adhered to the all-white memo. Her play on court told a similar story. Swiatek did not lose a set across her five matches in Cancun, and lost just twenty games total, which was the lowest tally since this format was introduced in 2003. (The second-lowest was Serena Williams, who lost 32 games in the 2012 edition.) Players who had brought the fight to Swiatek earlier this season, like Sabalenka and Gauff, were swept aside with regal ease. When Iga is in form, she denies opponents even a fleeting moment of relief. She's not the type to take games off and conserve energy. She is a process-driven nerd, devoted to repeatable patterns and diligent footwork, who seems to relish the efficiency of a rout. Though she was once reluctant to play aggressive tennis, she has since mastered it, seizing every opportunity to beat the opponent over the head with her gifts: big spin, vicious returns, crazed court coverage. Looking only at the highlights from the week-long bloodbath in Cancun, it'd be hard to tell if this was a top player competing in a field of fellow elites, or just a top player mowing down unseeded competition at a random tournament.
Swiatek engulfed Jessica Pegula in the rain-delayed championship match on Monday, 6-1, 6-0, claiming the year's last big trophy and reclaiming the No. 1 ranking after Sabalenka's two-month rental. Swiatek will end the season with a 68-11 record and six titles to show for it. Nobody should project the next season's results based on late-calendar tennis—it's a wonky time, given the accumulated fatigue and flagging motivation—but there's nothing particularly speculative in this instance. Swiatek has already assembled a convincing body of work. In Cancun, she simply brought the season full circle, ending it exactly where she began. A tennis season that appeared to complicate the narrative of her dominance has ended on a familiar note. For the rest of the field, the task is just as familiar: Try and keep up.
Stay in touch
Sign up for our free newsletter