Tennis
A Messy Madrid Open Launches A New Rivalry
3:09 PM EDT on May 8, 2023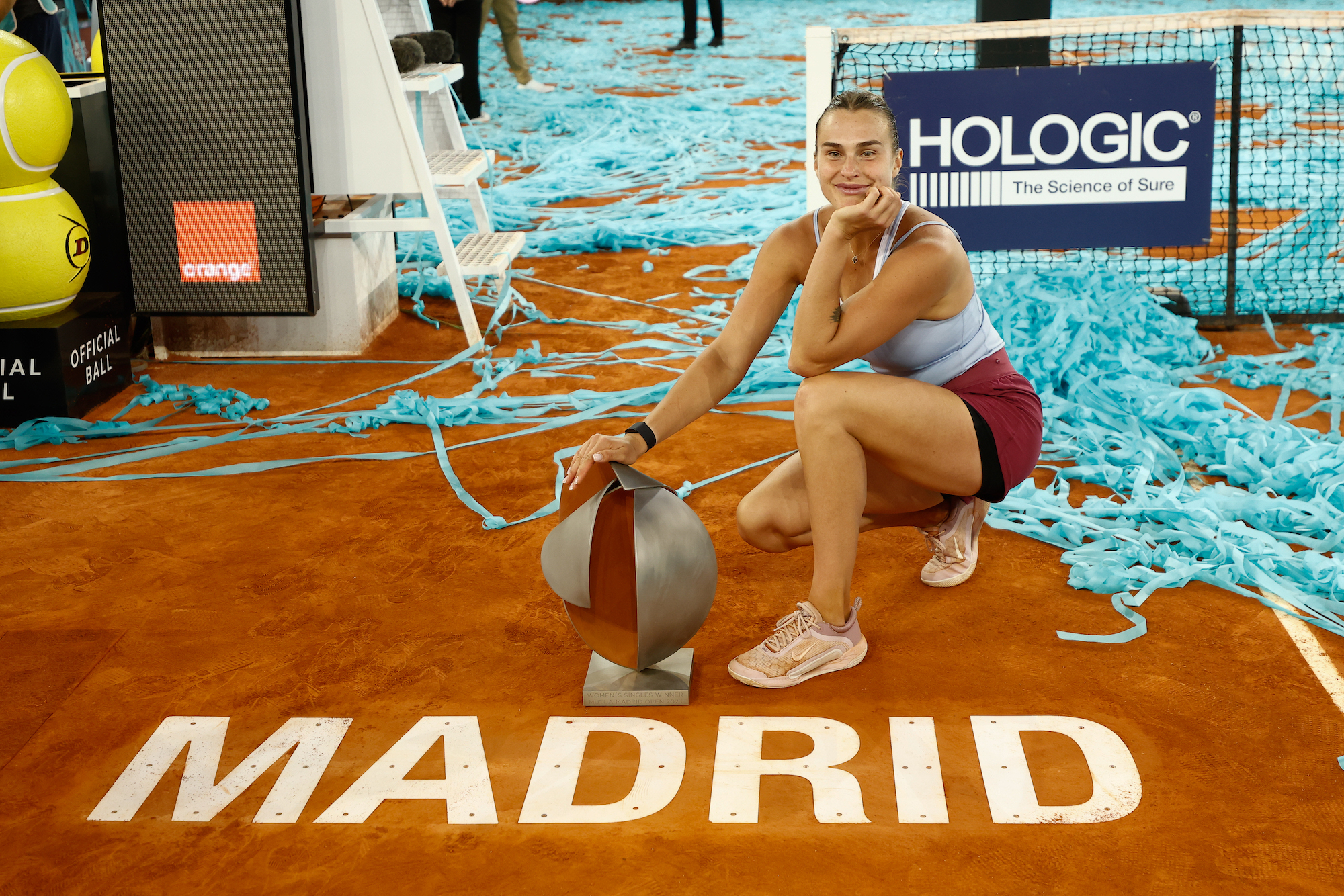 The Madrid Open women's final on Saturday established a refreshing new genre in trophy speeches: roasting a mildly dysfunctional tournament while its tournament director grimaces handsomely a few feet away. Feliciano Lopez just had to stand there as No. 1 seed Iga Swiatek and No. 2 seed Aryna Sabalenka took shots at the event he has overseen since 2019. Sabalenka had beaten Swiatek in a volcanic 6-3, 3-6, 6-3 final, but both players saved a little heat for Lopez.
After dishing out the usual thank-yous to her opponent, team, and fans, Swiatek criticized the scheduling: "It's not fun to play at 1 a.m. though, so I'm happy anyway I was able to get past this experience and survive and be in the final." She finished her quarterfinal at 1 a.m. and her semifinal after midnight, which she said complicated her recovery and sleep schedule. Tennis is the only sport that regularly has its athletes toiling well past midnight local time to mostly depleted crowds for completely avoidable reasons, so it's cathartic when a player on tour underlines the absurdity.
Sabalenka, meanwhile, took a shot at the dessert: "I think it was all because of yesterday's cake. It was too good." Why cake? May 5 was her 25th birthday as well as the 20th birthday of Carlos Alcaraz, Spain's golden son (and the eventual Madrid Open champ). The tournament gave both players birthday cakes of varying size and sophistication. Lopez offered a numbered defense of the cake disparity—generally a sign that you're having a bad week at work—but some players weren't having it:
In the backdrop of those comments were some other dashes of sexism. After the women's doubles final on Sunday, neither of the teams—Coco Gauff/Jessica Pegula and Victoria Azarenka/Beatriz Haddad Maia—were given a chance to make speeches, which is standard practice. (The men's doubles finalists gave speeches as usual.) And then there were the ball crews. Since 2004, at the urging of former tournament director and all-around sleaze Ion Tiriac, the event has employed models in minimal clothing as ball people for high-profile matches. This choice has been criticized ever since—in 2006, Spain's secretary for equality bashed it for portraying women "as simple objects of decoration and entertainment"—but it has endured. This year's event featured both a model crew in crop tops and miniskirts and a normally attired crew. Apparently the pressure over the past week finally broke Lopez, because just in time for the men's final, the models traded their skirts for baggy shorts that would suit 2003 T.J. Ford.
Despite the logistical mess, the Madrid Open still solidified the best rivalry in the women's game. No need to check the rankings to know that Swiatek and Sabalenka are the two best players in the world. Just look at the clay, because no one else is brutalizing the tennis ball quite like them. Two weeks ago they played in the final at Stuttgart, with Swiatek winning in straights. That it's a rivalry at all shouldn't be taken for granted: This time last year, Swiatek was in the middle of a monstrous 37-match win streak, distancing herself from the rest of the tour. But Sabalenka has since closed the gap by fine-tuning her pummeling, athletic style. Victory at this year's Australian Open was proof that Sabalenka had conquered her double-fault demons, the most conspicuous hole in her game.
They make for a natural pairing. Swiatek is the tour's fittest and fastest defender, who has found aggression with conscious effort; Sabalenka is a natural aggressor, who has improved her consistency and stamina. Coming into the match, Sabalenka had never taken a set off Swiatek on clay, which is the latter's best surface. This match was as even as it gets: Swiatek won 60.8 percent of serve points and 39.4 percent of return; Sabalenka won 60.6 percent on serve and 39.2 on return. Overall, the champ won 88 points to the runner-up's 85.
After this win, her second Madrid title in three years, Sabalenka made clear that she had found motivation in Swiatek specifically. Last summer, blocked from Wimbledon due to its ban on Russian and Belarusian players, Sabalenka headed to Miami for an intensive training block. She had lost three times to Swiatek that season and realized she had to match her physicality. "I remember all those sprints and running workouts," she told WTA Insider. "It was really tough for me, but I kept thinking 'If you want to beat Iga you have to keep running, you have to keep pushing yourself.'" Since then, Sabalenka has split their four matchups to balance out an overall 3-5 head-to-head record. She is now 29-4 on the season, to Swiatek's 25-5.
Stay in touch
Sign up for our free newsletter