MLB
Go Ahead And Believe In Alejandro Kirk
3:32 PM EDT on September 22, 2020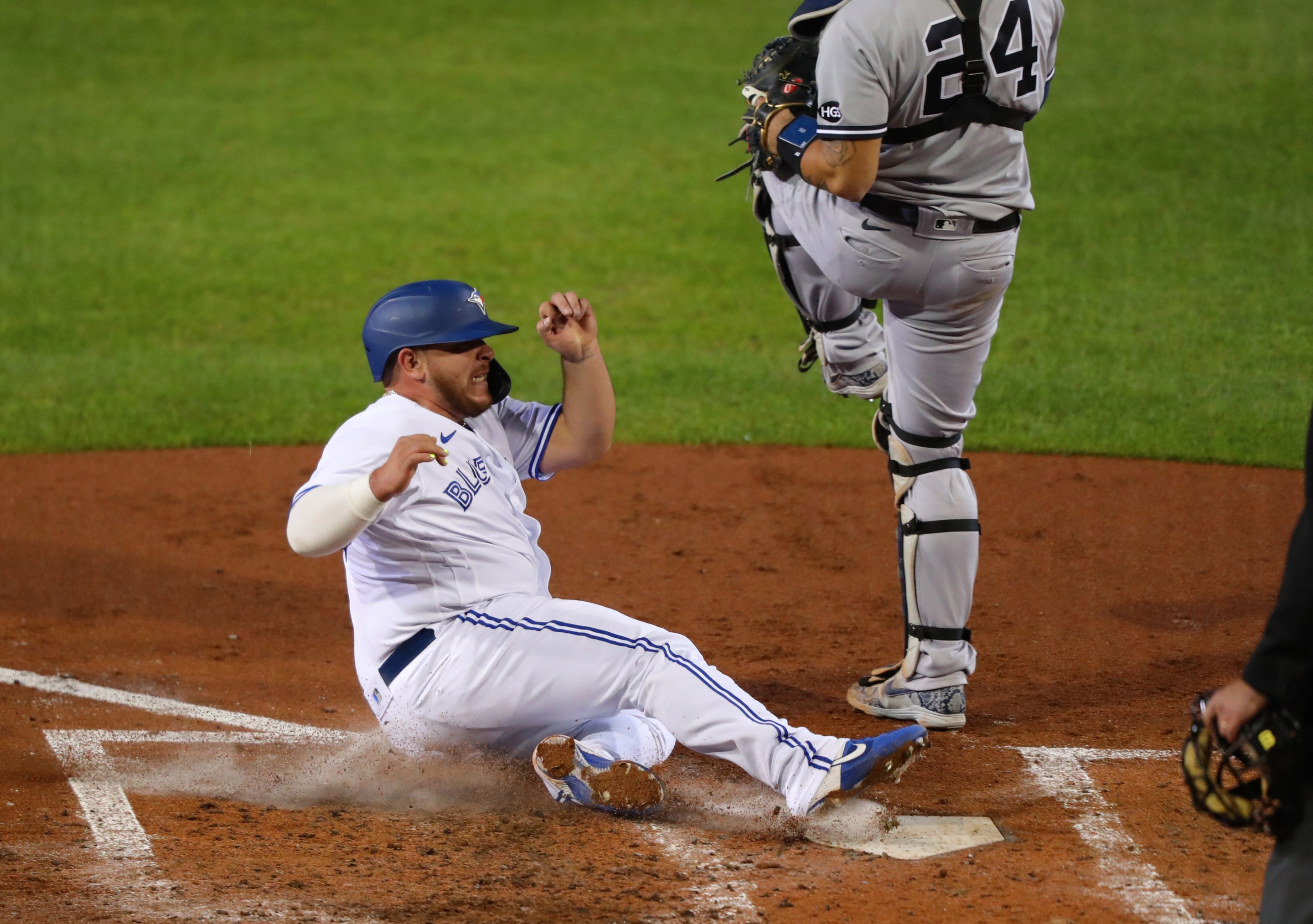 There was a brief moment when it seemed like the Toronto Blue Jays were really going for it. Not the postseason, which they have belatedly sought after years of cynical service-time hijinks and will reach thanks to Major League Baseball's new all-you-can-eat approach to October. There was that, too. But when the Jays acquired Daniel Vogelbach, an objectively Funko Pop-shaped masher who had been designated for assignment by Seattle a year after making an All-Star team, the Jays seemed committed to something different and more distinctive.
They were going to just make the whole team out of rectangular depth-and-density dudes—righteously cubic contributors Vladimir Guerrero Jr., Rowdy Tellez, and Hyun-Jin Ryu are already integral parts of the team's core—and then turn those big boys loose. It was a false dawn. Vogelbach lasted just two games and five hitless plate appearances before heading to Milwaukee on waivers, and the dream of putting a big league roster on the damn Atkins Diet seemed dead. It was not.
A little over a week later, Toronto called up Alejandro Kirk, a 21-year-old catcher who had never previously played above Class-A Advanced. Kirk is 5-foot-8, listed at 265 pounds, and shaped like an unusually powerful snowman, which overshadowed the fact that he is also a legitimate prospect and a hitter, at least until this grim and dreamlike season and Kirk's bright and undeniable skills made it all inarguable. Given that Toronto already has a fine young catcher in Danny Jansen and given that evaluators still seemed stuck in the rationalizing stage where his big-league future was concerned, Kirk would likely not be in the Majors at this point in a regular season. But this is not that kind of season, and so on Monday night, Kirk went 4-for-4 with his first big league homer in a win against the Yankees. Over his first six games and 15 plate appearances, Kirk is slashing .429/.467/.714. Those numbers aren't sustainable, but that doesn't mean Kirk isn't the real thing.
It's not that no one saw Kirk coming, exactly. He is unusual enough, in enough ways, that he's been hard to miss from the moment he signed with Toronto. Scout Aaron Acosta had tried to sign Kirk after seeing him play as a teenager in Tijuana, first failing to convince the Rays to do so and then making Kirk his first signing after moving on to the Jays. Last year, Lansing Lugnuts broadcaster Jesse Goldberg-Strassler asked Acosta how good Kirk could be. "Oh, oh my god," Acosta said. He noted that Kirk won the triple crown in the Mexican Academic League, but said that what really popped for him was that Kirk also stole 20 bases. "And this kid, he is not fast," Acosta said. In the second game of Lansing's season last year, Kirk stole home.
Everything that he saw from the teenaged Kirk suggested to Acosta that the catcher was "something special," which is an observation that baseball people have kept making about Kirk before seeking to qualify it after the fact. Kirk's numbers, both of the back-of-the-baseball-card and more esoteric varieties, have suggested that he has been one of the top hitters in Toronto's system. His greatest offensive strengths are the comparatively unsexy kinds—he has 90 walks and 61 strikeouts as a pro and an uncanny knack for hitting the ball supremely hard that has so far carried over to the bigs—that enlightened front offices talked about valuing, at least before the juiced ball wrenched things out of joint. Kirk is also good enough catcher that there are a lot of quotes from scout types talking about how his defense is "better than you'd expect," but again there is that persistent element of surprise even as all the things that are supposed to happen to stud prospects keep happening to this slow, savvy, Cubist 21-year-old catcher.
Kirk's limitations matter, and will have an impact on what kind of career he has; this is how it goes for baseball players and everyone else who works for a living. But the limits of baseball's imagination seem to have mattered much more when it comes to gauging what that career might be than anything that Kirk has yet to master. One evaluator, who is notably high on Kirk, was frustrated at how Kirk has been assessed. "His Trackman data is absolutely absurd," he said. "If he didn't look the way he does, he'd have been a top 2-3 prospect in the game the last few years." Few other scouts have said as much, but that's the point. Everything that can be measured all suggest that Kirk is a hitting savant; the less-tangible things that still have a bearing on player evaluation speak well of him, too, as everyone that has been around Kirk has praised his makeup and dedication.
But because Kirk is so unusual—because he doesn't look like many or any other big leaguers, and because his approach is so singular and out of step with current fashion—he has triggered a frenzy of rationalization and qualification and aesthetic hedging. It is one thing to accept that baseball front offices are, per Moneyball, not in the business of selling jeans, but it's another to believe your eyes when someone with as unusual a baseballing build as Kirk keeps doing what he does.
Of course, the whole "not selling jeans" thing only ever went so far. What seemed promising about a new and open-minded approach to the sport—one that assessed players more holistically and objectively and thoroughly, and was less beholden to the game's encrusted lore and biases—started to feel a lot less like a revolution and more like arbitrage years ago, which is what it always was. It was mostly an illusion that was lost when that (always mostly fanciful) element of surprise and discovery revealed itself as a component part of the smug and unlovable efficiency fetish that spread across the whole culture like an ice sheet.
All that quantifiable certitude was illusory, too, in retrospect, or at the very least overstated and overdetermined in the ways that business-driven smugness tends to be; at some point all that machine learning and jargon still resolved to someone banging on a garbage can. Nothing was solved, really, and lord knows nothing is finished. What's left to love in baseball are the surprises—the oblong playing styles and inexplicable teams and stubbornly individuated humans that don't fit neatly into the reigning systems of belief. This is a lot to hang on Alejandro Kirk after six games and 15 at-bats, to be fair. But at some point you just have to let yourself believe it.
Stay in touch
Sign up for our free newsletter