Soccer
Frank Lampard Is Just Here To Eat Chelsea's Shit
11:41 AM EDT on April 13, 2023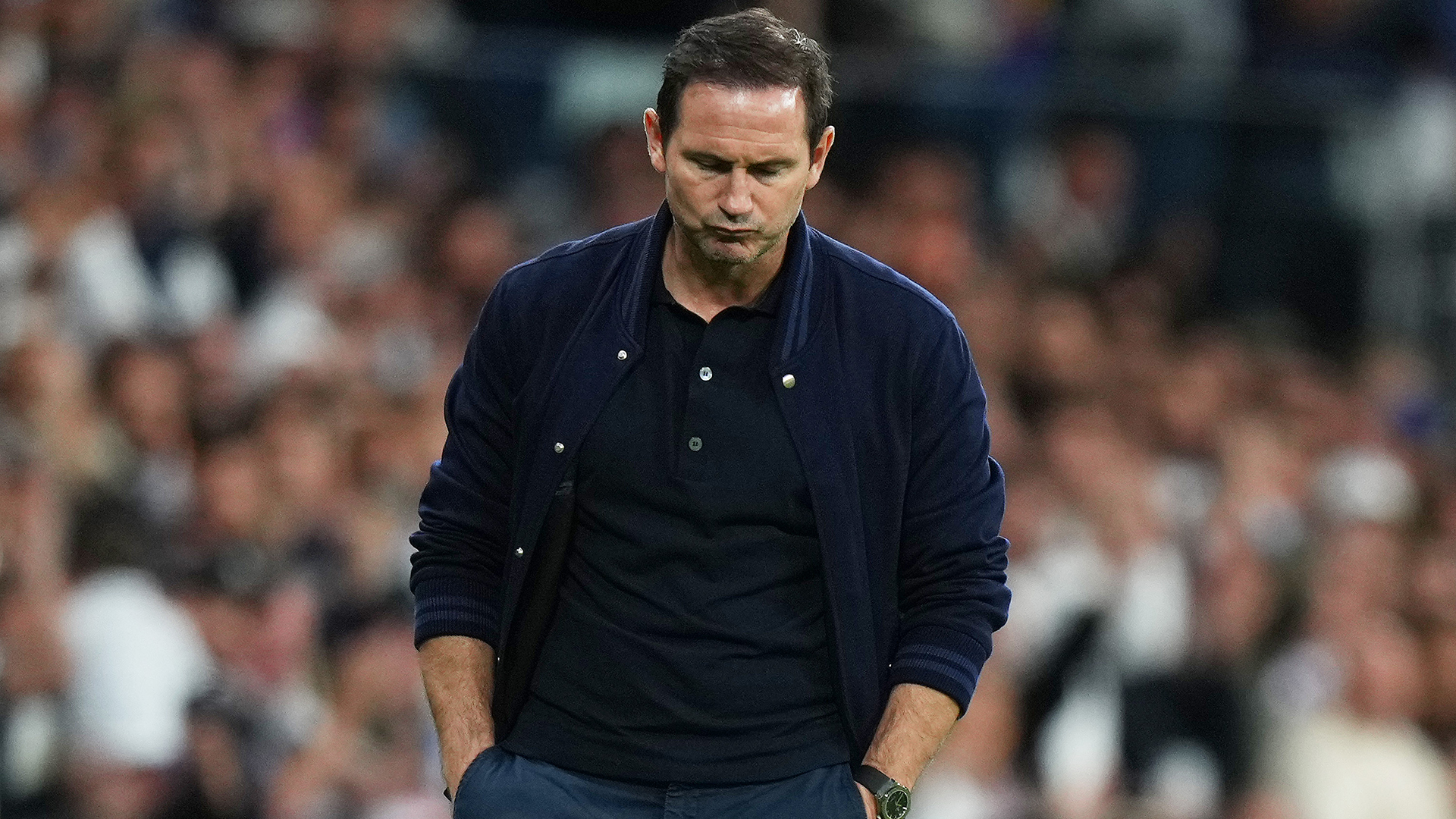 It doesn't take much to drop a Champions League match to Real Madrid. After all, that club has won more than anyone in the continental competition, and often with plot armor on its side that makes its victories feel inevitabl-e. Beating the final boss of the Champions League can be a key moment on the road to the most coveted trophy in European club soccer, but it's not any easier than it sounds.
Chelsea knows all about that. Last season, the Blues of London fell to Madrid in the quarterfinal stage, due to a 3-2 away win in the second leg that was not enough to overcome a 1-3 loss at Stamford Bridge. Madrid went on to win that tournament. The year before that, Chelsea held off Madrid 1-1 in the first leg in Spain, before a statement 2-0 win at home propelled the club to the Champions League final, where it beat Manchester City 1-0 for its second trophy in the tournament.
It was with that recent history in mind that these clubs went into a rubber match of sorts on Wednesday in the quarter-final stage. Chelsea knew what it needed to do to win: Limit Madrid's black magic opportunities, convert its own chances, and hold on just long enough to advance into the semi-finals. The Blues also knew how difficult that would be.
There was one additional problem, too. Whereas the Chelsea of the last two Champions League campaigns was under the sometimes-iron fist of Thomas Tuchel at manager, the current Blues are instead on their third manager of the season, having fired the German in September and then, somewhat inexplicably, replacing Graham Potter last week with a returning Frank Lampard. Under Lampard, Chelsea made it entirely too easy for Madrid: The home side won without much exertion at the Estadio Santiago Bernabéu, and Chelsea capitulated to the reigning competition champions in a 2-0 defeat that was as dire and one-sided a beating as latter stage Champions League matches get.
In many ways, this is not Lampard's fault. He has been set up to fail by the club at which he made his legend as a player and where, for a brief moment encompassing about one season, he looked like a competent Premier League manager. The Lampard of the COVID-afflicted 2019-2020 season, when he led Chelsea to fourth place in the league and an FA Cup final loss, is long gone. He's been replaced by a bumble-prone mediocrity that helmed both a disastrous additional half season at Chelsea (before getting the axe for Tuchel) and whatever the hell he was doing at Everton in 2022. (At least he kept the Toffees safe from relegation, so that's something.)
It's probably safe to say that no one believes Lampard can be the man to save this particular Chelsea campaign, if only because it's hard to imagine how anyone could. The club is mired in 11th place domestically following a 1-0 loss to Wolverhampton in Lampard's return match on Saturday. Chelsea also has a big mountain to climb upon returning to London for the second leg of this Madrid tie. All those obstacles are of Chelsea's own creation. The combination of attacking ineptitude and defensive lacksadasia that let Madrid comfortably cruise along to victory in second gear has plagued Chelsea all year.
The offense is the more concerning half of the equation, and has been for Chelsea all season long. The club has 29 goals scored in 30 matches in the Premier League; anyone who can do arithmetic can see the problem there. It's a dire number that puts it closer in quantity to the Premier League's relegation candidates than the top four contenders, which is where Chelsea can ordinarily be found. A combination of staid tactics and individual shortcomings that has led to Chelsea's impotence all season, and it was so again against Madrid.
Chelsea twice had decent-looking breakaways on Wednesday, only to find out that its players on those occasions—João Félix and Raheem Sterling—simply did not have the pace to get past Madrid's defenders cleanly, let alone threaten Thibaut Courtois in goal. Outside of those chances, Lampard had his side deploy a predictable route of attack: Filter the ball to the right side of the field, then switch it back to the left and try to score from there. When that failed, as it repeatedly did, Chelsea had either lost the ball or recycled possession back to its defensive line. Repeat this for a soul-crushing 90 minutes.
Things didn't go much better when Chelsea didn't have the ball, which was quite often; Madrid finished with 57 percent of the possession on Wednesday night. The Spaniards did plenty with that percentage, peppering Chelsea's goal with 18 shots, 10 on target, and of course scoring those two goals. The first of those goals was a pure Madrid blitz that used a beautiful Dani Carvajal pass to capitalize both on Wesley Fofana's slow coverage of Vinícius Jr.'s run and on Kalidou Koulibaly and Thiago Silva's joint debacle in trying to track the eventual goalscorer, Karim Benzema:
On Madrid's second, the defense simply lost Marco Asensio at the top of the box. While he's much more limited in his utility these days, Asensio can still be counted on to blast a low screamer when one is teed up for him. He did just that, and it snuck into the corner of the Chelsea goal:
In between those goals, Chelsea managed to go down to ten men, thanks to the continuing failures of Marc Cucurella, Chelsea's big money move in the summer. Cucurella subbed into the game in the 55th minute for an injured Koulibaly, but just four minutes after the sub, the Spaniard fell asleep on a counter, forcing Ben Chilwell into a so-called "professional foul" to stop a goal-scoring opportunity. That earned him a straight red card that effectively ended Chelsea's chances of making a comeback on Wednesday:
Take it all together and you get what Chelsea has been this season—a mess, on both ends of the field, incapable of truly bringing its A-game to any opponent. Against Madrid, Chelsea needed that; everyone always needs that against the Champions League boogeymen. Still, though, no one would have blamed Chelsea for losing to Madrid, as long as the match had hinted at progress. Under Lampard, that was not really the case, just as it wasn't under Potter or this season's version of Tuchel. (The German mostly got fired for backstage drama, but there's no denying that Chelsea had fallen off since its 2021 Champions League victory.)
Coaches are easy to change, but the problem here is with the players. There's no scoring talent, even with the mid-season loan of Félix, and the defense tends to disappear at the worst of times. It's unlikely that the club will experience any form of new manager bounce under Lampard, primarily because it's impossible to fix what's really wrong until the summer transfer window. And so Lampard comes in not as a savior, or even as a caretaker, but just as a manager in way over his head with a roster that doesn't work. His job is to close out the final month of the season before being sent on his merry way back to the lower dregs of the Premier League or, more likely, back to the Championship. Somebody's got to do it.
There's not a lot to look forward to, in short, and so Chelsea gave fans someone to look at. Lampard is here to remind fans of the happier times, and to make sure no one focuses too hard on what has become a true disaster of a season for Chelsea. Two matches into his second tenure, Lampard hasn't managed to accomplish even that, and it will probably just get worse before it gets better.
Stay in touch
Sign up for our free newsletter